Twice Baked Potatoes are always the first side dish to go at BBQs and potlucks.  These hot potatoes have a crispy skin filled with creamy sour cream and butter mashed potatoes topped with cheesy, bacon, and green onions. Even better, you can make them ahead of time which makes them a great recipe for company or holiday meal.
TWICE BAKED POTATOES
How do you like your potatoes? Fried, baked, mashed, au gratin? Everyone in my family likes them different. 
Every time I send my husband to the grocery store with a list he comes home with the everything on the list plus at least one bag of chips.
He can kill a bag of chips in a sitting. I, on the other hand, can take or leave chips. I don't HAVE to have them.
French fries baby…that's my downfall. Whether it's Chick-Fil-A's waffle fries or McDonald's thin crispy fries…they find a way in my mouth.
The ironic thing is that I'll never order them because I know how bad they are for you but somehow they disappear from my kid's Happy meals.
WHY ARE THEY CALLED TWICE BAKED POTATOES
These potatoes are baked two different times. The first bake is done in the oven. Next, you scoop out the potato filling and add all of the ingredients. Spoon them back in the potatoes and bake them a second time topped with your favorite toppings!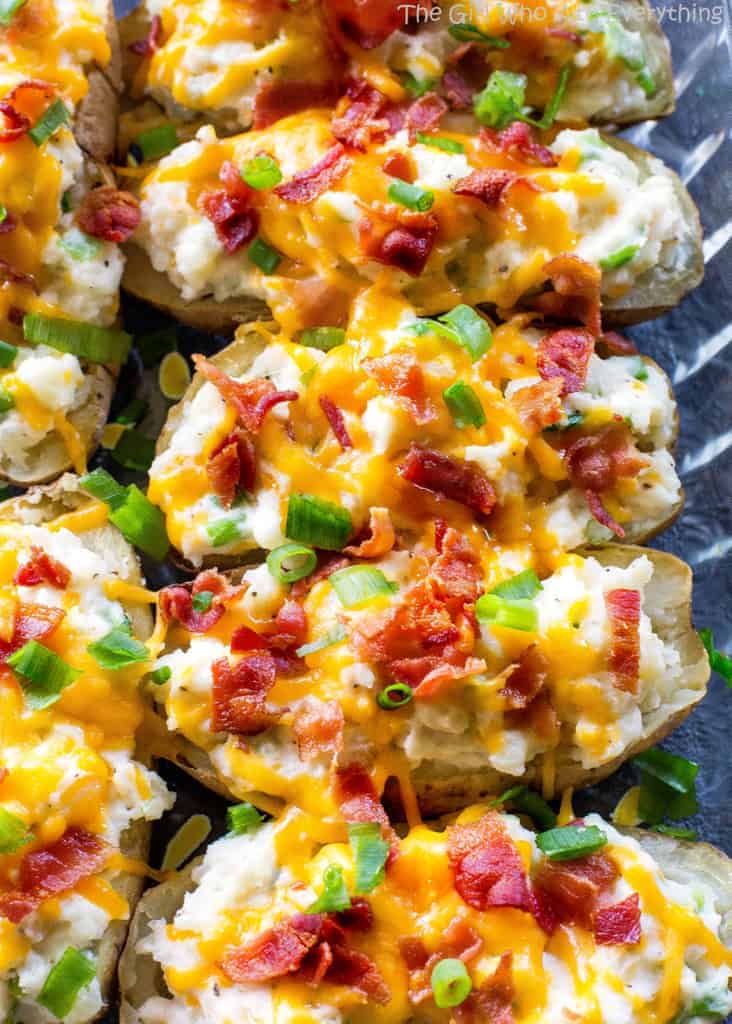 HOW TO MAKE TWICE BAKED POTATOES
Preheat oven to 350 degrees and bake potatoes for about an hour or until fork tender.
Remove potatoes from oven and cool.
Meanwhile, cook bacon and drain on a paper towel. Crumble bacon.
Slice potatoes lengthwise and spoon out the flesh of the potato inside leaving 1/4 inch around the entire outer shell.
In a large mixing bowl, mix together potato insides with a potato masher, sour cream, butter, milk, salt, pepper, half of the green onions and half of the cheese.
Fill the potato shells with the mashed potato mixture and top with bacon and additional cheese.
For the second bake, bake the potatoes for 15-20 minutes and then sprinkle with remaining green onions.
Our friends the Clarks have brought this twice baked potato recipe over for dinner a couple of times and they are always a hit.
I wish this computer had a scratch 'n sniff button because these smelled incredible as I was taking the pictures.
This is coming from someone who is not a huge fan of baked potatoes! I've since made this recipe more times than I can count and now can honestly say they are the best potatoes and a great side dish.
I always like to pay attention to what disappears first at BBQs and potlucks and these twice baked potatoes are always the first to go. They're individually portioned and people love that at potlucks.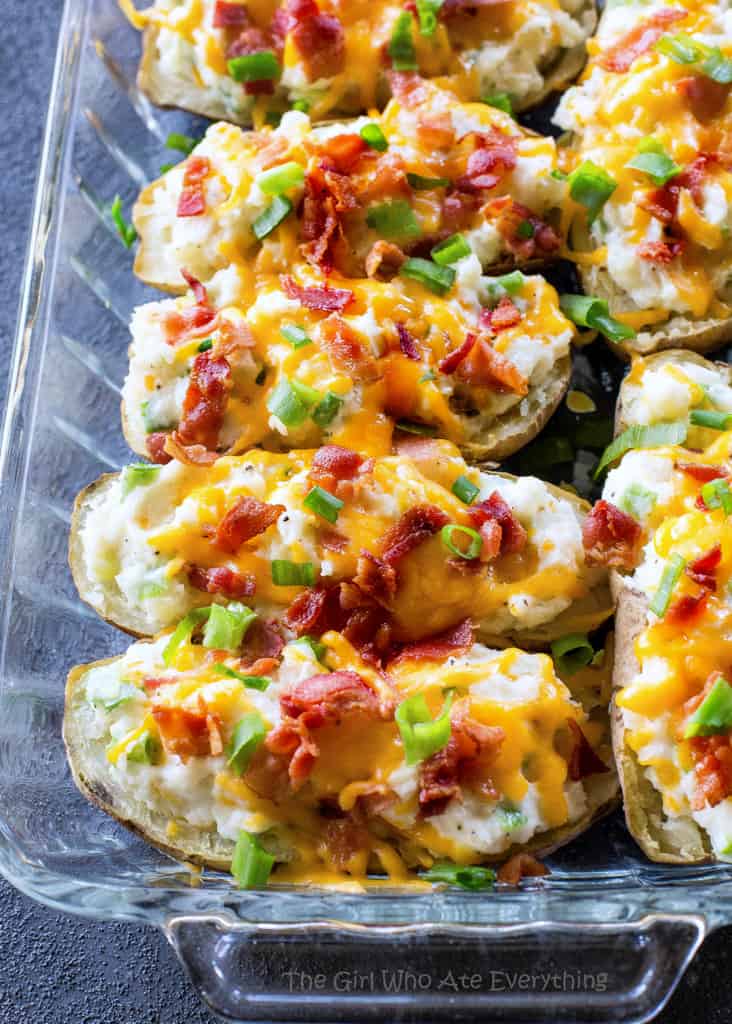 DON'T OVERMIX
Overmixing your potato mixture can make your potatoes gummy. 
MAKE AHEAD 
The best part about these twice baked potatoes is that everything can be made the night before and store them in the fridge so all you have to do is pop them in the oven when you're ready. You can even freeze these. They are the perfect side dish. 
OTHER POTATO RECIPES: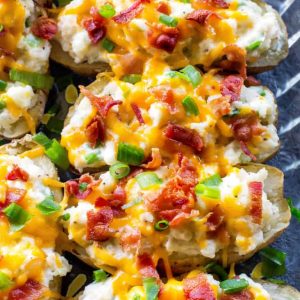 4

large Russet potatoes

8

slices

bacon

1

cup

sour cream

1/4 to 1/2

cup

milk

4

tablespoons

butter

1/2

teaspoon

salt

1/2

teaspoon

pepper

1

cup

shredded Cheddar cheese, divided

8

green onions, sliced, divided
Preheat oven to 350 degrees.

Bake potatoes in preheated oven for 1 hour. You can just microwave the potatoes instead because it is way faster and they taste just as good. About three minutes per potato, just check for tenderness. So if you are cooking 4 potatoes in the microwave you will need to cook them for at least 12 minutes. Make sure to poke holes in the potatoes with a fork before microwaving so that they don't explode.

Meanwhile, place bacon in a large, deep skillet. Cook over medium high heat until evenly brown. Drain, crumble and set aside.

When potatoes are done allow them to cool for 10 minutes. Slice potatoes in half lengthwise and scoop the flesh into a large bowl leaving about 1/4 inch of flesh so the potato maintains it's shape; save skins. To the potato flesh add sour cream, butter, salt, pepper, 1/2 cup cheese, 1/2 the green onions, and milk (start adding 1/2 cup of milk but you may not need to add it all depending on the consistency you want. You don't want them too runny). Mix with a hand mixer until well blended and creamy. Spoon the mixture into the potato skins and place on a baking sheet. Top each with remaining cheese and bacon. If making ahead of time, refrigerate here.

Bake for another 15-20 minutes at 350 degrees. Add 10 minutes if you refrigerated ahead of time. Sprinkle with green onions and serve.