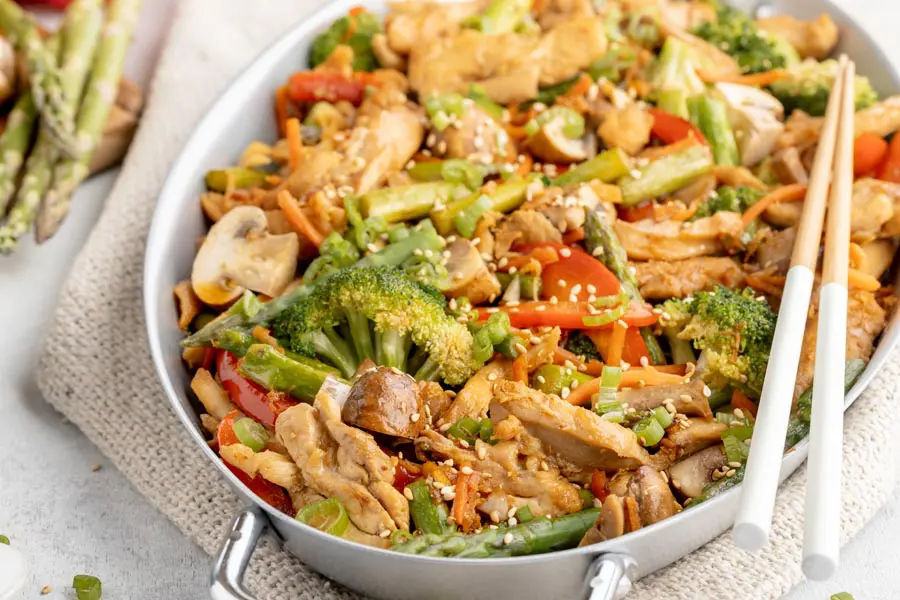 One of the best things about this chicken stir fry recipe is how easy it is to customize each and every part to be exactly how you like (or to use exactly what you have on hand!).
Here are some fun ways you can change this stir fry recipe to fit your needs.
Protein – Chicken thighs, chicken breasts, ground chicken, ground pork,  ground turkey. You could even make a beef stir fry with ground beef or steak.
Vegetables – Red, yellow, orange or green bell peppers, broccoli, asparagus, mushrooms, carrots, zucchini, cauliflower, onion, cabbage, bok choy, green onion, green beans bean sprouts or spinach. Basically any vegetable you have in your fridge that you need to use up!
Sauces – Whether you want to use a stir fry sauce or teriyaki sauce (to make teriyaki chicken stir fry), each soy sauce based sauce will have tons of flavor. You can customize the sauce by adding other flavor components life sesame seeds, sesame oil, fish sauce, peanut butter, chicken broth, red pepper flakes, or brown sugar replacement.
Toppings – chopped peanuts or cashews, scallions, sesame seeds, or chopped cilantro.