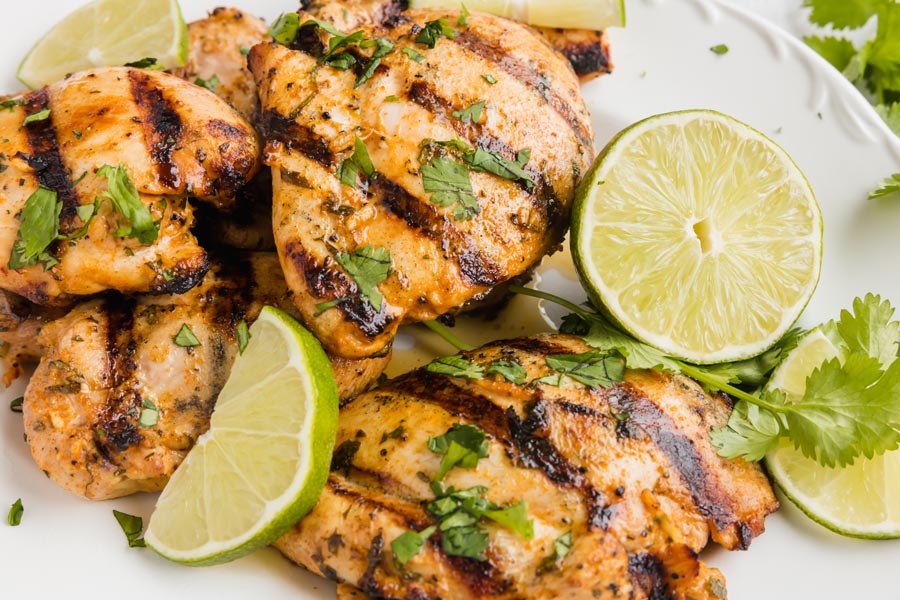 Cilantro lime chicken can be cooked via multiple cooking methods. Depending on the time of year, you may prefer one method over the other. During the Summer, grilled chicken is welcomed; however, during the winter months, roasted cilantro lime chicken provides comfort.
Grill
Ideal for summer cookouts or barbeques, grilling cilantro lime chicken adds a char-broiled flavor that is delicious along with the zesty lime. Serve with lime wedges and along with a fresh summer salad.
Air fryer
To make air fryer cilantro lime chicken, air fry the chicken in a single layer at 380 degrees for 5 minutes on each side.
Skillet
The stovetop method for cooking this marinated chicken is easy. Add a few tablespoons of oil to a skillet heated over medium high heat. Add chicken and cook for 4-6 minutes on each side (depending on the thickness, bone-in and cut of chicken). After flipping, pour the leftover marinade into the skillet and let chicken braise until cooked to an internal temperature of 165 degrees Fahrenheit.
Oven Roasted
To make oven roasted cilantro lime chicken, add chicken to a baking dish or foil lined sheet pan in a single layer. Pour over marinade. Bake chicken (uncovered) at 425 degrees for 20-25 minutes or until chicken is cooked through.