Buffalo Chicken Pasta Salad is an easy pasta salad with all the buffalo flavors! Carrots, celery, and blue cheese put this pasta dish over the top. Serve cold or warm.
BUFFALO CHICKEN PASTA SALAD
My mother is very thoughtful. My husband mentioned to her that he liked beef jerky when we were first married and every since then when we see her she has bags of beef jerky for him. She also knows I love See's chocolates and always has a box in our room by our bed when we come to visit.
My husband always jokes that we should tell her we really like money.
I must have some of my mother's genes because when John told me he loved Frank's Buffalo Sauce, I searched out every recipe I could find that had it in it. 
So I backed off for a while.
But now it's time. Time to welcome Frank back into our culinary lives. I made this Buffalo Chicken Pasta Salad while my husband was at a work dinner and enjoyed some for dinner by myself. It came together really fast because I used a rotisserie chicken and my food chopper to quickly chop up the veggies. The next day he told me he heated up two plates for lunch and really liked it.
"Heated it up? It's a pasta salad…you're supposed to eat it cold." I said.
"Nope. It's good hot."
So this pasta salad would be a great cold side for tailgating or football parties…or as a warm scrumptious dinner. And I have to agree…it is really good warmed up.
And FYI mom, I will never, EVER get burnt out on See's chocolates.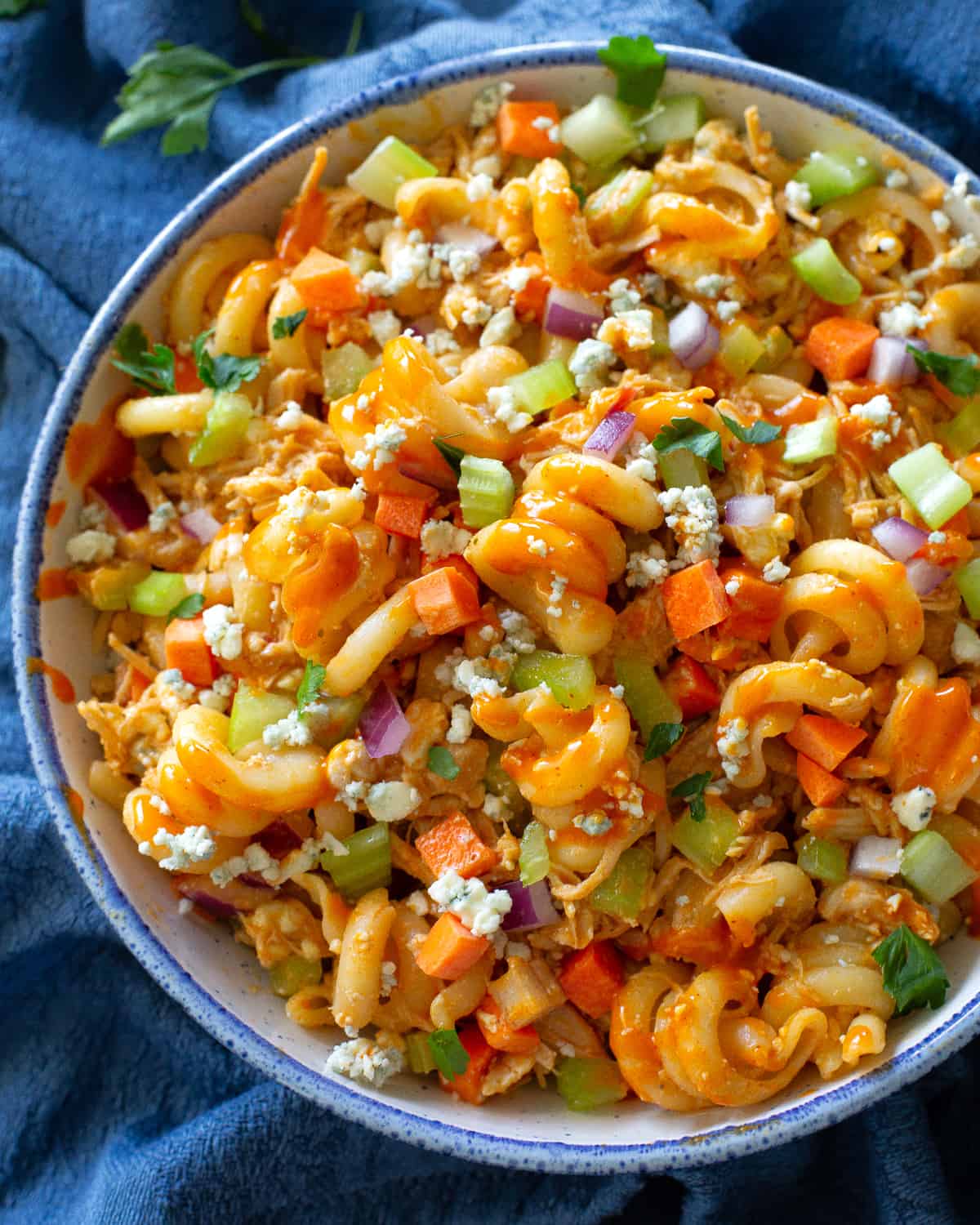 OTHER BUFFALO CHICKEN RECIPES: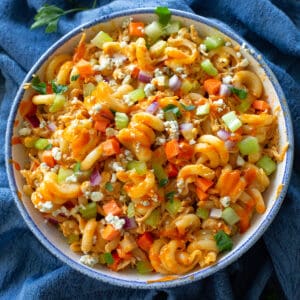 Buffalo Chicken Pasta Salad
Buffalo chicken is a fun pasta salad recipe, the heat pairs perfectly with the cold pasta.
8

ounces

small uncooked pasta

1/2

cup

Frank's Buffalo sauce

1/4

cup

ranch dressing

1/4

teaspoon

garlic powder

1/4

teaspoon

onion powder

1/4

teaspoon

celery salt

2

cups

precooked chicken or rotisserie chicken

,

chopped

1

cup

crumbled blue cheese

1

cup

carrots

,

chopped

1

cup

celery

,

chopped

(optional)

1/2 cup red onion, chopped
Cook pasta according to package directions to al dente in adequately salted water. Drain and rinse thoroughly with cold water (If serving hot don't use cold water).

While pasta is cooking, whisk together hot sauce, ranch dressing, garlic powder, onion powder, and celery salt in small bowl until well combined.

Place the pasta in large mixing bowl. Stir in chicken, blue cheese, carrots, celery, and onion (optional). Slowly mix in desired amount of dressing. You may not want to use all of the dressing.

8 ounces small uncooked pasta

Can be served cold or hot. If serving cold, refrigerate until ready to serve.
If you would like it to be spicier, use more Buffalo sauce and less olive oil. If the pasta salad seems dry after being in the refrigerator, add a little olive oil or Buffalo sauce.