Thai Coconut Peanut Chicken is a Thai inspired chicken dish served over pasta. You'll love this creamy and flavorful Thai Coconut Peanut Chicken!
Thai Coconut Peanut Chicken
Thai, Christy? Yes, I know. Who am I? I don't actually have ANY Thai recipes on this site. Let's just say college ruined Thai food for me. We had no money and every sketchy Thai restaurant we ate at I had a horrendous experience. I basically went on a Thai diet for the last 10 years swearing to never eat it again.
But I'm The Girl Who Ate Everything…not just some things so I had to give it another go. And while my first choice is always Mexican food, I'm willing to give Thai food another shot.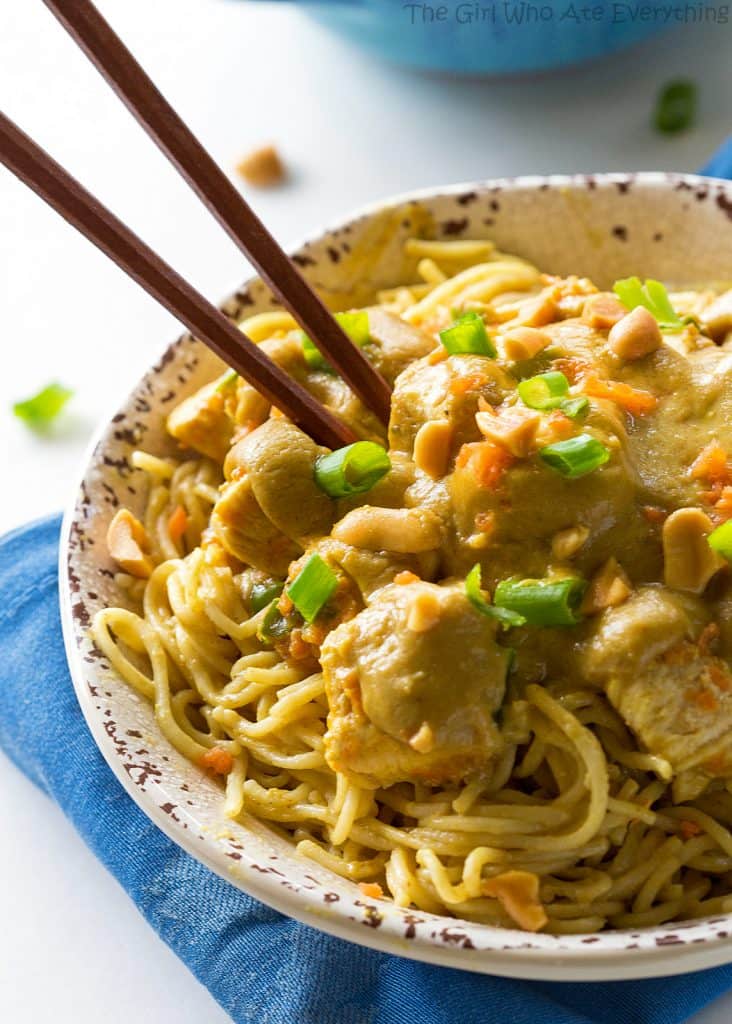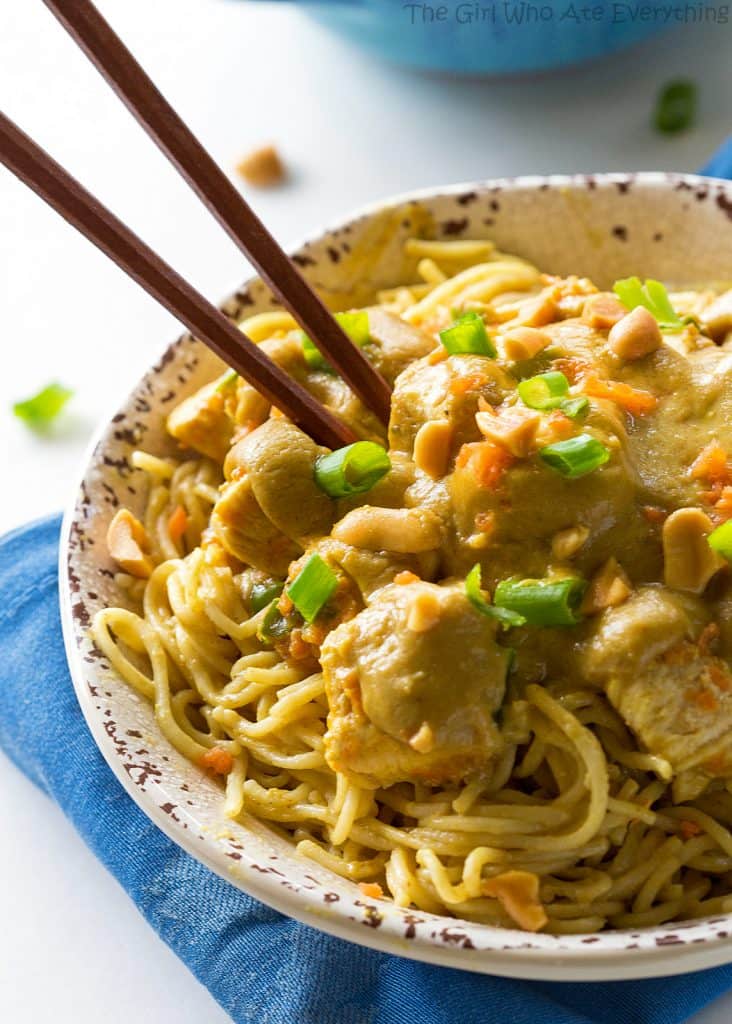 This is Thai inspired so it's definitely not authentic but we enjoyed it! Creamy coconut curry peanut sauce over chicken sprinkled with green onions and chopped peanuts. This dish was meant to impress!
OTHER ASIAN RECIPES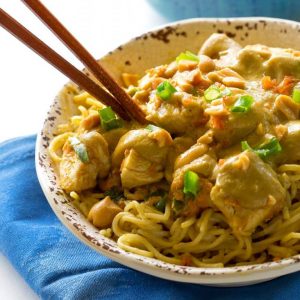 Print
Yield: 8 servings
This Thai Coconut Peanut Chicken is a Thai inspired chicken dish served over pasta.
1




(12 ounce) box angel hair pasta, cooked and drained
Peanut Sauce:
1




cup




creamy peanut butter

1




(13.5 oz) can light coconut milk (about 1 1/2 cups)

1/2




cup




low-sodium chicken broth

2




tablespoons




low-sodium soy sauce

2




tablespoons




brown sugar

2




teaspoons




garlic, minced

2




teaspoons




ground cumin

2




teaspoons




curry powder

salt, to taste

cayenne pepper, to taste
For the chicken:
1-2




tablespoon




sesame oil, to taste

4




(4 ounce) boneless skinless chicken breasts, raw, cut into chunks

1




bunch green onions, sliced (about 1 cup)

1




cup




carrot, shredded

juice of 1 lime or 1 lemon

chopped peanuts, garnish
Cook pasta according to package directions.

For the Sauce: Heat coconut milk, peanut butter, and broth in a saucepan over medium heat, stirring constantly until smooth and heated through (do not let boil).

Add remaining sauce ingredients, seasoning to taste, stirring constantly until the sauce thickens to the consistency of thin spaghetti sauce.

Remove from heat and cover, if will continue to thicken off the heat.

To prepare the chicken: Heat some sesame oil in a large skillet over medium high heat and stir fry the chicken chunks until almost cooked through.

While the chicken is cooking, squeeze some lime juice into the pan to add moisture, as much as needed.

Set aside about 1/2 cup of the diced scallions for a garnish later, and add the rest to the chicken, along with the carrots and stir fry until the veggies are tender and the chicken is fully cooked, adding even more lime juice as needed for moisture.

Pour some of the peanut sauce over the chicken in the pan and toss to coat (about 1/2 -1 cup).

Portion cooked pasta onto serving plates and ladle some more peanut sauce on top of each (or if you prefer, toss pasta with some of the sauce first).

Ladle chicken mixture on top of each portion, and drizzle with a bit more peanut sauce if desired.

Sprinkle with some cayenne pepper and some reserved scallions (and nuts if desired) as garnish.