Steak Chimichurri Nachos are marinated steak on top of tortilla chips with plenty of cheese and drizzled with chimichurri sauce. This is a heart appetizer or even dinner!
STEAK CHIMICHURRI NACHOS
Beauty is in the Eye of the Beholder. Have you ever met someone that is gorgeous but as you got to know them you found out that backstage behind the pretty curtains is an ugly show of human nature. I have. The opposite is true too. I've met people that aren't that attractive by the world's standards but as you get to know them now all you can see is this amazing, beautiful person and you are surprised when other people don't see it too.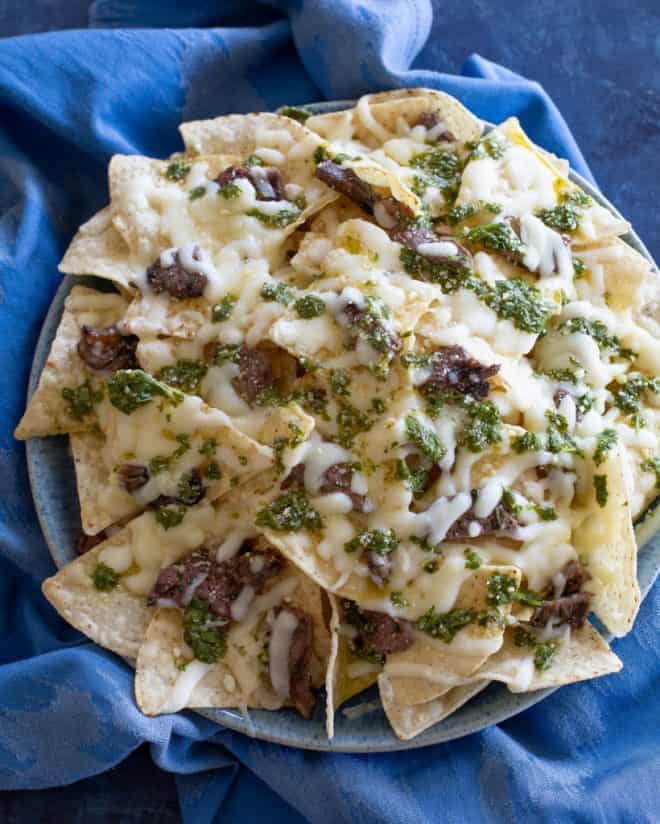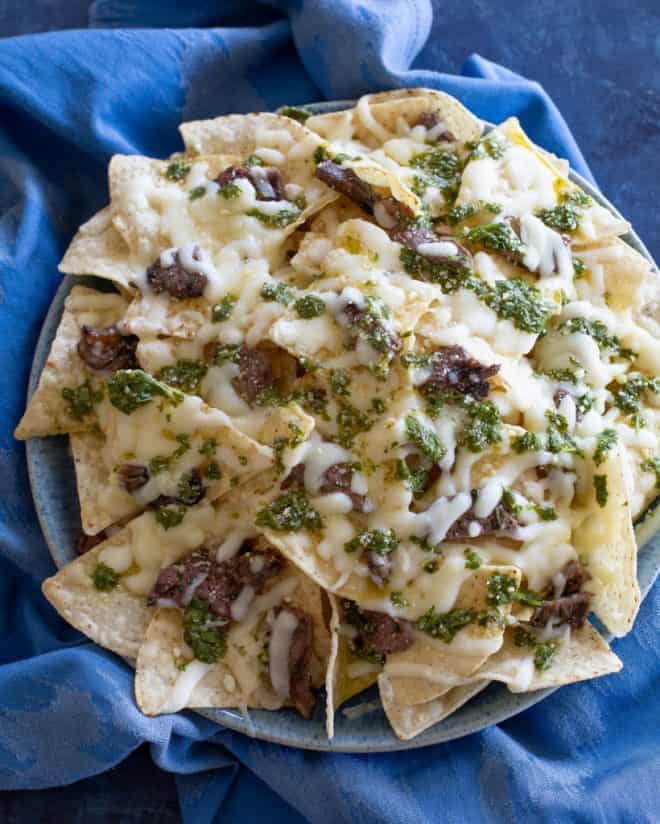 These Chimichurri Nachos are the latter. If they were a school dance they would be girl in the corner shuffling her feet waiting for someone to ask her to dance. I made them last week and they were so good. They are lime flavored chips topped with grilled skirt steak, mozzarella, Cojita, and chimichurri sauce. But as I went to post them today I took a double take and thought I don't know if the rest of the world is going to understand how good these are by this picture.
They say Chimichurri is the ketchup of Argentina. They put it on EVERYTHING. My friend from Argentina had us over for dinner and made steaks with chimichurri sauce that were out of this world and ever since then I've been finding ways to put chimichurri sauce on everything. Even nachos!
WHAT IS CHIMICHURRI SAUCE?
Chimichurri is made out of chopped cilantro, garlic, vinegar, red onion, oregano, and olive oil. You can chop it all up by hand, but I find it easier to use a small food processor to do the work. A couple pulses later it's done.
Do NOT over puree it or it will look like a green pea sauce.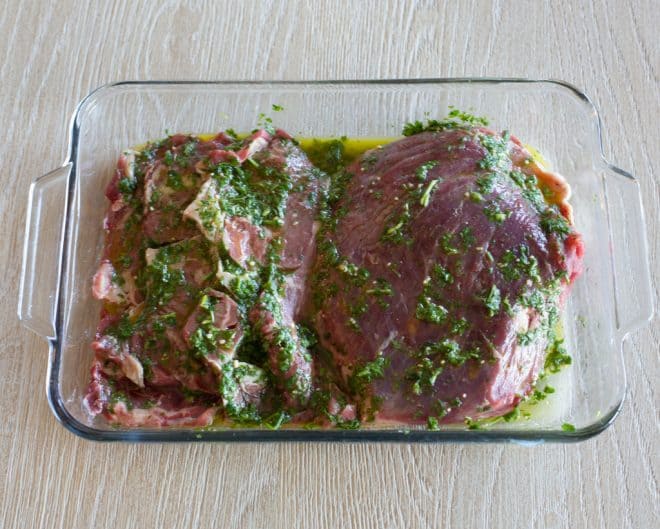 Add a half of the chimichurri sauce to marinate the steak.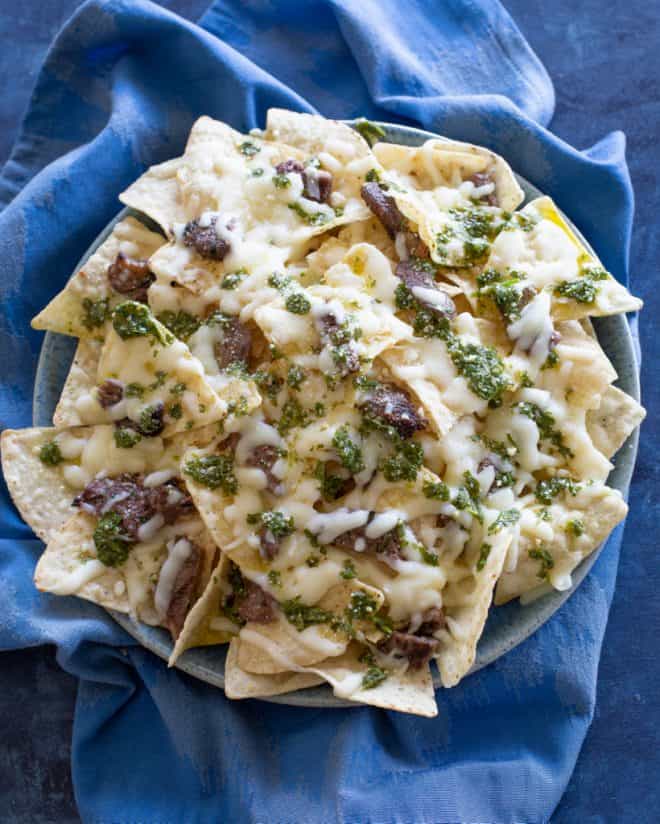 OTHER MEXICAN RECIPES: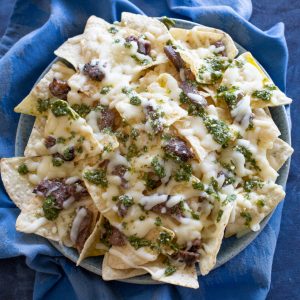 Print
Yield: 6 servings
Chips topped with grilled skirt steak, mozzarella, cojita, and chimichurri sauce.
1




pound




skirt steak




(flap steak or flank steak can be susbtituted)
Chimichurri:
1




bunch




flat leaf parsley




(about 1 1/2 cups)

3/4




cup




olive oil

1/4




cup




red wine vinegar

8




cloves




minced garlic




(you can buy this in a squeeze bottle or jar to make it easy)

3




tablespoons




lemon juice

1




tablespoon




diced red onion

1




teaspoon




dried oregano

1/2




teaspoon




kosher salt

1/4




teaspoon




ground pepper

8




cups




tortilla chips

1 1/2




cups




shredded mozzarella cheese

1/2




cup




crumbled cojita cheese




feta cheese can be substituted
Preheat oven to 475°F.

In a food processor, chop parsley, olive oil, vinegar, garlic, lemon juice, red onion, oregano, salt, and pepper until herbs are finely chopped but not pureed. You can do this step by hand if you do not have a food processor. Just make sure you finely chop the herbs as well as you can.

Rub half of the chimichurri sauce on the skirt steak reserving the rest of the sauce. Salt and pepper the steak well. Grill the steak for 4-5 minutes per side. Remove from the grill and slice thinly.

While steak is grilling spread chips evenly on a rimmed baking sheet or a shallow dish. Add mozzarella and cojita cheese and bake in the upper third of the oven for 6-7 minutes or until cheese is melted.

Remove from oven and top with steak and remaining chimichurri sauce. You might not need all of the sauce.