These Salted Caramel Apple Cups are chewy blondies topped with cinnamon apples, salted caramel, and a sweet crumble. This dessert taste like little bites of apple pie.
SALTED CARAMEL APPLE CUPS
I often long to be more adventurous in the kitchen. I have crazy recipe ideas that rarely come to fruition. Why? Turns out, I hate failing.
Once I try to make a concoction and in the end it's in an inedible mess, I'm frustrated at the waste of ingredients and the dishes in my sink for nothing.
sails are depleted and it's really hard to put my neck out there again.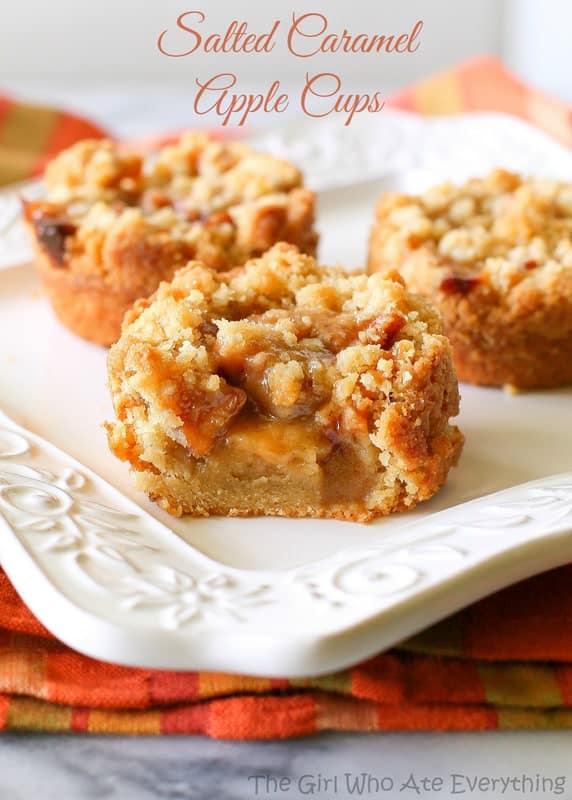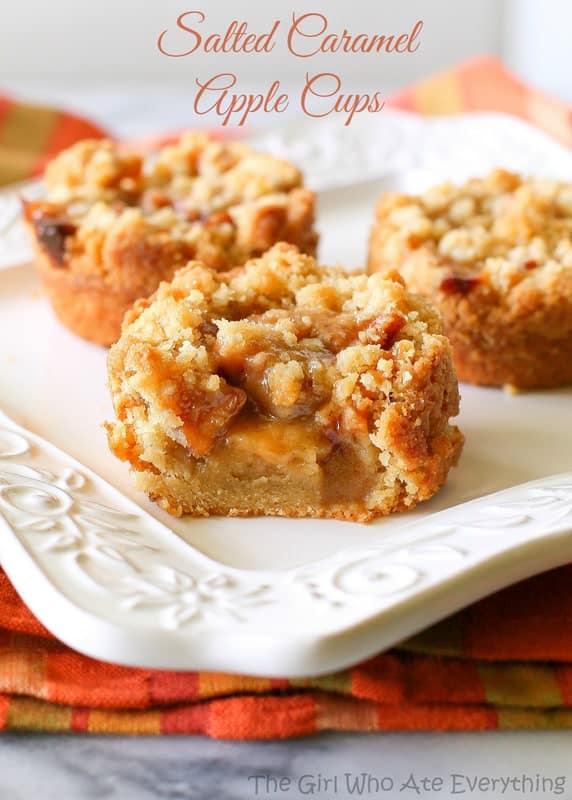 Here's an experiment that went right. I made 4 different versions and this is the one that won the heart of my family.
You know a recipe is good when it's 10 pm and you find yourself and your hubby alternately sneaking them. It may seem like a lot of steps but they are all simple and easy.
HOW TO MAKE SALTED CARAMEL APPLE CUPS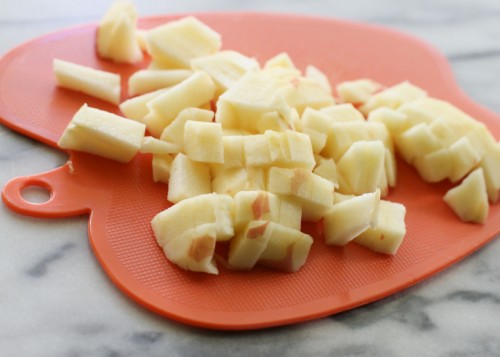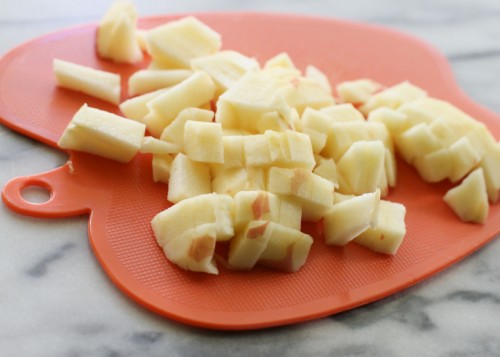 Chop up an apple. I used a Honeycrisp apple here but you can use any apple you like.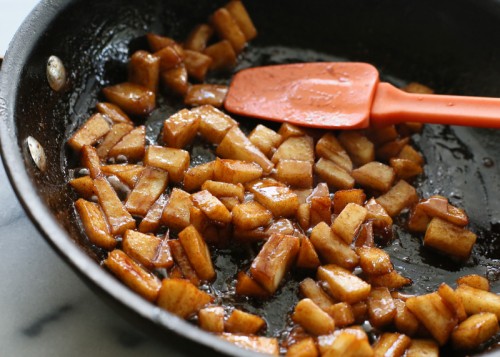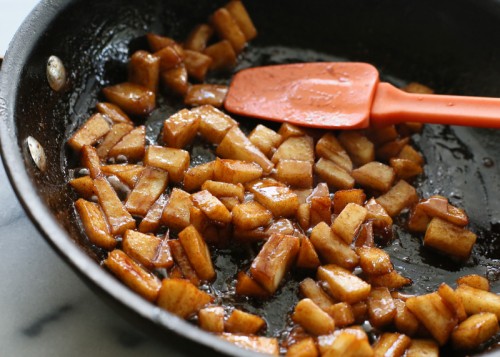 Cook the apples with some butter, cinnamon, and brown sugar until tender.
EASY CARAMEL SAUCE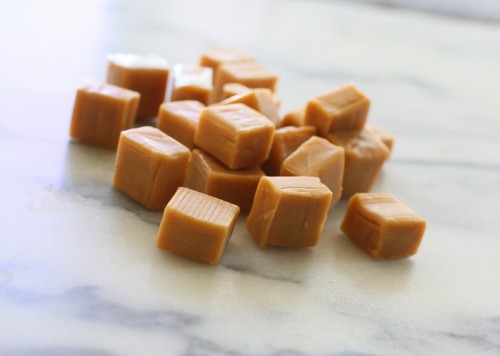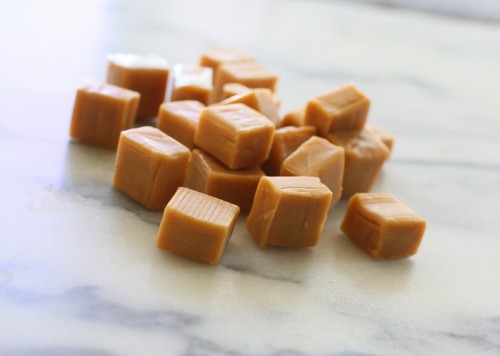 We're going to make an easy caramel sauce. I've made salted caramel from scratch. If you want that recipe go here. Start with your regular old caramels. You'll need about 20, which is half of a standard bag, or about 5.5 ounces.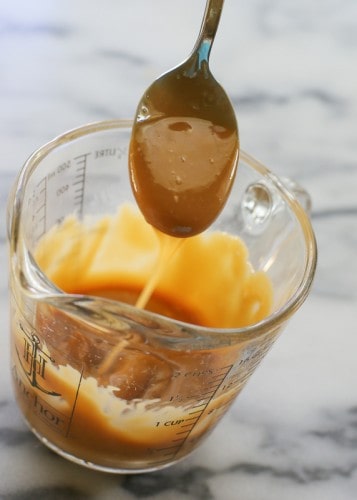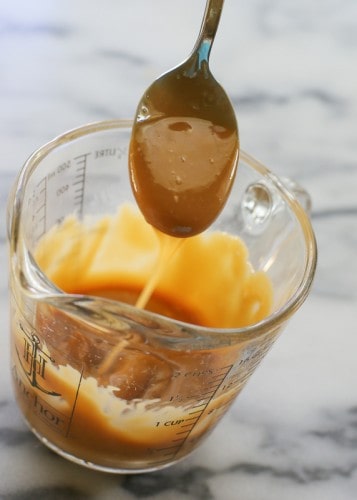 Add a little cream and microwave it until it's melted. If you don't have cream just use water.
No need to run to the store or anything. The reason we thin it out is so that when they are cool the caramel doesn't harden but stays a little soft.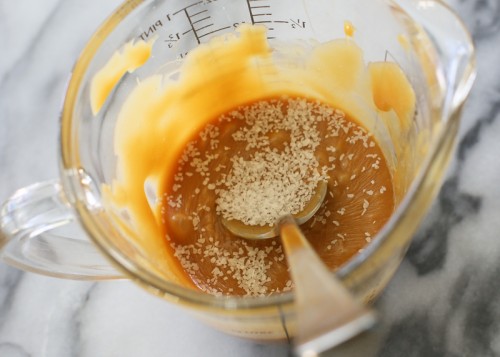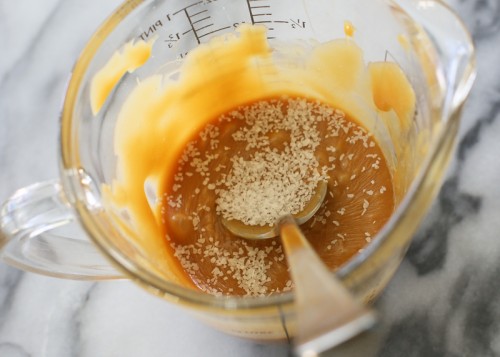 Salted caramel makes everything better. Add some coarse salt to your caramel and stir it in. As you see my caramel was starting to get thick because I was distracted by one of my 5 kids. No worries. Just heat it again to a workable consistency.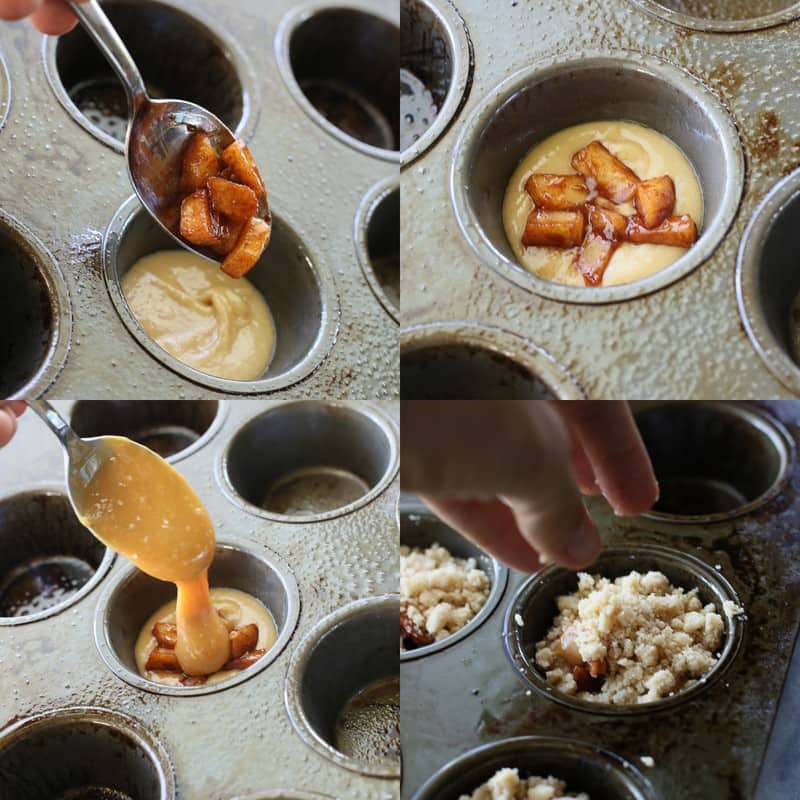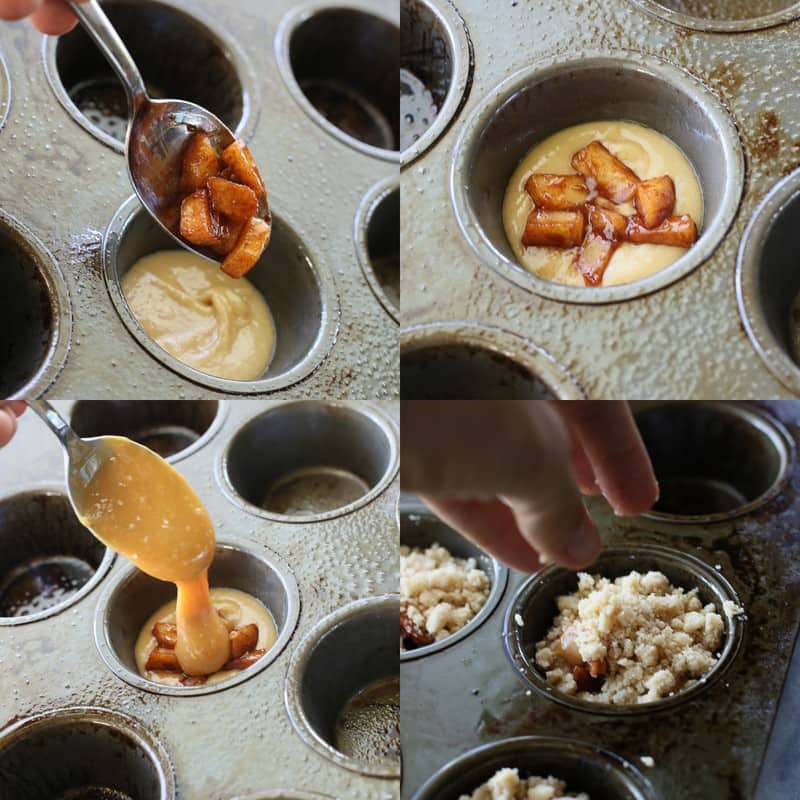 I used my favorite blondie batter which also happens to be in My Cookbook. I've used it for years and it's so adaptable. It gives these Salted Caramel Apple Cups chewy base to pile our goodies on. Spoon 1-2 Tablespoons into a muffin tin. Add some apples and a drizzle of caramel, making sure to stay away from the sides.
Top it off with a crumble. I tried topping it with more blondie batter with no crumble but we liked this better.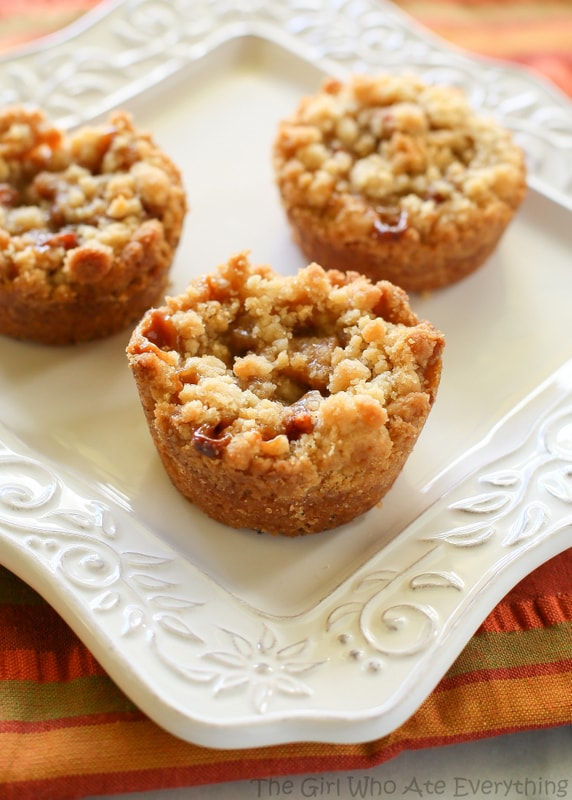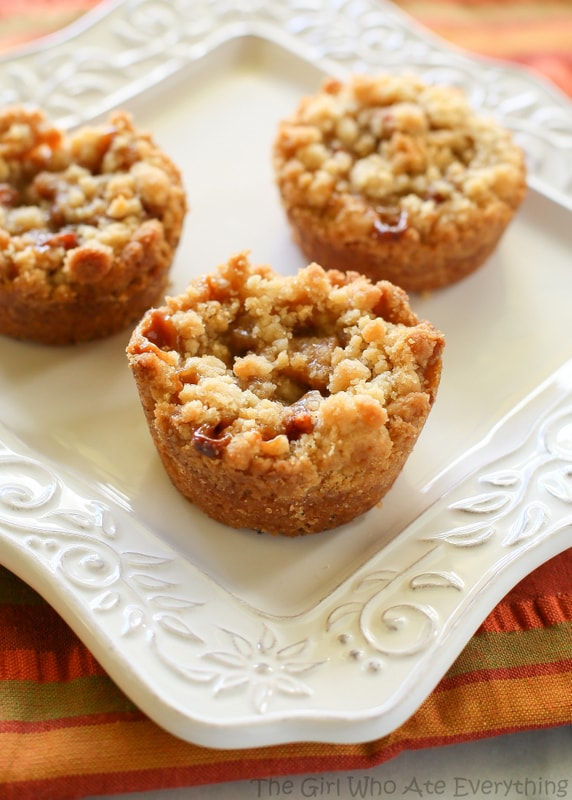 There you have it. Beautiful chewy blondies, topped with cinnamon apples, salted caramel, and a sweet crumble.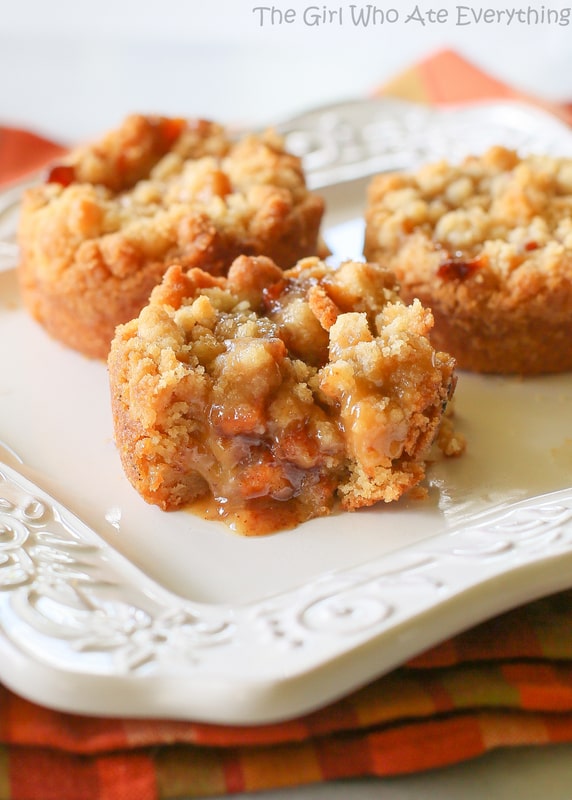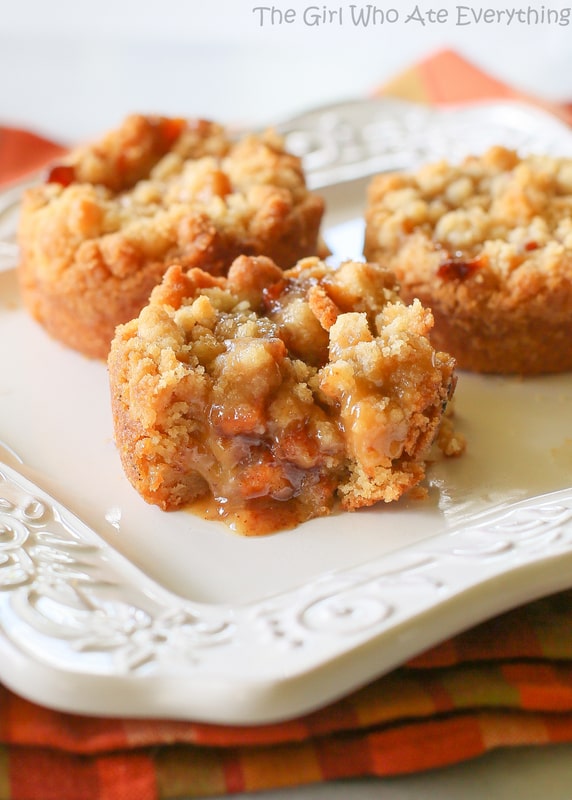 These Salted Caramel Apple Cups are good at room temperature or even better heated up for about 20-25 seconds in the microwave. These were seriously good.
OTHER APPLE RECIPES:
Ingredients
Apples:
1 Tablespoon butter
1 cup peeled and chopped apples
1 Tablespoon brown sugar
1/2 teaspoon cinnamon
pinch of nutmeg
Batter:
1/2 cup 1 stick, melted butter
1 cup brown sugar
1 egg
1 teaspoon vanilla
1 cup flour
Salted Caramel Sauce:
20 caramels, (about 5.5 oz, unwrapped)
1 Tablespoon cream, (or water)
1/4 teaspoon kosher salt
Crumble:
2 Tablespoons butter, slightly softened
5 Tablespoons flour
1/4 cup brown sugar
Instructions
Preheat oven to 350 degrees and spray a muffin tin with cooking spray. Do not use paper liners, they will stick.
For the Apples: In a small skillet, melt the 1 tablespoon of butter and add the apples, brown sugar, cinnamon, and nutmeg. Cook for about 3 minutes or until apples are slightly tender. They don't have to be cooked all the way through because they will continue cooking in the oven. Remove apples from heat and set aside.
For the Batter: In a large bowl, cream the butter and sugar together. Beat in the egg and vanilla. Add the flour and mix until combined. Set aside.
For the Caramel: In a microwave safe bowl, place the caramels and cream and heat for 60-90 seconds or until melted. Stir in the salt and set aside.
For the Crumble: In a small bowl, mix the butter, flour, and brown sugar with a pastry blender or by hand until mixture resembles course sand.
For Assembly: Add about 2 Tablespoons of batter to each muffin tin – 12 muffin tins total. Spoon about 1-2 teaspoons of apples on top. Drizzle about 1-2 teaspoons of caramel on top making sure to not touch the edges of the tin. Sprinkle the top with an even layer of crumble.
Bake for 13-16 minutes or until tops are slightly golden. Let cups cool in the muffin tin. Use a knife to loosen the edges before removing. Serve room temperature or warm. If not serving right away they can easily be warmed by heating in the microwave for 30 seconds.They are great with ice cream. Makes 12 cups.
Notes
Source: The Girl Who Ate Everything Original
Nutrition Information:
Yield: 12
Serving Size: 1 grams
Amount Per Serving:
Unsaturated Fat: 0g