Ruth's Chris Sweet Potato Casserole is creamy and topped with a brown sugar pecan crust just like they are at Ruth's Chris Steakhouse. One of our family favorites and a must have side at Thanksgiving, these sweet potatoes will turn even non-sweet potato lovers into avid fans.
RUTH'S CHRIS SWEET POTATO CASSEROLE
I used to despise sweet potatoes until last year when my sister-in-law Kim gave me a recipe that changed my mind. The only other time I have enjoyed sweet potatoes is when we go to Ruth's Chris steak house for special occasions and John orders them.
I always give him a little flack and say, "You ordered sweet potatoes (imagine a 13 year old girl's voice with a lot of attitude)?! It's not Thanksgiving." But guess who always ends up licking the plate…me.
So this year when I stumbled across THE Ruth's Chris Sweet Potatoes recipe on the Ruth Chris website I was torn. Why try something new when I knew how good Kim's recipe was?
Then as I looked at the recipes closer I realized they were exactly the same except for Kim's had a little milk in them which I left out last year anyway because my potatoes were already looking a little on the wet side.
These are so good and are the only way to go as far as sweet potatoes go. They're creamy with a brown sugar pecan crust.
These could easily be dessert maybe even with a scoop of ice cream. You can make these up to a couple of days in advance and then bake the crust for 10 minutes before serving.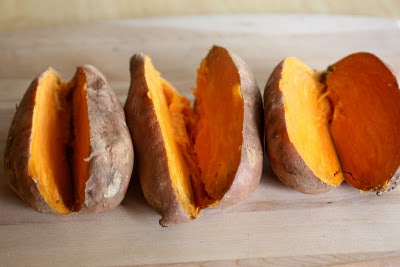 Just boil, bake, or even microwave your sweet potatoes.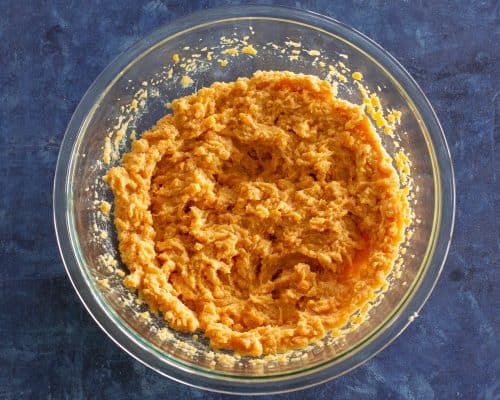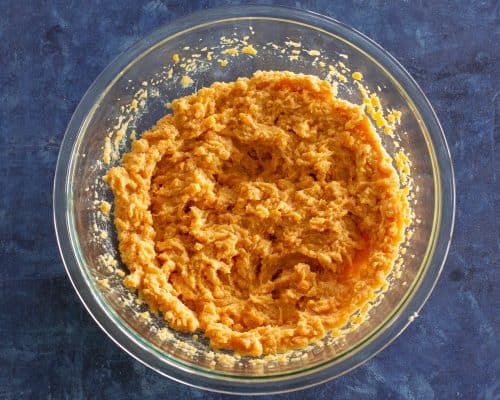 Cream them together with some eggs, sugar, and butter.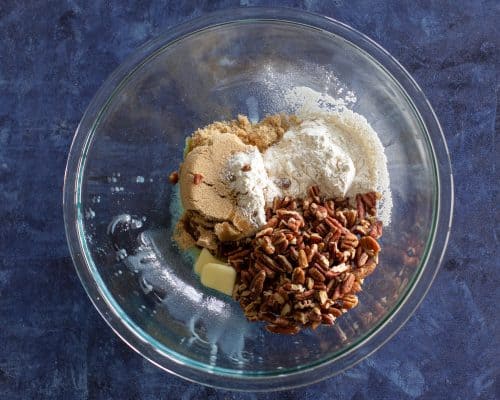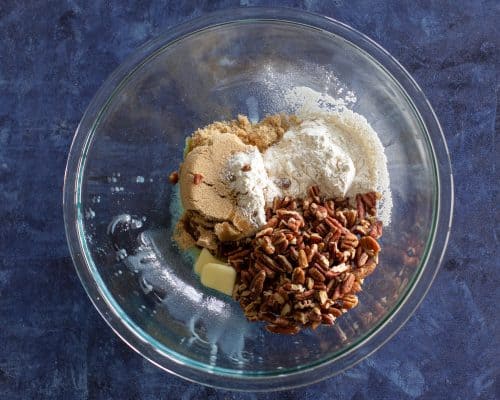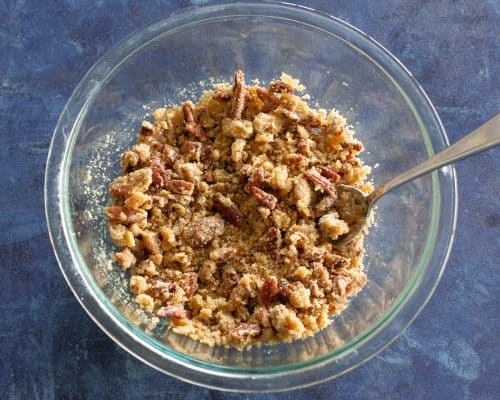 Top with a brown sugar pecan crust.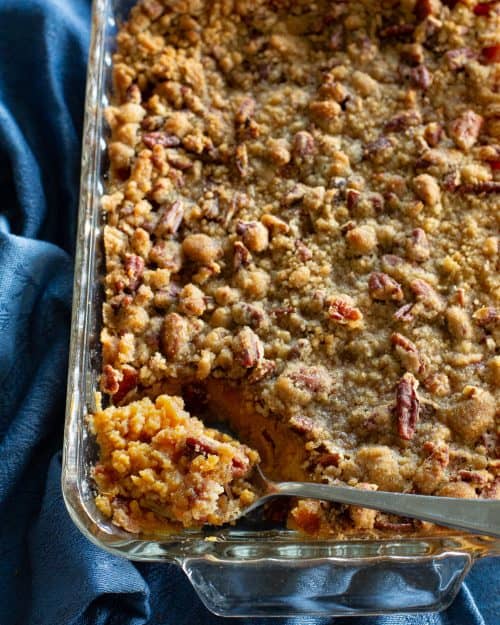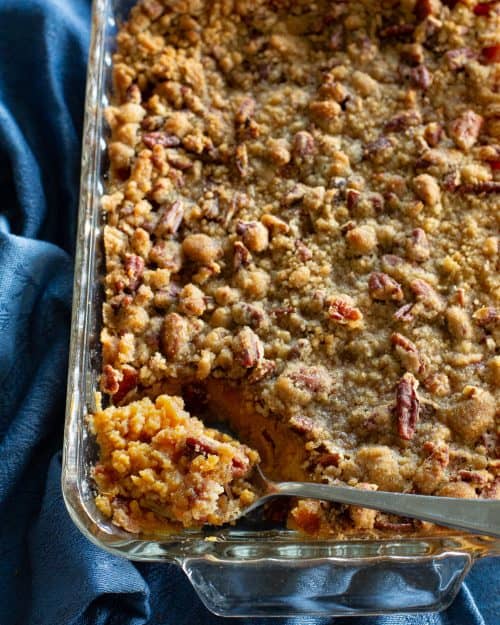 MAKE AHEAD SWEET POTATO CASSEROLE
Can these sweet potatoes be made ahead of time?
Yes! Prepare the filling and bake then refrigerate until the day of baking. Bake for 10-20 minutes then sprinkle the topping on top and bake according to the directions.
*Note- I've also made the entire recipe days ahead and it reheats great! These award winning sweet potatoes will be a hit!
CAN I USE CANNED SWEET POTATOES?
Yes. If you're looking for the canned version sometimes they are called sweet potatoes and sometimes they are called yams. Make sure you get the ones that are not stored in syrup (these are already sweet enough). You'll need about 3 (15 ounce) cans to make 3 cups.
OTHER POTATO RECIPES:
Ingredients
Crust:
1 cup brown sugar
1/3 cup flour
1 cup chopped pecans
1/3 cup butter, , melted
Sweet Potato Mixture:
3 cups cooked and mashed sweet potatoes, (see Note)
1 cup sugar
½ teaspoon salt
1 teaspoon vanilla
2 eggs, , well beaten
1/2 cup butter, melted, (1 stick)
Instructions
Preheat oven to 375 degrees. Spray a medium-size casserole dish with nonstick spray.
For the crust: Combine brown sugar, flour, nuts and butter in mixing bowl. Chill in the fridge until ready to use. This helps the crumble maintain its form and not melt into the sweet potatoes.
Combine sweet potatoes, sugar, salt, vanilla, eggs and butter in a large mixing bowl in the order listed. Beat thoroughly with a hand mixer for about 3-4 minutes to increase the fluffiness of the sweet potato mixture. Add a splash of milk if needed and mix.
Pour mixture into the baking dish (I use around a 2 quart dish). Bake for 25 minutes. At this point, dish can be covered and refrigerated for a couple of days if making ahead of time.
*If you refrigerated ahead of time make sure to reheat the potatoes again before adding the crust – around 10-20 minutes.
Sprinkle the surface of the sweet potato mixture evenly with the crust mixture and return to oven for 10-20 minutes or until crumble is browned. Allow to set at least 30 minutes before serving.
The brown sugar and pecan crust should be slightly browned and crunchy. Makes 10 servings.
Notes
Note: 3 cups sweet potatoes is about 3-4 large sweet potatoes. To cook sweet potatoes first wash and dry them carefully then you can either: 1) Bake them at 400 degrees for 50-60 minutes (my preferred method) 2) Boil them for 30 minutes or 3) Pierce them with a fork and microwave them for about 15-20 minutes.
Source: my SIL Kimi
The size of dish will depend on how thick you want your potatoes. I like to use around a 2 quart dish. A 9×13 pan is a 3 quart dish so if you're doubling it and put it in a 9×13 it might be on the thicker side.
Nutrition Information:
Yield: 8
Serving Size: 1 grams
Amount Per Serving:
Unsaturated Fat: 0g