Rolo Pretzels are fun sweet and salty dessert to make with your kids and great for Christmas plates. All you need for these are 3 ingredients! These easy turtles are made with pretzels, chocolate rolos, and pecans or M&Ms.
ROLO PRETZELS
My friend Lindsay gave these to me and although I have seen them before I underestimated their yumminess.
Even though everyone has these Rolo Pretzel Bites on their Christmas plates, I never get tired of eating them because they're that good.
The buttery, salty pretzel with the chewy sweet caramel is divine. I loved them so much that I made them with my boys today.
I let them put M&Ms on top but for adults a salty pecan makes these taste just like a turtle. This is a fun activity to do with your kids and takes less than 5 minutes.
I had to give them to my neighbors immediately so I didn't eat them all.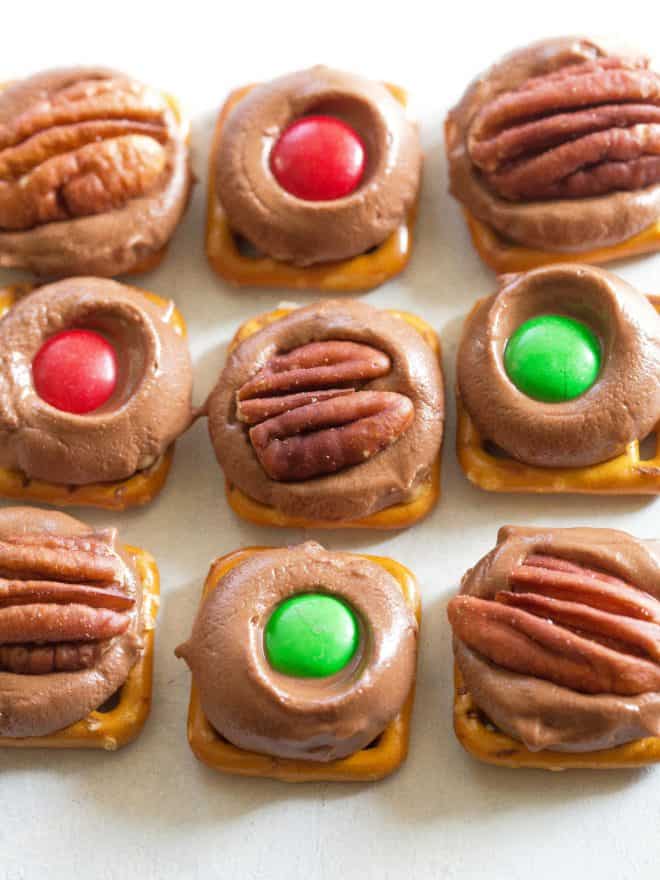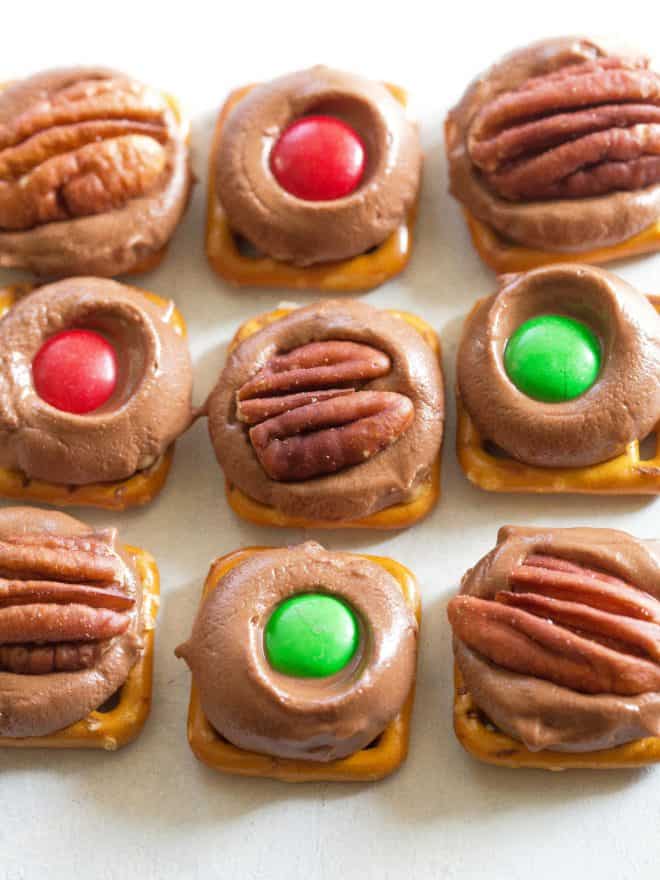 VARIATIONS ON THIS RECIPE
Make these your own! My kids don't love the pecans but go crazy for the M&Ms.
Hershey Kiss: Use a Hershey kiss instead of Rolo. The white and black striped Hershey Hugs are really cute. During Christmas time they have a red and white striped Hershey kiss as well.
Peanut Butter version – Use a mini peanut butter cup instead of a Rolo for a peanut butter delight!
OTHER CHRISTMAS RECIPES: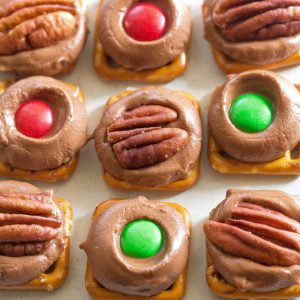 Print
Yield: 36 servings
These Rolo Pretzel Bites are fun to make with your kids and great for Christmas plates. All you need for these Rolo Pretzel Bites are pretzels, rolos, and pecans or M&Ms.
Bag of mini pretzels




(original, square, or if you are lucky you can find the mini star pretzels)

Bag of Rolos




unwrapped

Halved Pecans

M&Ms




Hersheys kissables, (optional for kids)
Preheat oven to 350 degrees. Place pretzels on an ungreased cookie sheet. Place unwrapped Rolos on top of pretzels and bake for 3 minutes. You don't want them too melted. Remove from oven and push pecan half (or candy) halfway down into the melted Rolo.
Source: my friend Lindsay Stevens