Pesto Mushroom Chicken is breaded in buttery breadcrumbs and topped with pesto, mushrooms, and provolone cheese. So impressive and so easy, this Pesto Mushroom Chicken dish is a winner!
PESTO MUSHROOM CHICKEN
(originally posted 2016)
Alexa can do everything from lock your front door, add eggs to your shopping list, turn down your A/C, play Adele music, or name the capital of Spain all from a voice command. Oh and she's witty. If you say….
"Alexa, 'My name is Inigo Montoya.' " Response: "Stop saying that. I've never killed anyone's father."
"Alexa, 'Show me the money!' " Response: "Jerry, you got to yell!"
"Alexa, 'Party on, Wayne.' " Response: "Party on Garth" [in monotone].
"Alexa, 'I want the truth.' " Response: "You can't handle the truth."
As I'm sitting here I just yelled, "Alexa, make me dinner!" Her response: "I wish I could. Cooking is beyond me at the moment."
Isn't that the truth. It's Wednesday and cooking is completely beyond me at the moment. Impeccable timing. My husband just texted me saying he was bringing home dinner. Woo-hoo! As much as I love cooking, I love not cooking…if that makes any sense at all.
But say your husband isn't bringing home dinner tonight? I've had this Pesto Mushroom Chicken in my back pocket for a while. It's seriously restaurant quality.
Often my husband's work feeds him dinner so when he comes home he's never hungry. On such a night he came home and we were eating this. Even though he already ate, he devoured it.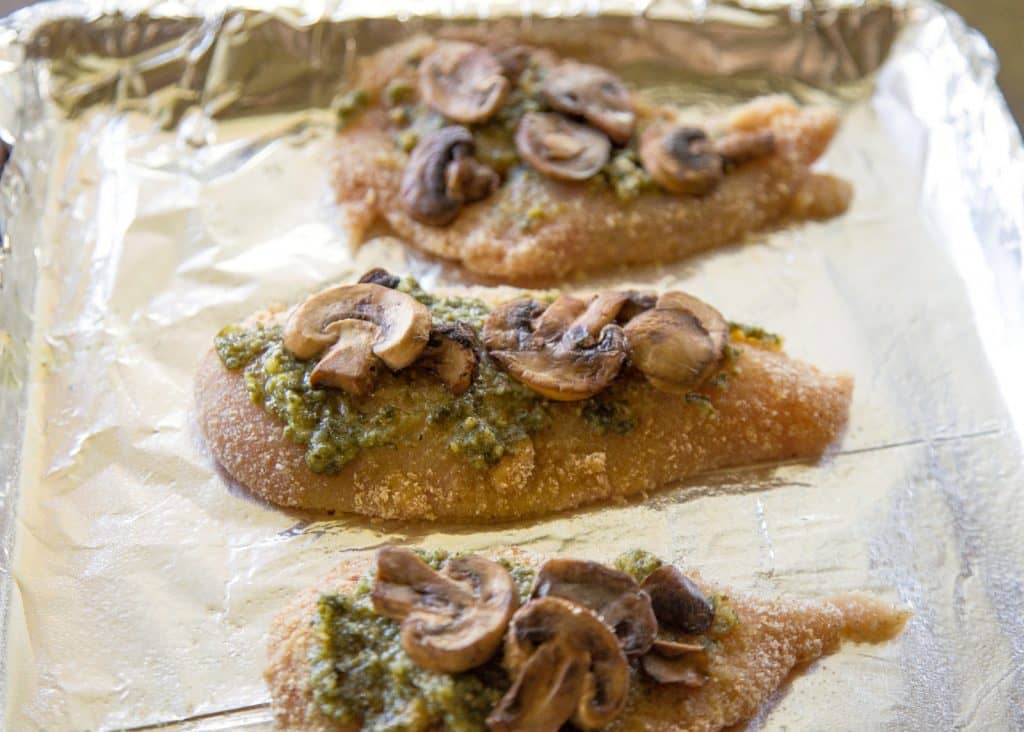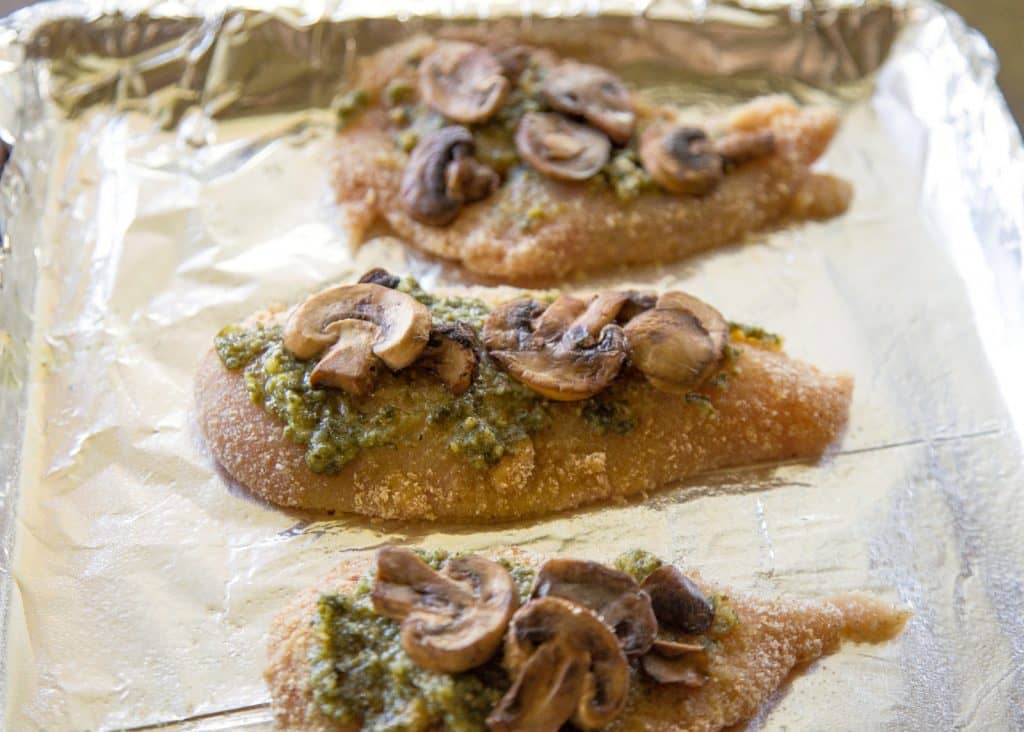 Only a few simple ingredients. Butter, breadcrumbs, pesto (make your own if you want), mushrooms, and provolone. The flavors together are on point.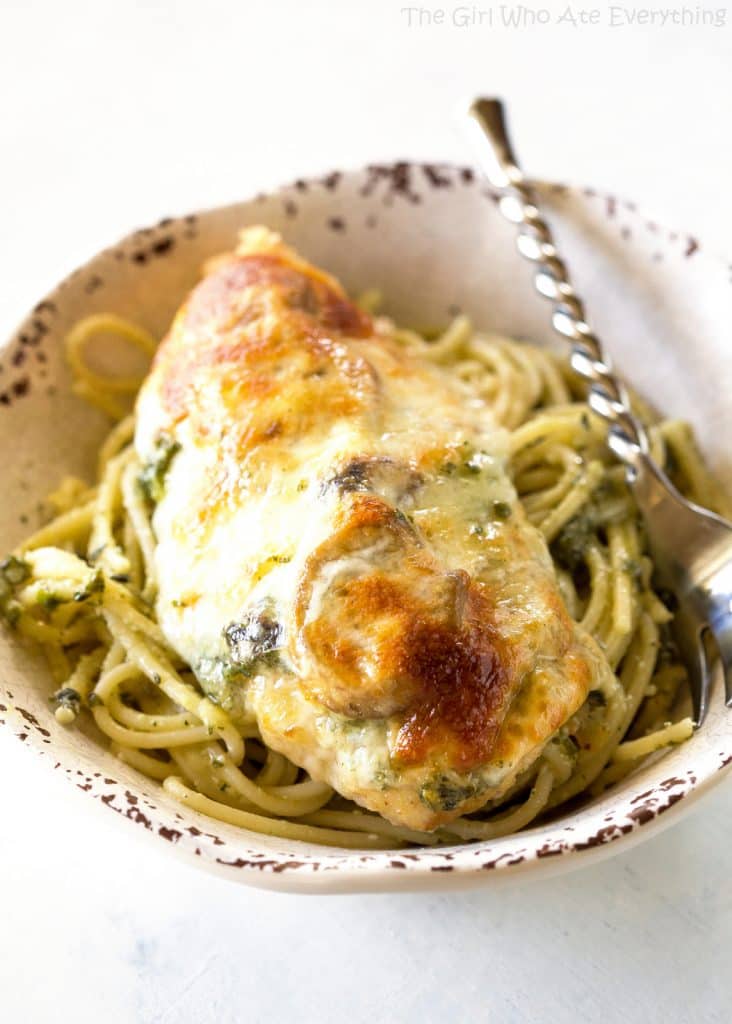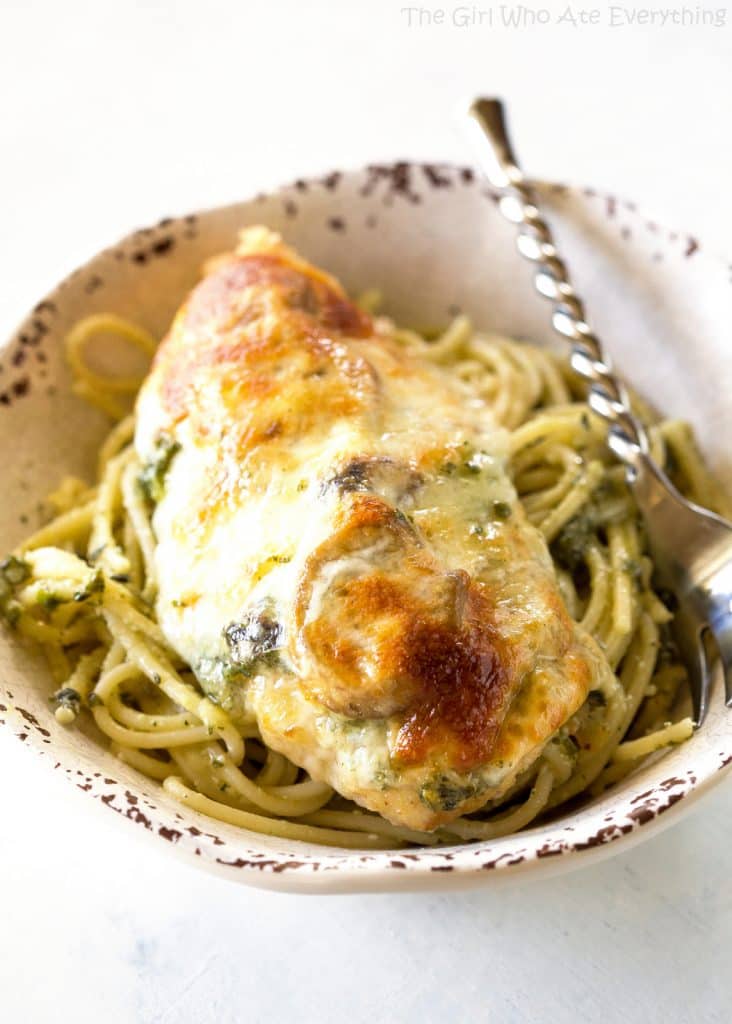 You want to bake the chicken until the cheese starts getting these beautiful brown spots on top and the cheese starts melting into the chicken itself. You can serve it over a little pasta tossed with some pesto or even marinara. Enjoy!
OTHER CHICKEN RECIPES: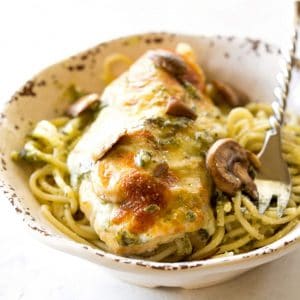 Print
Yield: 6 servings
This Pesto Mushroom Chicken is breaded in buttery breadcrumbs and topped with pesto, mushrooms, and provolone cheese.
6




boneless skinless chicken breasts

1/4




cup




butter




, melted

1/2




cup




Italian breadcrumbs




(or regular)

1/4




cup




prepared basil pesto

1




teaspoon




olive oil

8




ounces




sliced fresh mushrooms

6




slices




provolone cheese
Preheat oven to 350 degrees and spray a baking dish with cooking spray.

Brush chicken with butter and coat completely with bread crumbs.

Place chicken in baking dish and bake for 20 minutes.

While chicken is baking heat olive oil in a skillet and sautee mushrooms until they give up their juice.

After 20 minutes of baking, spoon pesto sauce evenly over chicken breasts and top with mushrooms.

Cover each breast with a slice of provolone cheese and bake in the oven for an additional 10-20 minutes or until chicken is no longer pink.

Serve with a side of pasta tossed in additional pesto if desired.
Source: adapted from Food.com. used less chicken. Melted butter and then coated with crumbs. Used fresh mushrooms.