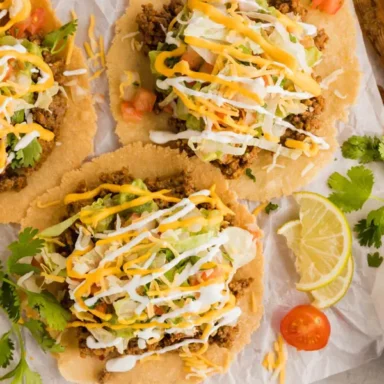 The Ultimate Keto Tostada Recipe
Looking for a delicious, savory meal that also fits into your keto diet? Look no further than the classic tostada! This Mexican staple has been given a keto makeover with low-carb ingredients, but still keeps all of the flavor and crunch you love. Let's take a look at how to make the ultimate keto tostada.
Ingredients
For the Keto Tostada Shells:
2

cups

almond flour

1

teaspoon

baking soda

1/4

teaspoon

sea salt

3

tablespoons

olive oil

5

tablespoons

water
For the Guacamole Topping:
2

ripe avocados

halved and pitted

1

large tomato

diced

3

cloves

garlic

minced

1/2

small red onion

finely diced

2

tablespoons

finely chopped cilantro

Juice of 1 lime

Salt and pepper

to taste Optional toppings for serving: cooked chicken or beef, diced tomatoes, lettuce or cabbage, shredded cheese or vegan cheese shreds.
Instructions
Preheat oven to 375F (190C). Line two baking sheets with parchment paper.

In a medium mixing bowl, combine almond flour, baking soda and sea salt.

Add in olive oil and water and mix until combined.

Divide dough into 8 equal pieces and shape each piece into thin rounds on prepared baking sheet. Bake for 14-16 minutes or until golden brown around edges. Remove from oven and let cool completely before assembling tostadas. For the Guacamole Topping:

In a medium bowl mash avocados using a fork until desired texture is reached (mashed but still chunky).

Mix in remaining ingredients until combined then season with salt and pepper to taste as desired.

To assemble tostadas spread guacamole topping on cooled shells then add optional toppings as desired such as cooked meat or vegan cheese shreds if desired (omit these for vegetarian option). Serve immediately! Enjoy!
Notes
Making keto-friendly meals doesn't have to be complicated – try this easy-to-make recipe for homemade keto tostadas! With just a few simple ingredients you can enjoy all of the flavors of this traditional Mexican dish without worrying about eating too many carbs or unhealthy fats. So grab your favorite toppings and get ready for some tasty treats! Bon appétit!