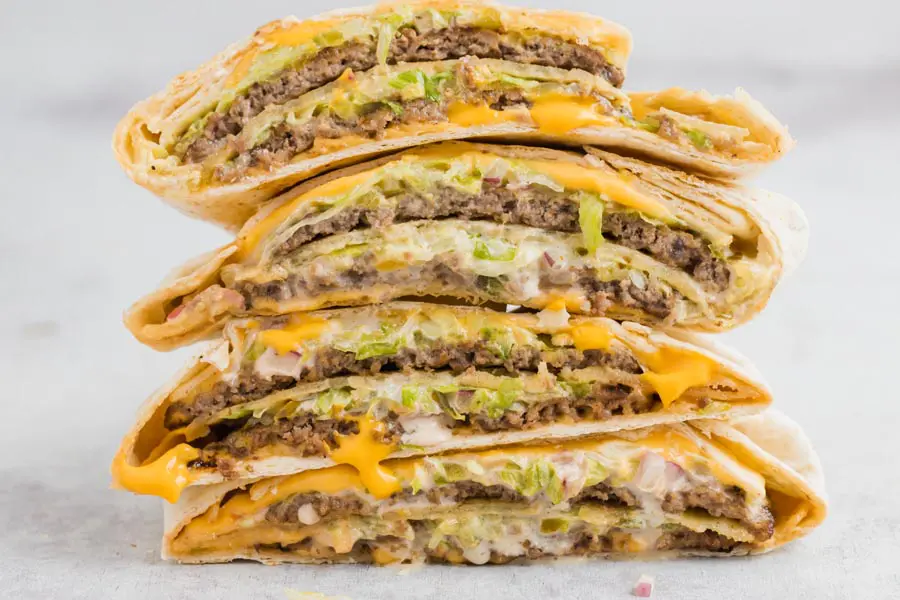 Meal prep
If you're looking to save some time while preparing your Big Mac wraps, here's a handy tip: make the tostada shells and sauce ahead of time!
For the keto tostadas, you can stop at the tortilla stage and refrigerate them for up to a week, or freeze them for 1-2 months. Just make sure to keep your low carb tortillas sandwiched between parchment paper and store them flat in a freezer-safe bag. This way, you're dough is ready to go whenever you want to fry them. They only take about 5 minutes to unthaw at room temperature.
Once you've fried up your tostada shells, you can store them at room temperature for up to 3 days. That means you can make a big batch and enjoy them throughout the week.
The special sauce (aka Thousand Island Dressing), can be made ahead of time as well. Store it in a small jar or air tight container in the refrigerator for up to a week. 
Refrigerator Storage
Assembled keto crunch wraps can store it in the refrigerator for up to 5 days. And when you're ready to enjoy it again, reheating is a breeze! Simply pop it in the air fryer at 375 degrees for 3-4 minutes or in the oven for 5-8 minutes.
While freezing the crunch wraps is not recommended, you can certainly freeze your tortillas as we mentioned earlier. This way, you can always have the perfect tortilla ready to go for your next batch of crunch wraps.