This homemade Green Bean Casserole recipe made without cream of mushroom soup. Easy and delicious side for Thanksgiving or any other holiday. If you're looking to make a green bean casserole from scratch, this recipe is easy and delicious!
GREEN BEAN CASSEROLE RECIPE
Last year my goal was to make the entire Thanksgiving menu from scratch. Usually I don't have such ambitious goals but I was having a moment.
Until last year, I had only ever made green bean casserole with canned beans and cream of mushroom soup. You know, the recipe everyone has to have at Thanksgiving but did they actually eat it?
While most people think cooking from scratch isn't their thing, I enjoyed every single moment of it. My girls helped me snap all of the green beans. We spread out the bread to dry it out for the stuffing.
And the rolls – rolls are always a labor of love but SO worth it and maybe my favorite part of Thanksgiving.
This Green Bean Casserole is kind of my compromise. I didn't make the fried onions from scratch because why. Like really why when I can buy them and they taste better.
But the creamy sauce is actually so easy. It's just a basic bechamel sauce: a roux (equal parts fat and flour) mixed with milk.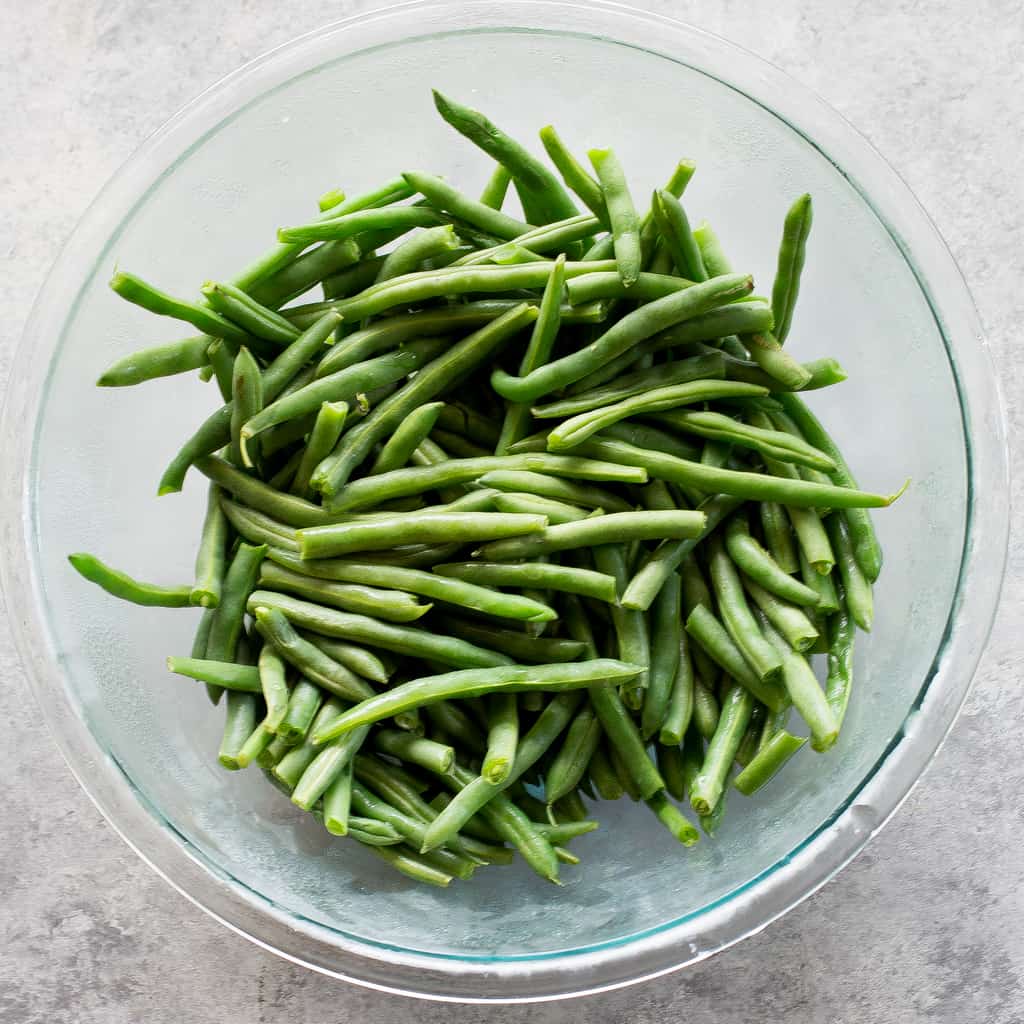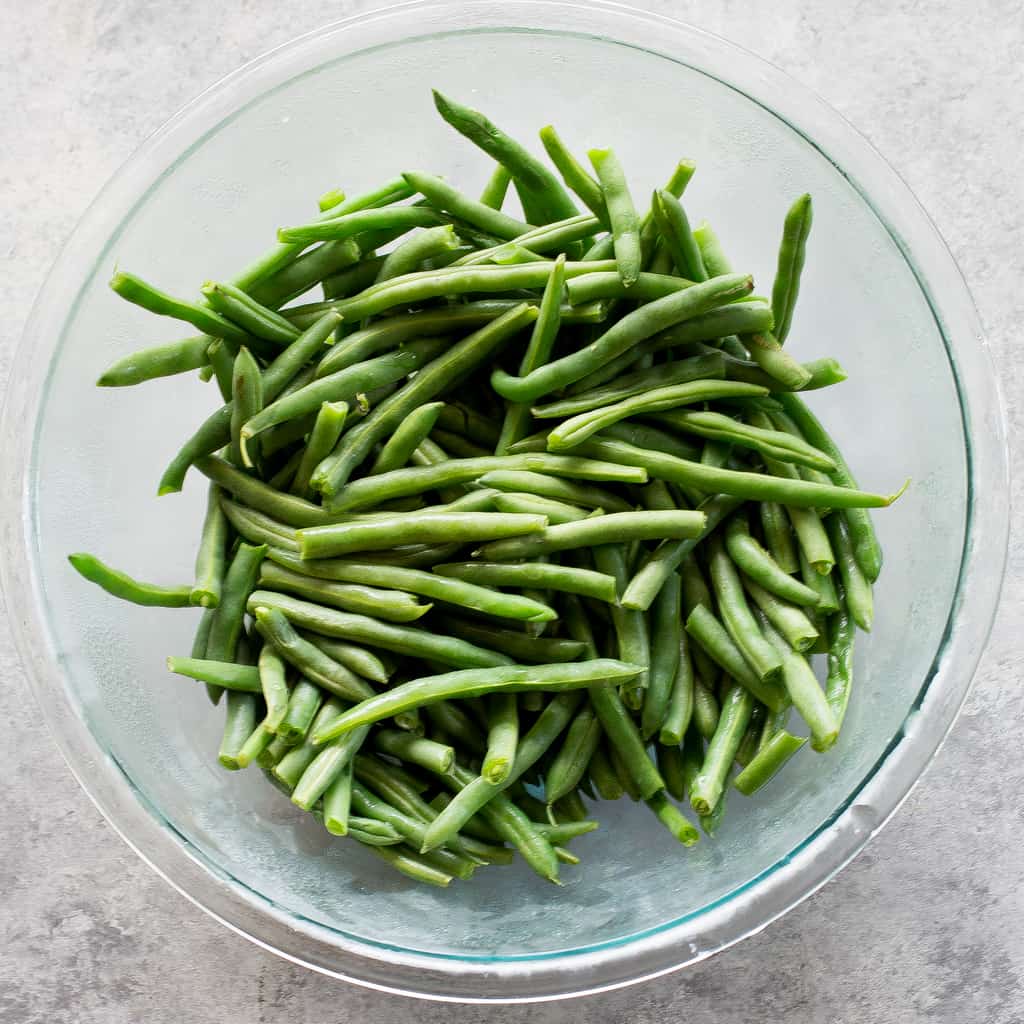 For this sauce I started off with 4 tablespoons of butter to 4 tablespoons of flour. Seems like a lot maybe but we have 2 pounds of green beans. I definitely prefer fresh but fresh or frozen green beans can be used here.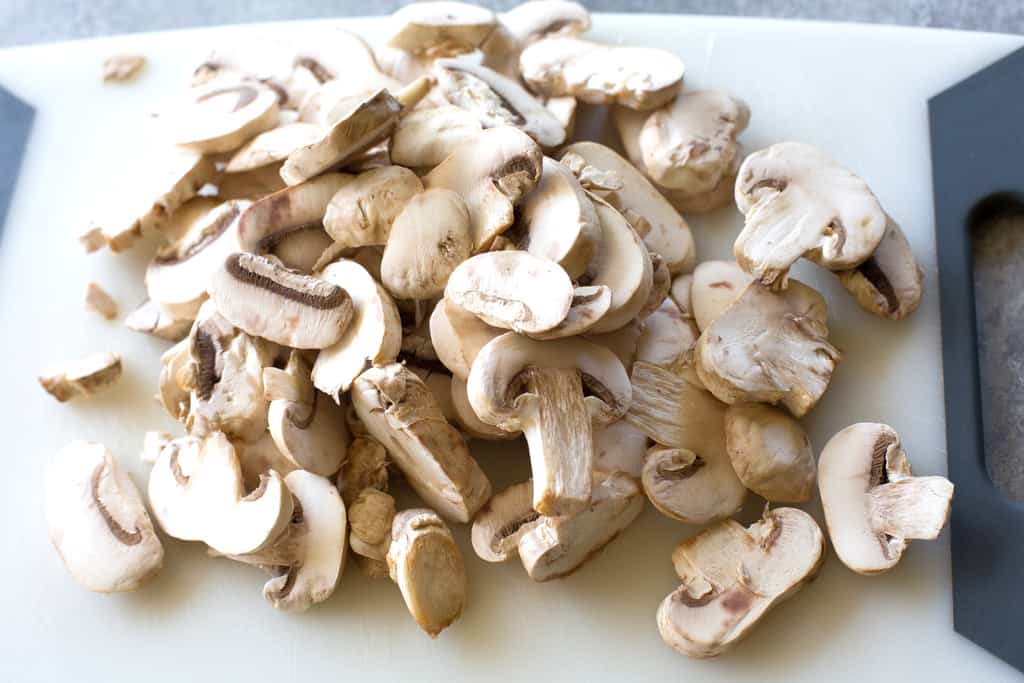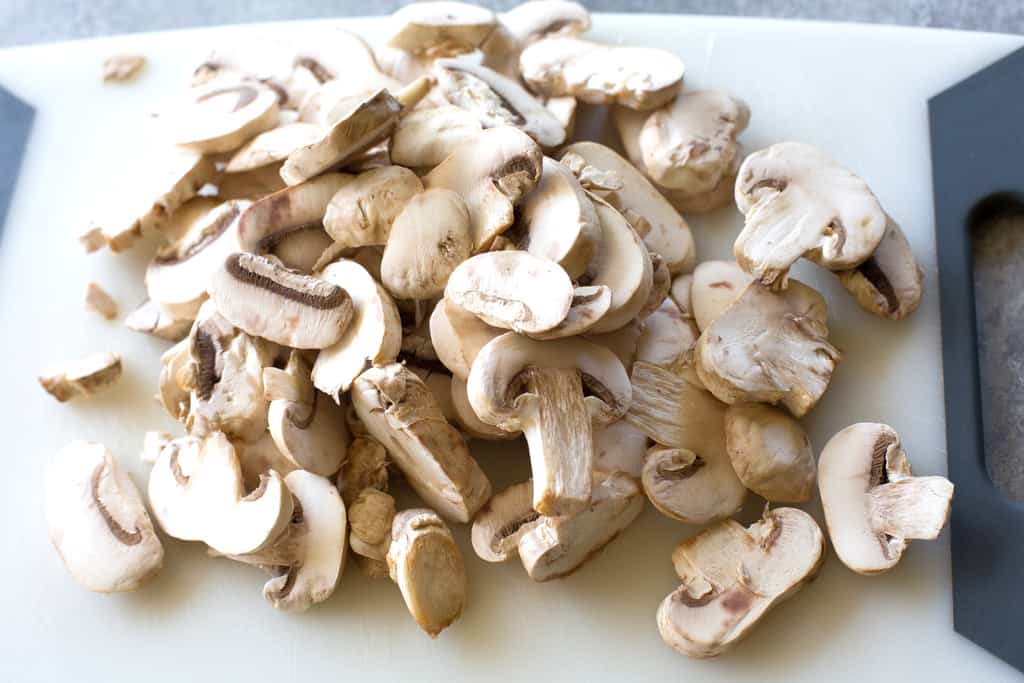 And mushrooms which admittedly we left out last year because we had mushroom haters.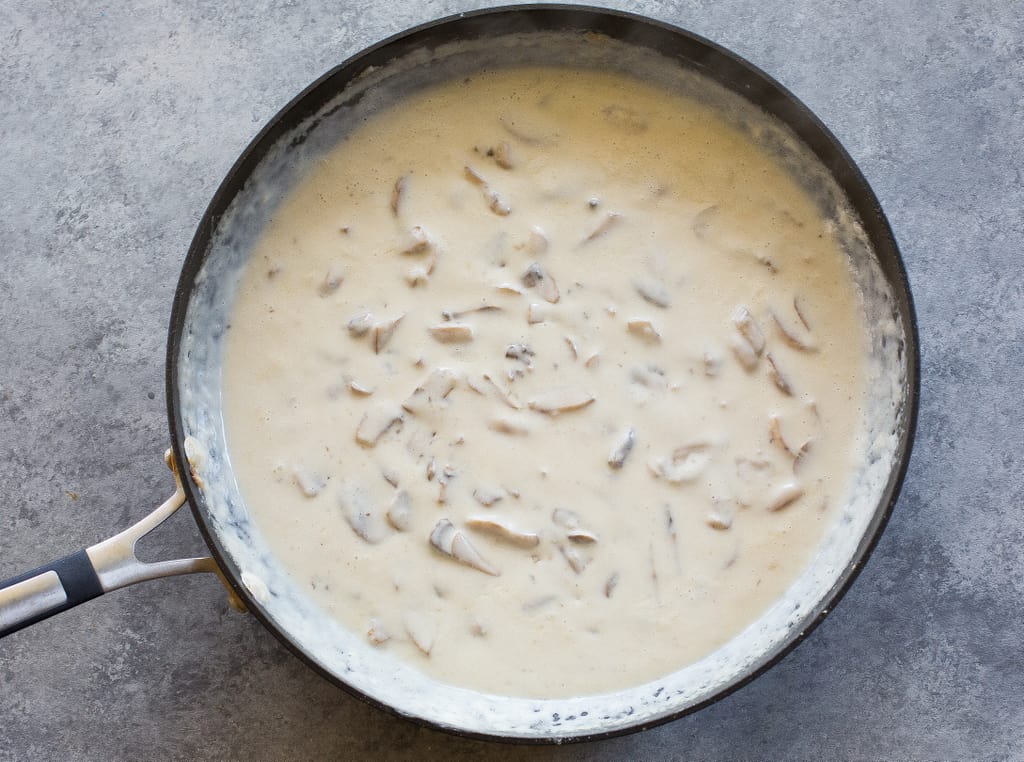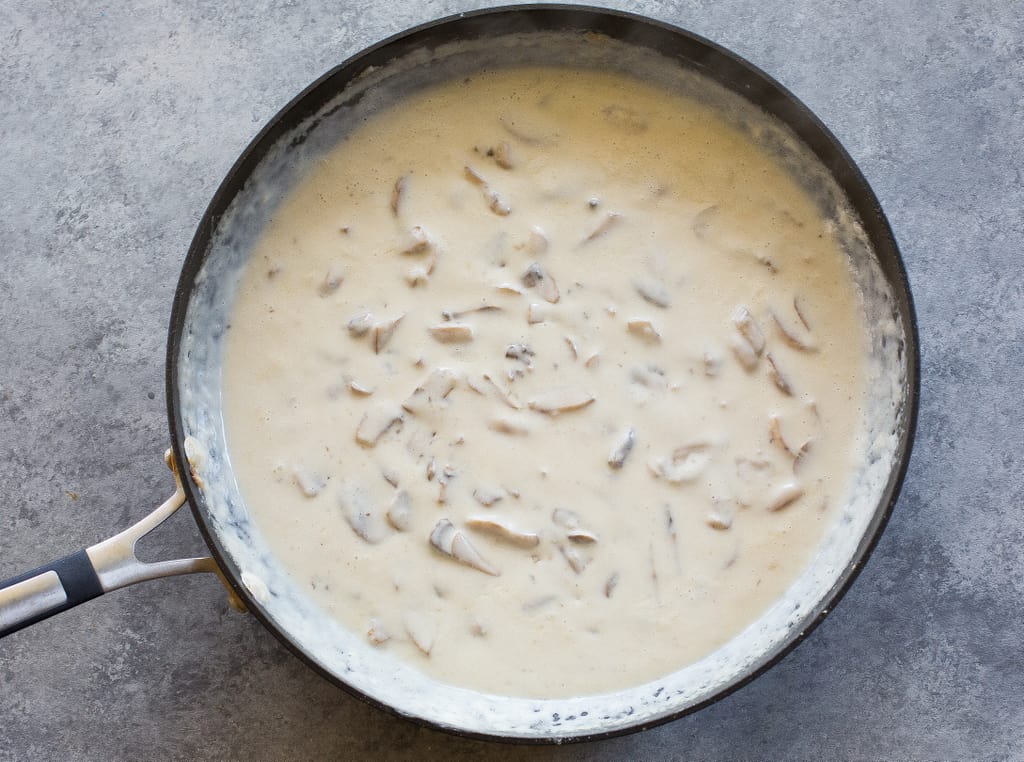 You simmer until the sauce is thick. The thicker the better in my opinion.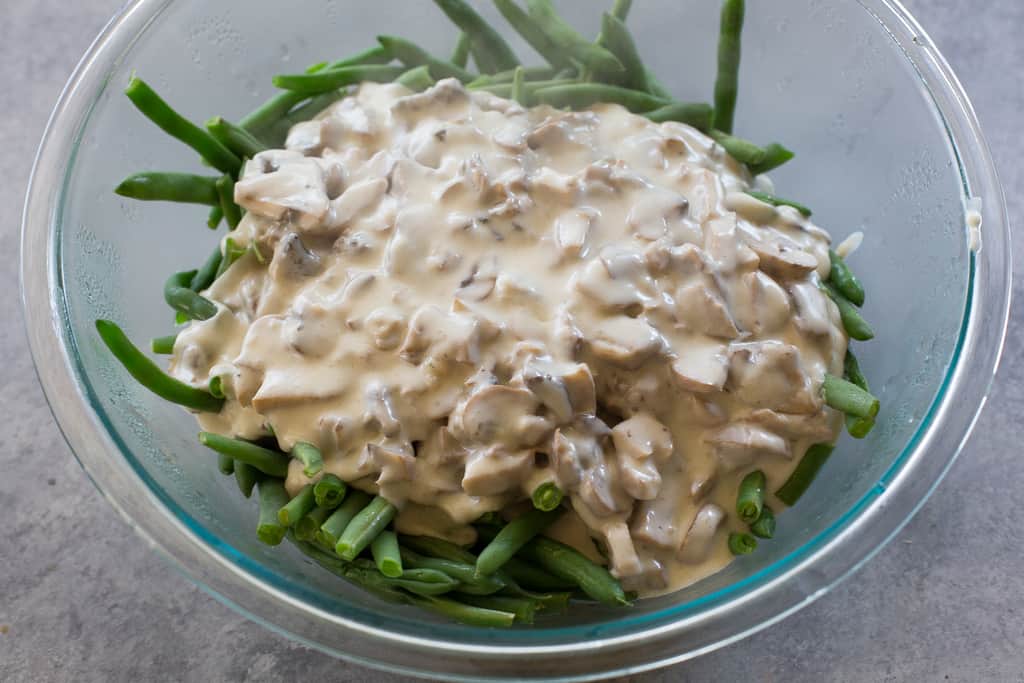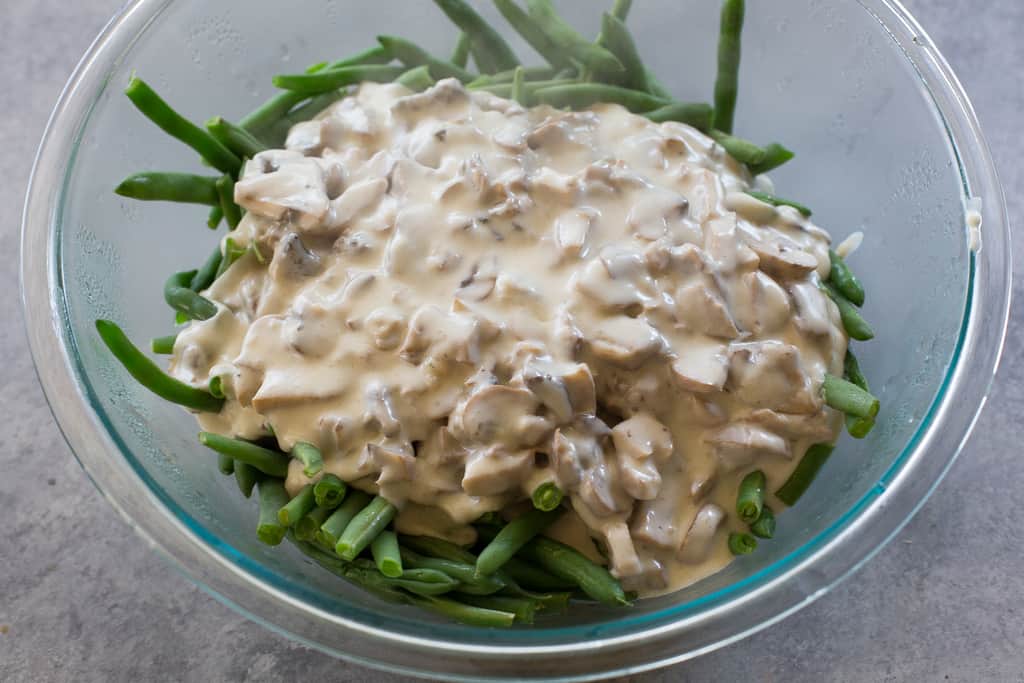 Pour it all together in a big bowl and toss to combine.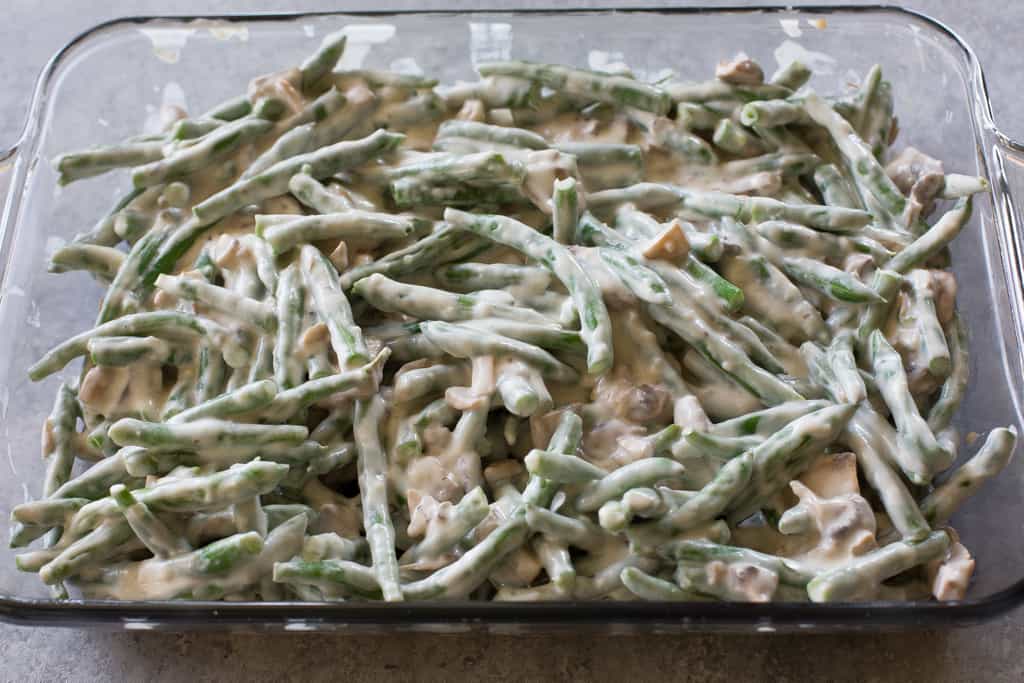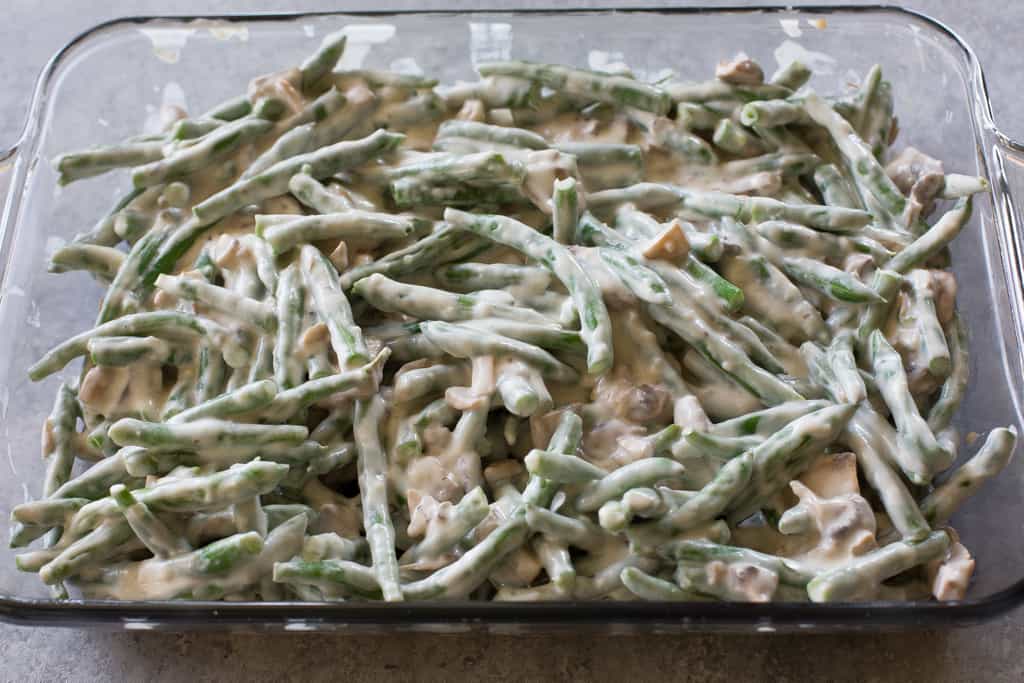 Now if you're making ahead of time just cover the green bean mixture and stick it in the fridge here.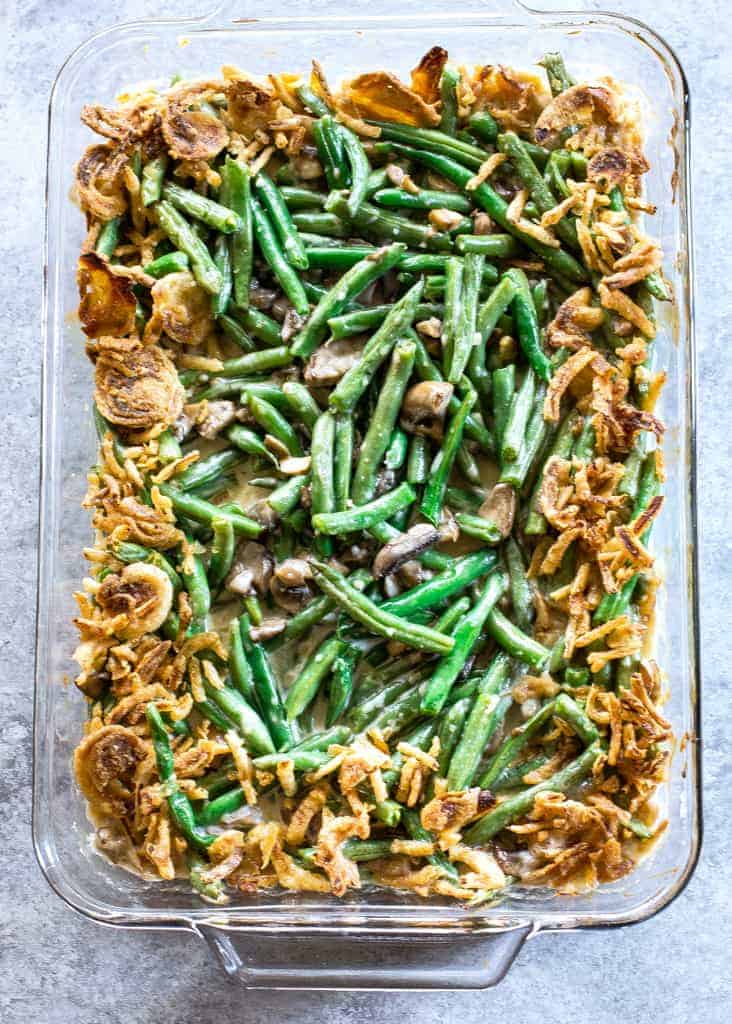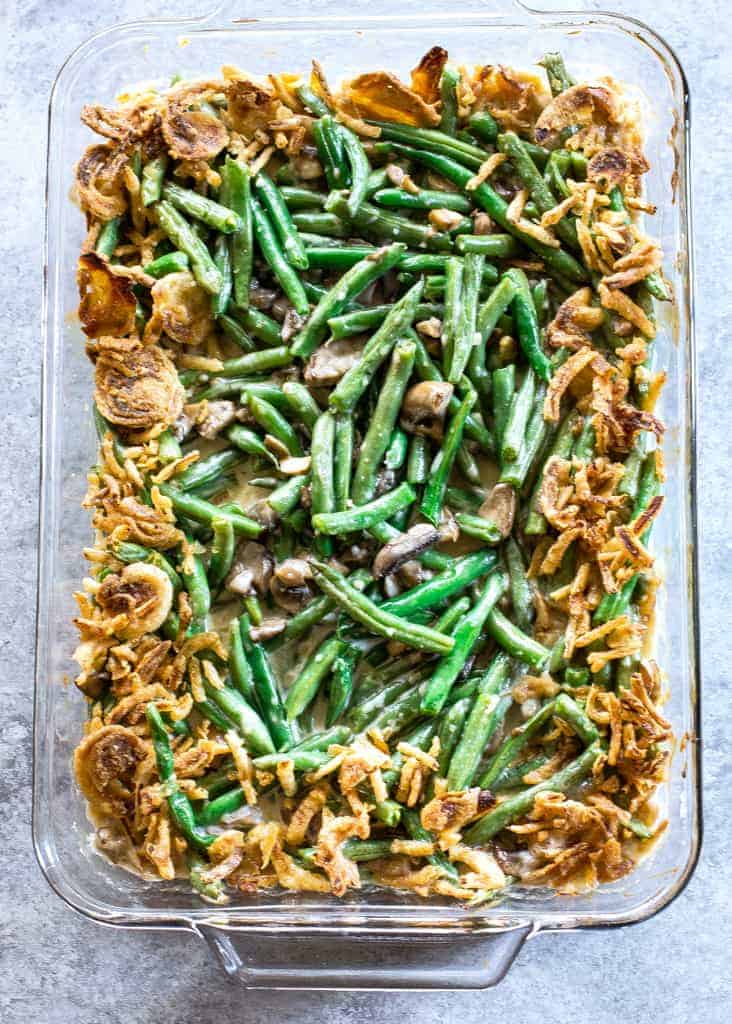 See, that wasn't hard at all. This recipe from scratch takes just as long as the other version and with crispy onion on top! Bake for 20-25 minutes at 350 degrees or until beans are done!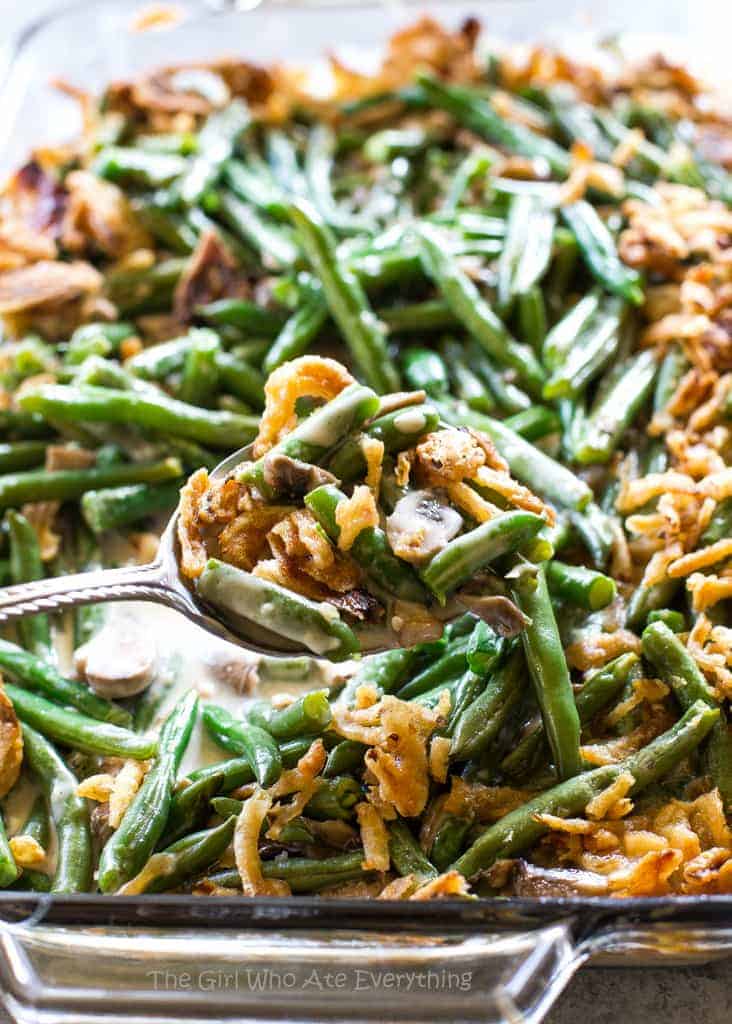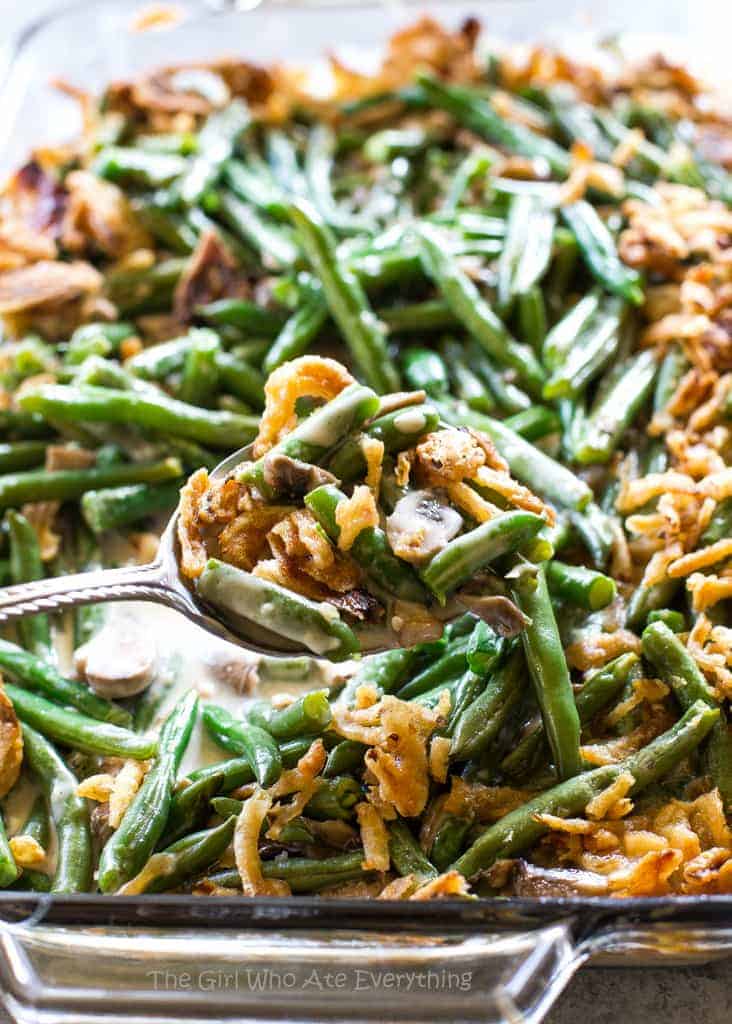 An easy homemade Green Bean Casserole that you can make!
RECIPE TIPS:
Depending on how well done you like your green beans will determine how long you steam them before baking. If you like a crisper green bean cook for less time.
OTHER THANKSGIVING RECIPES: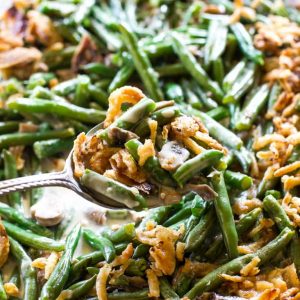 Print
Yield: 12 servings
This homemade Green Bean Casserole recipe made without cream of mushroom soup. Easy and delicious side for Thanksgiving or any other holiday.
2




lbs




fresh green beans, edges trimmed, and cut into 2-inch pieces

4




tablespoons




unsalted butter

12




ounces




white button mushrooms, chopped

2




cloves




garlic, minced

1




teaspoon




kosher salt




(more to taste)

1/2




teaspoon




black pepper




(more to taste)

1/4




cup




flour

1 1/2




cups




low-sodium chicken broth

1




cup




heavy cream

1




(6 ounce)




package French's fried onions
Preheat oven to 400 degrees and grease a 9×13 inch baking dish.

In a large microwave safe bowl, add the green beans and 3/4 cup water. Microwave on high for 5-8 minutes or until just tender. Drain the beans well and set aside.

In a large skillet, melt the butter. Add the mushrooms, salt, and pepper and cook until the mushrooms have released their juice. Add the garlic, and cook for an additional 30 seconds.

Sprinkle the flour on top and cook for a minute. The mixture will be thick. Whisk in the chicken broth and bring to a simmer. Stir in the cream and simmer for 8-10 minutes or until mixture thickens.

Pour sauce over green beans, 1/2 cup of the fried onions and toss well to combine. Pour into the prepared pan. If making this ahead of time, cover and store in the fridge.

Bake for 20-25 minutes or until green beans are to desired doneness (I like mine on the more cooked side). For the last 5 minutes of cooking, sprinkle the remaining fried onions on top and cook until golden brown.