These Creamy Shrimp Enchiladas are a delicious Mexican recipe filled with veggies and shrimp and covered with a rich, creamy sauce. Don't like shrimp? Make this a Creamy Chicken Enchilada recipe and it will be just as good.
Creamy Shrimp Enchiladas
Today we're making seafood enchiladas for a date night in. When I think of a special date night, seafood is the way to go.
Seafood means "adults only" in my eyes. Can I tell you that I made four different versions of these enchiladas to come up with the perfect recipe? All in one week.
Then on our date night we got Mexican food and I ordered enchiladas just for research purposes. Needless to say, you can call me the expert on how to make creamy enchiladas. And ten pounds heavier.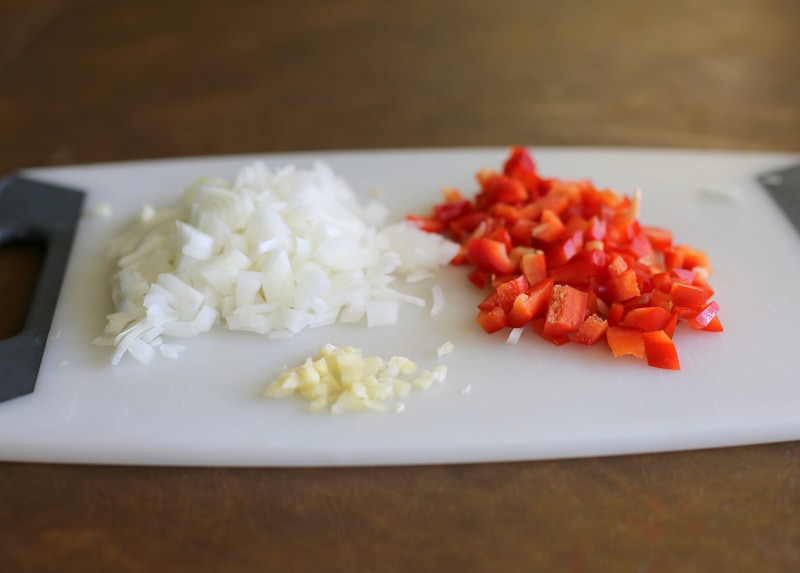 Start by chopping up some onion, pepper, and garlic.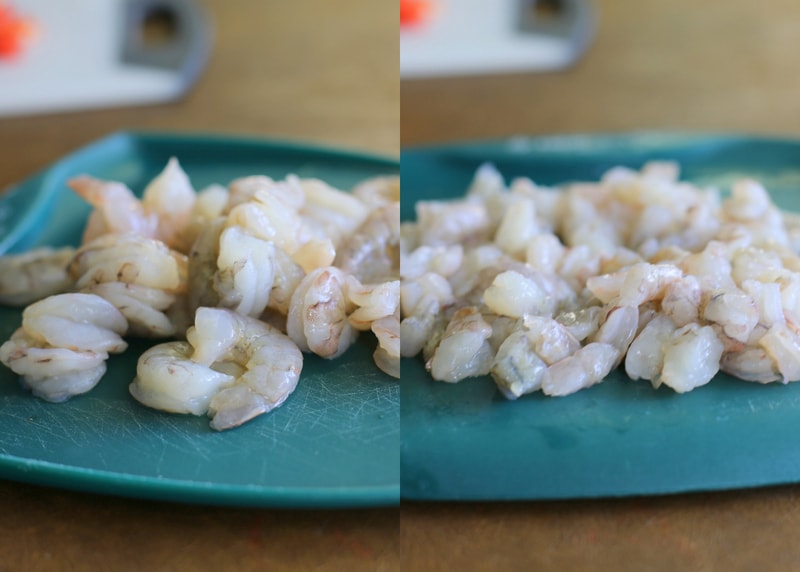 Oh yeah. I found out that shelling fresh shrimp is my least favorite thing to do.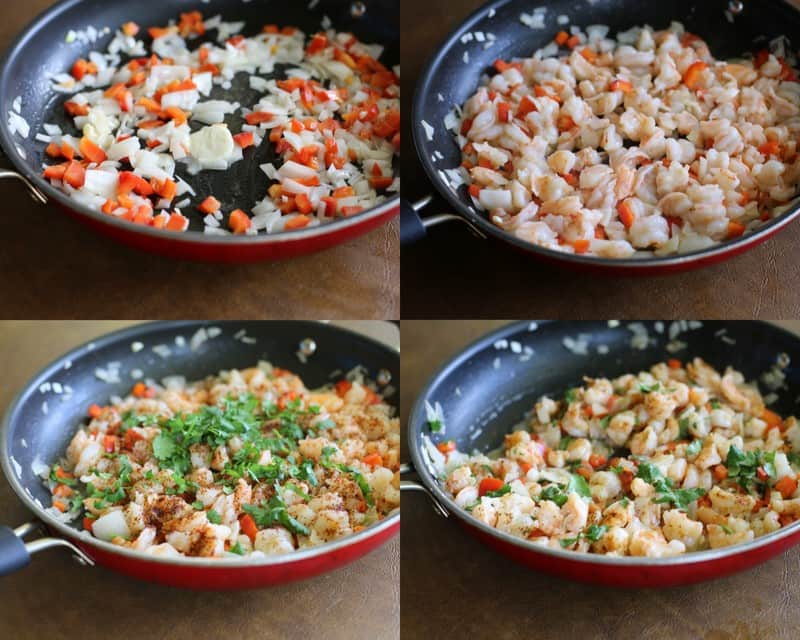 Sautee the veggies and add to the shrimp until the shrimp turn pink. We'll be baking them more in the oven later. This mixture alone is the bomb.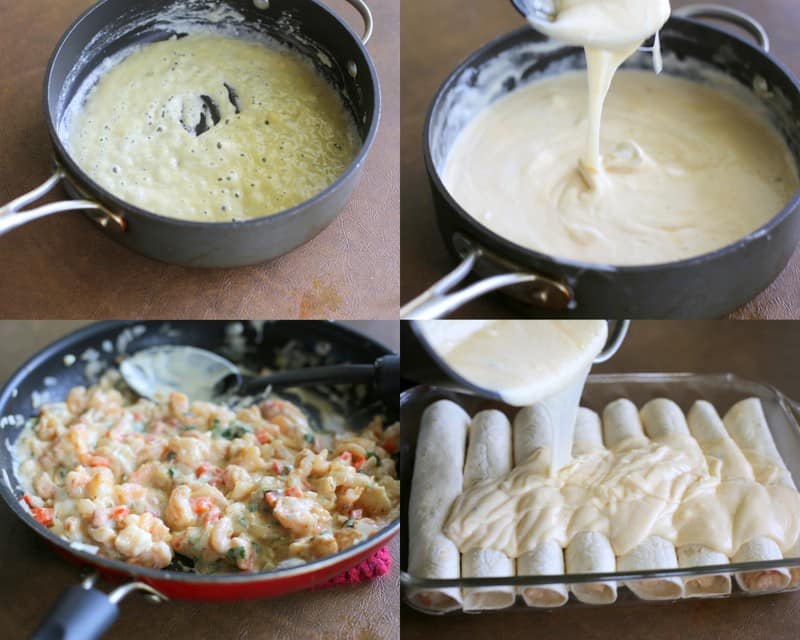 Make your cream sauce and add a little to the shrimp and the rest we're going to pour on top of the enchiladas.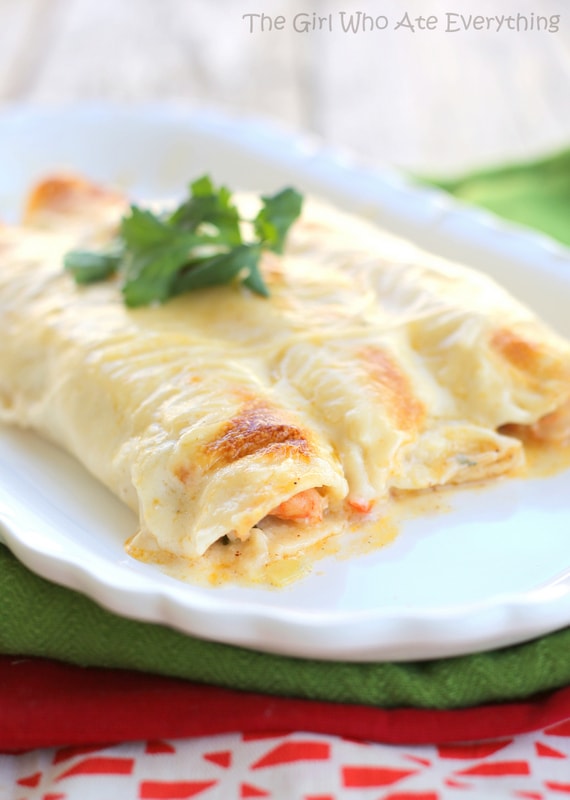 These are rich and decadent. Perfect for Perfect for an easy weeknight dinner.
OTHER MEXICAN RECIPES: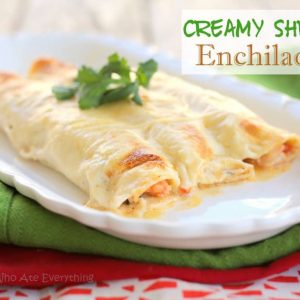 Creamy Shrimp Enchiladas
This shrimp enchilada recipe is a delicious Mexican recipe filled with veggies and flavorful shrimp and covered with a rich, creamy sauce.
8

(6-inch )

flour tortillas
Shrimp Mixture:
2

tablespoons

butter

1/2

cup

red bell pepper, diced finely

1/2

cup

white onion, diced finely

2

cloves

garlic, minced

1

pound

shrimp, peeled and deveined and chopped into 1 inch pieces

1/2

teaspoon

salt

1

teaspoon

chili powder

1/4

cup

chopped fresh cilantro

2

tablespoons

lime juice
Sauce:
4

tablespoons

butter

4

tablespoons

flour

1 1/2

cups

chicken broth

1/2

cup

salsa verde

1 1/2

cups

shredded Monterey Jack cheese

,

(use Pepper jack for more spice)

1

cup

sour cream
Preheat oven to 350 degrees and spray a 9×13 casserole dish with cooking spray.

For the Shrimp Mixture: In a large skillet melt the 2 tablespoons of butter. Sautee the red bell pepper and onion over medium heat until slightly soft. Add the garlic and cook for an additional minute.

Add the chopped shrimp and cook for 2-3 minutes or until pink or just start to turn pink. Remember we are still baking this so we don't want the shrimp to be overcooked.

Remove mixture from the heat and add the salt, chili powder, cilantro, and lime. Stir and set aside.

For the Sauce: In a large skillet, melt butter. Add the flour and stir and cook for 1-2 minutes. Slowly add the chicken broth and continue to cook over medium high heat stirring constantly. The mixture will start out thin and thicken up once it cooks.

Once the mixture has thickened lower the heat and add the Monterey Jack cheese and stir until the cheese melts. You can remove mixture from the heat and stir in the green salsa and sour cream.

Add 1 cup of the sauce to the reserved shrimp mixture and stir.

Fill a tortilla with 1/3 cup of the shrimp mixture, roll the tortilla tightly and place it seam side down in the baking dish. Repeat with the remaining tortillas.

Pour the remaining sauce over the tortillas and bake uncovered for 30-40 minutes or until the tops are golden brown.

Remove from the oven and let the enchiladas sit for 10 minutes before serving. Serve with pico de gallo, sour cream, and guacamole. You can also serve with refried beans or black beans. 
Source: The GIrl Who Ate Everything