BLT Pasta Salad has bow-tie pasta, crispy bacon, fresh lettuce, and cherry tomatoes with a creamy ranch dressing. This cold pasta salad is based off your favorite sandwich and great for potlucks, BBQs, and get togethers!
EASY PASTA SALAD RECIPE
When I asked you guys on Instagram whether you wanted to see this BLT Pasta Salad or The Best Pancakes Ever recipe, the response was an overwhelming vote for this BLT Pasta Salad.
Which tells me that you already have a stellar pancake recipe or that you know that the Fourth of July is right around the corner and you know you'll be asked to bring a side dish. How do I know that? Because I was just asked to bring a side dish to a BBQ next week.
It's the season of BBQs, potlucks, and get togethers. I never want summer to end. I love the casual entertaining, the late sunsets, and all the water. Pool and beach on repeat. It's my birthday next week and I'm a Cancer which apparently has the sign of water in astrology.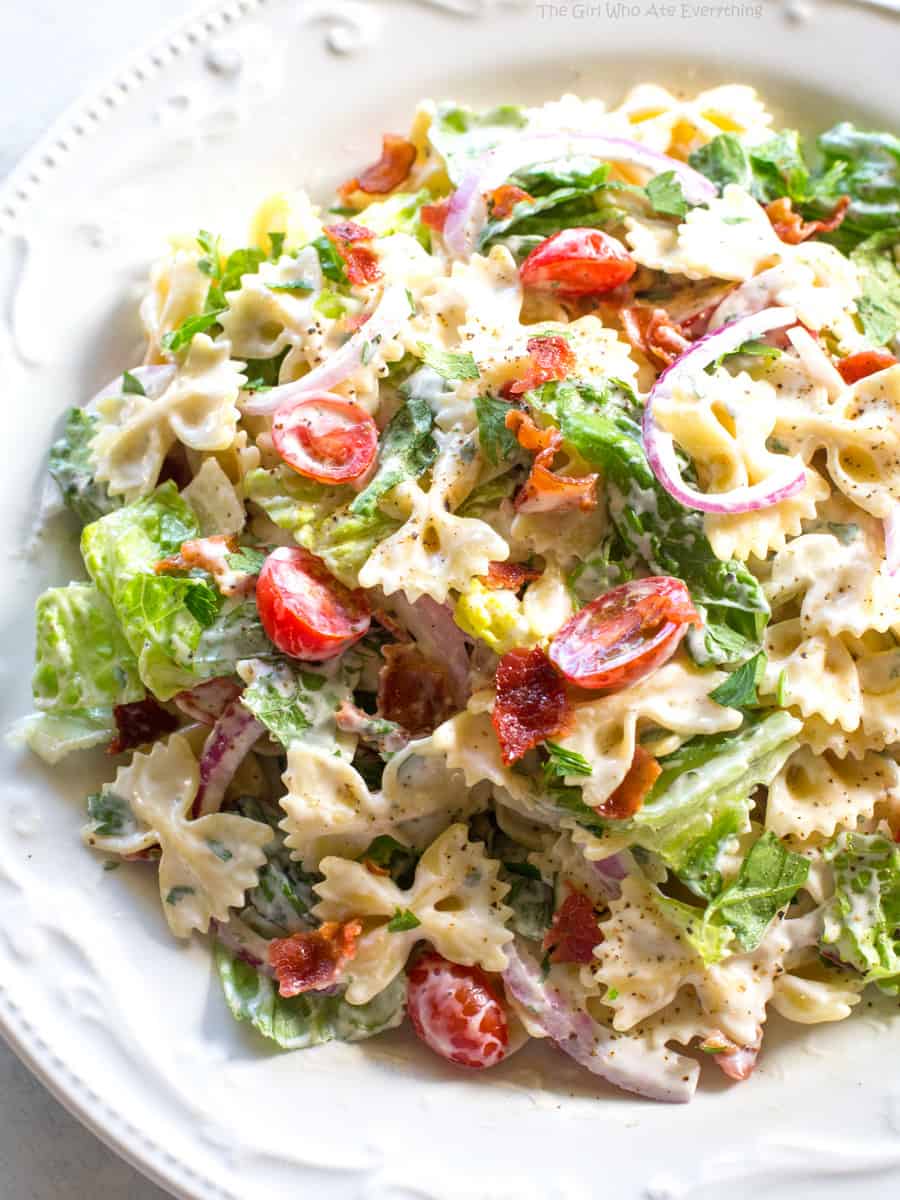 Adding pasta to salad isn't an entirely new concept. Remember this Bowtie Chicken Caesar Salad? It's a great way to bulk up a regular salad. Although in this instance, we're doing the reverse.
We're adding lettuce to a pasta salad. It brightens up the dish with a fresh element so we don't feel like we're eating straight carbs. Not to mention it taste just like a BLT sandwich. On second thought, croutons would be a great addition. Or cheddar cheese? Huh? Right?
This BLT salad is hearty enough to be the main course.
HOW TO MAKE THIS BLT PASTA SALAD SUCCESSFULLY
Use homemade ranch dressing. There's nothing better than homemade dressing. The bottled stuff doesn't cut it.
The bacon, lettuce, and parsley must be added right before serving otherwise they will get soggy if they sit in the creamy dressing.
Don't overcook the pasta. Pasta with a little bite to it is much more appetizing than soggy pasta. Make sure to cook it al dente.
You can use any bite-sized pasta. Rotini pasta, penne, or even elbow macaroni.
OTHER SALAD RECIPES
Ingredients
Ranch Dressing:
1 (1 ounce) package dry Ranch dressing mix
1 cup whole milk
1 cup mayonnaise
1 lb bow-tie pasta, (farfalle pasta)
1 1/2 cups cherry or grape tomatoes, halved
1 cup thinly sliced red onion
1 teaspoon ground black pepper
1 pound bacon, cooked and crumbled
3 cups chopped Romaine lettuce
1/2 cup finely chopped flat leaf parlsey
Instructions
For the Ranch dressing: Whisk together the Ranch dressing mix, milk, and mayonnaise. Chill at least 30 minutes in the fridge to thicken.
Cook the pasta according to the package directions in a large pot of salted water. Drain and rinse with cold water to stop the hot pasta from cooking further.
In a large bowl, add the pasta, tomatoes, red onion, and pepper. Toss with the Ranch dressing, reserving 1/2 cup for later. Chill until ready to serve. Right before serving add the cooked bacon, lettuce, and parsley tossing well. Add the remaining dressing if needed as the pasta will soak up the dressing.
Notes
I have tried this with both bottled and fresh Ranch dressing and fresh is 100% better. If you have a dressing you love, you can use it instead of making it from the mix.
Source: Allrecipes
Nutrition Information:
Yield: 10
Serving Size: 1 grams
Amount Per Serving:
Unsaturated Fat: 0g