The Best Bean Dip Ever – creamy, spicy, and the perfect texture for dipping. Bring it to a friend's house to watch the game and it'll be a hit. Beans, salsa, cheese, cream cheese, sour cream, chili powder and cumin make this recipe delicious. It's the ultimate combo and is seriously one of the best appetizers I've ever had.
REFRIED BEAN DIP RECIPE
During my last pregnancy I had an overwhelming craving for bean dip. I wasn't sure exactly what I was looking for but I was sure if I tasted enough bean dips I would find the right one to satisfy the craving.
I tried Taco Bell and drove around to every local restaurant in South Florida and nothing came close to what I wanted.
Growing up in Arizona we had a plethora of Mexican restaurants that were known just for their bean dip and that's sooo what I wanted.
Just a couple thousand miles too far away.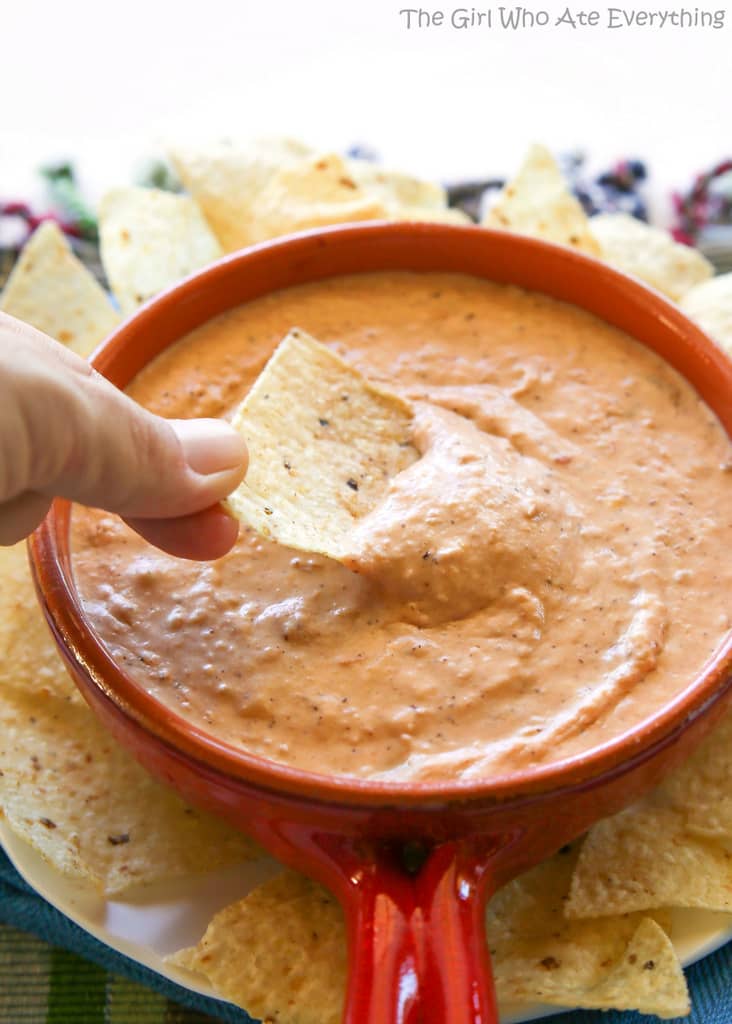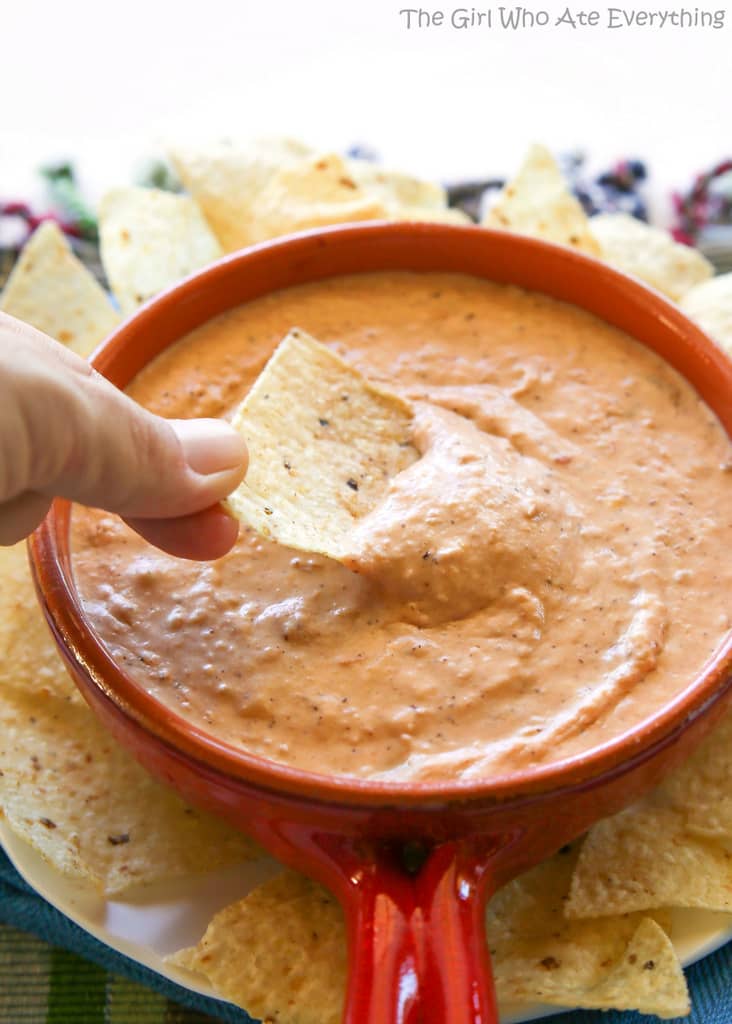 I never did find one that did the trick until now…when I'm not pregnant anymore.
There are some foods that I ate while I was pregnant and honestly still have a hard time eating now because they bring back such strong memories of how sick I was.
Don't let my wacky hormones fool you…those recipes are good. I'm just being honest.
WHAT IS IN BEAN DIP
This bean dip is pretty simple. Beans, salsa, cheese, cream cheese, sour cream, chili powder and cumin. It's the ultimate combo and is seriously one of the best bean dips I've ever had.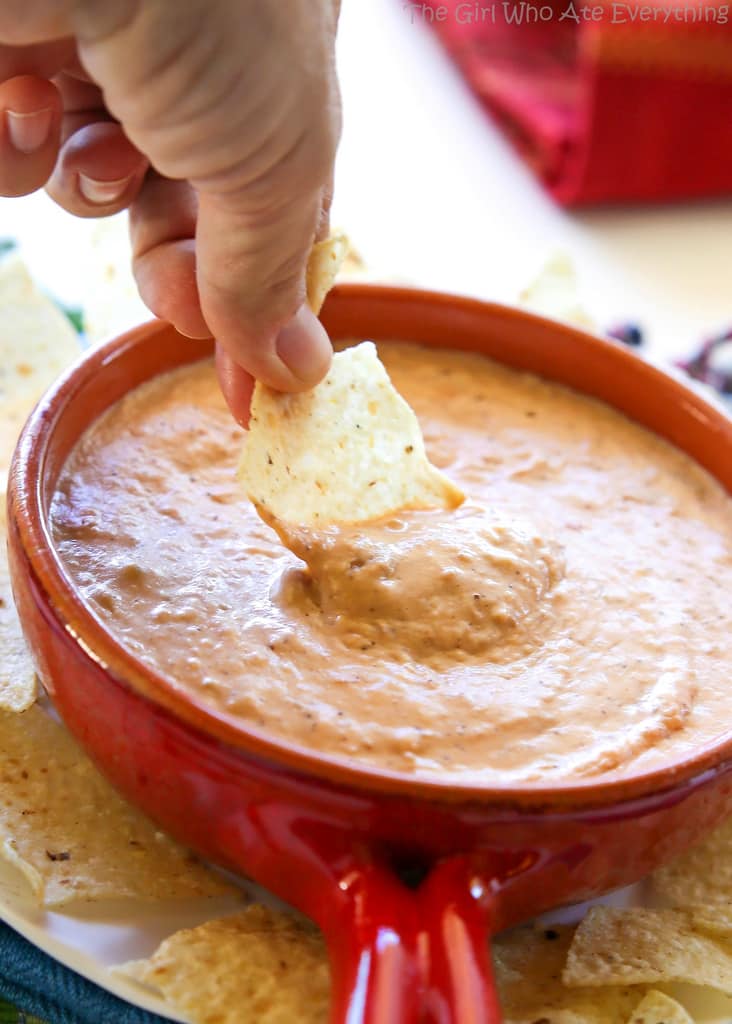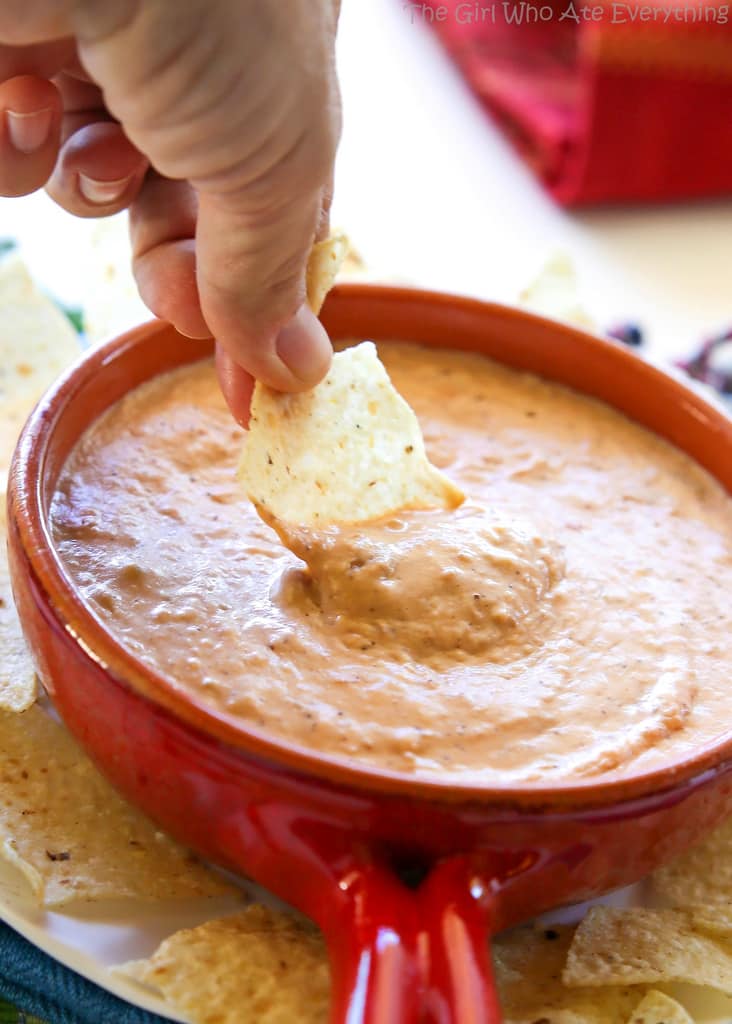 But this, THIS is the dip. Couldn't be anymore perfect. This is everything I ever wanted when I was pregnant…and not pregnant.
HOW TO MAKE BEAN DIP
This recipe was meant for the slow cooker but due to my procrastination I've found that it can also be done in the oven and even the microwave (ultra procrastinator).
OTHER DIP RECIPES:
Ingredients
1 can (16 ounces) refried beans
1 cup picante sauce
1 cup (4 ounces) shredded Monterey Jack cheese
1 cup (4 ounces) shredded cheddar cheese
3/4 cup sour cream
1 package (3 ounces) cream cheese, softened
1 tablespoon chili powder
1/4 teaspoon ground cumin, (or more to taste)
tortilla chips
Instructions
In a large bowl, combine the first eight ingredients; transfer to a small (1-1/2-qt) slow cooker. Cover and cook on high for 2 hours or until heated through, stirring intermittently. Serve with tortilla chips and salsa.
Optional ways of preparing: The slow cooker is ideal because it keeps the dip warm but you can also prepare this in the oven or even microwave.
For the Oven: Bake dip at 350 degrees for 20-30 minutes or until hot and bubbly.
Microwave: Heat in a microwave safe bowl for 5-8 minutes or until cheese is melted and smooth. Stir every couple of minutes.
Nutrition Information:
Yield: 18
Serving Size: 1 grams
Amount Per Serving:
Unsaturated Fat: 0g