This Taco Skillet is made with taco meat, bell peppers, and diced tomatoes. Top with plenty of cheese, sour cream, and guacamole. This is low-carb and Keto.
TACO SKILLET
I made this skillet for my low-carb/Keto husband and decided I should share it. It said it should be called low-carb ground beef fajitas. True. Let's
be honest, most Mexican food is the same ingredients shifted around, wrapped in tortillas (or in this case not wrapped), and topped with guac and sour cream which makes anything taste good.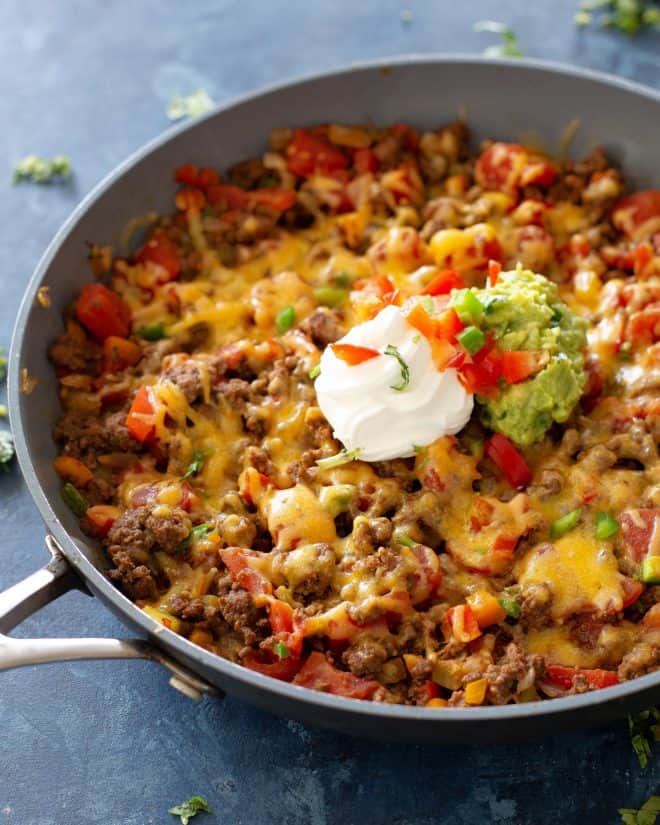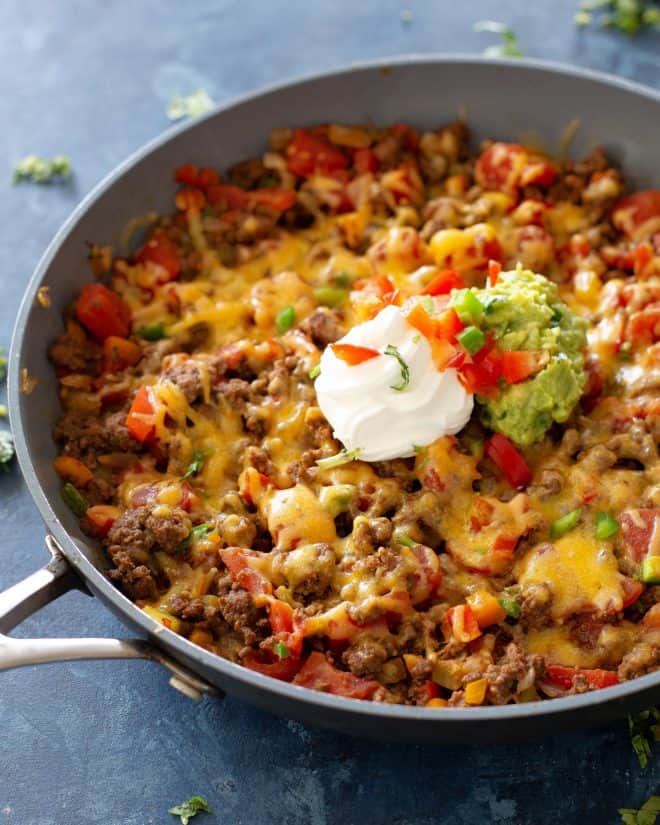 THE RUNDOWN ON THIS TACO SKILLET
It's low-carb/Keto with lots of veggies.
Made all in one-pan.
Done in under 20 minutes.
For those who aren't low-carb they can throw it in a tortilla.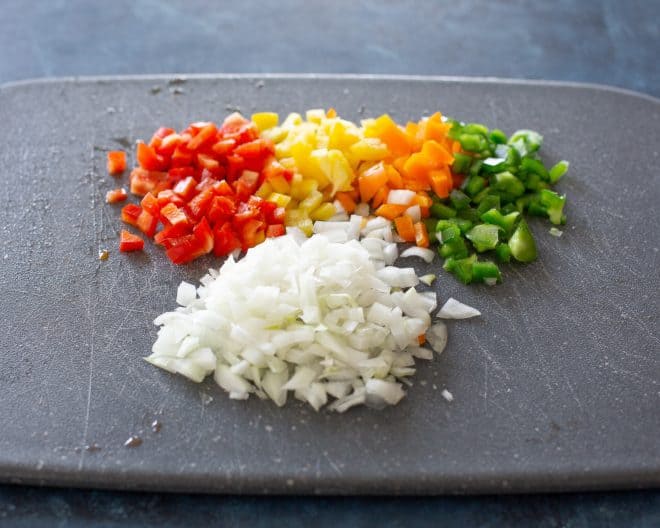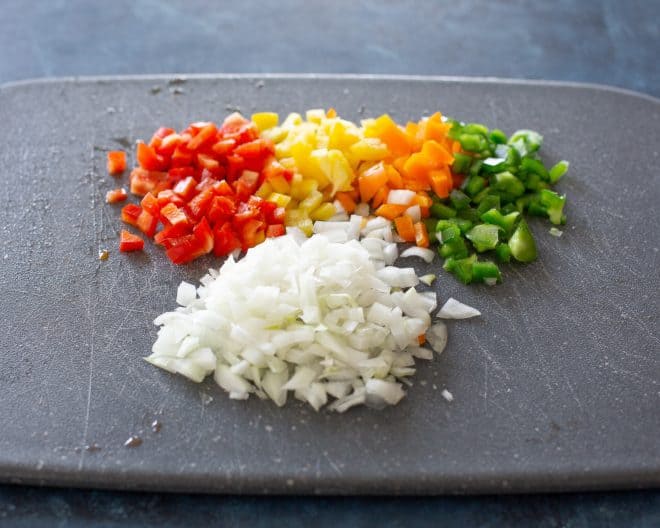 Lots of fresh veggies in this!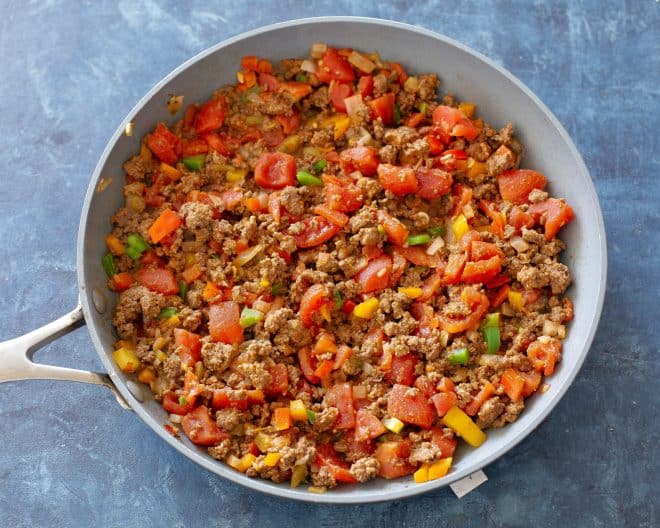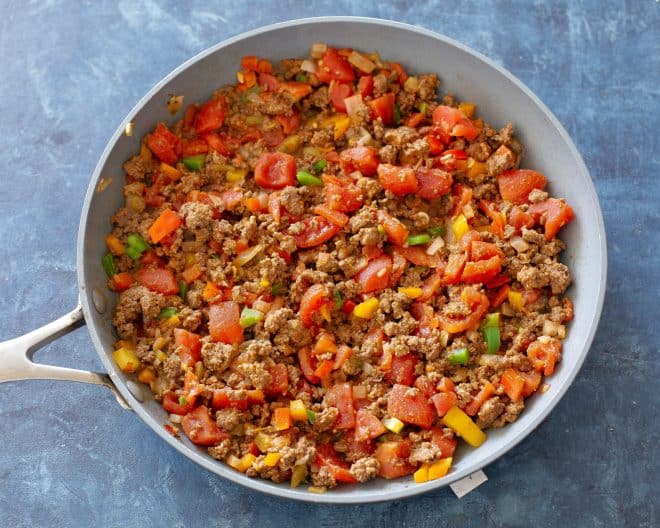 Look at all that color.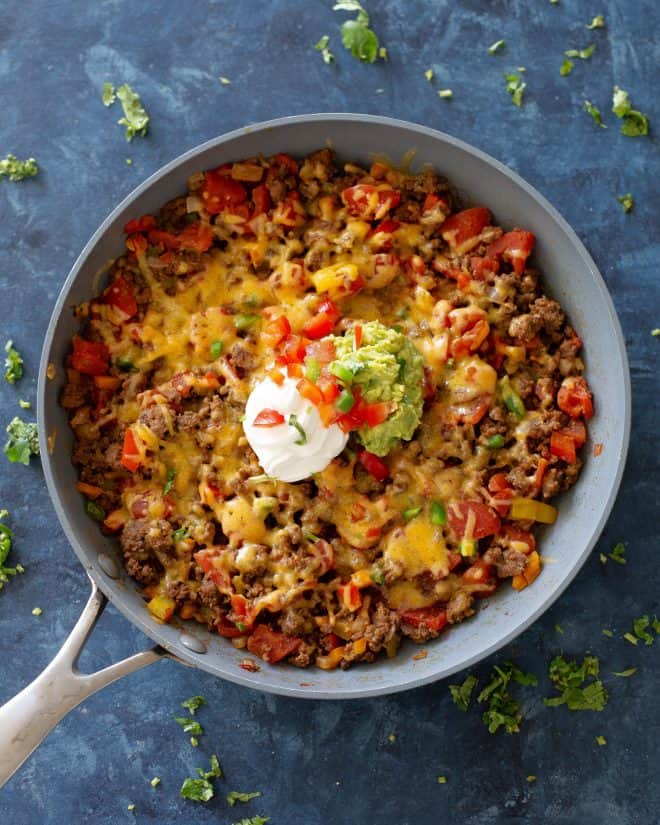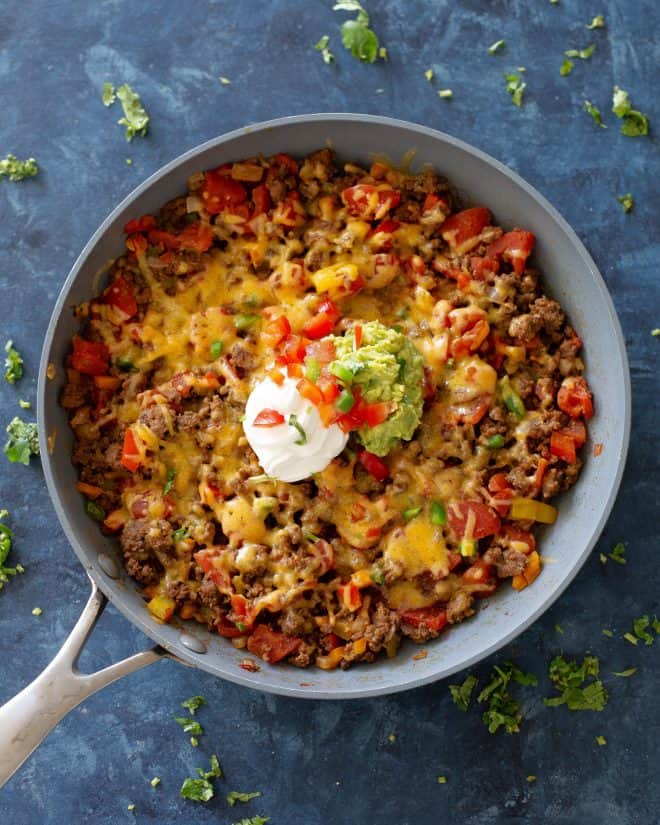 TOPPINGS:
guacamole
sour cream
olives
pico de gallo
OTHER LOW-CARB/KETO RECIPES
Ingredients
1 lb ground beef
1 cup diced bell peppers , (any color)
3/4 cup diced yellow onion
2 tablespoons taco seasoning
1/2 cup water
1 (14 ounce) can diced tomatoes with green chiles, drained
1 cup cheddar cheese
optional toppings: guacamole, sour cream, etc.
Instructions
In large non-stick skillet, cook beef, bell peppers, and yellow onion over medium-high heat 5 to 7 minutes, stirring frequently, until meat is thoroughly cooked and veggies are tender; drain. Stir in water and taco seasoning mix; heat to boiling. Cook until water is absorbed.
Add the tomatoes and cook until liquid is gone. Sprinkle the cheddar cheese on and let it melt by covering with a lid. Top with desired toppings and eat.
Nutrition Information:
Yield: 4
Serving Size: 1 grams
Amount Per Serving:
Calories: 403Total Fat: 22.1gUnsaturated Fat: 0gCarbohydrates: 17.5gNet Carbohydrates: 6gFiber: 11.5gProtein: 35.1g