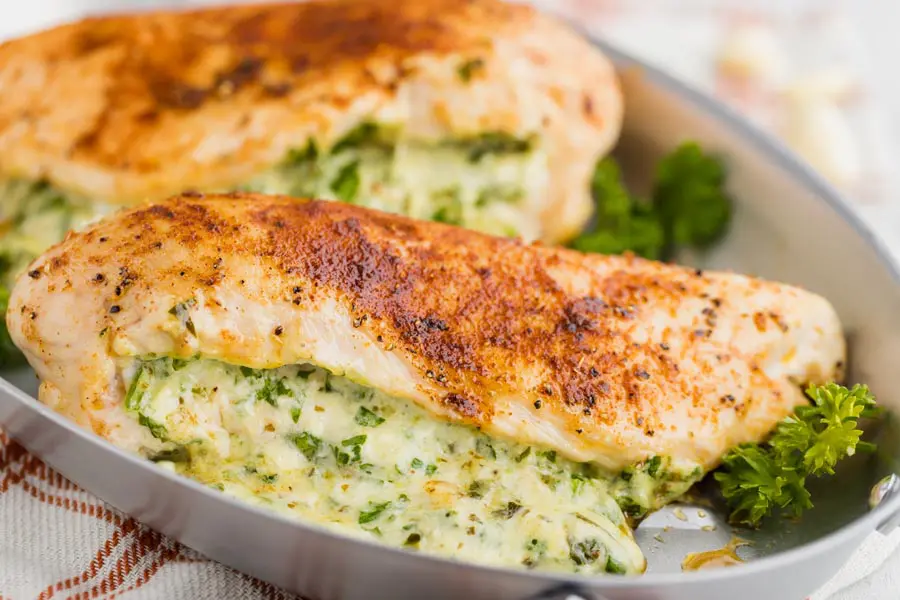 There are a few different ways you can meal prep spinach stuffed chicken breasts to make dinner time easier. You can prepare the stuffed chicken and keep it in the refrigerator, raw, for up to two days, then cook as directed, making sure the internal temperature of the chicken and stuffing reaches 165 degrees, like with any stuffed chicken breast recipe.
Stuffed chicken can also be prepared and frozen before cooking. Wrap the raw stuffed chicken tightly in plastic wrap, then store it in a freezer bag for up to one month. To cook from frozen, remove the chicken from the freezer and plastic wrap, then place the chicken in a shallow baking dish. Bake at 375 degrees for 30-45 minutes or until the internal temperature reaches 165 degrees.
To store leftovers, place the cooled stuffed chicken breasts in an airtight container and refrigerate for up to 4 days. Reheat by baking in an oven at 350 degrees for 15 minutes or until heated through, or in the microwave for 1-2 minutes.