Spicy Southwest Chicken is chicken marinated in spicy seasonings, grilled, and topped with cheese and tomatoes. This is my best friend's recipe that she requests for Mother's day and her birthday.
SPICY SOUTHWEST CHICKEN
We've been visiting family and friends this week back West which is why I haven't been posting. Life comes first.
We just flew in from Colorado and now we're in Arizona battling the inferno level temperatures.
Currently it's midnight and a storm just rolled in. My Arizona peeps will appreciate this but one of my favorite smells in the whole world is an Arizona rainstorm.
It's a mix of the rain, dust, and hot concrete being cooled by the rain. The smell immediately transports me back to my childhood when rainstorms were a rare enough that they were memorable.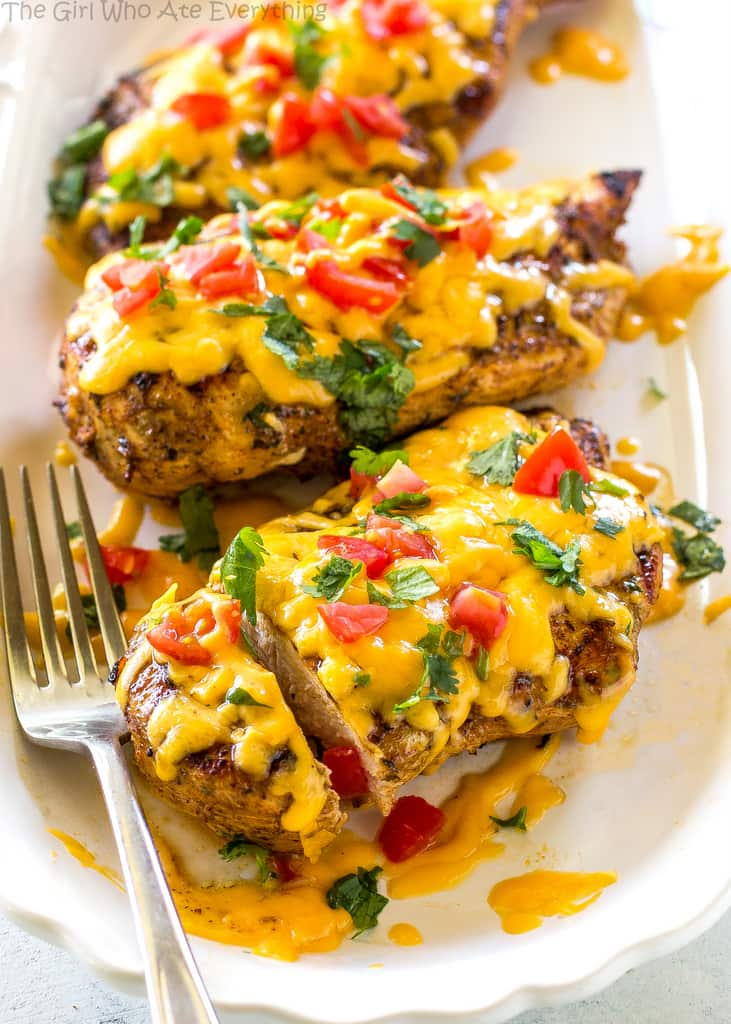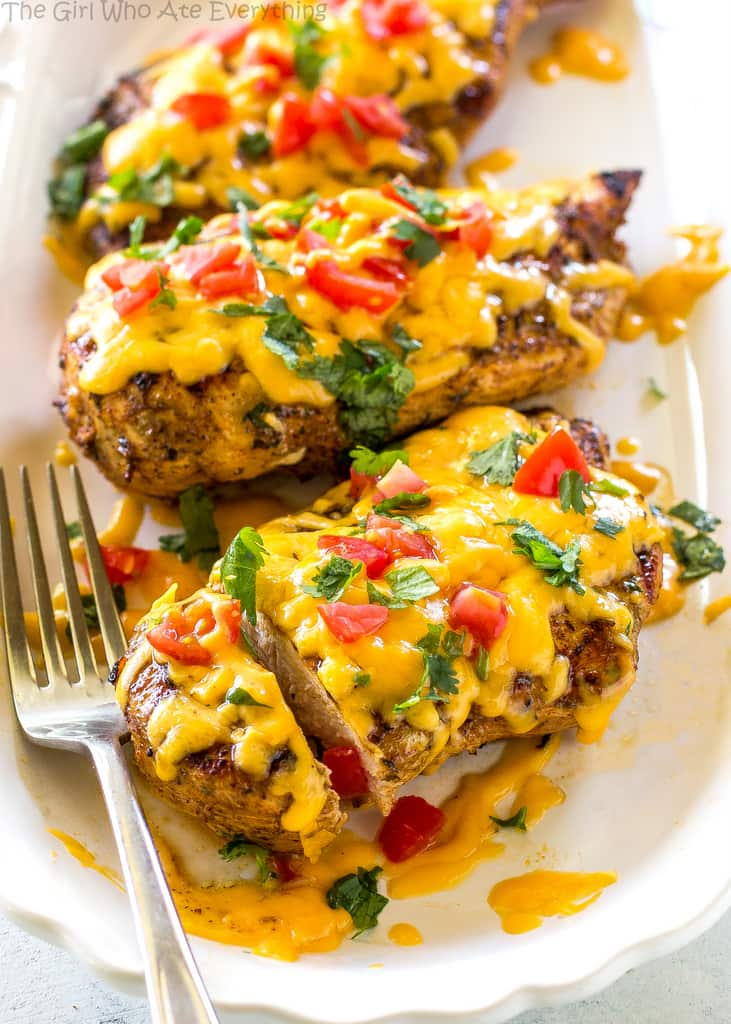 The scorpions though, those I can do without. My kids are terrified of them stinging them in their sleep. I can't blame them because I was stung in my bed when I was little.
I always have an identity crisis when I come back to Arizona. Did I really live here? Was that this lifetime? It feels like so long ago.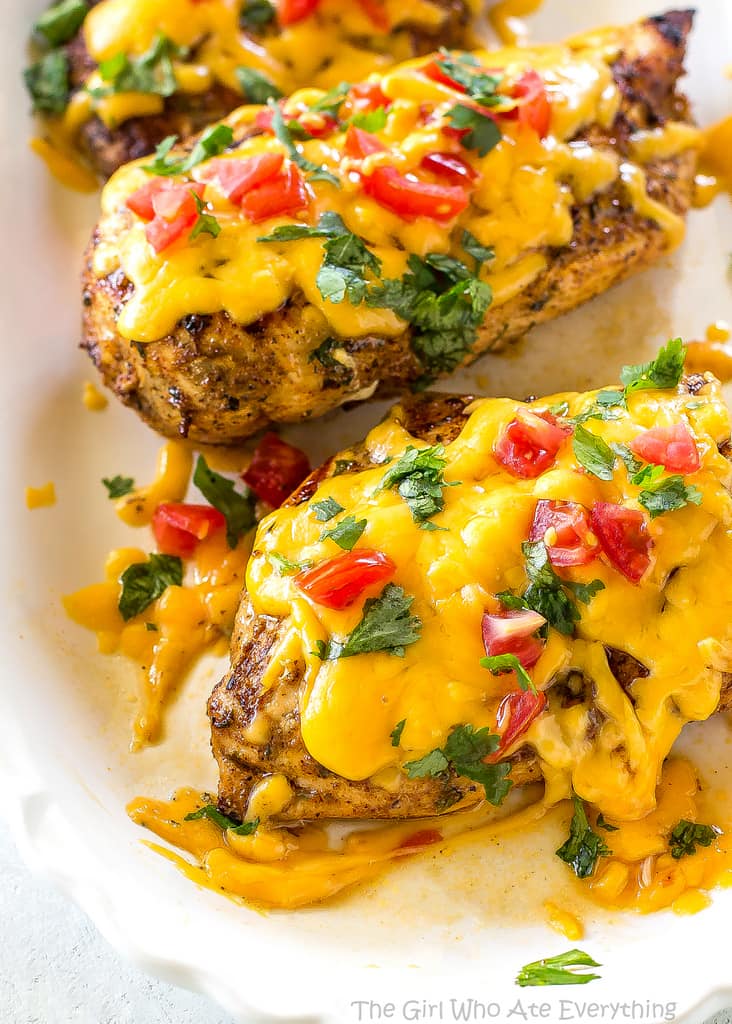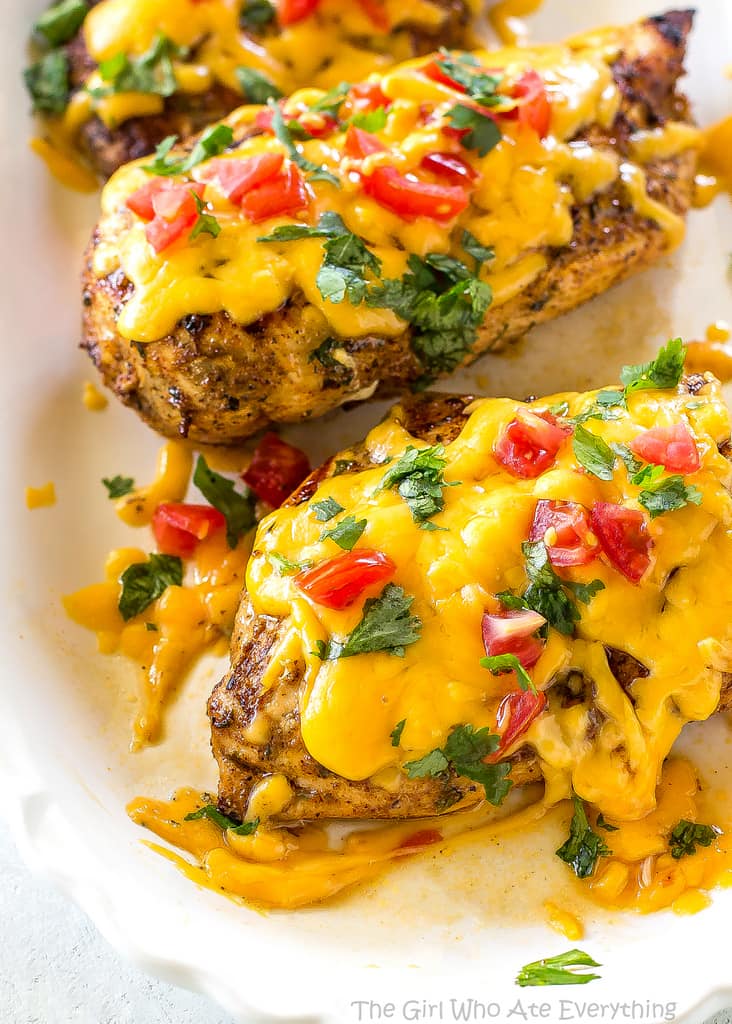 Now to the chicken. I asked my best friend what her hubby made her for Mother's Day and she told me he makes this Spicy Southwest Chicken every year.
Every year. My BFF has been holding out on me for as long as I've known her. This is actually what she and her siblings requested growing up for all of their birthdays.
I feel like we need to have a DTR. If you love me at all, you will give me all of your good recipes.
Keep in mind she doesn't love beef, pork, or seafood so chicken is her thannnng. Hope you love it!
If you love this Spicy Southwest Chicken, you'll love these Chicken Drumsticks.
OTHER CHICKEN RECIPES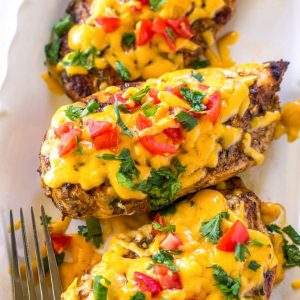 Print
Yield: 6 servings
A spicy grilled chicken marinated with seasonings and topped with cheese and tomatoes.
6




boneless, skinless, chicken breasts




(about 2 pounds)

1/3




cup




vegetable or canola oil

3




Tablespoons




vinegar




(red wine, apple or white)

1




Tablespoon




cilantro




chopped

2




teaspoons




chili powder

1




teaspoon




garlic powder

1




teaspoon




Italian seasoning

1/2




teaspoon




ground cumin

1/2




teaspoon




salt

1/4




teaspoon




black pepper

shredded cheddar cheese

diced tomatoes
In a large bowl or resealable plastic bag, add the chicken and the next nine ingredients (all the seasonings, etc.). Marinate in the fridge for four hours. I have marinated it for less time but the longer you marinate the more the flavor is infused.

Preheat grill to medium heat and oil the grate. Grill chicken 4-5 minutes per side or until chicken is no longer pink. Top with shredded cheese and diced tomatoes. You can either do this on the grill by laying some foil on the grill, transferring the chicken to the foil, and topping with cheese and tomatoes. Close the grill lid to let the cheese melt for a couple of minutes. You can also just remove the grilled chicken and top with cheese and tomatoes. You could pop it in the microwave, broil in the oven, or just let the heat of the chicken melt it. Garnish with additonal cilantro if desired.
I really prefer my chicken breasts thin. I buy chicken from Costco and slice them lengthwise into two thinner breasts.