These S'mores Bars have layers of graham cracker dough, marshmallow, and gooey chocolate. One of my favorites!
S'MORES BARS
Growing up we had a family reunion up in the Graham Mountains in Arizona every summer with my dad's side of the family. I have 82 first cousins on my dad's side alone so we were never bored and definitely made our fair share of mischief around camp.
The best part for me about the reunion is when the whole family would make the hike up to Ladybug Tower. As you get closer to the tower you start seeing ladybugs here and there.
We even would have ladybug fights where we would grab handfuls of ladybugs and throw them at each other (in retrospect…yuck). When we finally reached the tower there were ladybugs everywhere in sight…on all of the surrounding rocks and all over the Ladybug Tower.
Then, all of the uncles would climb up the tower and throw down money and candy to the little kids who would scramble all over the base of the tower to gather the goods.
Ahh…memories.
Sometimes when I'm putting my kids to bed at night I tell my boys about the Ladybug Tower and their eyes get all big with excitement.
Tomorrow, we are headed to the Grahams and to Ladybug Tower. Hopefully we will see some ladybugs so my boys won't be disappointed. I've warned them that the cold or rain can scare the ladybugs off but there's only so much preparation you can give eager little boys.
So while we are off making S'mores around the fire, make these. These may be one of my favorite bars ever. They are rich and gooey. Mostly, I'm in love with the crust.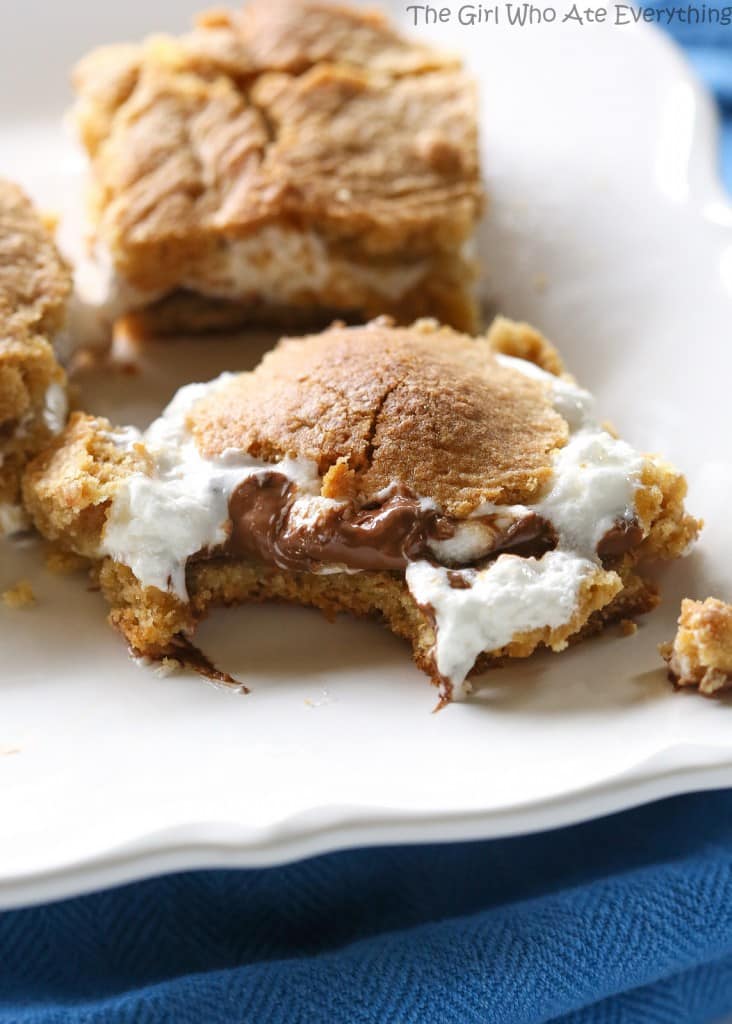 OTHER S'MORES RECIPES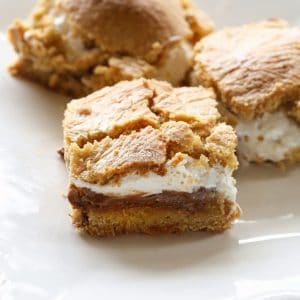 Print
Yield: 16 bars
These S'mores Bars have layers of graham cracker dough, marshmallow, and gooey chocolate. One of my favorites!
1/2




cup




butter, room temperature

1/4




cup




brown sugar

1/2




cup




sugar

1




large egg

1




teaspoon




vanilla extract

1 1/3




cups




all purpose flour

3/4




cup




graham cracker crumbs

1




teaspoon




baking powder

1/4




teaspoon




salt

2




king-sized Hershey's milk chocolate bars




(if you want a more subtle chocolate flavor use regular sized chocolate bars; enough to fit)

1 1/2




cups




marshmallow creme/fluff




(7 1/2 oz jar)
Preheat oven to 350°F. Grease an 8-inch square baking pan.

In a large bowl, cream together butter and sugar until light. Beat in egg and vanilla. In a small bowl, whisk together flour, graham cracker crumbs, baking powder and salt. Add to butter mixture and mix at a low speed until combined.

Divide dough in half and press half of dough into an even layer on the bottom of the prepared pan. Place chocolate bars over dough. 2 king-sized Hershey's bars should fit perfectly side by side, but break the chocolate (if necessary) to get it to fit in a single layer no more than 1/4 inch thick. Spread chocolate with marshmallow creme or fluff. Place remaining dough in a single layer on top of the fluff. This part can be tricky. I made little disks with the dough and formed them into a sheet on some parchment paper then transferred it over. Spread it around gently. You can also roll the top dough layer in between two sheets of plastic wrap until it's in a square then placed it on top.

Bake for 25 to 35 minutes, until lightly browned. Cool completely before cutting into bars. Makes 16 cookie bars. These are great warmed up in the microwave for 10-15 seconds.