These Slow Cooker/Instant Pot Ribs are baby back pork ribs that are fall off the bone tender. You cannot go wrong with these and it's the best slow cooker rib recipe out there! Throw these in the Crockpot and forget about them. You can also make these in the Instant Pot. The doctored up barbecue sauce puts these barbecue ribs over the top.
SLOW COOKER/INSTANT POT RIBS
The nice people over at Crock-Pot® offered to send me one of their new NFL Crock-Pot® Slow Cookers with my choice of team. They have all of the NFL teams available.
I of course jumped at their offer because I use my slow cooker at all the time.
Obviously I chose to make my Crock-Pot Miami Dolphins themed. We're huge fans to say the least. I wouldn't drag five kids by myself to every game if I wasn't invested in some way. Loyalty or insanity? I may need my head checked.
I thought since I had a football themed Crock-Pot I needed some major football food cookin' inside. Nothing says manly, messy, and down and dirty food like ribs.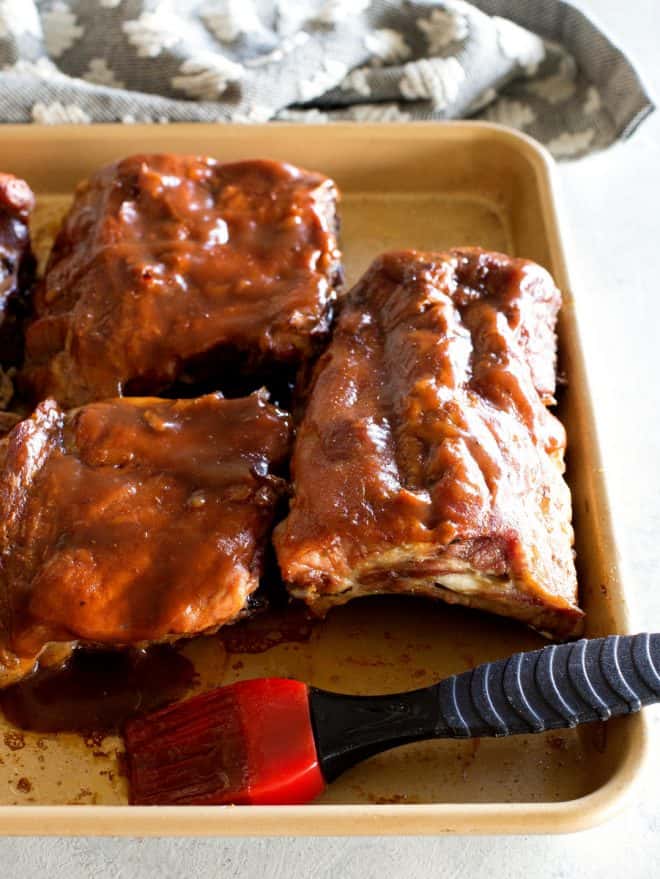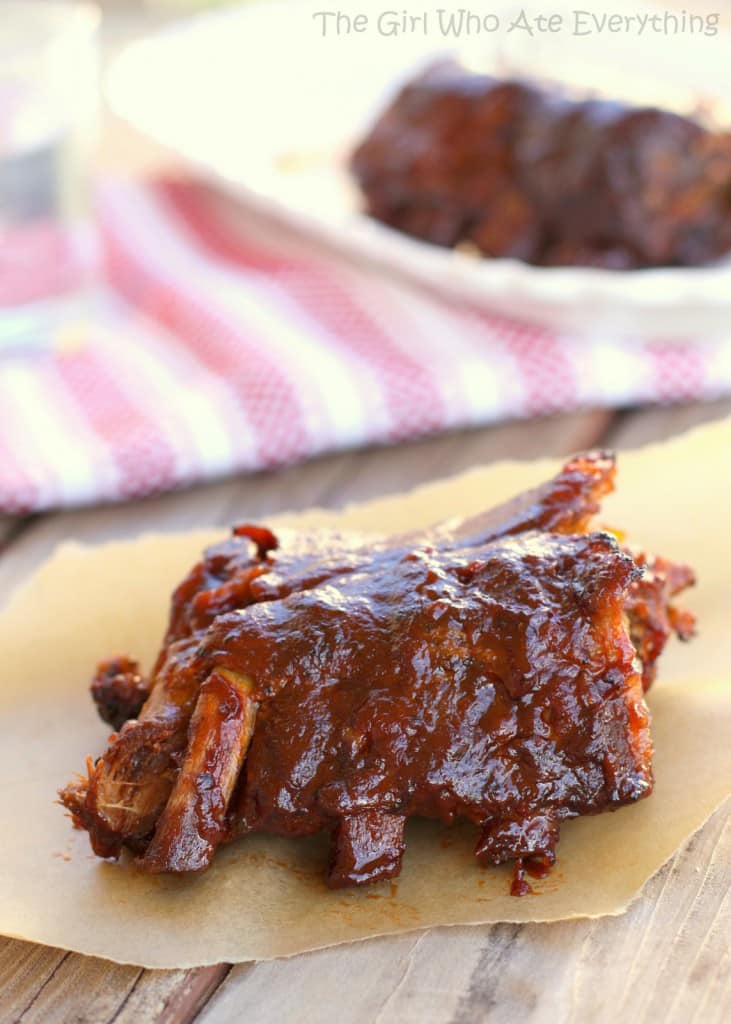 Ribs are a little intimidating. My husband worked at a rib joint in college and always told me that ribs were meant to be cooked by a restaurant.
Any attempt to make them would fall short. So I never even tried. But these were amazing. Fall of the bone tender, better than a restaurant amazing.
My husband gave them two barbecue sauce covered thumbs up. He even called them fabulous. My verbiage must be rubbing off on him.
They say if you're married long enough you start to morph into one person. Apparently that is what's happening.
The secret to these ribs is that they are browned in the oven before putting them in the Crock-Pot which allows the fat to render in the oven, rather than in your sauce. Browning brings out a ton of flavor.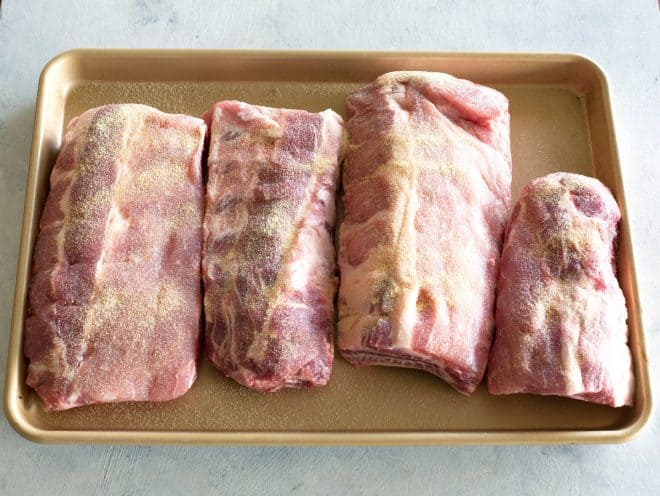 You can season them with whatever you want. I seasoned mine with a 1/2 teaspoon of salt, pepper, garlic powder, and onion powder.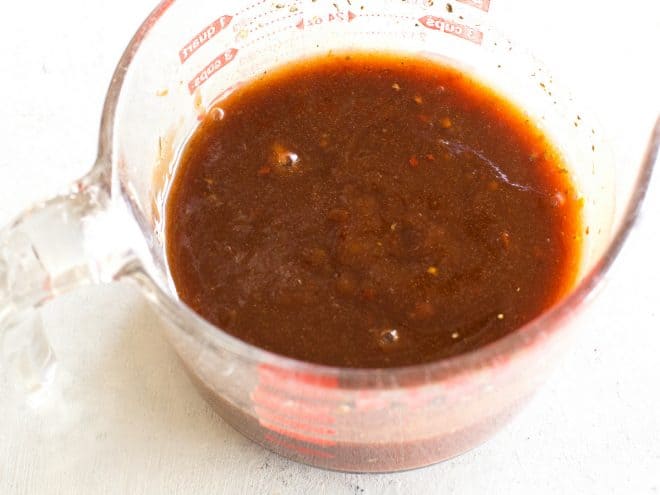 This doctored up sauce takes regular ribs up a notch. But if you're a new cook you can totally just use regular barbecue sauce and still have tender ribs. Promise me you won't skip the browning step though!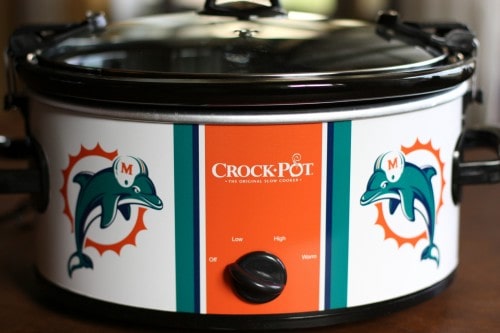 Here he is. I'm in love.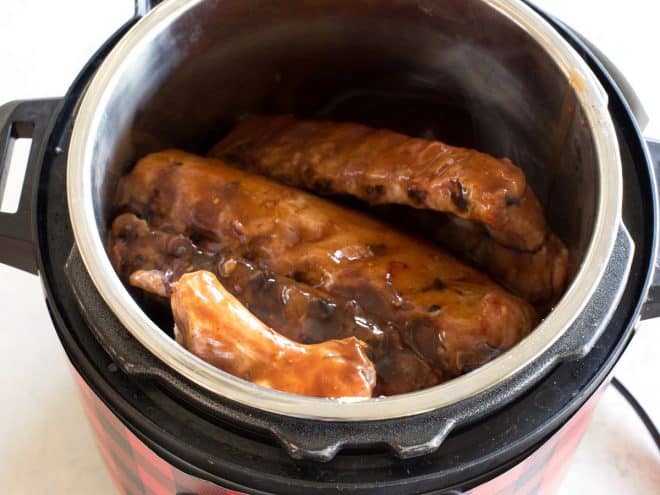 You can also cook these in an Instant Pot.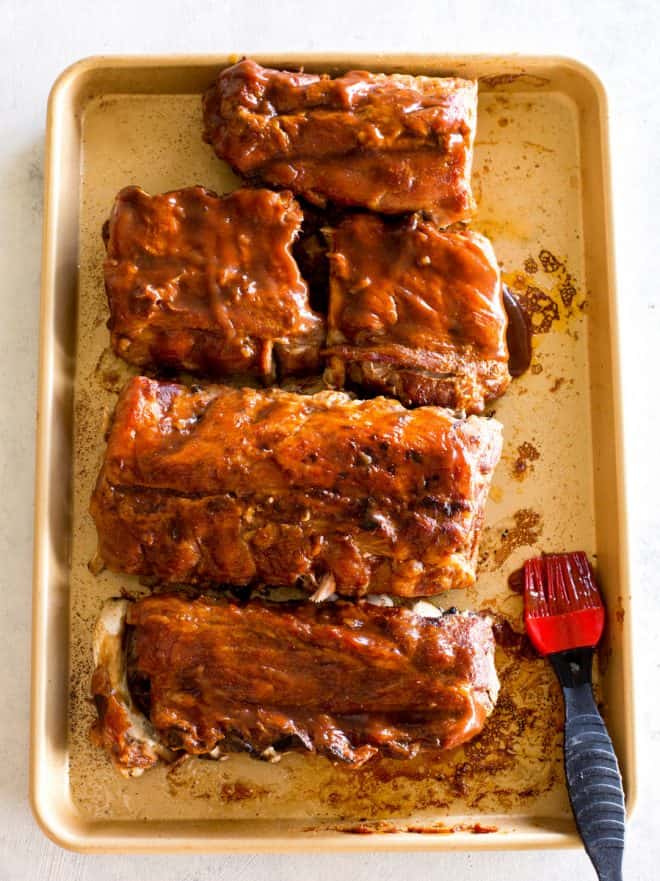 If you like a crispy skin you can throw these back in the oven to caramelize the sauce. I've done it both ways and don't necessarily prefer one way or the other.
BABY BACK VS SPARE RIBS
Baby back ribs are smaller and more tender. They come from the parts of the ribs that are connected to the backbone, beneath the loin muscle. Spare ribs (aka St. Louis ribs) tend to be larger and cut from the belly. They are usually flatter in shape. I prefer baby back.
ARE RIBS PORK OR BEEF?
This is not a silly question. Many people mistake whether ribs come from a cow or a pig. Baby back ribs are pork ribs. Beef ribs are usually called back ribs or short ribs.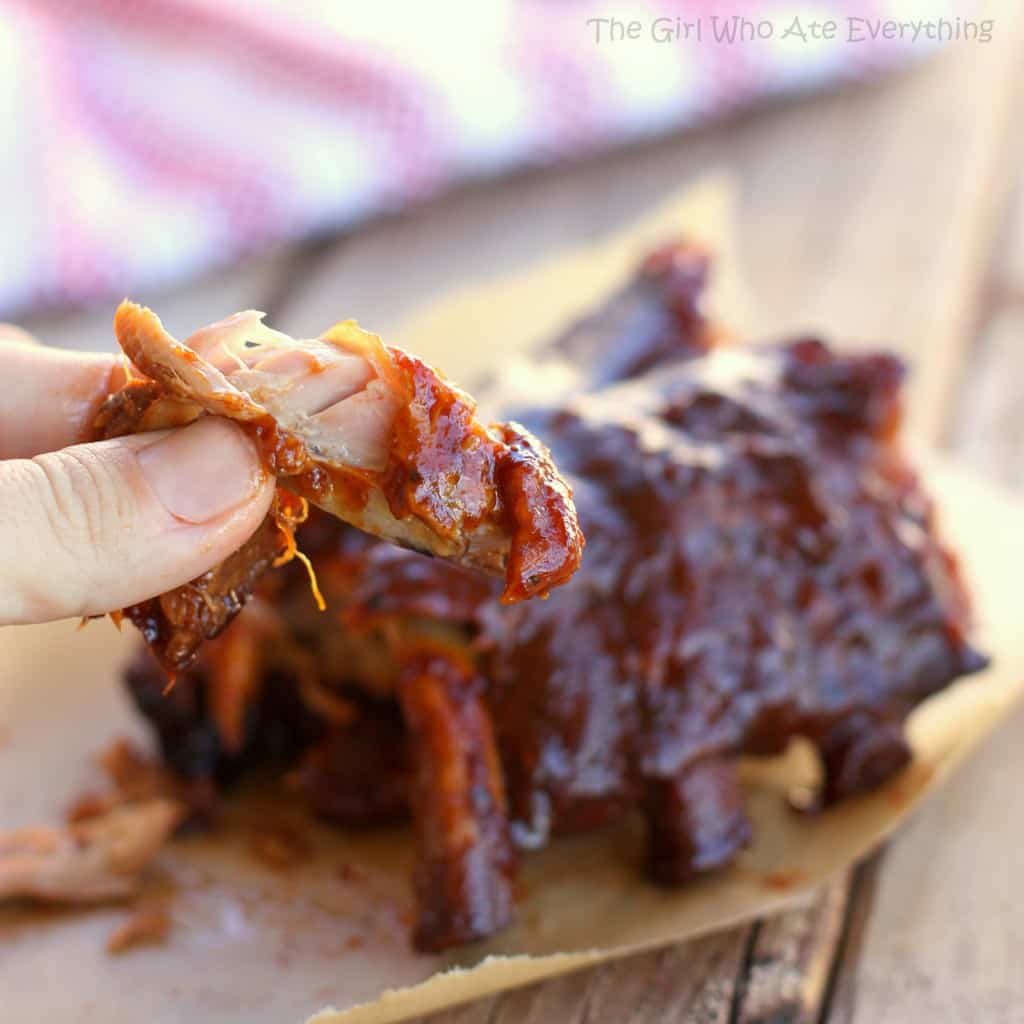 Look at the meat fall off the bone. I could hardly get it out of the Crock-Pot it was that tender.
OTHER SLOW COOKER RECIPES: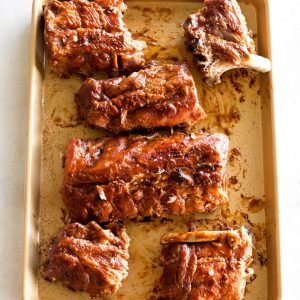 Print
Yield: 8 servings
These Slow Cooker Barbecue Ribs are baby back pork ribs that are fall off the bone tender. You cannot go wrong with these and it's the best slow cooker rib recipe out there!
4




pounds




pork baby back ribs

salt and pepper

garlic powder, onion powder (about 1/2 teaspoon each)
For the Sauce:
2




cups




of your favorite barbecue sauce

1




cup




ketchup

1/2




cup




packed brown sugar

4




tablespoons




red wine vinegar

2




teaspoons




Worcestershire sauce

2




teaspoons




dried oregano

optional 1 Tablespoon liquid smoke




if you like a smokey flavor

optional dash hot sauce




my bbq sauce was spicy enough already
Preheat oven to 400 degrees.

Place ribs in a shallow baking dish and season with salt, pepper, garlic powder, and onion powder. Bake for 15 minutes and then turn over and bake for 15 more minutes. Drain fat.

In a medium bowl combine BBQ sauce, ketchup, brown sugar, vinegar, Worcestershire, oregano, and liquid smoke and hot sauce if desired.

SLOW COOKER: Place ribs in a large slow cooker (at least 6 quart). I curled mine around but you can cut them in half if you need to. Pour sauce on top and cook on low for 6-8 hours or until tender. INSTANT POT: Place ribs in instant pot and pour sauce on top. Cook on high pressure for 30 minutes. Let it naturally release the pressure.

If you want to carmelize your bbq sauce put them back in the oven and broil for 5 minutes to carmelize the sauce. Totally your preference though.