Slow Cooker Butter Chicken is flavorful dish with warm spices that the whole family loves. This crockpot butter chicken recipe is a creamy chicken dish served over Basmati rice with warm Naan bread.
CROCKPOT BUTTER CHICKEN
I am the first to admit that Indian food isn't the first thing my family wants to eat. They love this Indian butter chicken though. Creamy, saucy, warm Naan…hello.  Who could say no to that? 
I'm always looking for a slow cooker chicken recipe I can throw into the regular rotation. 
I tried many versions of this chicken dish before getting the best flavors that we all liked. I've tried a skillet version but this crockpot recipe is hard to surpass.
The key to this version I believe is blending the spices and onion before cooking. This results in a velvety sauce that is to die for. If this is your first time trying Indian food, this is for you.
WHAT IS BUTTER CHICKEN
Butter chicken is traditionally known as murgh makhani. It is made with chicken, tomato sauce, butter and spices. 
INGREDIENTS
BONELESS SKINLESS CHICKEN THIGHS – Thighs are great for slow cooker dishes because they stay moist through the long cooking. You can use chicken breasts if you want.
YELLOW ONION – You can use any white or yellow onion but yellow onions tend to be sweeter which compliment the acidity of the tomatoes.
MINCED GARLIC
FRESH GINGER – You must use fresh ginger. You can buy it preminced in jars or bottles but I prefer it over dry ground ginger.
TOMATOES – This version uses diced tomatoes and tomato sauce which resulted in the the warmest tone of sauce. I really like San Marzano tomatoes if you can find them. If you want to amp the tomato flavor even more you can use tomato paste.
SPICES – Garam masala, coriander, tumeric, cumin, chili powder, and salt make for a flavorful sauce.
BUTTER – It wouldn't be butter chicken without butter. It adds a silkiness to the dish.
SUGAR – Just a tiny pinch balances the acidity of the tomatoes.
HEAVY WHIPPING CREAM – This is added at the end of the dish to give it a creamy sauce. You can definitely use full-fat coconut milk as a substitute. A traditional butter chicken recipe will sometimes use a cashew sauce at the end.
HOW TO MAKE BUTTER CHICKEN
Stir in cream and let it cook over warm heat. Serve over rice and with fresh Naan bread.
WHAT TO SERVE WITH BUTTER CHICKEN
Traditionally it is served over Basmati rice and with warm Naan bread.

WHAT DOES BUTTER CHICKEN TASTE LIKE?
It tastes like a creamy tomato based sauce with curry tones. It is similar to Tikka Masala but a little less spicy.
IS THIS KETO-FRIENDLY?
Yes. If you use Monkfruit to sweeten the sauce and serve over cauliflower rice it is Keto.
OTHER SLOW COOKER RECIPES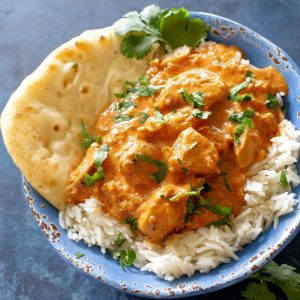 Print
Yield: 6 servings
Slow Cooker Butter Chicken is an easy dinner that the whole family loves. Throw it in a crockpot and enjoy creamy chicken over rice with warm naan bread.
1




(16 ounce)




can tomato sauce

1




(15 ounce)




can diced tomatoes

½




yellow onion, quartered

6




cloves




garlic, minced

1




tablespoon




minced ginger

1




tablespoon




garam masala

1




tablespoon




sugar




(use Monkfruit for Keto version)

1




teaspoon




chili powder

1




teaspoon




ground tumeric

1




teaspoon




ground cumin

1




teaspoon




ground coriander

1




teaspoon




kosher salt (coarse salt)

2 ½




lbs




boneless skinless chicken thighs, trimmed of fat and cut into bite sized pieces




(chicken breasts can be used as well)

4




tablespoons




butter, cut into cubes

1




cup




heavy cream




(or sub full fat coconut milk)
In a food processor or blender, blend together the tomatoes, onion, garlic, spices, and sugar until as smooth as possible.

Pour mixture into the slow cooker and place chicken pieces and butter in as well. Give it a stir and cook on high for 3-4 hours or on low for 6-8 hours or until chicken is done.

Stir in cream and cook for 30 minutes on low to thicken. Serve over white rice and with warm naan. Garnish with fresh cilantro if desired.