Sheet Pan Greek Chicken Dinner is a healthy meal made with tender chicken, bell peppers, red onions, and perfectly roasted potatoes. The chicken is marinated in a blend of olive oil and balsamic vinegar and zesty lemon. Enjoy this sheet pan dinner that has fresh flavors and is an easy dinner for those busy weeknights.
GREEK CHICKEN RECIPE
When I think of Greek food I think of fresh food, cucumber salad, and the movie My Big Fat Greek Wedding. Being the youngest of ten kinds I relate so much to that movie. The multiple conversations always going on at one time and the chaotic noise!
To make this meal, honestly it takes about 15 minutes of chopping and prepping – then you don't have to think about it.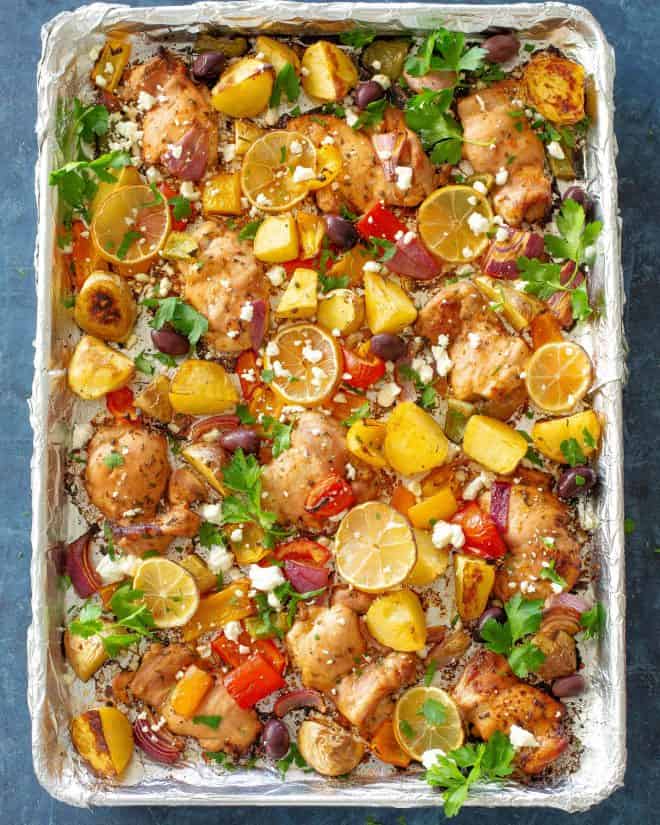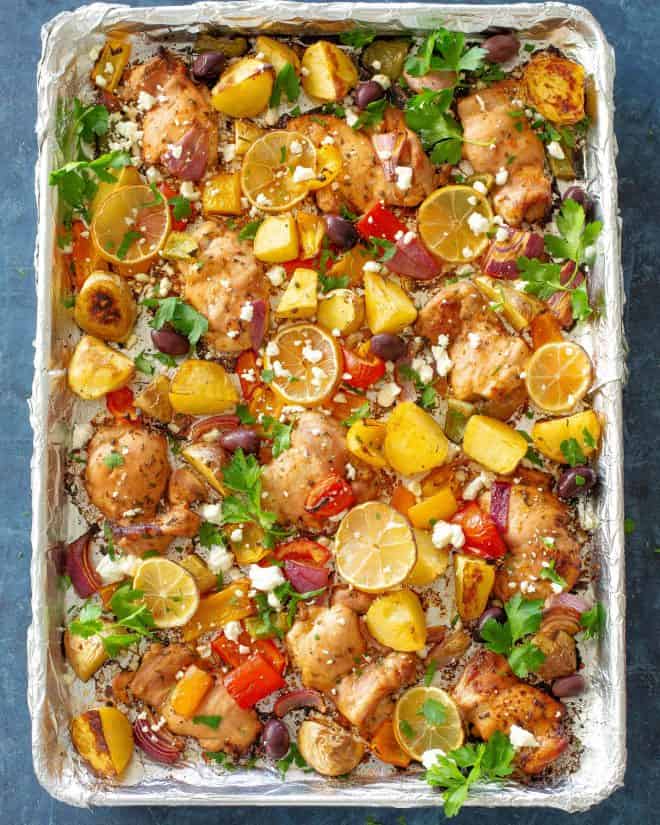 GREEK CHICKEN INGREDIENTS
CHICKEN THIGHS – Don't be scared of chicken thighs. They take a little bit longer to cook but I love the flavor. You can use any cut of chicken like boneless skinless chicken breasts if you want but you will have to cook it for less time.
RED ONIONS – are classic Greek but if you want to use another onion you can.
BELL PEPPERS – you can use any color here (red, orange, yellow, green) but green bell peppers are the least sweet and sometimes bitter. This is accentuated when you roast them so stick to the other colors.
BABY GOLD POTATOES – you don't have to peel gold potatoes which is why I like them. Same goes for red potatoes so you could use those as well.
KALAMATA OLIVES – these are the Greek olive. I add them after the chicken has baked because I don't like the taste or smell of baked olives.
OLIVE OIL – helps keep the chicken moist and to get that nice roast on the vegetables.
LEMONS – this recipe uses lemon slices while roasting and lemon juice in the marinade.
FETA CHEESE – we add this for the last few minutes of baking and it gets all warm.
BALSAMIC VINEGAR – gives the chicken flavor. You could also use red wine vinegar.
PARSLEY – more for garnish but adds some flavor.
PAPRIKA – for color and flavor.
DRIED HERBS – tarragon and oregano are used in the marinade. Tarragon isn't an herb I usually have on hand so you can leave it out if you want.
TZATZIKI SAUCE – not required but is great to dip the chicken in. You could also use plain greek yogurt.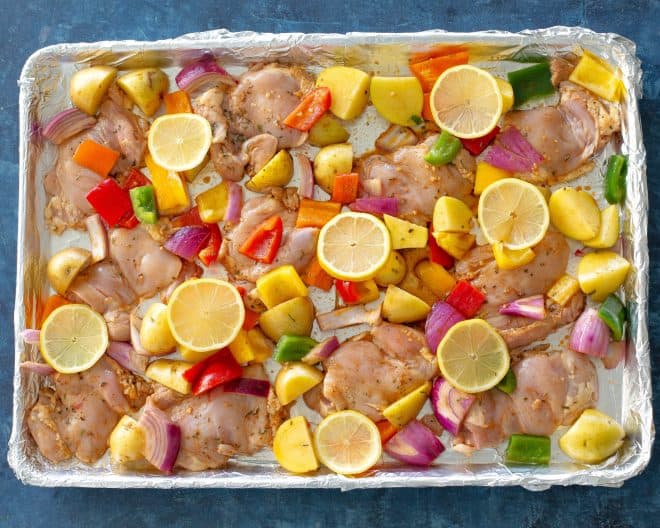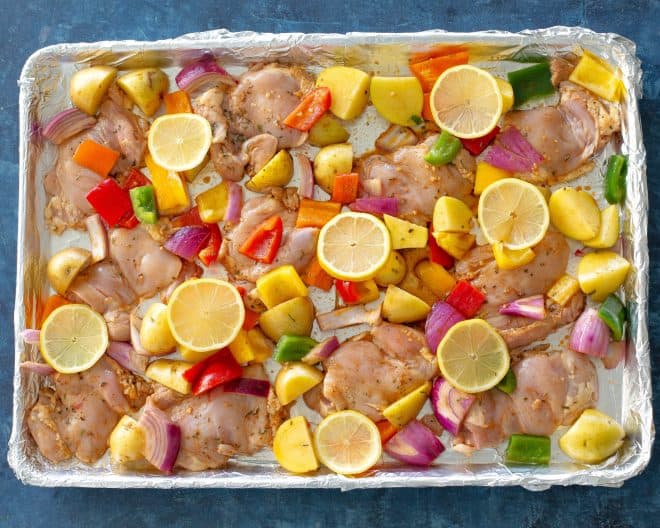 TIPS FOR THIS RECIPE
Most important, the best way to get your veggies roasted to perfection is to make sure they have enough room to breathe. Use at least a 15×10 inch pan or as large as you have.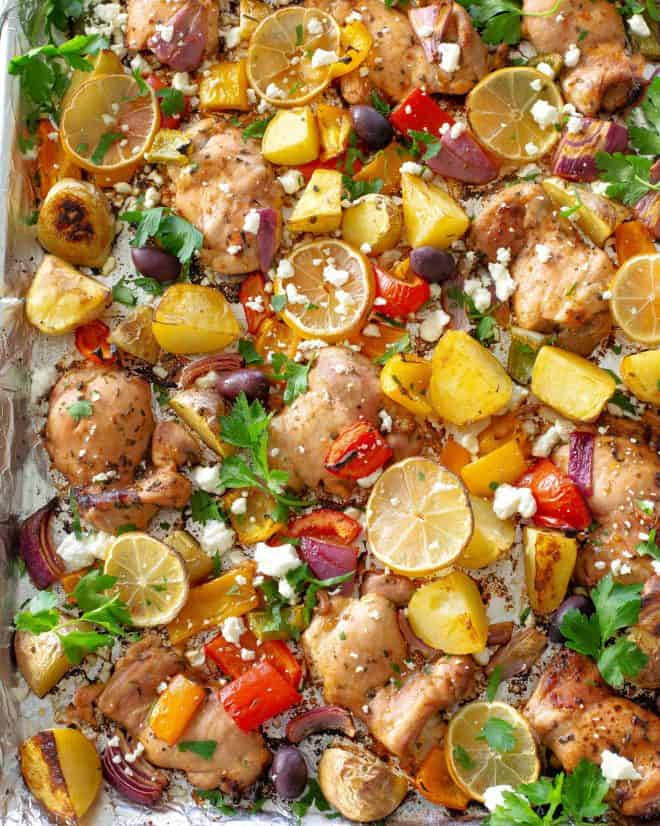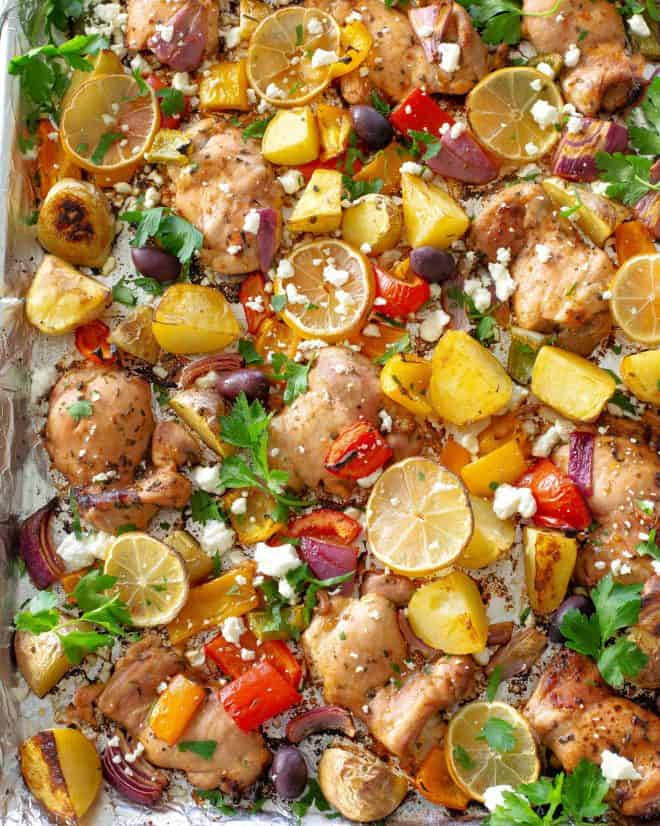 CHICKEN THIGHS vs. BREASTS
I know I'm going to get this question so yes, you can replace the thighs with breasts. One thing to note, thighs take a lot longer to cook than chicken breasts so you will need to adjust your cook time most likely.
It's not required but if you want tzatziki on the side for dipping it's a great option.
OTHER ONE PAN RECIPES
OTHER GREEK RECIPES
Ingredients
¼ cup extra-virgin olive oil
3 Tablespoons lemon juice
2 Tablespoons balsamic vinegar
1 teaspoon dried tarragon (you can omit if you don't have this)
1 teaspoon dried oregano
1 teaspoon paprika
1 teaspoon salt
½ teaspoon black pepper
2 lbs chicken thighs
1 pound baby potatoes, halved
1 small red onion, sliced into strips
2 bell peppers, seeded and sliced into strips
1 whole lemon, sliced
¼ cup crumbled feta cheese
¼ cup fresh parsley, chopped
8 pitted Kalamata olives
Instructions
1. Preheat the oven to 425 degrees F and line a large sheet pan with aluminum foil.

2. In a large bowl, whisk the olive oil, lemon juice, vinegar, tarragon, oregano, paprika, salt, and pepper together in a large bowl. Add chicken thighs, potatoes, onion, and bell peppers. Stir until everything is evenly coated.

3. Place chicken pieces evenly and spread out on the prepared baking sheet. Pour the veggies in between the chicken spreading in an even layer. Scatter lemon slices over the vegetables, making sure to leave the chicken uncovered so that the skin will brown.

4. Bake in preheated oven for about 35-40 minutes. The temperature of the thick part of the thigh should be 165 degrees F. Remove from oven and top with feta. Return to the oven for 2 minutes to get feta melty. Remove from oven and top with parsley and olives. Serve with Tzatziki if desired.

5. Store leftovers in the fridge in an airtight container.