Pesto Ravioli with Chicken is ready in under 20 minutes. It has zucchini, chicken, and red peppers tossed with cheese filled ravioli and pesto. It's a one-pan dinner that is great for summer!
One-Pan Pesto Ravioli with Chicken Dinner
People always make comments about how quickly I can get things done. Using the restroom, folding laundry, reading a book, and getting dressed – all things that I could do in Olympic record time. My roommate even got up at my wedding dinner to give a toast and told my future husband that he's lucky because, "She gets ready faster than anyone I know."
I know you think I'm patting myself on the back, giving myself a high-five…but I'm starting to realize that what I always thought was one of my strengths, is actually a weakness. Sure I can get things done fast…but not well. "Haste makes waste" my husband always says (who is the most thorough person I know).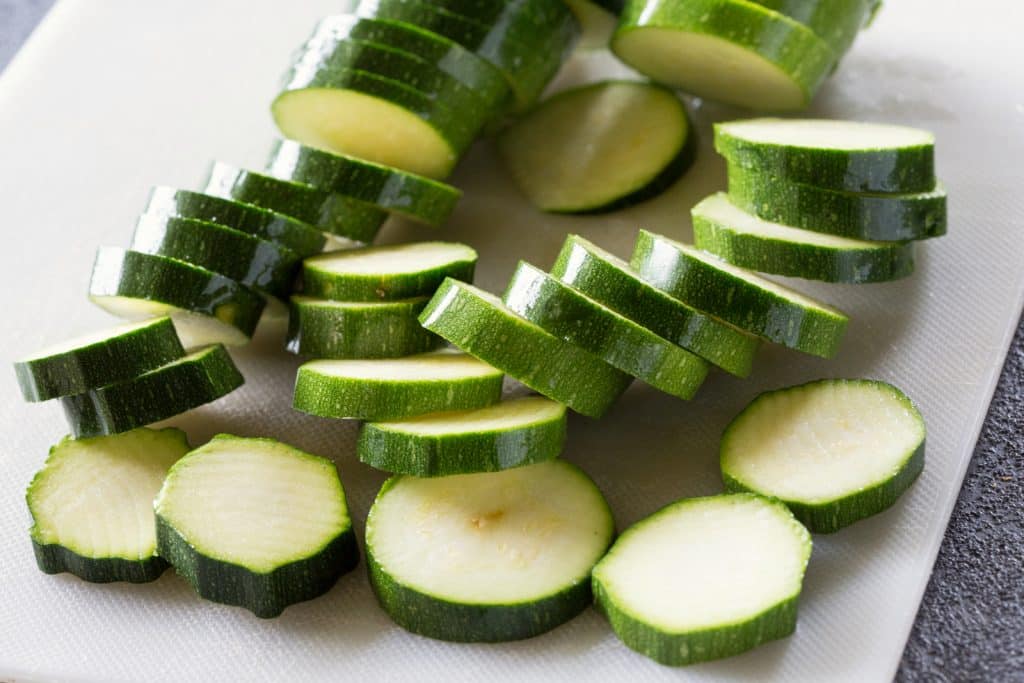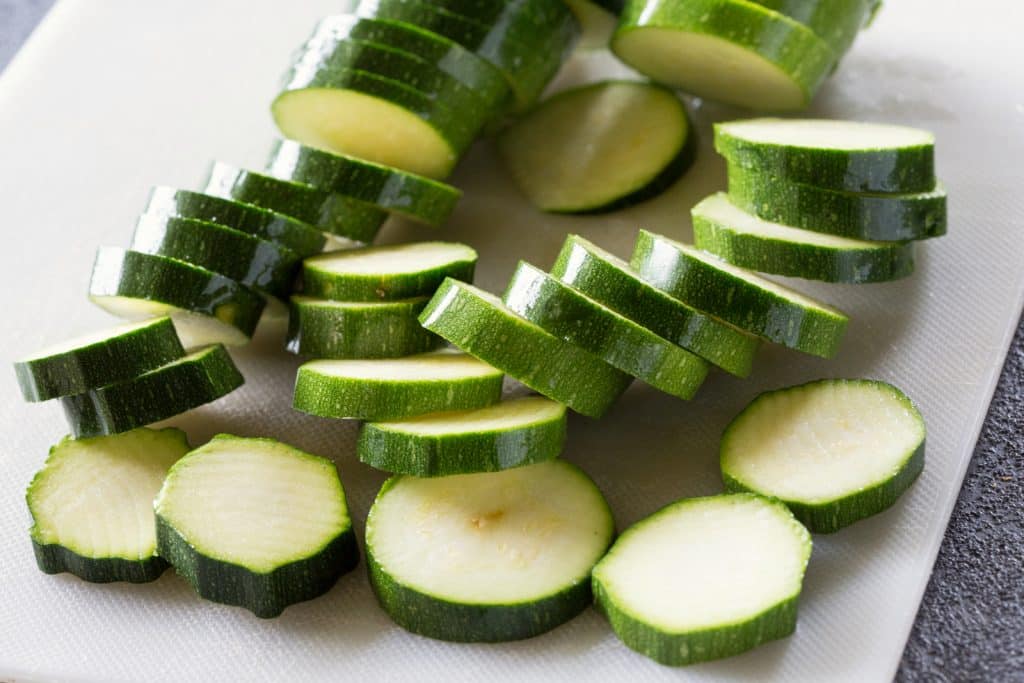 Lets break it down:
Using the bathroom – I think most mothers have mastered doing this in lightening quick speed. You know if you don't, you'll start hearing knocks on the door or little fingers peeking under the doorway.
Folding laundry – I've always used the word "folding" loosely. It's more like a flipping the sleeves back and tossing gently in a pile. I'm the worst. Like awful.
Reading – I'm a skimmer. What can I say? My eyes bounce all over the page and I get a general idea of the concepts but details are a bit fuzzy.
Getting dressed – this one just takes practice. I shower, shave, and put on makeup everyday. It's Florida – washing my hair everyday is necessary. I can put my makeup on in under 2 minutes and my hair is pretty much straw so it dries fairly quickly. So yeah, don't be too impressed with that one.
On date night, when I can tell my husband is getting anxious to leave, and I've had a solid 15 minutes to get ready, I give him the one eyebrow raised that says it all. Really? You have no idea how fast I am compared to the rest of the female population.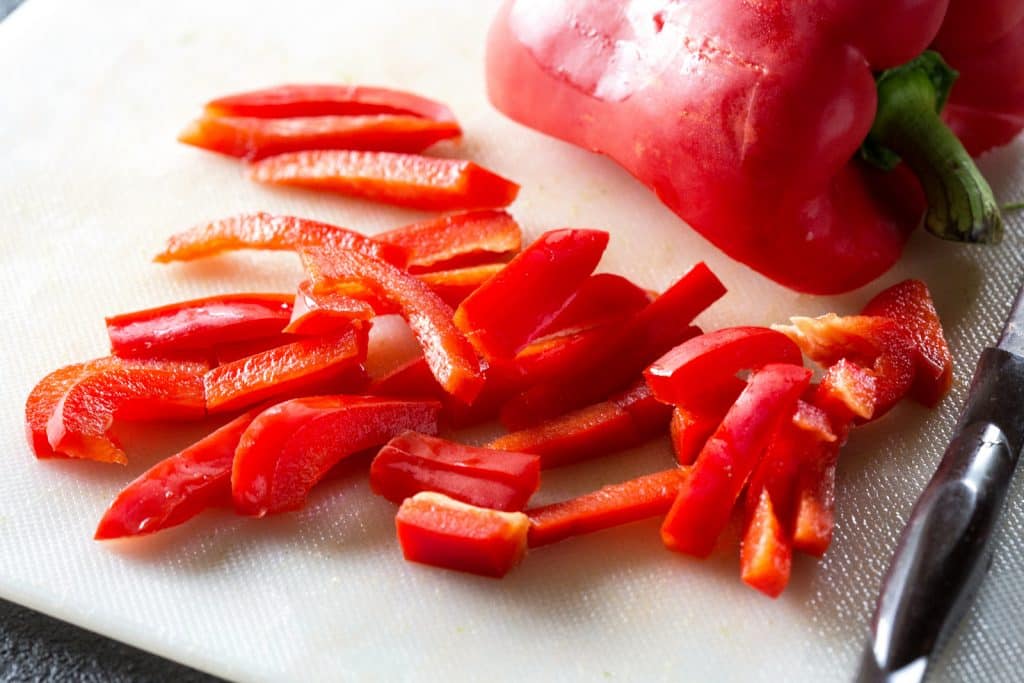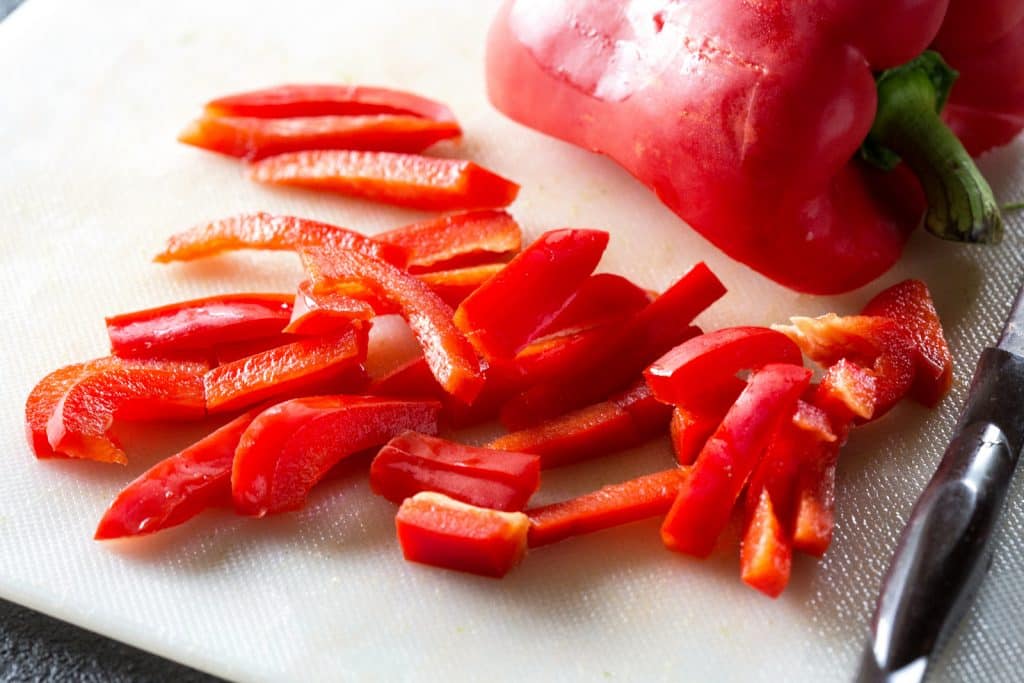 I was recently in Arizona at my moms and was cooking dinner for everyone. My mom couldn't believe how fast it came together. Really 60% of cooking is timing. Cooking things simultaneously or at the right moment so that everything is done and hot at the same time.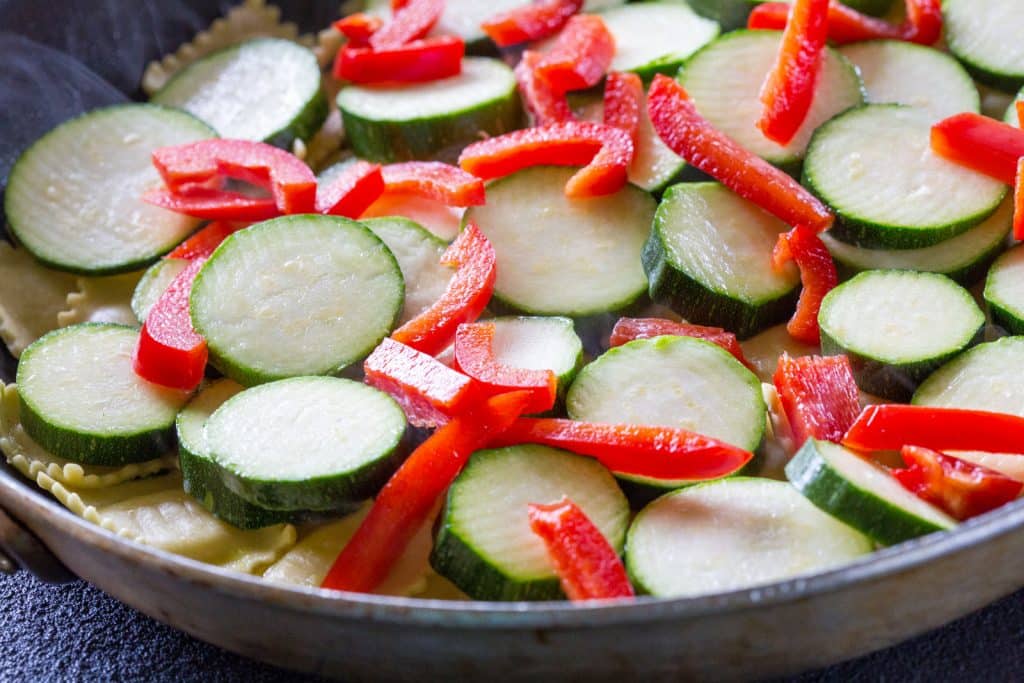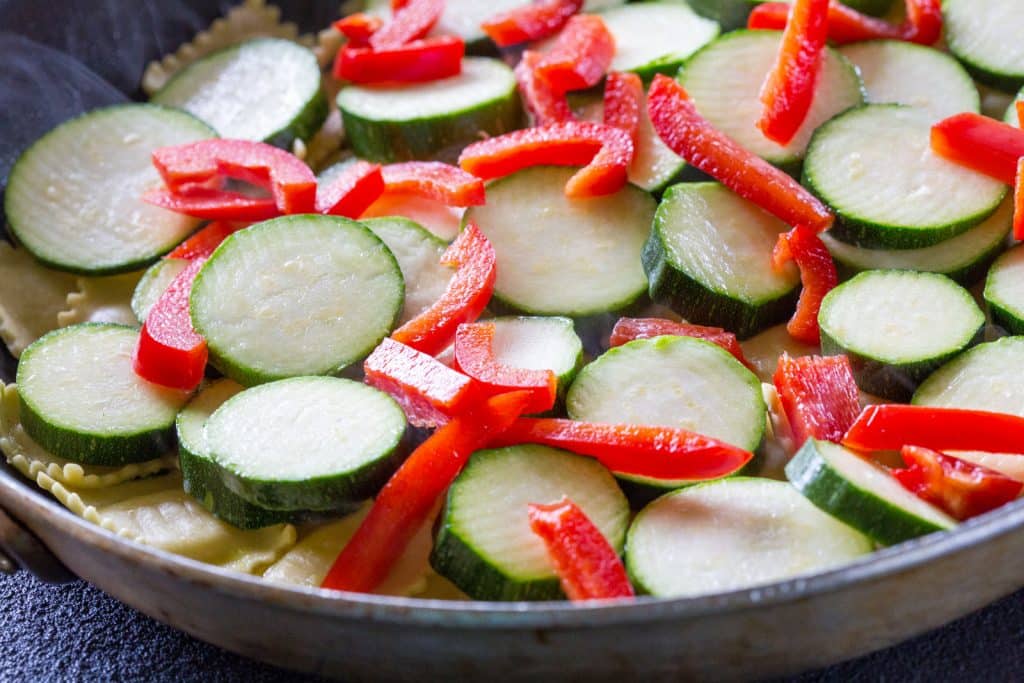 This Pesto Ravioli with Chicken could not be any easier. One pan meal that comes off fancy!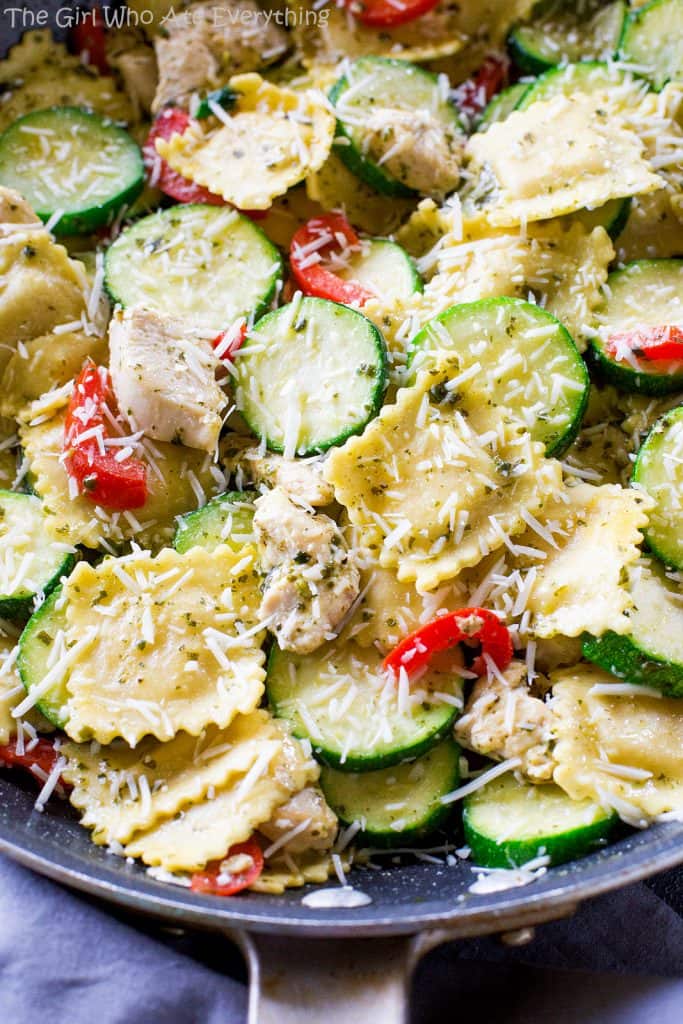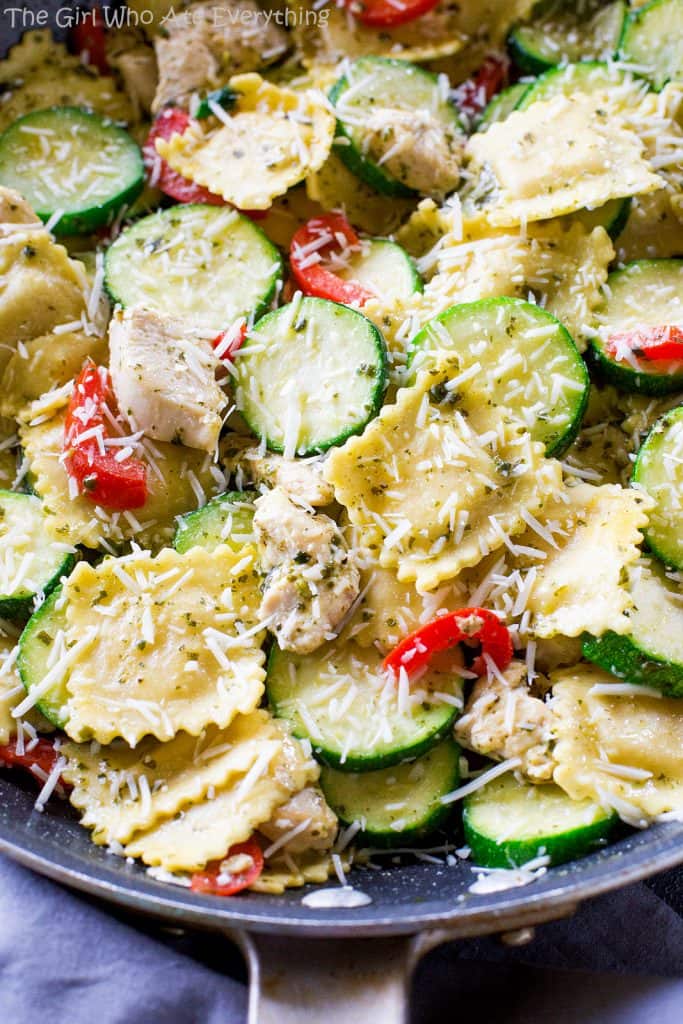 I will say that each of my kids walked by at different times and said in horror, "We're eating cucumbers for dinner?" No. It's zucchini. And guess what? They loved it. They like zucchini noodles too!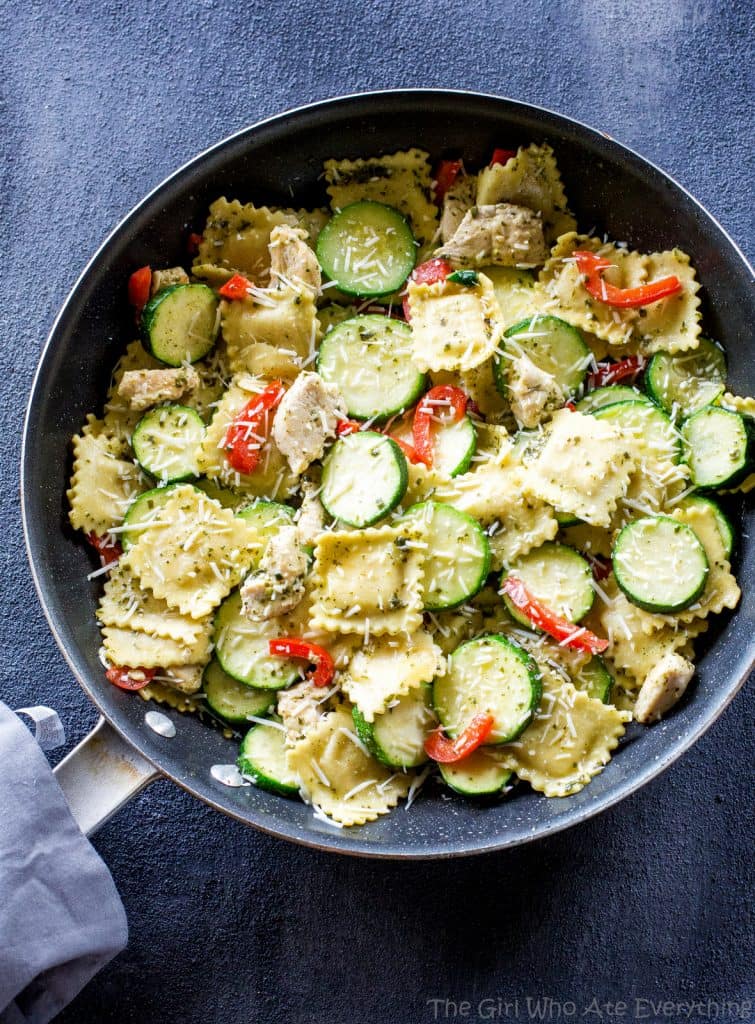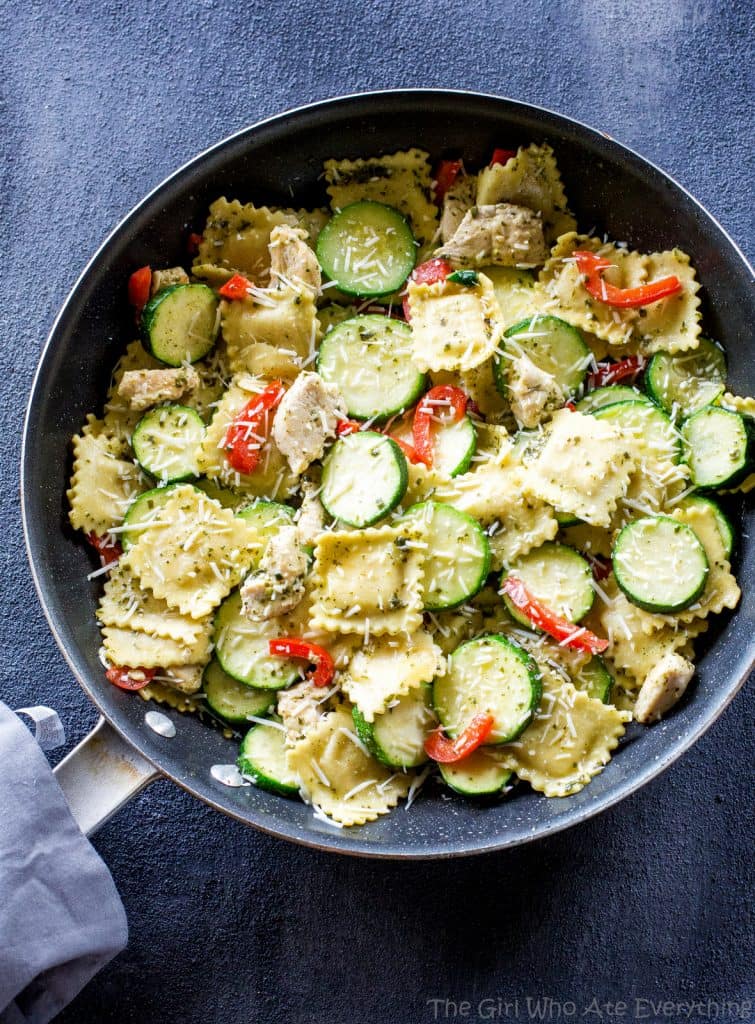 OTHER ONE-PAN DINNERS: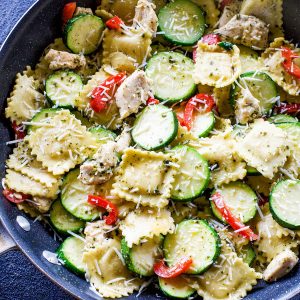 Print
Yield: 6 servings
This Pesto Ravioli with Chicken has zucchini and red peppers tossed with cheese filled ravioli and pesto. It's a one-pan dinner that is great for summer!
2




teaspoons




olive oil

1




lb




boneless skinless chicken breast, cut into small strips

3/4




cup chicken broth

1




(9 ounce) package refrigerated cheese ravioli

3




small zucchini, cut into 1/4 inch slices

1




large red pepper, thinly sliced

1




clove




garlic, minced

1/4




cup purchased basil pesto

fresh grated parmesan cheese
In a large skillet, heat oil over medium-high heat.

Saute chicken in oil for 4 minutes or until browned; remove chicken from skillet and set aside.

Add the broth and ravioli to the skillet.

Bring to a boil, lower heat.

Cover and simmer 4 minutes or until ravioli is tender.

Add the zucchini, red pepper, and chicken to the ravioli.

Cook over medium-high for 3 minutes, stir frequently, until veggies are crisp-tender and chicken isn't pink. Add the garlic the last minute of cooking.

Add pesto and toss to coat.

Season with salt and pepper if desired.

Sprinkle with parmesan and serve.