This delicious Peach Crisp has the perfect amount of crumble topping with oats and brown sugar. This is the perfect summer dessert served with a scoop of ice cream.
PEACH CRISP RECIPE
I have a great recipe for an apple crisp and although this easy peach crisp is similar there are a few changes for peaches that make this recipe the best peach crisp.
INGREDIENTS
FRESH PEACHES – You want peaches that are just ripe. Overly ripe peaches will turn into mush.
CORNSTARCH – I tried flour and cornstarch to thicken the fruit filling. Cornstarch turned into a nice juicy syrup. The flour tasted gluey and floury in the peach mixture and proved to not be the right choice.
LEMON JUICE – This brightens the flavor of the dish.
VANILLA EXTRACT – This is added to the filling to give it flavor.
GRANULATED SUGAR – This sweetens the peaches. If you have really sweet peaches you can definitely cut this down.
OLD-FASHIONED OATS – Old-fashioned oats hold their shape better than quick oats but quick oats can be used in a pinch.
BROWN SUGAR – This is for the crisp topping mixture.
GROUND CINNAMON – Gives the topping that flavor that can't be beat. I've tried adding nutmeg to the topping but I didn't love it.
BAKING POWDER – This makes for a nice crunchy topping.
BUTTER – This melts into the fruit and makes it so good.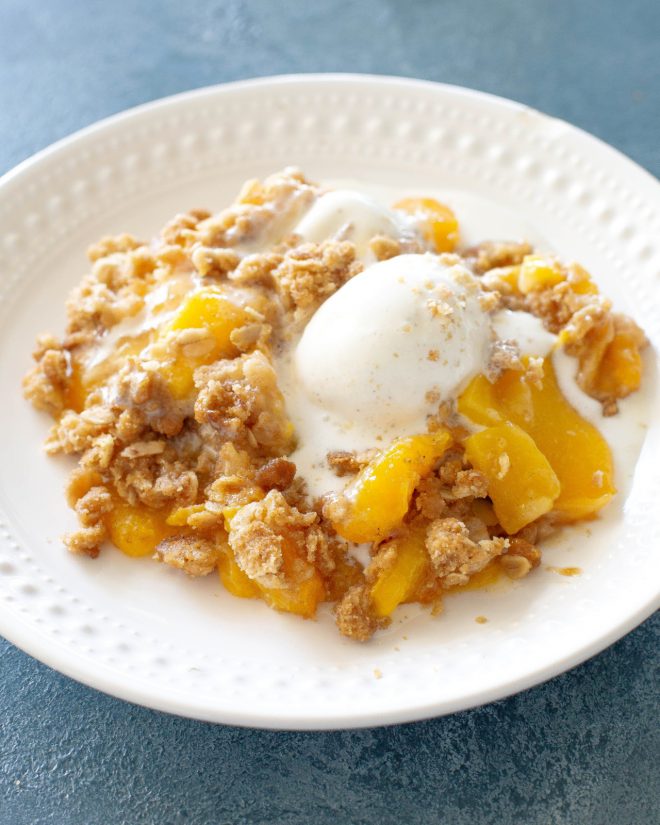 HOW TO PICK A PEACH
Stone fruit has certain rules for ripeness. At the grocery store or farmers market, look for peaches with an orange and yellow color and have a peachy smell. A good peach for this recipe should give just slightly. Overripe peaches will be squishy. Avoid any bruises.
HOW TO RIPEN HARD PEACHES
If your peaches are rock hard, place them in a brown paper bag on the counter for one day. The peaches release Ethylene gas which helps them to ripen in an enclosed space.
CAN YOU USE CANNED PEACHES?
Yes, but fresh fruit is always my preference if they are in season at that time of year you are making this. You can't beat fresh juicy peaches. If you are using canned peaches, you will need 3 (15-ounce) cans.
HOW TO PEEL PEACHES
There are two ways to peel peaches.
If the peaches are somewhat firm you can peel with a vegetable peeler.
For riper peaches, it's easy to peel with the blanche method. Add peaches to boiling water for 30 seconds then cool in a bowl of ice water. The skin will then peel off easily.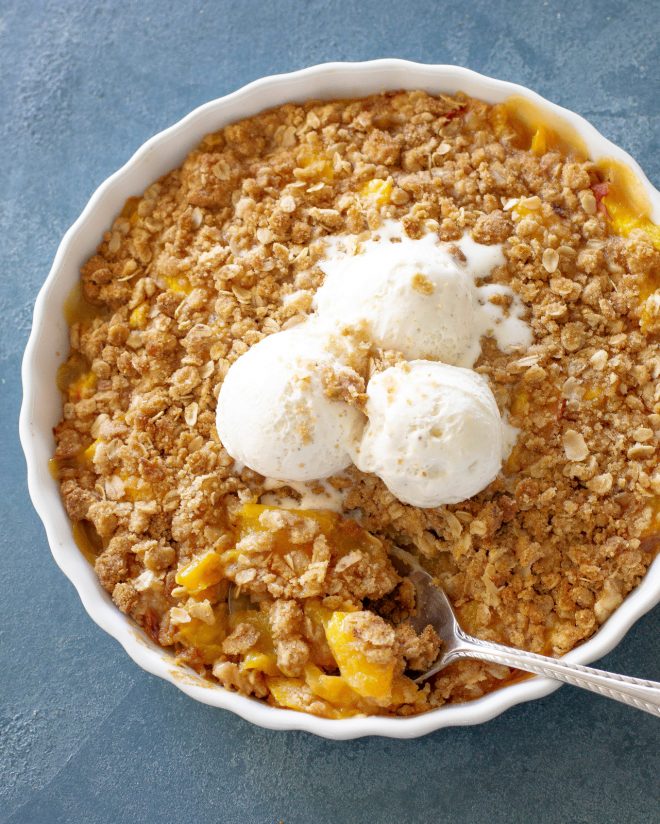 PRO TIP
You want to eat this right away. Okay maybe not right away but you do want to eat the peach crisp soon after eating if you want the topping to be crisp. The longer the crisp sits the juices of the peaches will soften the crisp. This is true with most fruit crisps.
OTHER PEACH RECIPES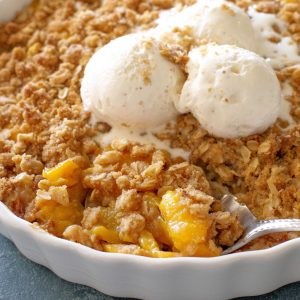 Print
Yield: 6 servings
This Peach Crisp has the perfect amount of crumble topping with oats and brown sugar. This dessert is perfect for summer!
FILLING:
3




pounds




peaches, peeled and sliced into 1/2 inch slices (about 8 peaches and around 6 cups)




(just ripe but not overly ripe)

1/4




cup




white sugar

2




tablespoons




lemon juice

2




tablespoons




cornstarch

1/2




teaspoon




vanilla extract

pinch of salt
TOPPING:
1/2




cup




all-purpose flour

1/2




cup




brown sugar

1/2




cup




rolled old-fashioned oats

1/4




cup




butter, cold but slightly soft

1/2




teaspoon




baking powder

1/2




teaspoon




ground cinnamon

dash salt
Preheat oven to 375 degrees F and grease an 8×8 square baking dish.

Prepare the filling: In a large bowl, add the sliced peaches, white sugar, lemon juice, cornstarch, vanilla, and salt. Toss until well coated and pour into prepared pan.

For the Topping: In a medium bowl, add the flour, brown sugar, oats, butter, baking powder, cinnamon, and salt. Mix together with a pastry cutter, fork or use clean hands to make sure the topping is well combined. Sprinkle over the peach filling.

Bake for 30-35 minutes or until topping is brown and crisp. Serve with a scoop of vanilla ice cream.