One-Pan Cream Chicken and Spinach is a comforting creamy chicken dinner with sun-dried tomatoes and spinach. This easy Italian dinner is done in 20 minutes and all in one-pan so you don't have to do dishes! Not to mention it is Keto-friendly.
ONE-PAN CREAMY CHICKEN AND SPINACH
It's funny how much your life can change in just 24 hours. Thursday night we had a category 4 hurricane coming right for us. Naturally, I wanted to make our last meal a memorable one and this Creamy Chicken and Spinach was it.
The last time a hurricane was knocking on our door I made these Cheerios Treats. What can I say? When I'm stressed cooking relaxes me.
The next day I woke up to hear that the hurricane had shifted and we weren't in the cone.
Here's why you'll love this chicken dinner. It's all made in one pan! Creamy Parmesan sauce with sun-dried tomatoes and spinach, this dinner is great over pasta or cauliflower rice.
CREAMY CHICKEN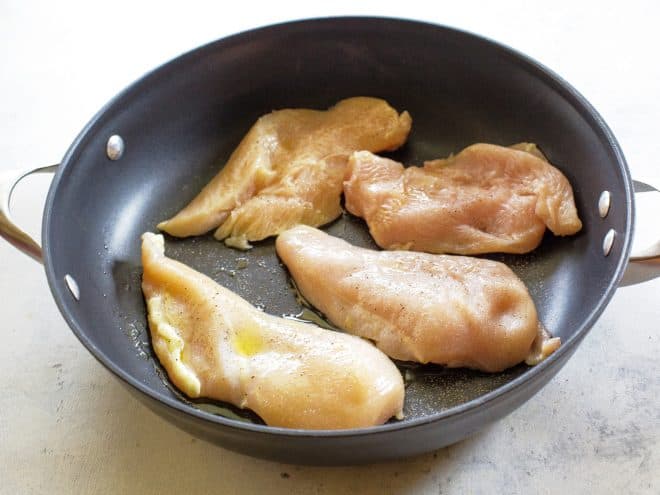 First, season the chicken well with salt and pepper and cook in olive oil for 3-5 minutes per side.
Add some butter, onion, garlic, and red pepper to pan and sautee until onion is soft.

Next, add some cream, cream cheese, chicken broth, and sun-dried tomatoes and simmer until thicker.

Sprinkle with some Parmesan cheese and spinach. Let the spinach cook down.
IS THIS KETO-FRIENDLY?
Yes, with only 3 net carbs this dinner is the perfect Keto meal.
CAN I USE ROTISSERIE CHICKEN?
Yes, just skip step one and add the chicken to the sauce at the end until warm.
OTHER CHICKEN RECIPES
Ingredients
2 tablespoons olive oil
1.5 lbs skinless boneless chicken breasts or chicken tenderloins
2 tablespoons butter
1/3 cup finely diced onion
3 cloves garlic
1/2 teaspoon crushed red pepper
1 cup heavy cream
1 cup chicken broth
2 tablespoons chopped sun-dried tomatoes
2 ounces cream cheese, softened
1/2 cup grated Parmesan cheese
3 cups spinach leaves, (about 3 ounces)
(optional) chopped fresh basil
Instructions
In a large saucepan, heat the olive oil over medium heat. Season chicken breasts well with salt and pepper. Cook chicken for 3-5 minutes per side or until chicken is no longer pink inside. Remove from the skillet and place on a plate.
Add the butter, onions, garlic, and crushed red pepper to the skillet and cook for 1-2 minutes.
Add the cream, chicken broth, sun-dried tomatoes, and cream cheese. Simmer over medium heat for a couple of minutes, whisking until creamy.
Stir in the Parmesan and spinach and simmer until spinach has wilted. The longer you cook the sauce the thicker it will be. Season with salt and pepper to taste. Return chicken to the pan in the sauce until warmed then serve. Garnish with fresh chopped basil if desired. Serve plain, over pasta, or over cauliflower rice for a low-carb version.
Notes
CAN I USE ROTISSERIE CHICKEN?
Yes, just skip step one and add the chicken to the sauce at the end until warm.
Source: The Girl Who Ate Everything
Nutrition Information:
Yield: 4
Serving Size: 1 serving
Amount Per Serving:
Calories: 621Total Fat: 51gUnsaturated Fat: 0gCarbohydrates: 4gFiber: 1gProtein: 44g