This easy One-Pan Chicken Enchilada Skillet can be ready in 10 minutes! Seriously such a tasty Mexican dinner recipe with chicken! Rotisserie chicken is simmered in enchilada sauce and salsa, then sliced tortillas are stirred in cooked until they become nice and soft. Top this one pot meal with cheese and all your favorite toppings like guacamole, sour cream, and green onions.
ONE-PAN CHICKEN ENCHILADA SKILLET
(originally posted 2018)
We recently got back from a cruise on the Caribbean and while I could really write five separate posts on the pros and cons of cruises, I will spare you.
I will say however, that one of the unique things about a cruise is that even though there were 8,000 people on our boat, you tend to see the same people over and over again.
The actors in the Mammia Mia play we saw on the boat were also directing a volleyball competition at the pool. The skaters in the ice skating show who were all dolled up the night before were in sweats renting out skates to kids the next day. The gymnasts in the aqua show were lifting weights next to me at the gym and some were running next to me on the track surrounding the boat. The ladies at the Kids Club magically appeared running the carousel at the other end of the boat.
By the end of the week long cruise, it was apparent that everyone working there wore several hats, with skills in all kinds of job fields from server to magician!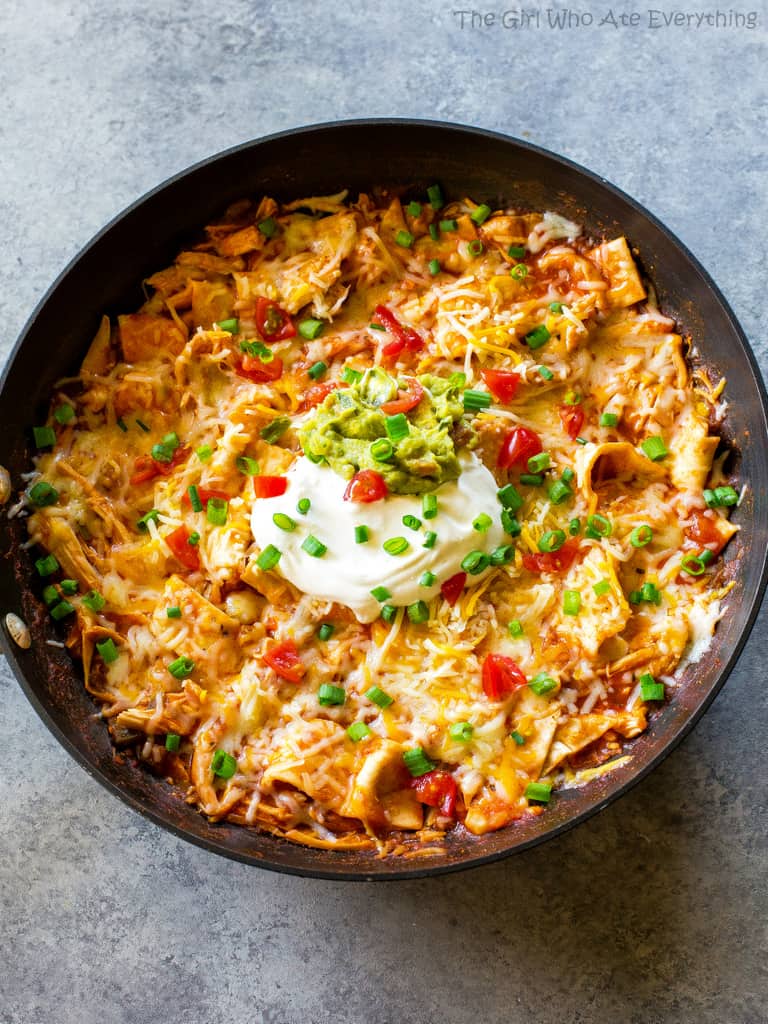 What's my point? If this One Pan Chicken Enchilada Skillet looks familiar it's because it is. Sort of. I mean it's kind of the cousin of this One-Pan Mexican Chicken and Rice or maybe the sister of the Easy Beef Burrito Skillet. Similar but oh so different.
Growing up eating beef was kind of considered naughty in my house. My mom was all chicken, chicken, chicken recipes for every meal. Beef was only to be eaten rarely. We probably eat beef once a week but in my experience you all want chicken! I guess it's just an overall pleaser.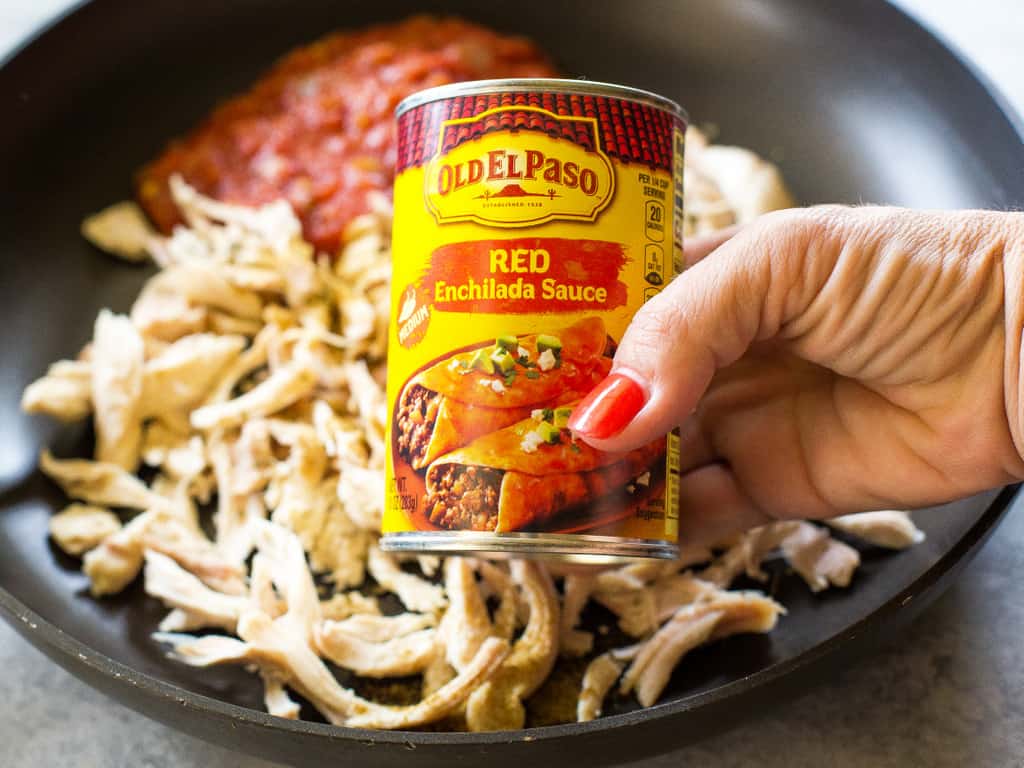 Start with shredded chicken. I love the texture of rotisserie chicken but if you have leftover chicken, by all means use it. I added just a few spices (cumin and oregano) to the chicken.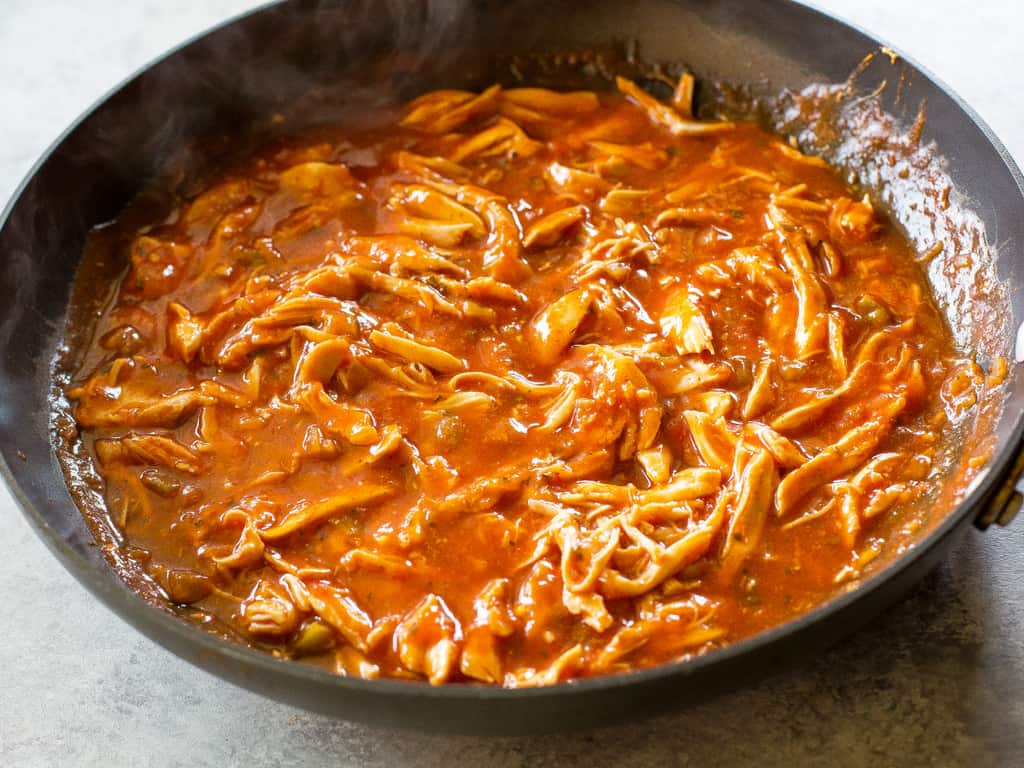 Then I simmered it with salsa and Old El Paso Enchilada sauce.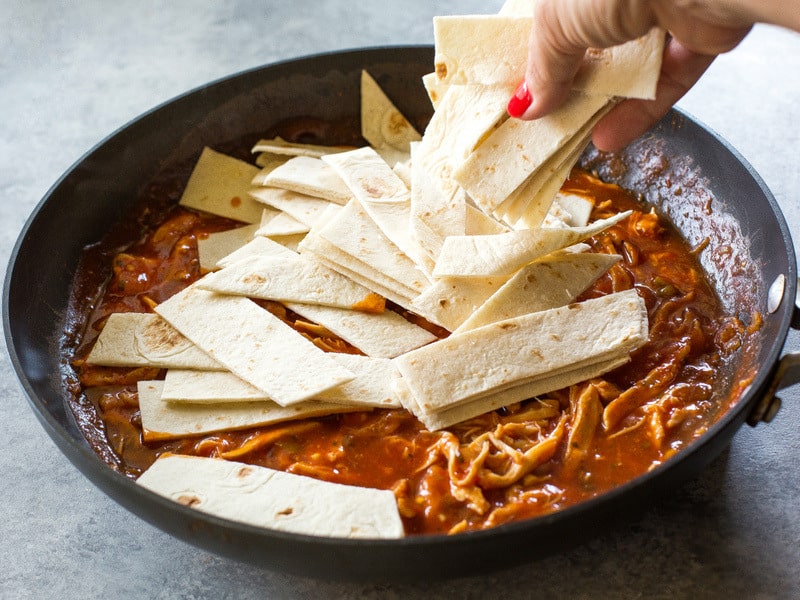 Next, add some flour tortillas that have been cut into strips.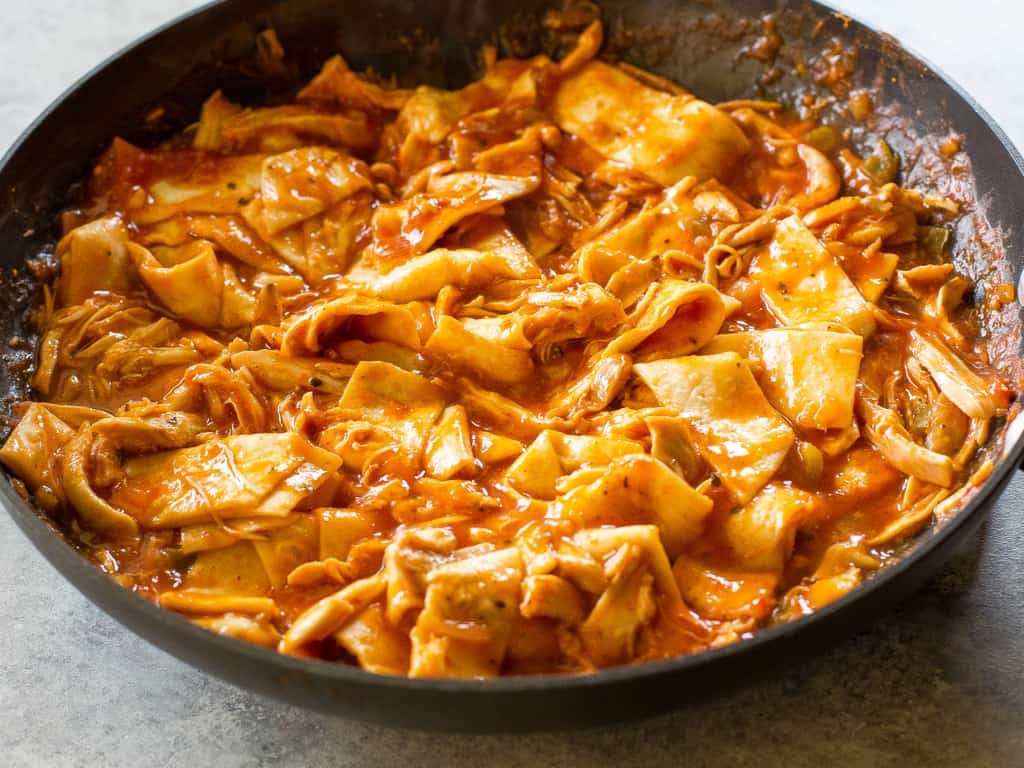 When you stir them in they get nice and soft almost like a Mexican dumpling. Top it with cheese and your favorite toppings.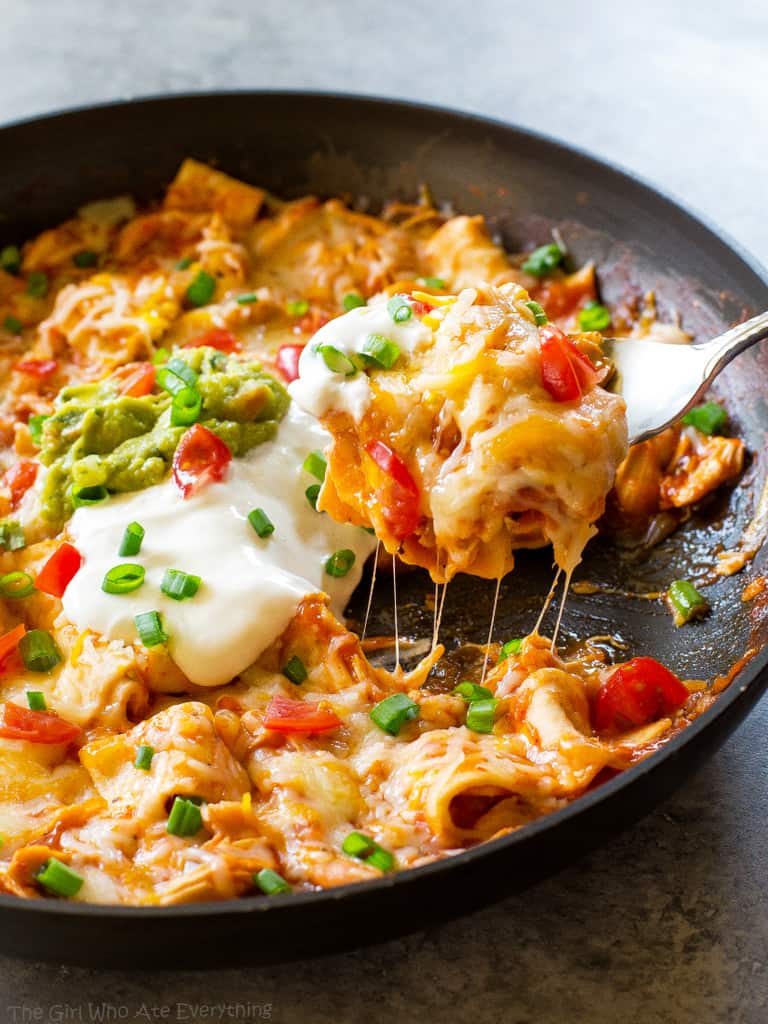 I included sour cream and green onions in the directions not as optional because in my opinion they aren't.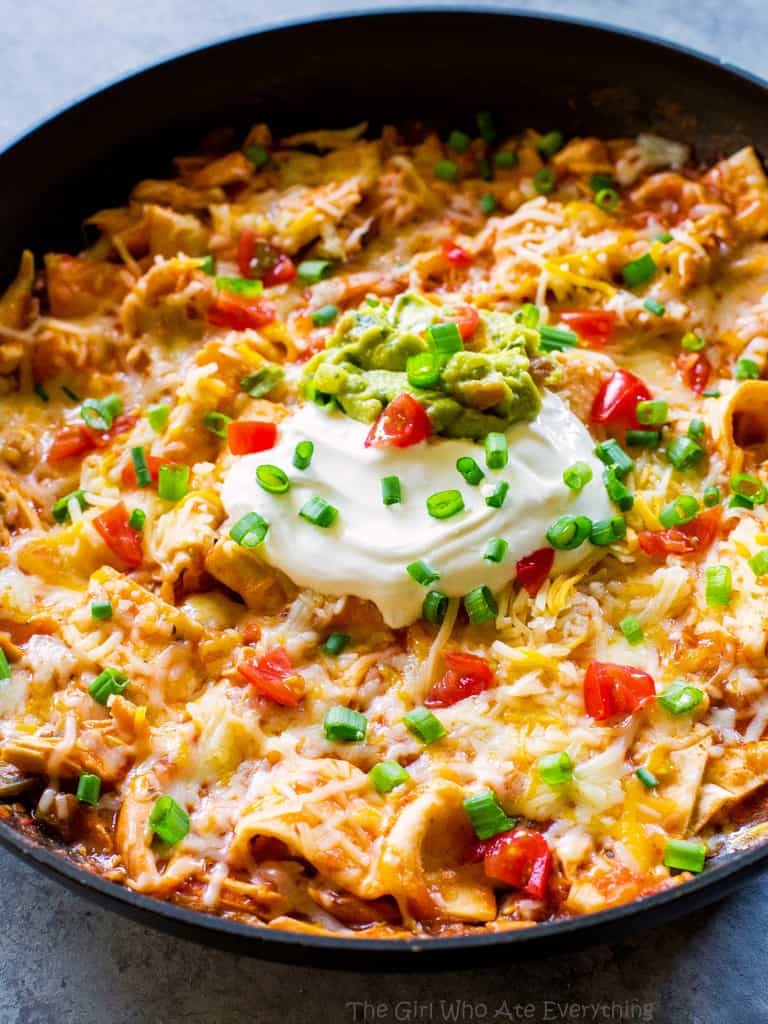 My family loves this One Pan Chicken Enchilada Skillet! And no joke, it's ready in under 10 minutes. If you love enchiladas and you love easy meals, this recipe is for you!
OTHER MEXICAN RECIPES:
Ingredients
2 cups shredded rotisserie chicken
1/2 teaspoon ground cumin
1/2 teaspoon dried oregano
1 (10 ounce) can Old El Paso red enchilada sauce
1/2 cup chunky salsa
1/4 cup water
4 (6-inch) Old El Paso soft tortillas cut into 1-inch strips, (pizza cutter works great for this)
1 cup shredded Mexican blend cheese
1/2 cup sour cream
1/4 cup sliced green onions
(optional) guacamole
Instructions
In a large skillet (12-inch), add the rotisserie chicken. Sprinkle with the cumin and oregano. Ad the enchilada sauce, salsa, and water. Bring mixture to a simmer over medium heat for a couple of minutes to let the sauce thicken and the chicken to heat through.
Stir in the tortilla strips and sprinkle with the cheese. Remove from heat and let the cheese melt from the heat.
Top with sour cream (and guacamole if desired) in the center and sprinkle with green onions. Serve immediately.
Notes
The Girl Who Ate Everything Original
Nutrition Information:
Yield: 6
Serving Size: 1/6 the recipe
Amount Per Serving:
Calories: 239Total Fat: 14gUnsaturated Fat: 0gCarbohydrates: 15gFiber: 1gProtein: 12g