Mummy Brie is brie cheese topped with brown sugar and cinnamon pecans and baked inside puff pastry until nice and gooey. This is the best appetizer for Halloween!
MUMMY BRIE
(originally posted 2016)
I have lived away from my hometown Mesa, Arizona since I was 18 years old. The last 12 years I have been as far away from Arizona that you can really get living here in Florida. I've embraced our situation knowing that it isn't forever.
We've made our own family traditions for holidays and birthdays and made friends that are like family. Homesickness never really hits me until Halloween. Odd, I know. But my entire family always does a huge get together the Monday before Halloween.
We carve pumpkins and watch the cartoon Ichabod Crane (the Legend of Sleepy Hollow). My mom makes her chili, we have Dunkin' Donuts with apple cider, Halloweenies, and at the very end the Great Pumpkin comes in the backyard to deliver treats to the kids.
It's been exactly the same for 35 years. I've even tried to recreate it here but it's just not quite the same. I hold it together all year long until Mom's Halloween party and then it just eats at me that I'm not there.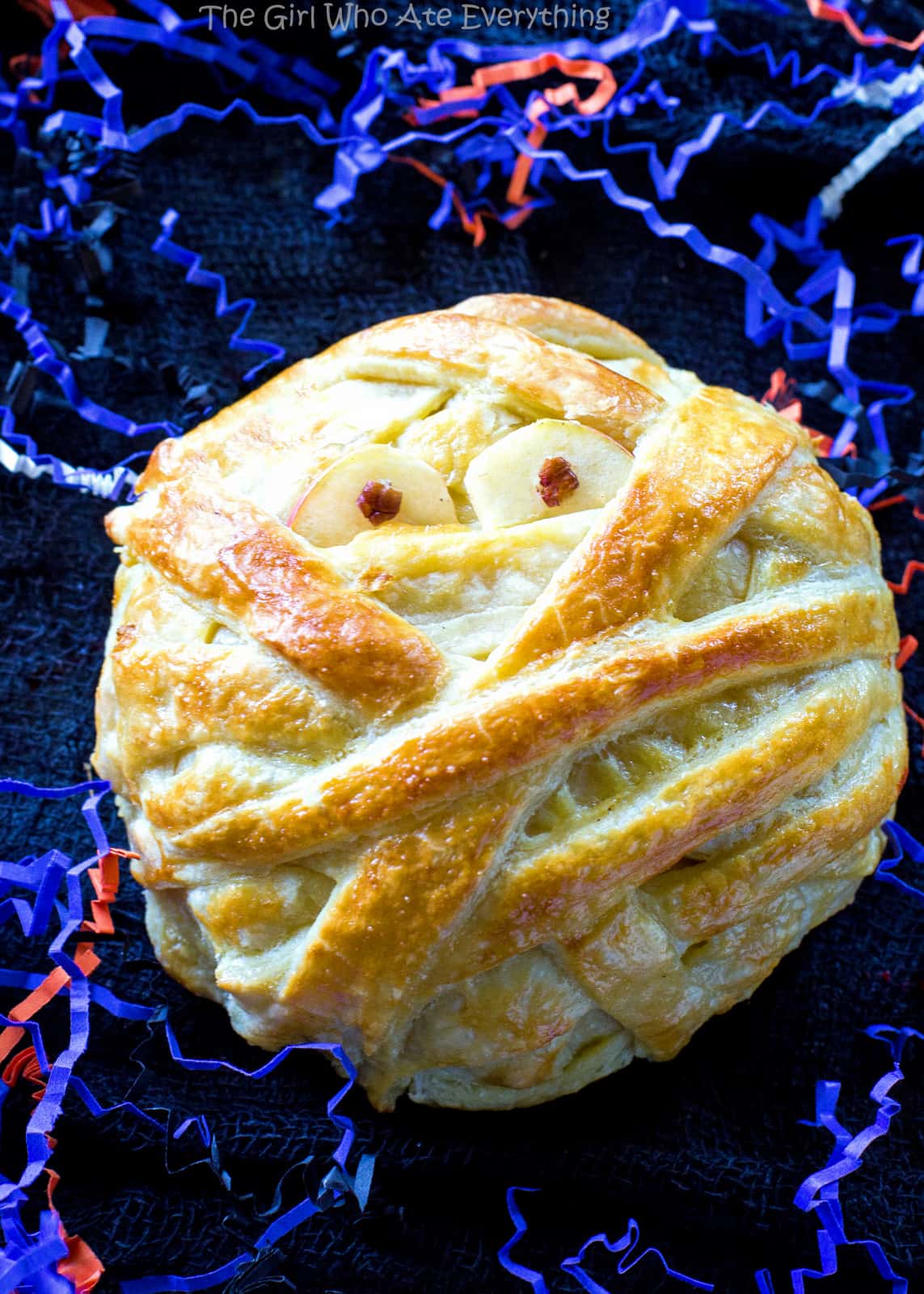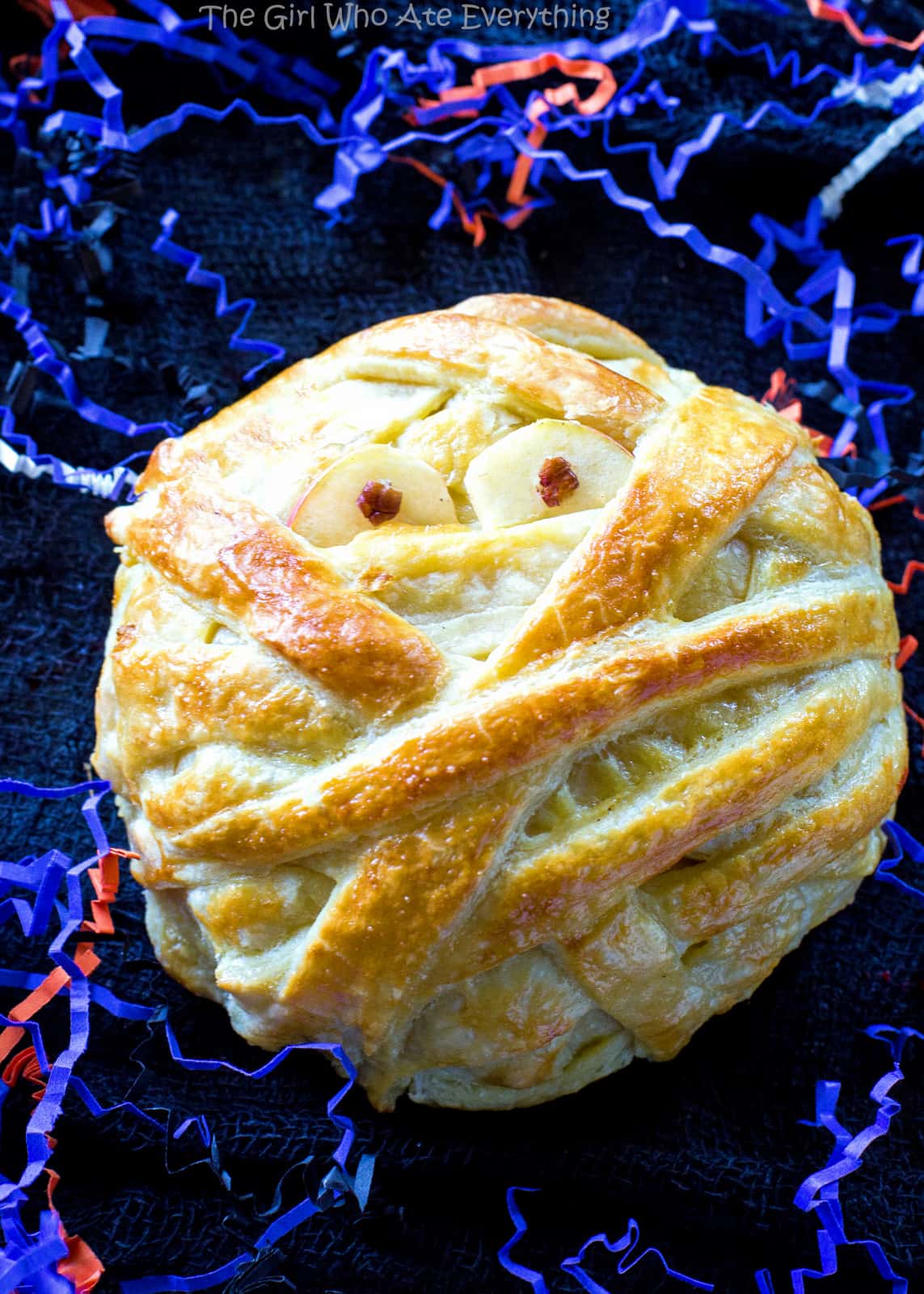 My sisters have been making this Baked Brie forever. It's brown sugar, puff pastry, and cinnamon pecans. I've tried so many other versions and I always come back to this one. I know some people use crescent dough but puff pastry is a far more buttery texture.
Just adding strips of puff pastry and apple slices with craisins or pecans for eyes makes this a Mummy Brie appetizer – perfect for Halloween!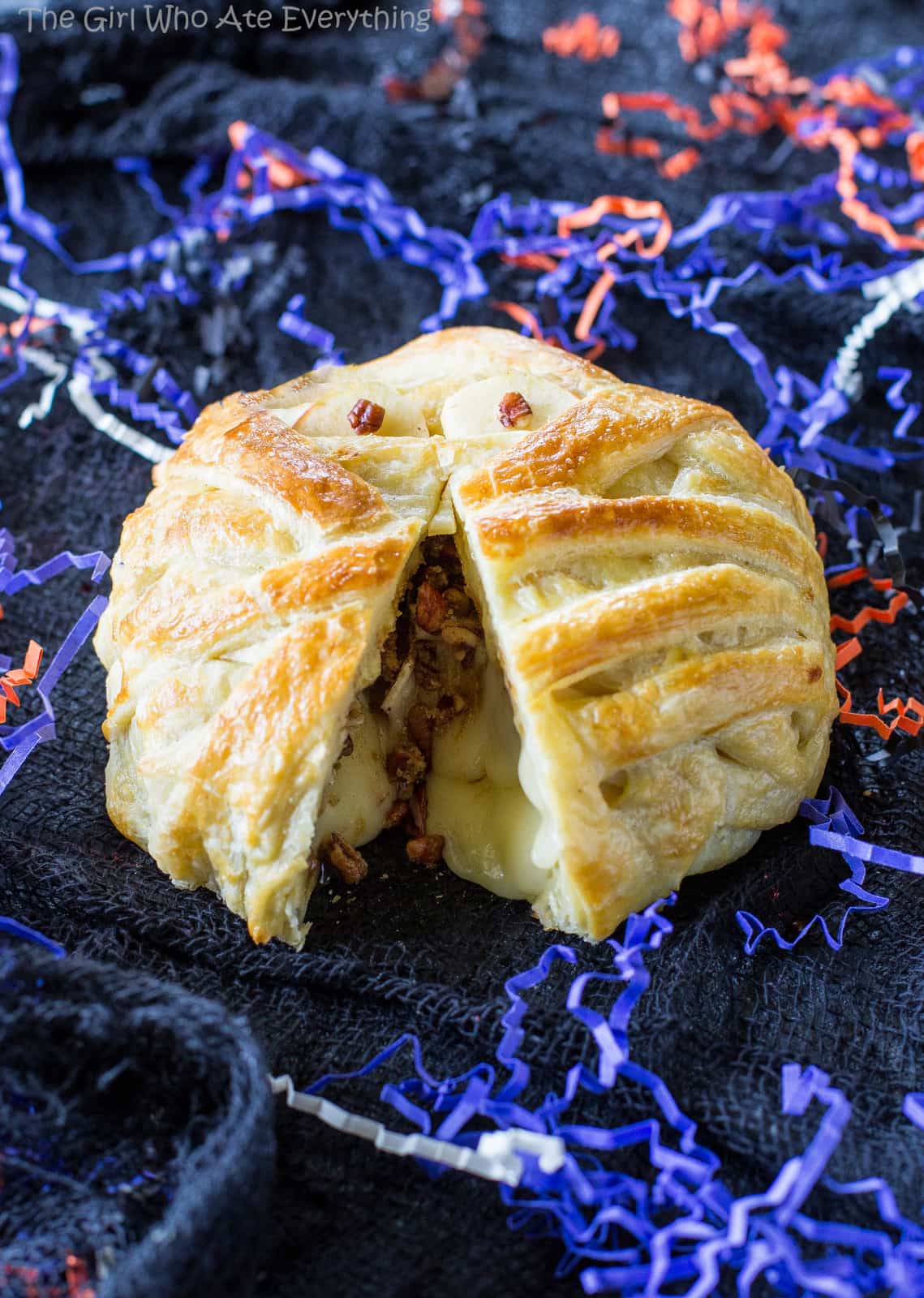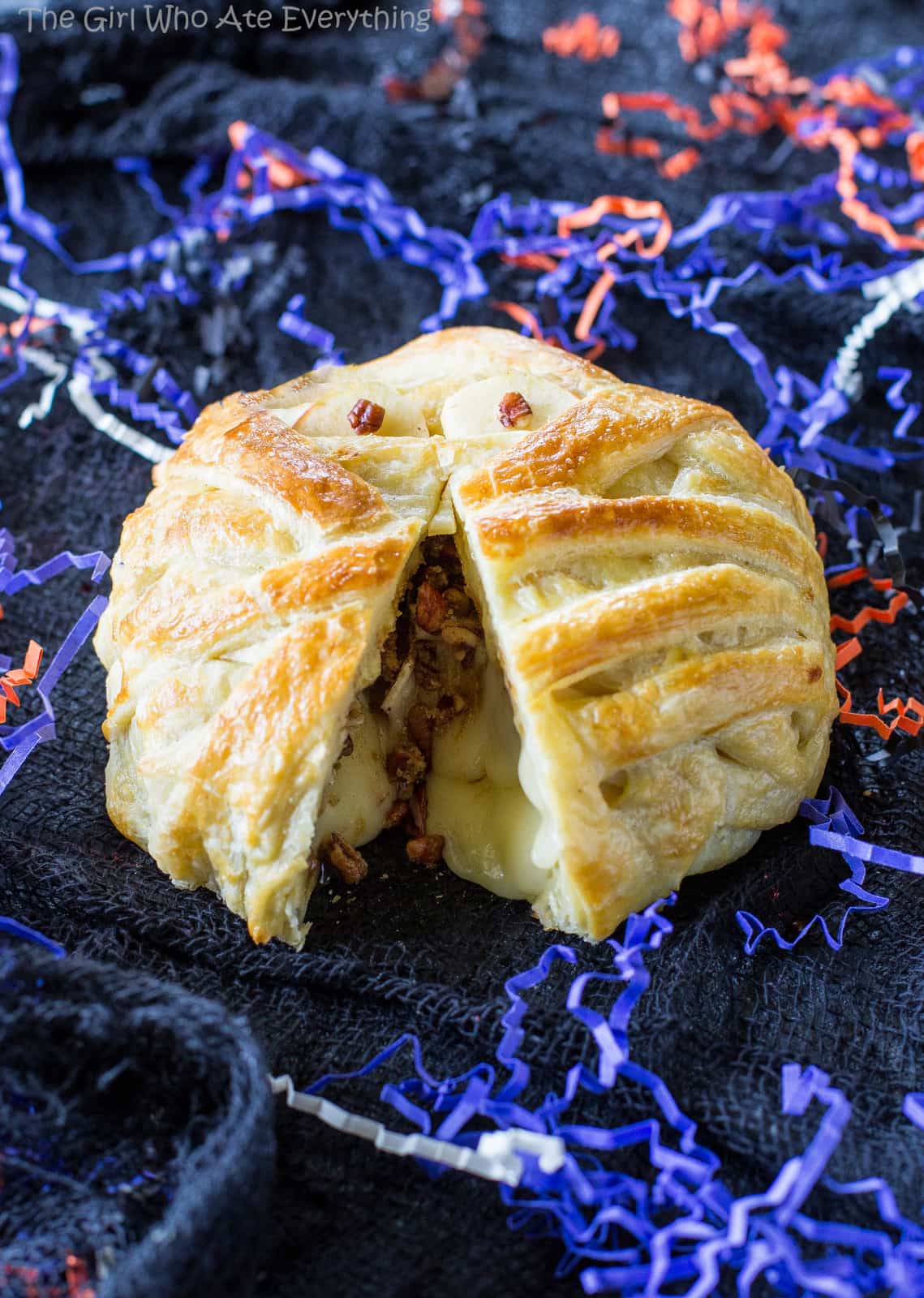 OTHER HALLOWEEN RECIPES: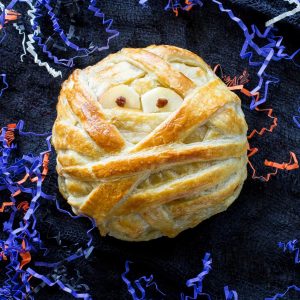 Print
Yield: 10 servings
This Mummy Brie is brie cheese topped with brown sugar and cinnamon pecans and baked inside puff pastry until nice and gooey.
1




(17.3 ounce) package




frozen puff pastry (see Note)

1




tablespoon




butter

1/2




cup




coarsely chopped pecans

1/8




teaspoon




ground cinnamon

1




(16-ounce)




wheel Brie

1/4




cup




brown sugar

1




egg




, beaten
Eyes:
Sliced apples

pecans pieces




, craisins, or raisins for eyes
Preheat oven to 375 degrees F.

Thaw puff pastry on the counter for approximately 15 to 20 minutes and unfold.

In a saucepan, melt the butter over medium heat. Saute the pecans in the butter until golden brown, approximately 5 minutes. Add the cinnamon and stir until pecans are coated well. Set aside.

On a lightly floured surface, roll pastry into a 14-in. square. Cut off corners to make a circle.

Place Brie in the center of the pastry. Place the pecan mixture on top of the Brie and sprinkle the brown sugar over the mixture.

Fold pastry over cheese, trimming as necessary, and pinch edges to seal.

Place on a parchment lined baking sheet, seam side down. Roll remaining pastry into a 14-in. square. Cut four 1-in. strips; cut strips in half crosswise. Wrap strips around Brie, trimming as necessary. You don't want to make too thick of a layer of strips or it won't cook all the way through. Discard scraps. Brush the beaten egg over top and side of Brie.

Bake for 20-25 minutes or until golden brown.

For eyes, cut two circles from apple slices; place on top of Brie as eyes. Top each circle with a dried cranberry, raisins, or pecan pieces. Serve warm with apple slices and crackers.
Puff pastry comes with 2 sheets of dough. Brie comes in either 8 ounce wheels or 16 ounce wheels. For a 16 ounce wheel you will need 2 sheets. If you use an 8 ounce wheel you will only need 1 sheet of puff pastry. Use the trimmed dough, roll it out and cut strips for the mummy. If you have too much puff pastry dough layered it won't bake all the way through so make sure you roll it thin enough.
Source: adapted from this Baked Brie. Inspired from this Mummy Brie from Taste of Home but with a different ingredients baked inside.