This Mojo Pork Tenderloin is healthy and infused with citrus juices. Grilled onions on the side put this recipe over the top. If pork loin is your thing, you'll love this tenderloin recipe marinated in orange and lemon juice.
MOJO PORK TENDERLOIN
(originally posted 2012)
This Mojo Pork Tenderloin recipe has a hint of citrusy, garlic flavor with a slightly crusty outside and super moist flavor infused middle.
This recipe comes from Brecken Watterson, who grew up with my husband in Colorado. Thanks, we loved it!
Don't even think about skipping the grilled onions. They are the perfect compliment to this pork and my husband and I were fighting over them.
This is a healthy dish as long as you don't go crazy with the sauce that's poured over it.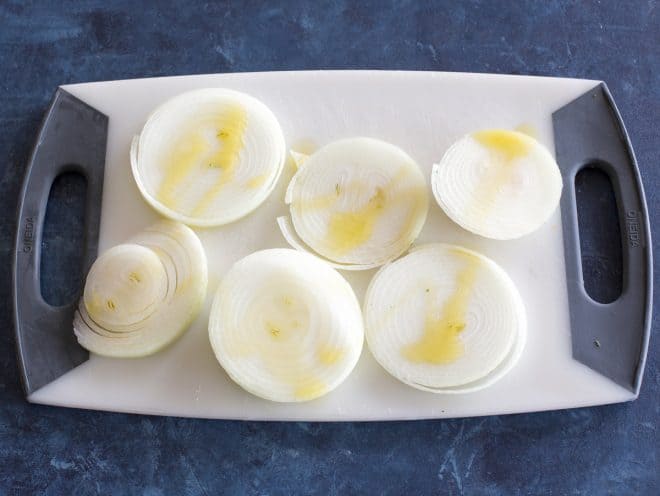 One of life's greatest pleasures is grilled onions. These are obviously before they were grilled with a drizzle of olive oil and kosher salt.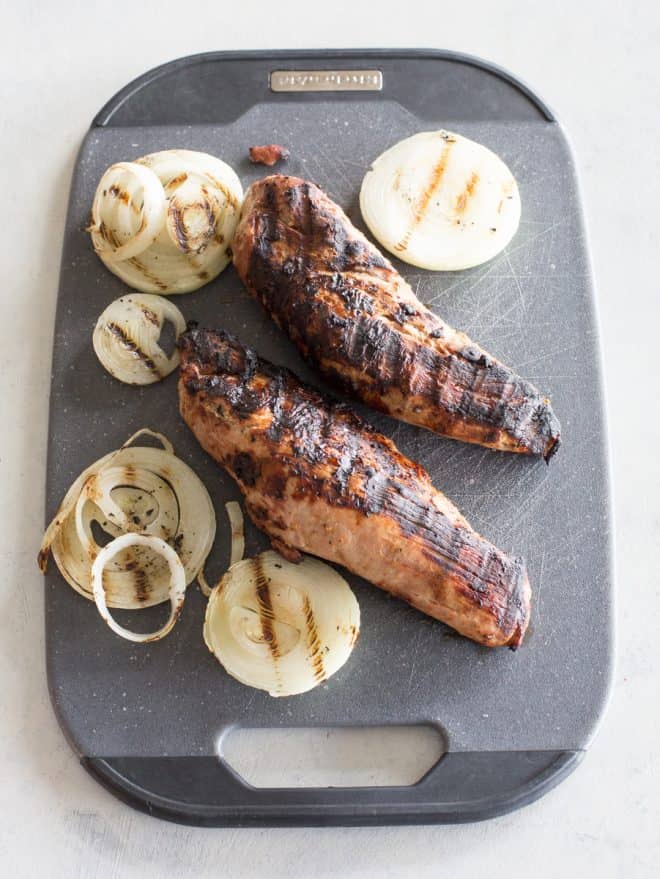 HOW DO YOU KNOW WHEN PORK IS DONE?
Pork is done when it has reached an internal temperature of 145 degrees F. It's helpful to have a meat thermometer so that it's easy to measure the temperature.
OTHE PORK RECIPES: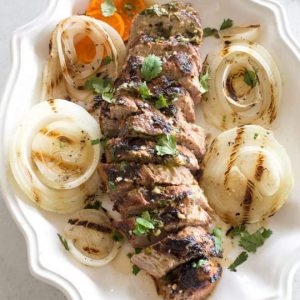 Print
Yield: 6 servings
This Mojo Pork Tenderloin is healthy and infused with citrus juices. Grilled onions on the side put this recipe over the top.
2-3




pound




pork tenderloin

2-3




large sweet onions
Marinade:
1/2




cup




olive oil

8




large garlic cloves, minced

1




teaspoon




cumin

1/3




cup




fresh lime juice

1/3




cup




fresh orange juice

1/3




cup




water

1 1/2




teaspoons




salt

1/2




teaspoon




pepper

1/2




teaspoon




dried oregano

1/4




cup




chopped cilantro
For the marinade: In a small pot heat the oil, garlic, and cumin. Let the mixure simmer for 2-3 minutes then stir in all of the remaining ingredients except the cilantro and bring to a boil. Remove marinade from the heat and stir in the cilantro after it cools. Pour marinade over pork either in a covered container or in a large Ziploc bag and marinate in the fridge for at least 24 hours.

For the pork: After at least 24 hours, remove the pork from marinade, reserving marinade for later use. Preheat the grill to medium heat. Sear the tenderloin on all sides and continue to grill over medium heat for about 20-30 minutes rotating meat when needed until cooked thoroughly until internal temperature has reached 145 degrees F. The cooking time will vary depending how thick your tenderloin is. You want it to be slightly firm not gushy when you touch it with the grilling tongs. You want it to be cooked but not dry. Let pork rest for a couple of minutes before slicing so that the juices can settle back in. Slice pork into 1/2 inch medallions.

For the onions: Slice the onions into thick slices and brush with a little bit of oil and sprinkle with kosher salt. Grill onions when the pork is almost done so that they finish at the same time. Grill for 2-3 minutes per side or until soft.

For the sauce: Take remaining marinade and bring once again to a boil in a small pot. Reduce the heat and let it simmer for 3-4 minutes.

To serve: Pour sauce over sliced pork with grilled onions on the side. For a pretty presentation slice limes and oranges and place them on the plate next to the tenderloin and onions.
Note: Although the marinade is boiled to make the sauce, if you feel better reserving some of the marinade separately to use as the sauce you can do that as well.
Source: Brecken Watterson