This easy Lasagna Soup recipe is one of my favorite soups! Imagine a soup with beef, garlic, onion, and tomato sauce with tender lasagna noodles throughout. The ricotta cheese topping is what makes this soup taste exactly like lasagna. Stir it in for lasagna in a bowl! Not to mention it's all done in one pot! Healthy too. Only 322 calories per serving…
LASAGNA SOUP
It's not that often that I get really excited to share soup (except this one).
Of course the chocolate and peanut butter desserts always get all of the attention and if I could feed my family on those desserts alone I would.
But apparently that's frowned upon so I'm always searching for dinner ideas.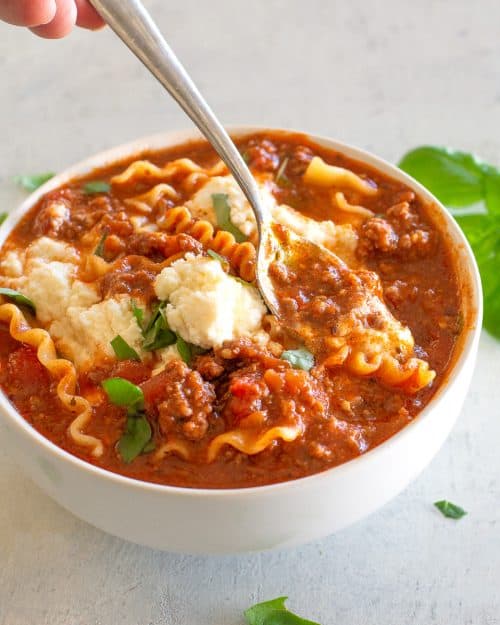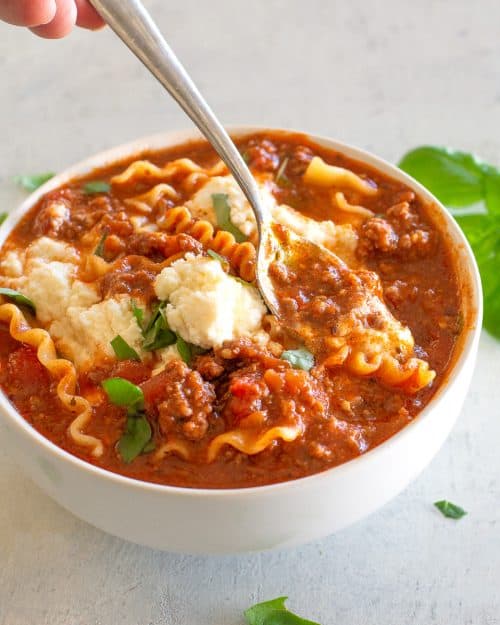 I've made this soup three times to get it just right. I'm telling you my kids licked their bowls. Even my 2-year-old.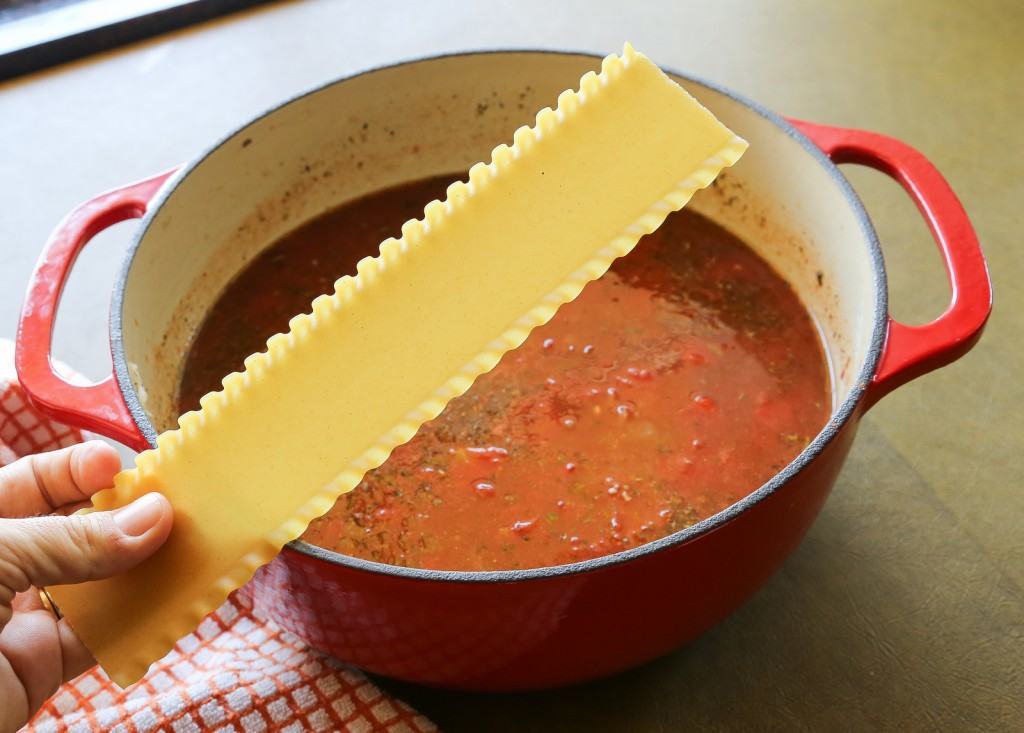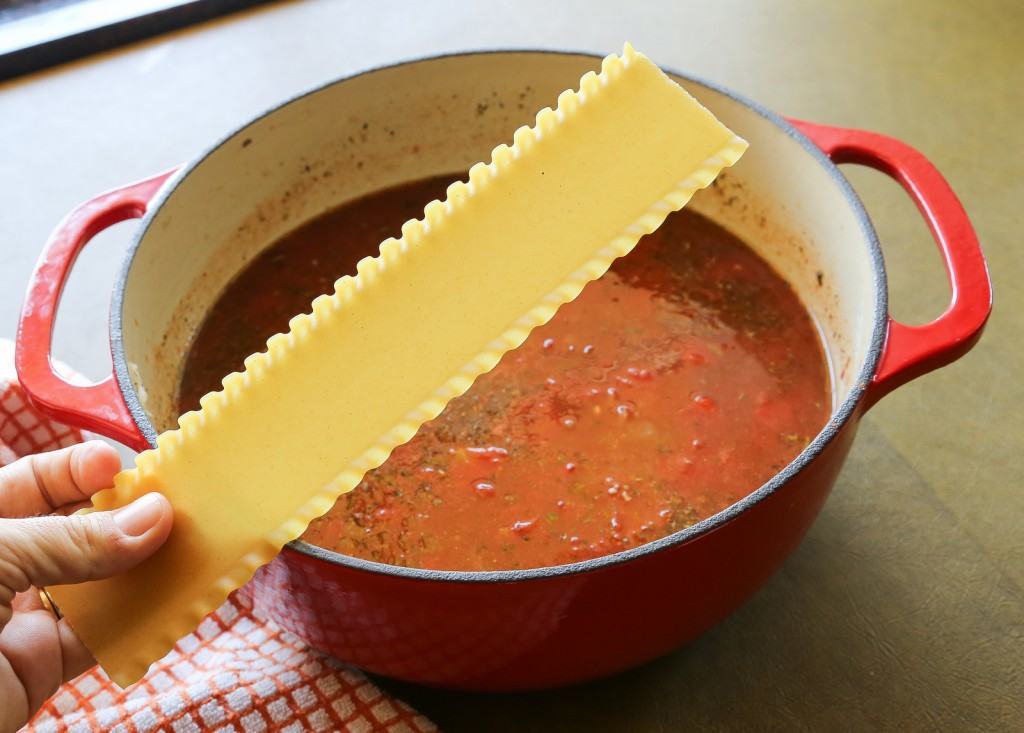 The coolest part about this lasagna soup is that you boil it all in one pot! I'm all about making your life easier.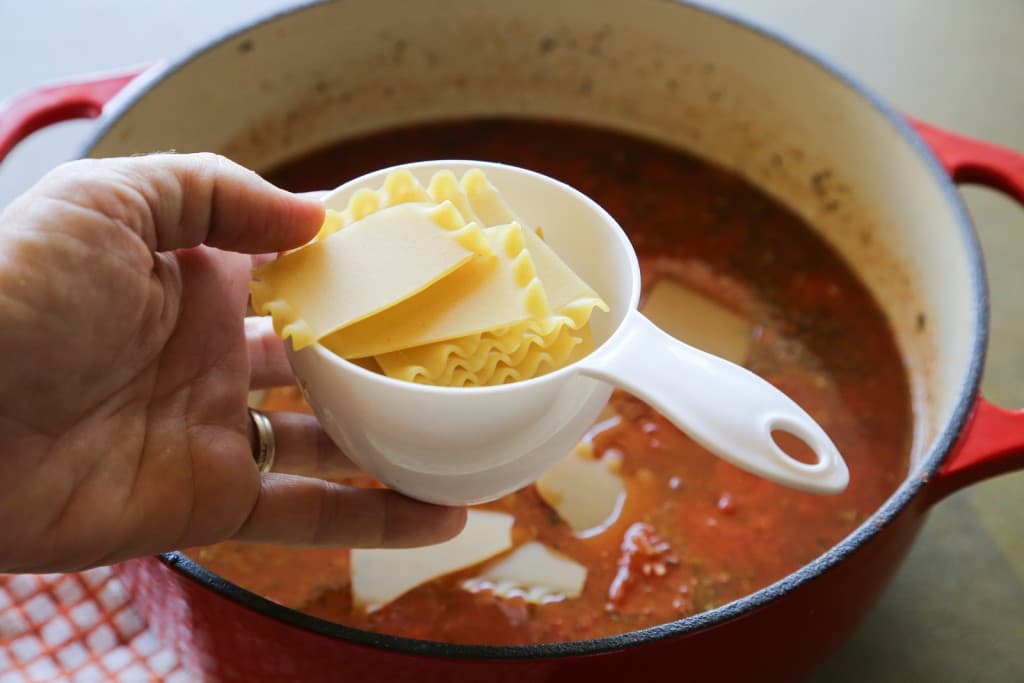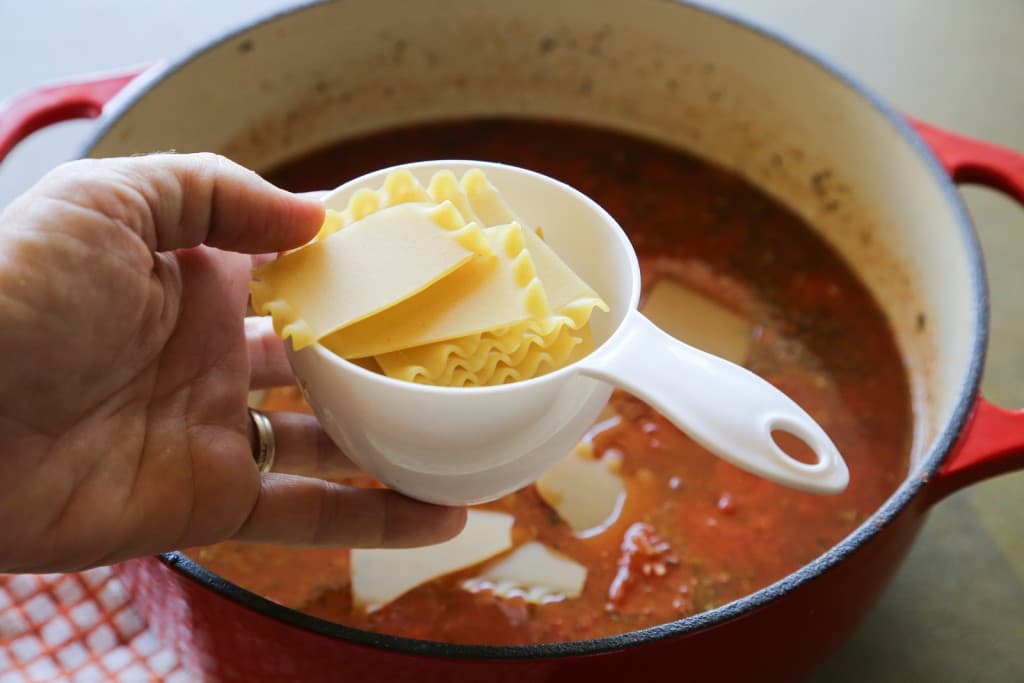 Take regular lasagna noodles and break them into pieces. You want them fairly small, about 1-1.5 inch pieces. Remember they will expand when you cook them.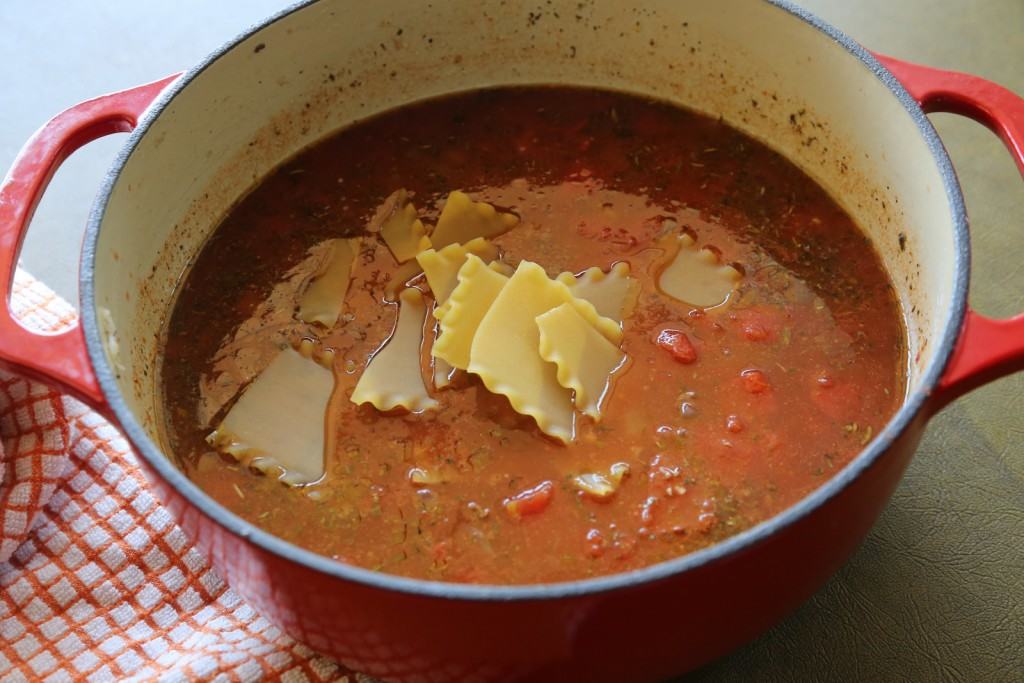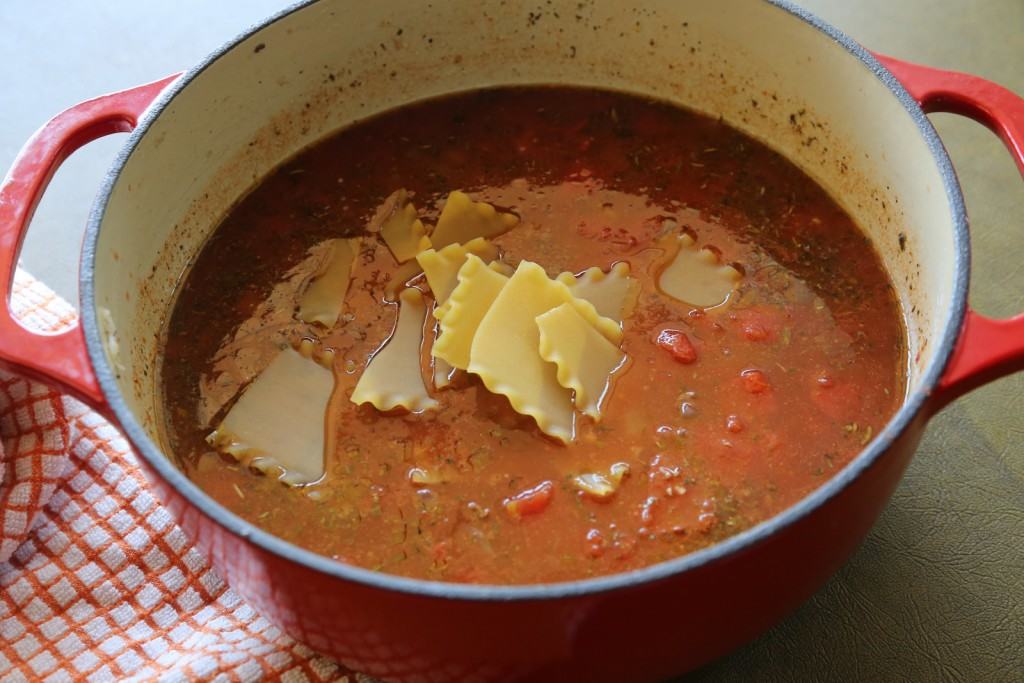 Then dump them in.
Ten minutes later, it's time to eat.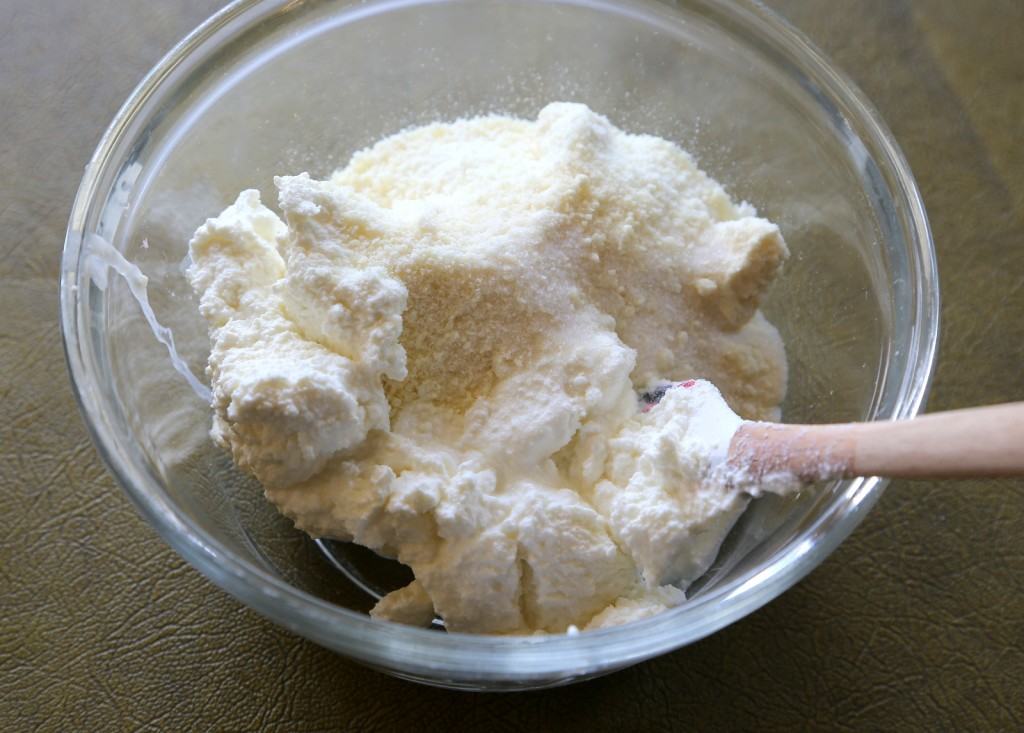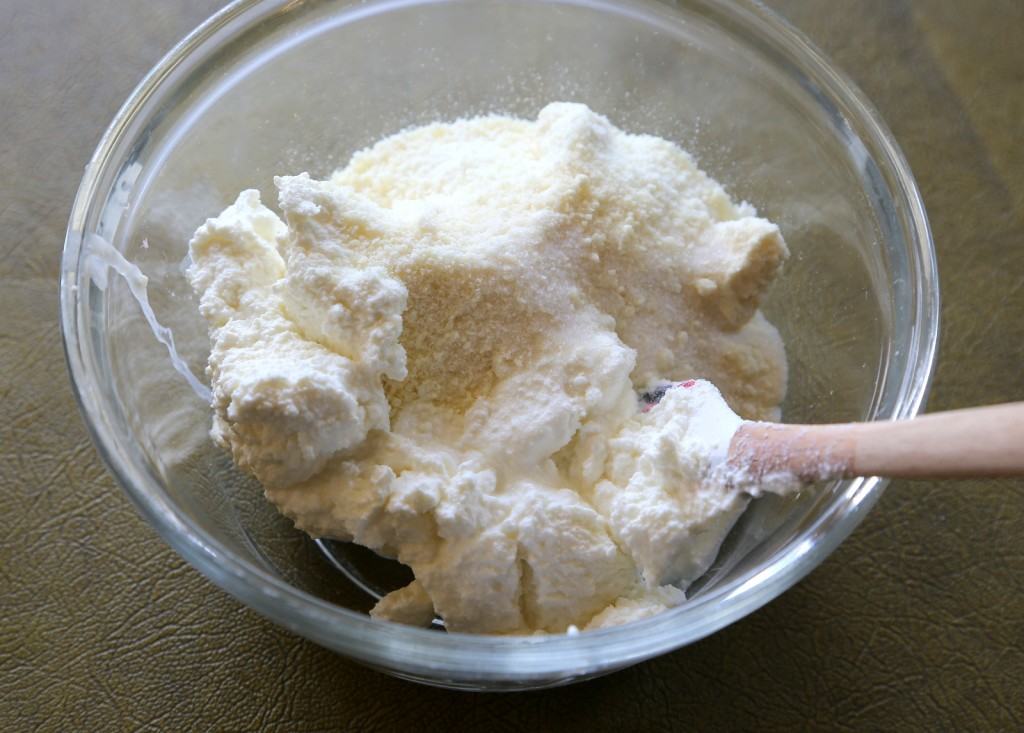 But you must top it with this ricotta/Parmesan mixture. It's the lasagna in this Lasagna Soup.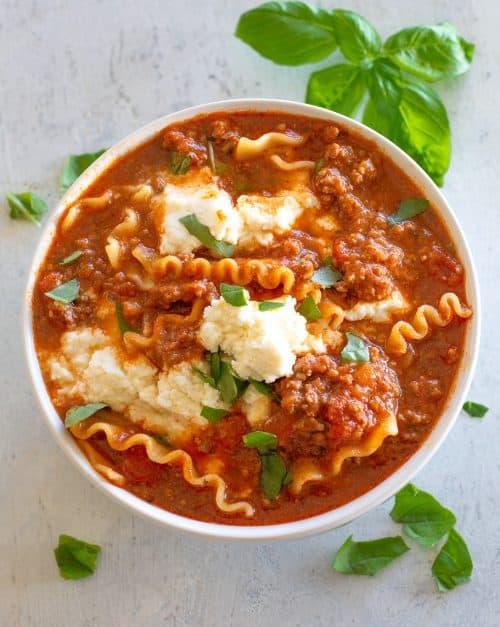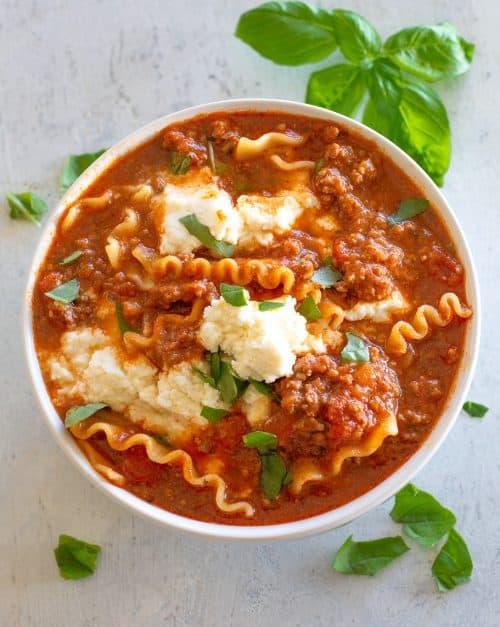 Y'all. Pictures don't do this soup justice. It's sooooo good.
OTHER SOUP RECIPES: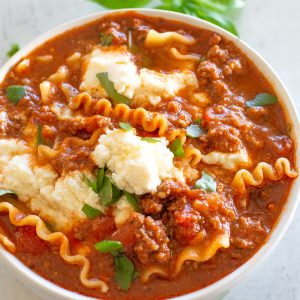 Print
Yield: 8 servings
This easy Lasagna Soup recipe is one of my favorite soups! Imagine a soup with beef, garlic, onion, and tomato sauce with tender lasagna noodles throughout.
1




pound




lean ground beef

1




cup




diced onion

3




garlic cloves, minced

2




(14.5 ounce) cans




diced tomatoes, undrained

1




(8 ounce) can




tomato sauce

1/4




cup




tomato paste

4




cups (32 ounces)




low sodium beef broth

2




teaspoons




Italian seasoning

6




uncooked lasagna noodles, broken into 1 1/2 inch pieces (about 6-8 ounces; see Note)
Cheese Topping:
8




ounces (1 cup)




ricotta cheese

1/2




cup




grated Parmesan cheese

1/4




teaspoon




salt
In a large Dutch oven or saucepan, brown beef and onion over medium-high heat. Add the garlic and cook for about 30-60 seconds. Drain.

Stir in the diced tomatoes, tomato sauce, tomato paste, beef broth, and Italian seasonings. Bring mixture to a boil and stir in lasagna pieces. Reduce heat slightly and cook for about 10 minutes or until noodles are tender. Season with salt and pepper to taste.

For the Cheese Topping: In a small bowl, mixture together the ricotta, Parmesan, and salt.

To serve, spoon soup in a bowl and top with a dollop of the cheese mixture. Garnish with chopped parsley or basil if desired. To eat, stir in cheese mixtures and enjoy!
You can use any small shaped pasta in place of the lasagna noodles just use about 2 1/2 cups. The lasagna noodles really give it that authentic texture.
Also, if you are making ahead of time it would be a good idea to boil the lasagna noodles separately and then add them before eating. The lasagna noodles really soak up the liquid if they sit in the soup for a while. You can add some beef broth if you need to thin it out.