Keto Pizza Skillet is a low-carb meal made with cauliflower rice, pizza sauce, sausage or beef, pepperoni, and cheese with only 4.5 net carbs per serving. If you a looking for a delicious meal whether you're doing Keto or not, this healthy dinner is for you!
KETO PIZZA SKILLET
I can't get away from this Keto business. Keto recipes are being made at least three to four times in my kitchen every day by my hubby so I've joined the fun partly so that my kitchen doesn't turn into a complete disaster and partly because I love cooking.
I've learned more than I ever want to know about Keto so here's one of our go-to easy Keto meals that my whole family eats whether they're doing Keto or not.
The Italian sausage gives this Pizza Skillet some kick! I promise that the riced veggies with pizza sauce are so good. There's pepperoni and cheese – how could it not be good?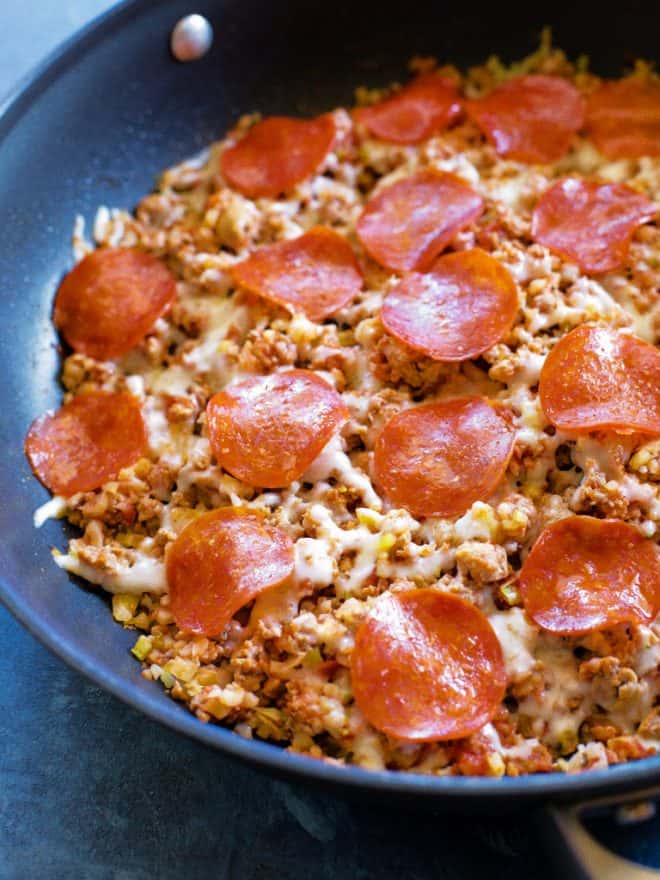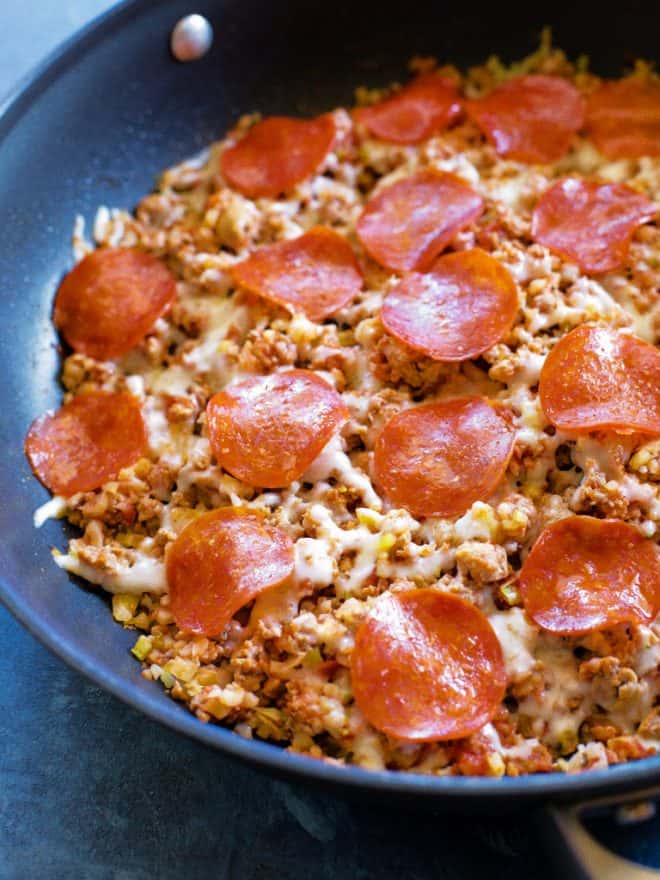 KETO NUTRITIONAL INFORMATION
If you're doing the Keto diet, you know how important it is to know your nutritional information so that you know how many net carbs you're consuming.
Every brand has different nutrients so if you're not calculating your own info, you should. I usually use MyFitnessPal to tally mine up and I've included the brands I used for this recipe.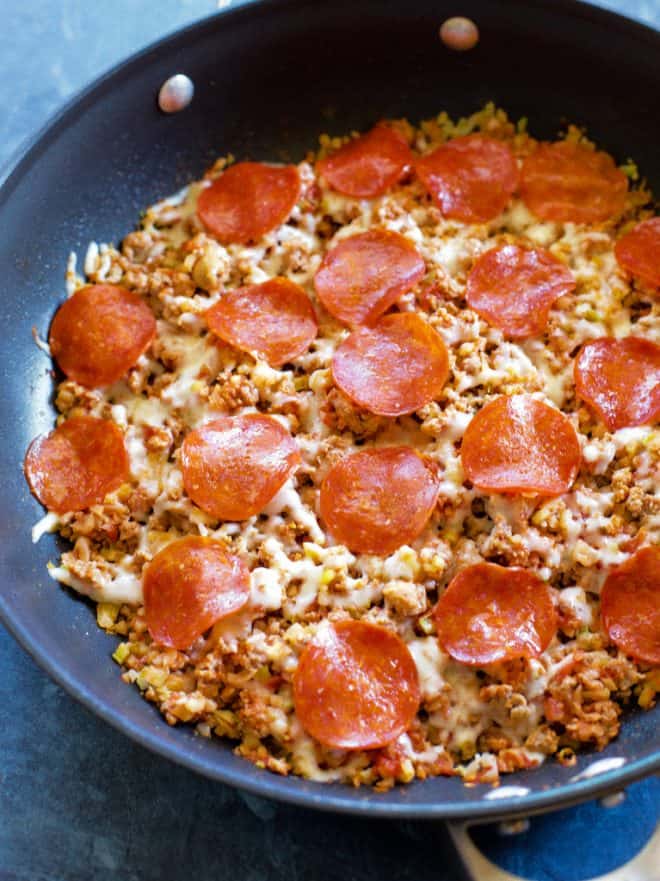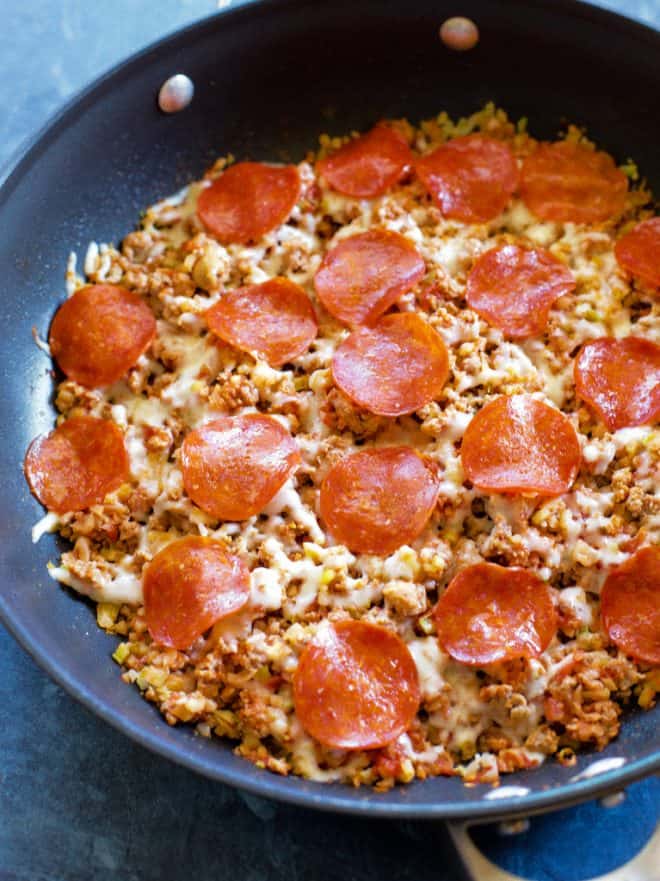 KETO DINNER RECIPES
I know when most people think Keto, they think tons of bacon and cheese. That can be true but this Pizza Skillet is a nice break from all of that.
OTHER KETO RECIPES
Ingredients
19.5 ounces sweet Italian turkey sausage
1 (10 ounces ) package frozen or fresh riced caulifower and broccoli (you can also use all cauliflower rice)
1 cup pizza sauce
1 ounce sliced pepperoni (about 17 slices)
1/2 cup whole milk shredded mozzarella cheese
Parmesan for sprinkling on top
Instructions
In a large skillet, brown and crumble the sausage over medium heat. Add the riced cauliflower rand broccoli. Sautee to desired tenderness.
Stir in the pizza sauce. Layer the pepperoni and mozzarella cheese. Cover to melt the cheese. Sprinkle with Parmesan to serve.
Notes
Brands used: Jenni-O Sweet Italian Turkey Sausage
Green Giant frozen riced Cauliflower and Broccoli
Rao's Pizza Sauce
Hormel Natural Choice Pepperoni
Sargento Whole Milk Shredded Cheese
If you want to render the pepperoni so that it's crispy you can either cook them in the microwave or in a skillet.
Recommended Products
As an Amazon Associate and member of other affiliate programs, I earn from qualifying purchases.
KetoBrownie Blondie Brownies

SlimFast Keto Fat Bomb Snacks

Kiss My Keto MCT Oil Birthday Cake Powder
Nutrition Information:
Yield: 4 Serving Size: 1
Amount Per Serving: Calories: 382Total Fat: 22.5gCarbohydrates: 6.5gFiber: 2gProtein: 28.5g