This Ice Cream Sandwich Cake is a simple no-bake dessert with layers of ice cream sandwiches, whipped topping, M&Ms, and fudge. An easy dessert on a hot summer day!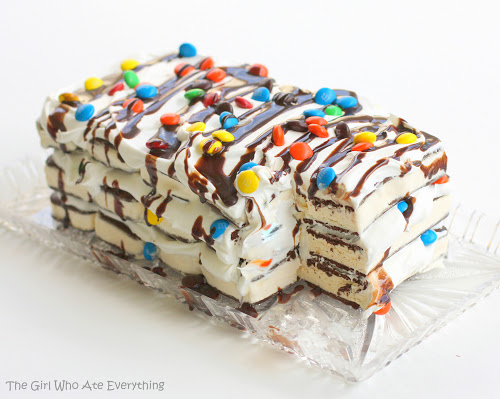 EASY ICE CREAM SANDWICH CAKE
My son's birthday is at the end of July and every year on his birthday it seems like we're on vacation in a location where a birthday cake is hard to make.
On his first birthday, we were literally camping in the middle of nowhere so we made him a pyramid cake out of Twinkies.
This year I told him I would bake him any cake for his birthday party he wanted and I pulled up Pinterest so that he could pick one out. He picked this one. One of the easiest cakes with simple ingredients. I'm pretty sure it was the M&Ms on top of the cake that got him.
I know it's not rocket science…and not actually baking, but it sure makes the kids ooh and ahh. They don't care if it takes minutes or hours to make. And since it's the last day of National Ice Cream Month, here is this simple dessert.
This cake is beautiful when it's all set up in the freezer with every slice fun and exciting. The Florida heat was not nice to my cake. In seconds it turned into an ooey gooey mess.
Layer your ice cream sandwiches and a thick layer of whipped topping. From here you can sprinkle on any candy bars, Oreo cookies, or chocolate you like. My son wanted M&Ms but if it were my choice I would sprinkle some chopped Reese's peanut butter cups.
I like to drizzle some fudge topping / chocolate syrup in between layers too but you could also use caramel sauce.
You could use Neapolitan ice cream sandwiches or chocolate ice cream sandwiches.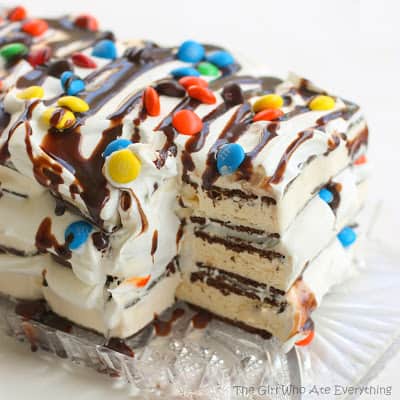 OTHER ICE CREAM RECIPES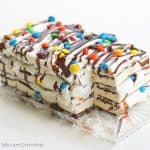 Print
Yield: 12 servings
This easy Ice Cream Cake is a simple no-bake dessert with layers of ice cream sandwiches, whipped topping, M&Ms, and chocolate sauce. The best part is you can personalize it however you want with crushed Oreos, graham crackers, Reese's pieces, magic shell topping, or rainbow sprinkles. An easy dessert on a hot day!
15




ice cream sandwiches

1




12 ounce container frozen Cool Whip, thawed

1




10 ounce bag M&M's (or chocolate candy of your choice)

fudge topping
Place 5 ice cream sandwiches, long sides touching on a flat serving plate or a baking dish. Spread an even layer of whipped topping over the top, making sure the whipped topping extends to outside edges for the best appearance.

Sprinkle 1/3 cup candy pieces on whipped cream and drizzle with some fudge topping.

Repeat layers twice with remaining ice cream sandwiches.

Freeze 3 hours or until firm. Cut with serrated knife.