Homemade Oreos are devil's food cake chocolate sandwich cookies with a cream cheese frosting inside.
HOMEMADE OREOS
Let's just call a spade a spade. These are my version of baked version of an
Oreo
. These are by no means, in a side by side comparison, going to look or taste like an Oreo. You could call these Chocolate Sandwich cookies with cream cheese frosting.
I've tried homemade versions of this (without a cake mix) and they're always dry and bitter. Not what anyone wants to eat.
CHANGES TO CAKE MIX
This recipe is old and like many old recipes made with a cake mix they need to be revised. Do you know why? I used to work for Betty Crocker and am very familiar with their products. Their cake mixes used to be 18.25 ounces and a couple of years ago they changed all of their cake mixes to 15.25 ounces. If you notice, most other cake brands changed as well to a standard 15.25 ounces.
What does that mean? All of those old recipes are just slightly off in proportions. Because there's less cake mix per box this cookie dough is a lot more wet made today than a few years ago. I have changed it to suit the other ingredients better.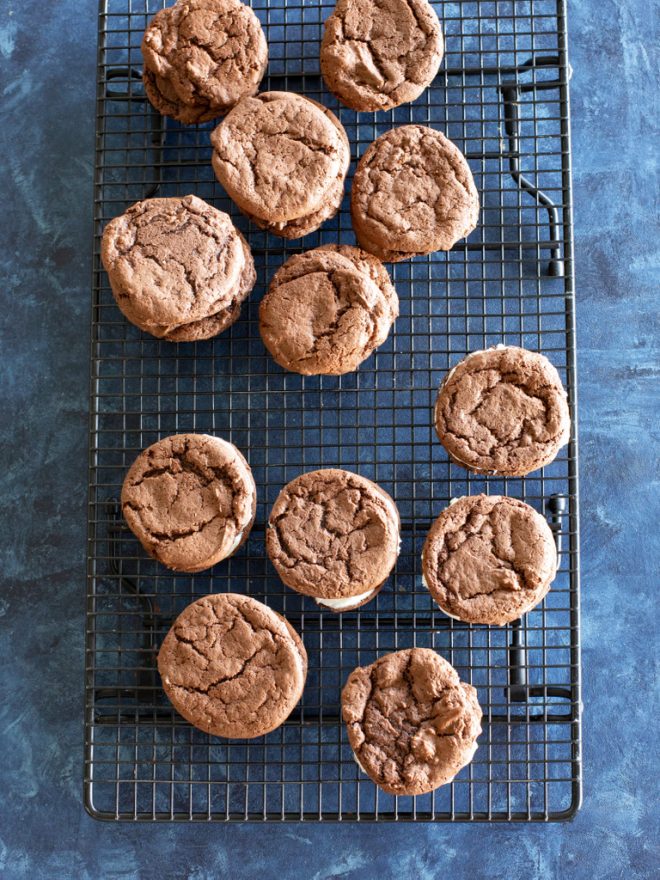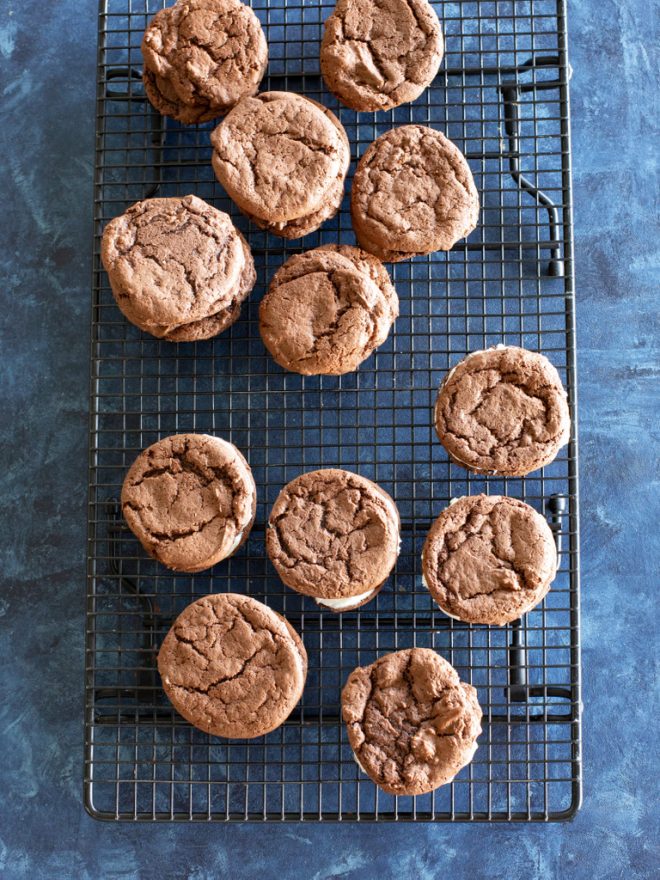 WHAT KIND OF CAKE MIX DO I USE?
Devil's Food cake mix is used here but you can also use chocolate fudge or regular old chocolate.
CRISCO VS BUTTER
There are many different versions of this cookie out there. I don't love cooking with Crisco but it does give it a nice crisp cookie. I prefer the flavor of butter and the softness it adds.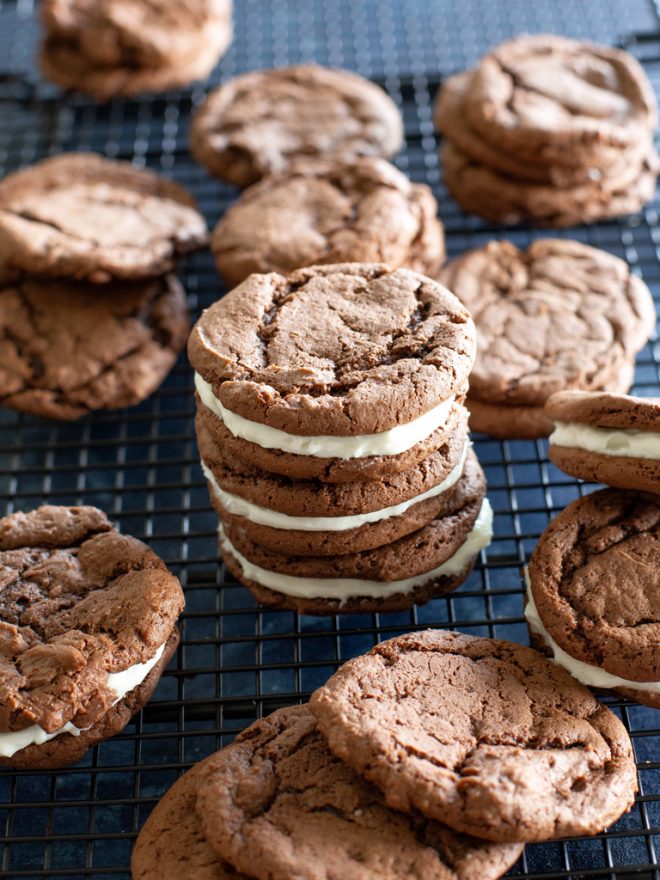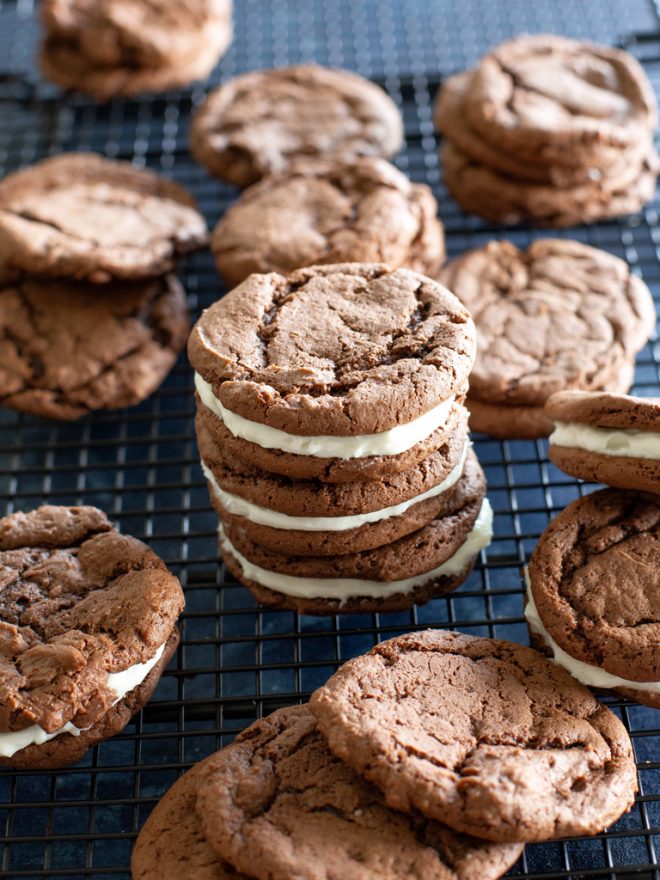 OTHER COOKIE RECIPES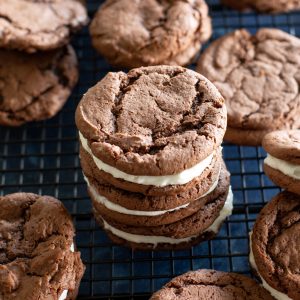 Print
Yield: 2 dozen
These Homemade Oreos are devil's food cake sandwich cookies with a cream cheese frosting inside.
2




(15.25 ounce) boxes




Devil's food cake mix

4




large




eggs

1/2




cup




vegetable oil

1




(8 oz)




package of cream cheese, softened

1/2




cup




butter, at room temperature

3 1/2




cups




powdered sugar

1/2




teaspoon




vanilla
Preheat oven to 350 degrees. Line cookie sheets with parchment paper.

In a large bowl combine the cake mix, eggs, and oil with a mixer. The batter will be very stiff. If the dough is hard to work with refrigerate for about 15 minutes. Pinch of pieces of batter (about 1 tablespoon) and roll into balls. Place 1 inch apart on prepared cookie sheets and flatten slightly with fingertips. Bake for 8 to 10 minutes, until a slight indentation remains when lightly touched. Remove from the oven and slightly slam the cookie sheet on a surface. This helps flatten them. Immediately remove cookies from the cookie sheets with a spatula and cool on a wire rack. Let cookies cool completely.

In a small glass bowl, combine the cream cheese and butter until completely blended. Gradually add in the powdered sugar and vanilla and mix until the icing is fluffy and smooth. Spread half of the cookies with icing and top with remaining cookies. Store in the refrigerator in an airtight container or resealable plastic bags. Makes 2 dozen.