This homemade flaky Pie Crust is made with a mixture of butter and shortening to create the flakiest, most flavorful pie crust.
HOW TO MAKE A PIE CRUST
Start by placing your butter, flour, shortening, salt, and sugar in a food processor. You can also cut it in by hand with two forks or a pastry cutter.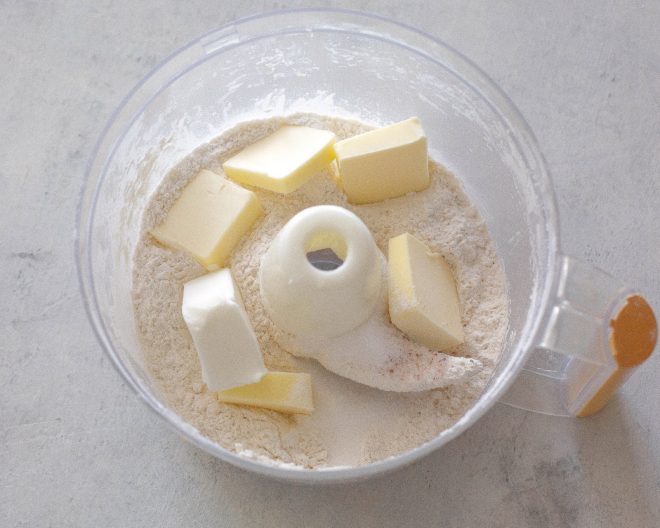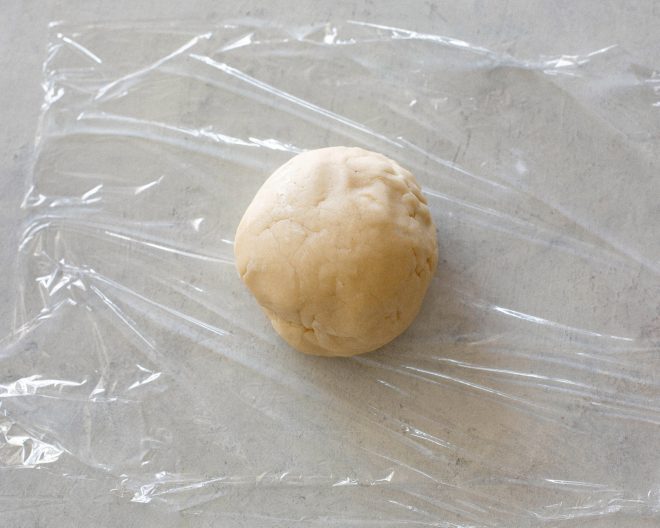 Slowly pour the ice water in a few tablespoons at a time and pulse until a dough forms.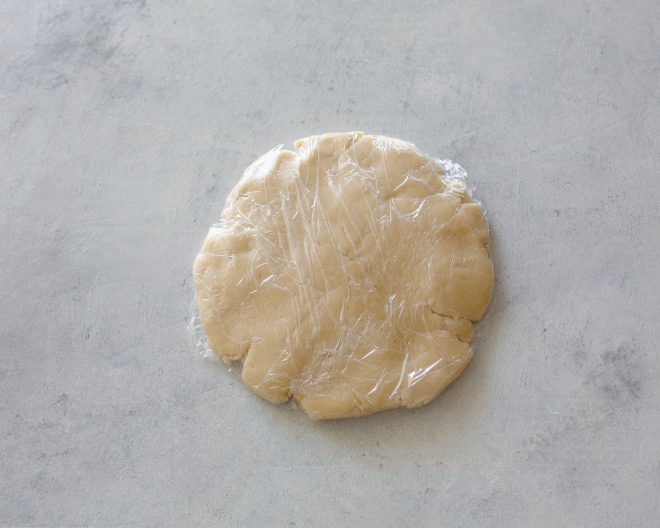 Press into a disc (this makes it easier to roll out), wrap it in plastic wrap and chill in the fridge.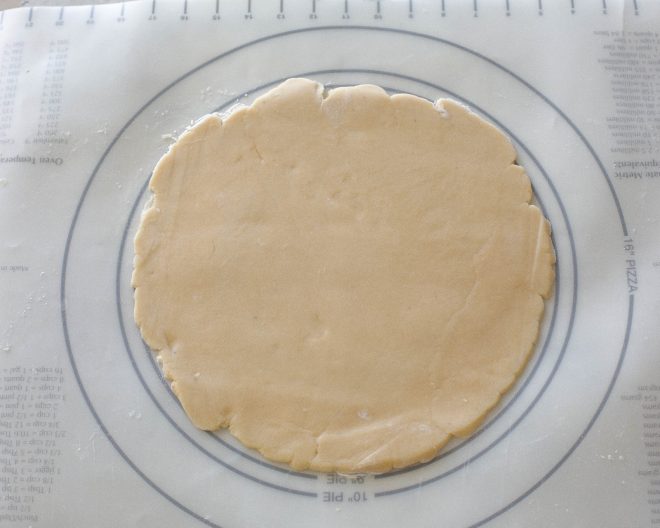 When ready, roll it out into a circle larger than your pie pan.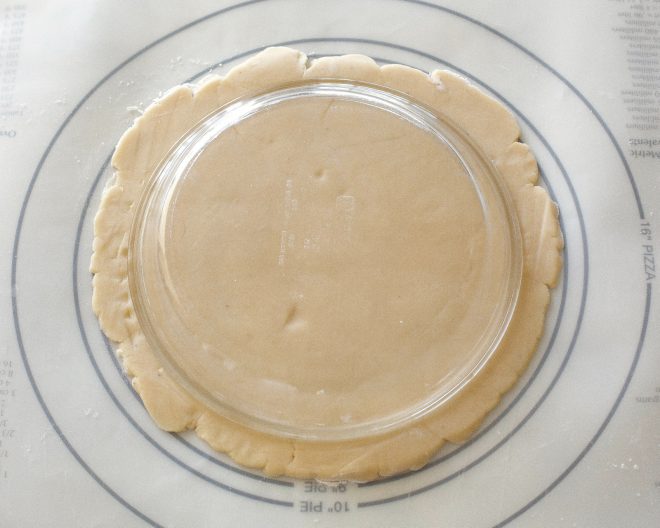 You can even place the pie pan on top to see if you've rolled it big enough.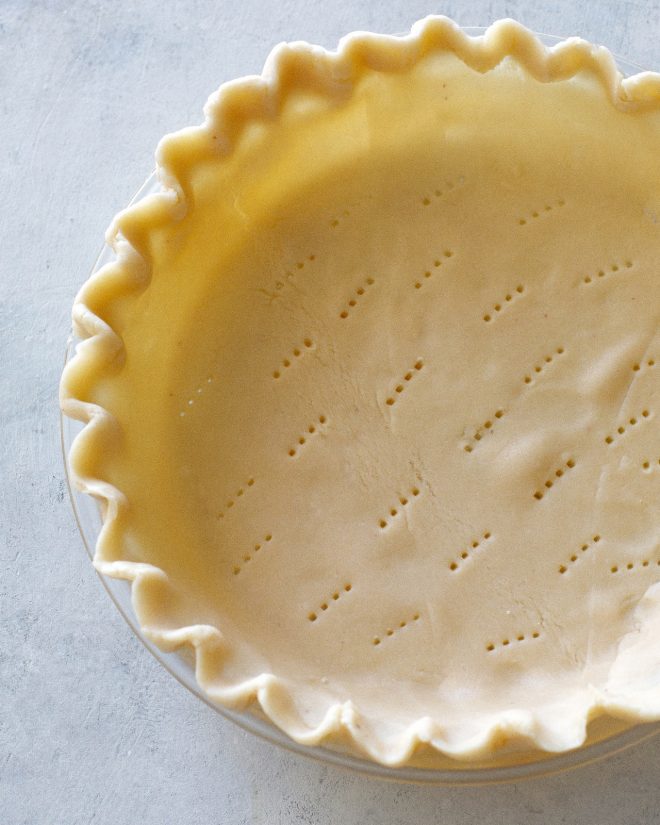 Place the dough into the pan and fold under the excess dough on the lip of the pan and crump it with your thumb and forefinger.
FOOD PROCESSOR
A food processor is not necessary but it sure does turn a 20 minutes process into a 2 minute process of making a pie crust. It keeps everything cold because we aren't using our hands which have heat.
BUTTER VS. SHORTENING
I am not a fan of shortening so I have been using all butter crusts for years. When I was testing pie crusts I did a blind taste tests of 5 different doughs and guess which one won? The one with a combo of butter and shortening.
Butter gives it flavor and shortening makes it soft and pliable like butter can't.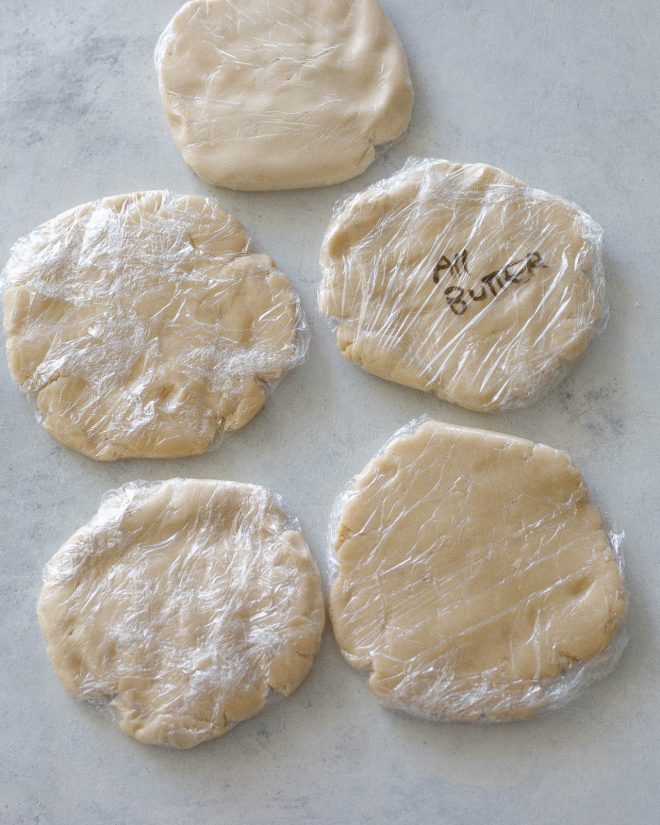 In my testing, I tried:
all butter
butter and shortening combo
dough with buttermilk added
dough with vinegar added
all shortening dough
Here's why the butter/shortening combo won: You get the flavor of the butter and the texture of the shortening.
INGREDIENTS:
FLOUR – All-purpose flour is what you want to use. Use a high quality one as it makes a difference.
UNSALTED BUTTER – Sure you can use salted but I like to control the salt in my butter.
SHORTENING – This makes for a super soft crust. Easy to roll out.
SALT – Brings out all of the flavor.
SUGAR – For savory pies you don't have to add sugar but if you're baking a sweet pie, add a tablespoon of sugar.
ICE WATER – This is essential to keeping everything cold.
HOW TO GET A FLAKY PIE CRUST
Keep all of your ingredients cold. Butter has a higher water content which means lots of flakes. The butter melts while baking, creating steam which causes all those thin layers.
CAN THIS BE FROZEN?
Yes, wrap well with plastic wrap. I then place in a ziploc bag and freeze up to three months. To use, thaw in the fridge overnight.
RECIPES THAT USE A PIE CRUST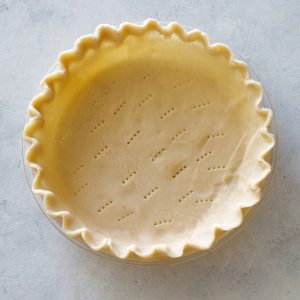 Print
Yield: 2 (9-inch) pie crusts
This homemade flaky Pie Crust is made with a mixture of butter and shortening to create the flakiest, most flavorful pie crust.
3




cups




all-purpose flour




spooned into measuring cup and leveled with a knife

1




teaspoon




kosher salt

1




tablespoon




sugar




(if making a savory pie leave this out)

3/4




cup




cold unsalted butter, cut into 1/4 inch pieces




(12 tablespoons)

6




tablespoons




chilled vegetable shortening, cut into pieces

1/2




cup




ice water
In the bowl of a food processor, add the flour, salt, and sugar (if using). Pulse for a few seconds to blend.

Add the butter and shortening to the bowl and pulse until the mixture has formed into pea sized balls.

Slowly stream in the ice water as you pulse the food processor until a ball is formed.

Place dough on awork surface and roll into a ball. Press ball into a disc and wrap in plastic wrap. Chill for one hour or up to five days. If not used within five day, freeze for up to 3 months.

When ready to use, take the dough out of the fridge and place on a lightly floured surface. Roll the dough away from the center of the disc, turning a quarter turn after each roll.

Roll to larger than your pie pan, about 12-13 inches. To transfer, fold the dough into quarters and transfer to pie dish. Unroll and fit to the pan.

Fold the overhanging edges under and using your thumb and forefingers crimp the edge.

Chill pie in the freezer for 15 minutes if baking right away. Bake according to recipe instructions.