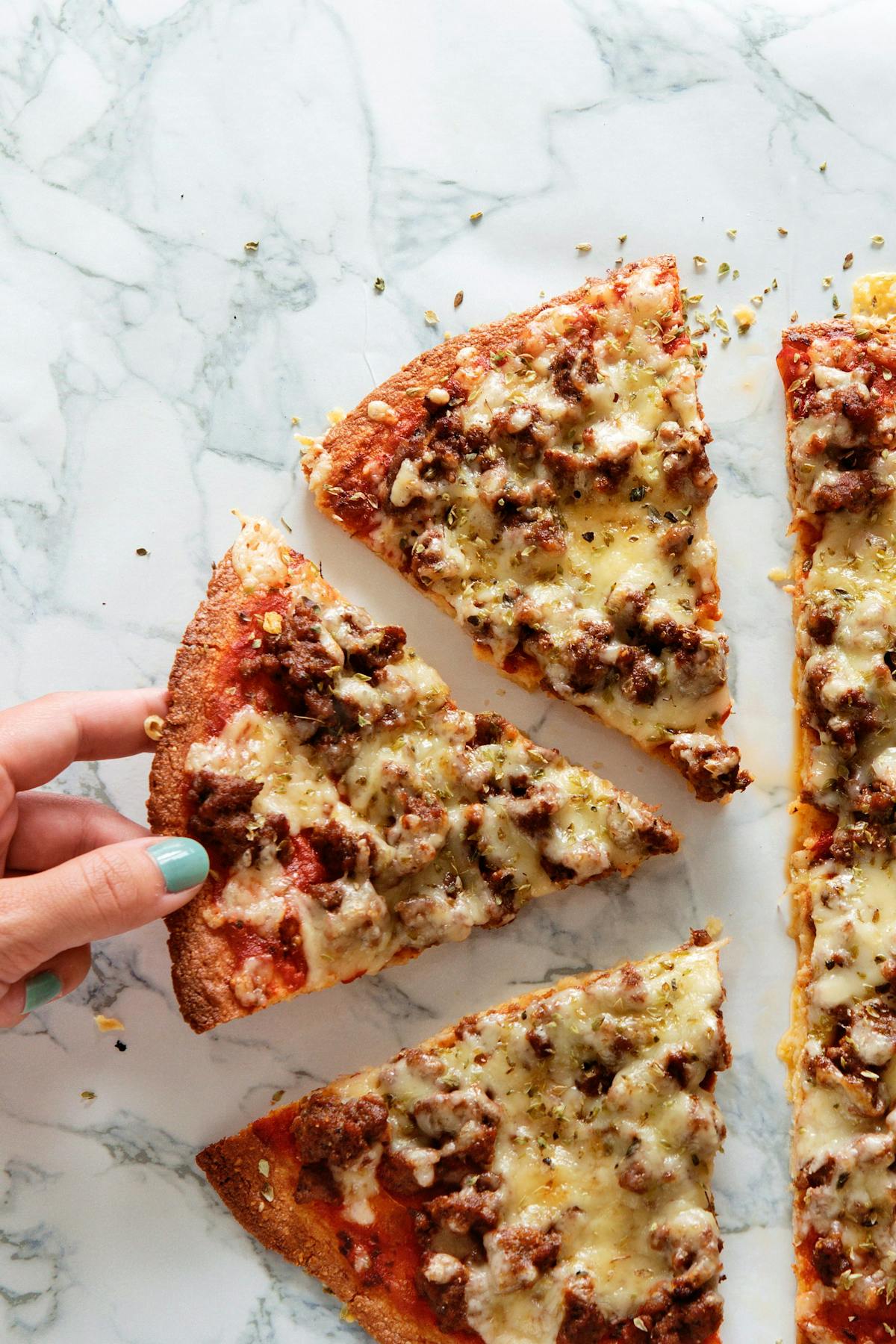 Mouthwatering. So satisfying. All your favorite pizza flavors, layered on top of a crunchy, cheesy, keto crust. Best pizza ever?
Ingredients
Crust
1½ cups

(6 oz.)

350 ml

(170 g)

mozzarella cheese, shredded

2 tbsp

2 tbsp

cream cheese
¾ cup

(3 oz.)

180 ml

(85 g)

almond flour

1 tsp

1 tsp

white wine vinegar

egg

eggs

½ tsp

½ tsp

salt

olive oil, to grease your hands
Topping
8 oz.

230 g

fresh Italian sausage

1 tbsp

1 tbsp

butter

½ cup

120 ml

unsweetened

tomato sauce

½ tsp

½ tsp

dried oregano
1½ cups

(6 oz.)

350 ml

(170 g)

mozzarella cheese, shredded
This recipe has been added to the shopping list.
Nutrition
Ketogenic
608 kcal per serving
Net carbs

8g

5%

Protein

33g

22%

Fat

49g

73%
---
Fiber 3g
---
Total Carbs 11g
---
Satiety score 50
---
Instructions
Preheat the oven to 400°F (200°C).
Heat mozzarella and cream cheese in a non-stick pan over medium heat or in a bowl in the microwave oven. Stir until they melt together. Add the other ingredients and mix well. Tip: use a hand mixer with dough hooks.
Moisten your hands with olive oil and flatten the dough on parchment paper, making a circle about 8″ (20 cm) in diameter. You can also use a rolling pin to flatten the dough between two sheets of parchment paper.
Remove the top parchment sheet (if used). Prick the crust with a fork (all over) and bake in the oven for 10–15 minutes until golden brown. Remove from the oven.
While the crust is baking, sautée the ground sausage meat in olive oil or butter.
Spread a thin layer of tomato sauce on the crust. Top the pizza with meat and plenty of cheese. Bake for 10–15 minutes or until the cheese has melted.
Sprinkle with oregano and enjoy!
Servings
The nutritional information is based on 4 servings per pizza.
The recipe has been updated after the video was made, that's why the carb count is different from the recipe that is correct.
Even if you usually wouldn't eat a pizza with a salad it adds a pleasant freshness and vitamins to the meal.
Recommended special equipment
Hand mixer with dough hooks and a rolling pin.
The best keto pizza toppings
Here we've used sausage meat like in the original recipe, but feel free to put whatever you like on it. Instead of sausage, you can use pepperoni, salami, or cooked bacon. If you have any chicken, pork, or beef leftovers in the fridge, they usually make great pizza toppings.
If you don't want meat and can eat a bit higher carb, we suggest peppers, olives, artichokes or fresh tomatoes and herbs. You can also add different kinds of cheese on tops such as feta cheese, blue cheese, or even brie.
Storing Fathead Pizza
Make extra crusts and store them for 2-3 days in the fridge or in the freezer for up to 2 months. The pizza reheats great in the microwave so if you get leftovers, and you probably will cause this is very rich, enjoy them in the next day's lunch box.
Tips for using keto pizza crusts!
This dough is so versatile! Use it as a pizza crust like in this recipe or make it into a lovely homemade garlic focaccia – simply drench with garlic butter and bake for another minute or two. Or how about serving some keto bread twists as a snack or appetizer at your next dinner party?
What is keto Fathead dough?
Tom Naughton posted the original recipe in 2013 and it's gone viral since. The name comes from the blog Tom Naughton started while making the movie Fat Head, a comedy-documentary about food and health. Haven't seen it? Watch the trailer and the full movie here