Eclair Cake is all of the great flavors of an éclair in cake form. This easy recipe has a cream puff crust, vanilla cream cheese layer, whipped cream, and a chocolate ganache. Unlike some recipes that use a box of graham crackers, this delicious eclair cake is made with a real eclair crust. This is hands down my husband's favorite dessert. 
CHOCOLATE ECLAIR CAKE
This measly corner piece was all that was left after us, our friends, and the missionaries (who made a surprise stop) devoured it.
This was a Father's Day request from my husband John who loves eclairs. My sister-in-law Kristy made this for us when she came out to visit and we quickly fell in love with it.
It is very light which makes it easy to eat a TON of it! You can make it simple with Cool Whip and Hershey's syrup (it's still great this way) or go the extra step and make homemade whipped cream and homemade chocolate sauce to make it unbelievable! This hot fudge sauce is great too on it.
There are two versions of this. A lot of people make a no-bake eclair cake with layers of graham crackers, whipped cream, and chocolate pudding. This is the grown up version of that. This is one of our favorite desserts and we make it for special occasions, birthdays,…a family reunion. It has the flavors of a classic eclair.
INGREDIENTS
Vanilla pudding – Instant pudding is used here.
Choux pastry (pâte à choux) – which includes flour, unsalted butter, water, and eggs.
Cream cheese
Milk
Whipped cream – made with heavy cream and powdered sugar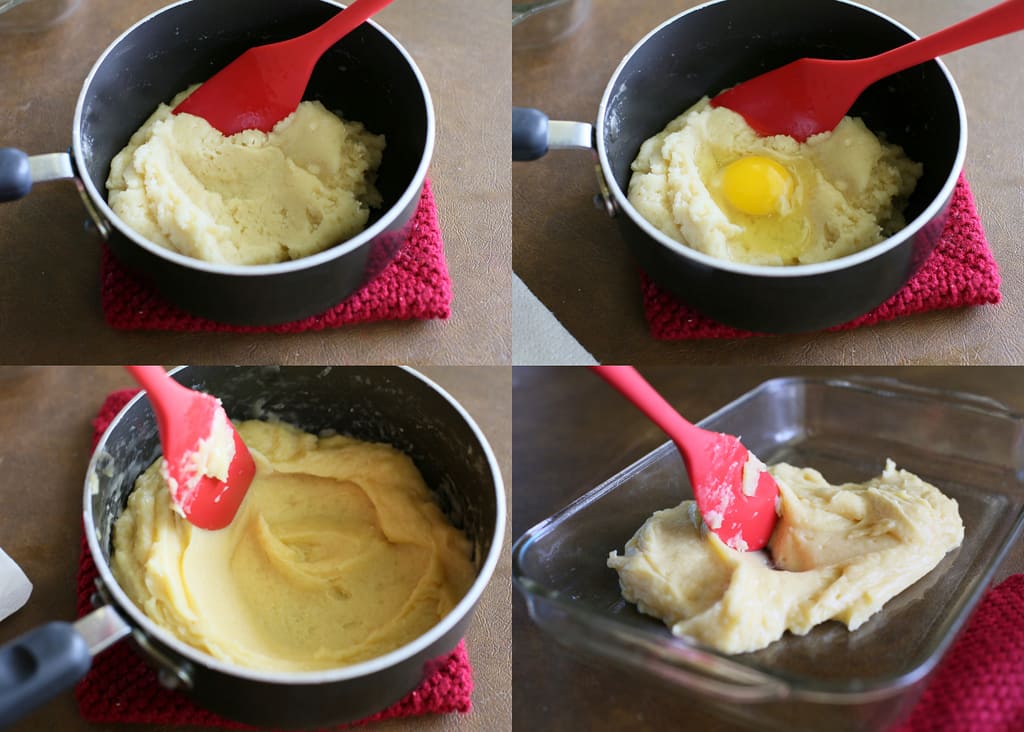 The butter, water, flour mixture will be thick. Add one egg at a time, stirring after each egg to combine well.
You'll get an arm workout here. Once you've incorporated all of the eggs it will be the texture of cake batter. There's not sugar here. This is a classic eclair crust.
paux de choux or eclair crust.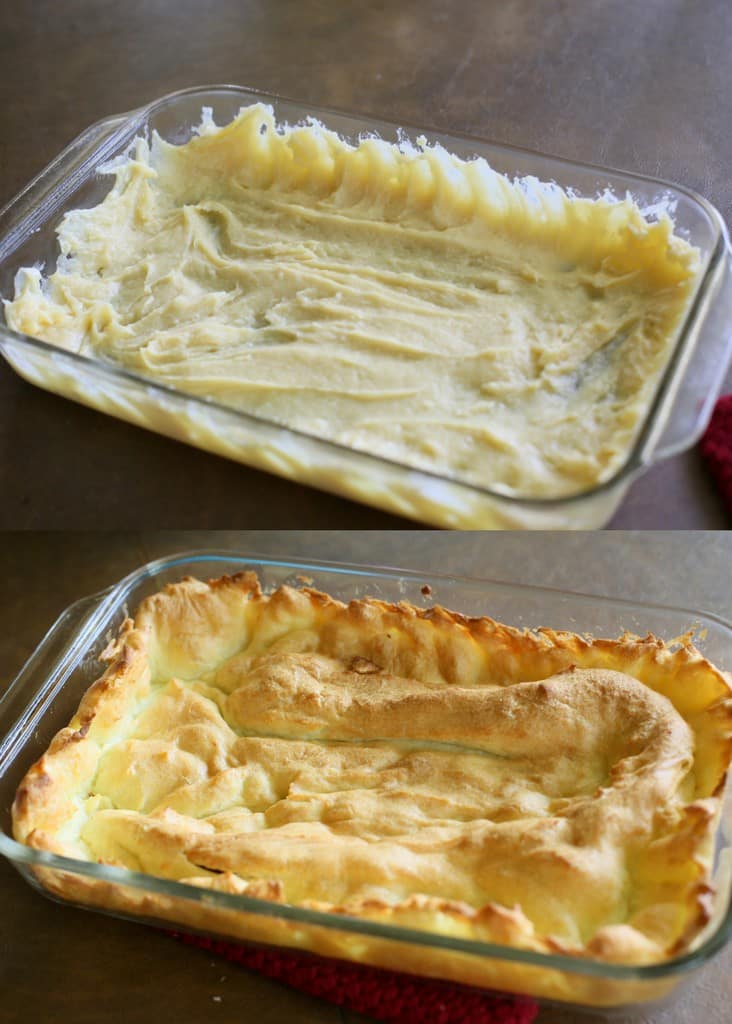 Spread it across the bottom and up the sides, using your fingers is the easiest way. Once it cooks it will look like this.
If you love eclairs, this is the perfect dessert for you!
OTHER EASY DESSERT RECIPES: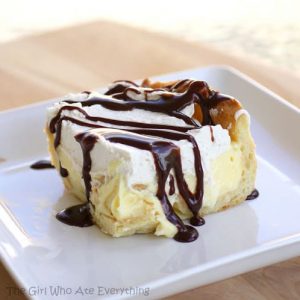 Eclair Cake
This Eclair Cake is all of the great flavors of an éclair in cake form. This Eclair Cake has a cream puff crust, vanilla cream cheese layer, whipped cream, and a chocolate drizzle. 
Crust:
1

cup

water

1/2

cup

butter

1

cup

all-purpose flour

4

large eggs
Filling:
1

(8 ounce) package

cream cheese, softened

1

(5.1 ounce) box

instant vanilla pudding

3

cups

whole milk
Preheat oven to 400. Lightly grease a 9″X13″ glass baking pan.

For the Eclair Crust: In a medium saucepan, melt butter in water over medium heat and bring to a boil. Remove from heat. Stir in flour. Mix in one egg at a time, mixing completely before adding another egg. Spread mixture into pan, covering the bottom and sides evenly. Mixture will be very wet. *If the sides of your pan are too greased you won't be able to get the mixture to stay up the sides so make sure to just lightly grease. No big deal but I like the crust to go up the sides a bit.

Bake for 30-40 minutes or until golden brown (Mine only took 25 minutes.) You may want to check it occasionally-you don't want to overcook the crust, it will ruin the cake! Remove from oven and let cool (don't touch or push bubbles down).

For the Filling: Whip cream cheese in a medium bowl. In separate mixing bowl make vanilla pudding by beating the pudding mix and the milk for 3 minutes with an electric mixer and put in the fridge until set. Make sure pudding is thick before mixing in with cream cheese. Slowly mix pudding and cream cheese, mixing until there are no lumps. Let cool in fridge. When the crust is completely cooled, pour filling in, spreading to cover bottom crust. Top with layer of cool whip however thick you want it. Serve with a drizzle of chocolate syrup. *If you want to make this even better use homemade whipped cream.