This Creamy Chicken Noodle Skillet is a family friendly chicken recipe that can be made in under 20 minutes all in one pan! This has chicken, carrots, celery, onion, and noodles all in one dinner!
This Creamy Chicken Noodle Skillet was originally posted in 2016.
CREAMY CHICKEN NOODLE SKILLET
As I was making this Creamy Chicken Noodle Skillet the phrase "Necessity is the Mother of Invention" kept running through my mind. It was Sunday night, I had nothing on the dinner menu, and I really wanted to make something that my kids wouldn't whine about.
First thought, pasta. Who doesn't like pasta? Second thought, veggies. I have to have veggies with every meal to make myself feel better about life. Third thought, protein. If the meal doesn't have protein in it my husband doesn't consider it a meal. I know he's not a kid (or is he?), but I didn't want him whining either (ha, he never would…I kid).
Ta da! Chicken Noodle Skillet thingy.
I mean I could have made this Homemade Chicken Noodle Soup, but we had soup the night before so…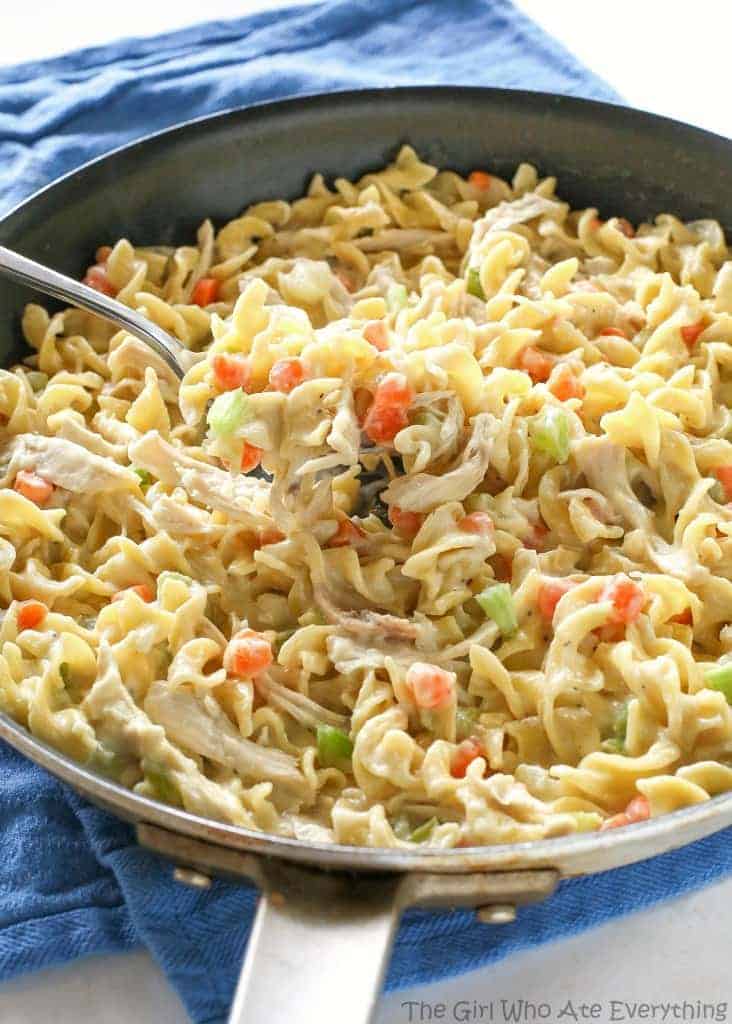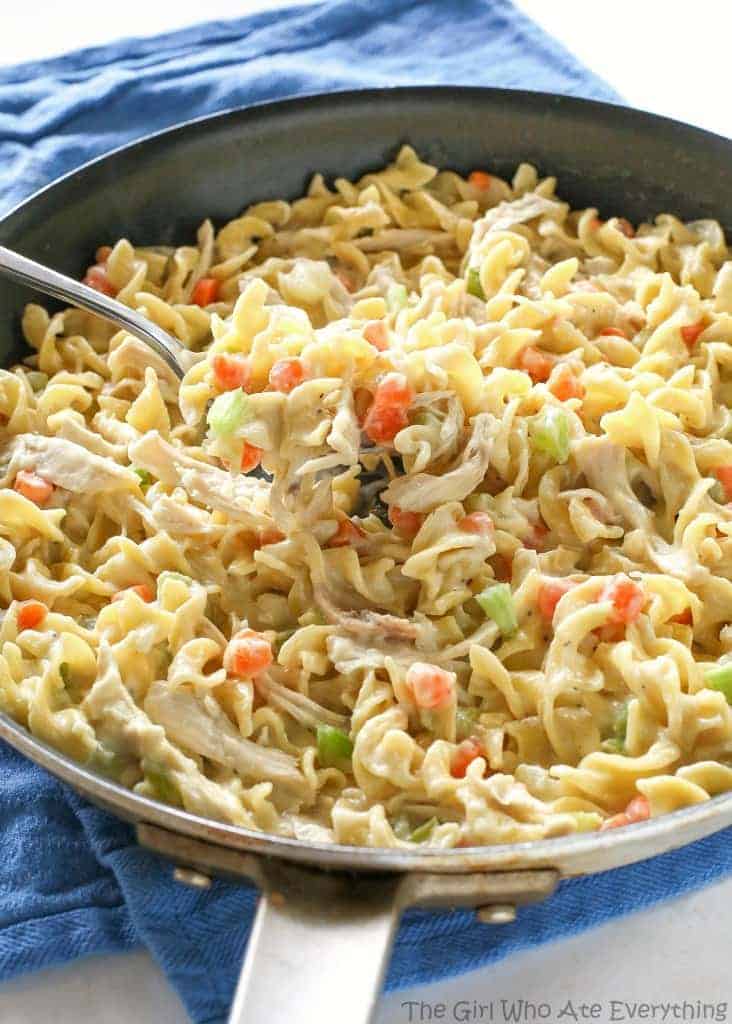 You start off with the trinity: celery, onion, carrots. It's the base of most soups for a reason. It's flavor and comfort. It's the smell you remember from your mom's kitchen. I couldn't start this recipe without it.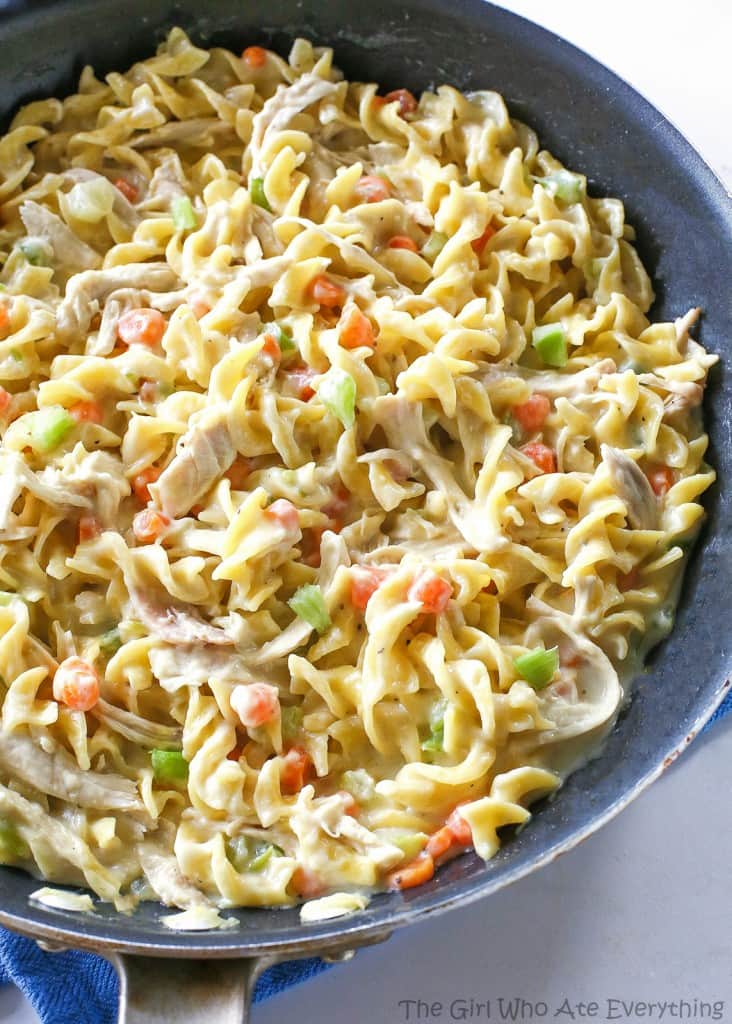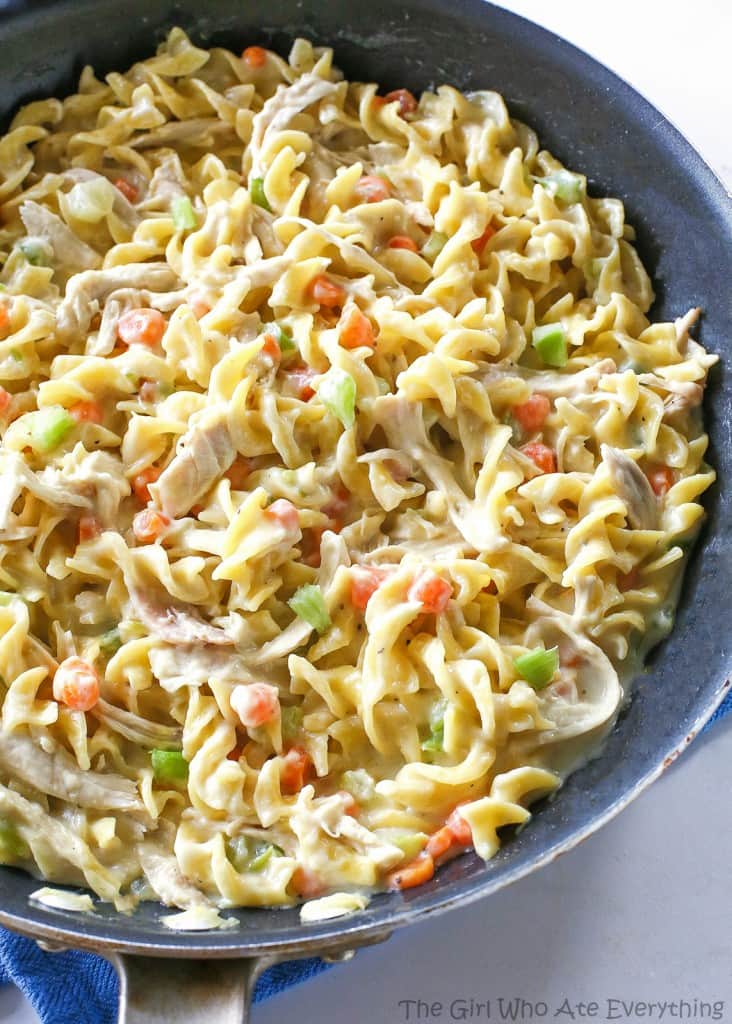 The beauty of this dish is it's all cooked in one pan! One dish to do. Can I get an amen? And if you're feeling ambitious and want to make your own noodles, that would be over the top amazing.
ONE-PAN DINNERS: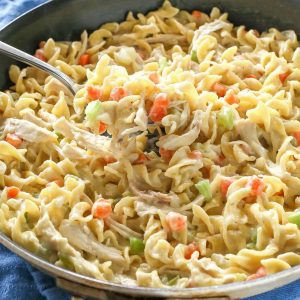 Print
Yield: 6 servings
This Creamy Chicken Noodle Skillet has chicken, carrots, celery, onion, and noodles all in one dinner!
1/4




cup




unsalted butter

3/4




cup




chopped carrot

3/4




cup




diced celery

1/4




cup




finely chopped onion

1/2




teaspoon




minced garlic

1/4




cup




all-purpose flour

3 1/2




cups




chicken broth

1/2




cup




heavy cream




(milk can be substituted)

6




ounces




wide egg noodles




(about 3 3/4 cups)

1 1/2




cups




cooked and shredded chicken




(rotisserie chicken works well here)
In a large skillet, melt the butter over medium-low heat. Add the carrot, celery, and onion. Sautee in the butter until veggies are soft, about 5 minutes. Add the garlic and cook for about 30-60 seconds.

Add the flour and cook for about 3 minutes or until mixture is thick. Slowly whisk in the chicken broth and cream and bring the heat up to medium-high. Add the egg noodles and cook for 5-7 minutes or until noodles are soft.

Add the chicken to the noodles for the last minute or two of cooking to heat the chicken through. Salt and pepper to taste. Serve immediately.
Ways to make this easier:
1) Use minced garlic from a jar. It's great to have on hand.
2) Use frozen celery and carrot vegetable mix.
3) Use frozen onion. They sell diced frozen onion in bags so you can use it when you need it.

*The noodles will soak up the liquid the longer it cooks so you can add milk or chicken broth to thin it out if you need to.
*You can also use any pasta you have but egg noodles definitely cook the fastest so you may need more liquid and more time to cook if you use other pasta. Frozen egg noodles are amazing in this. They are in the frozen section next to frozen dough.