Corn Casserole is one of my favorite recipes at Thanksgiving and this is always one of the first side dishes to go. Some people call this creamed corn casserole, corn pudding, spoon corn, or corn souffle. Any way you name it, this corn recipe delicious!
CORN CASSEROLE
Can everyone stop trying to health-ify Thanksgiving?! I've seen so many recipes for "skinny" versions of sweet potato casserole, mashed potatoes, and pie.
I like to eat healthy too but can't we have at least one day where we have a free hall pass to eat whatever we want without all the guilt? To eat pie until our pants split open? To load butter upon butter on our veggies until they're unrecognizable?
The other 364 days of the year we can worry about calories. Seriously. Let's give ourselves a break, puh-lease.
Now that I have you all buttered up to calorie laden dishes let me introduce you to this dish.
My friend Lauren brought this corn casserole to Thanksgiving dinner and I found myself going back for not only seconds, but thirds.
I had no idea that is was surprisingly easy and I can't say enough about how good it is. This one is also from my cookbook! Enjoy!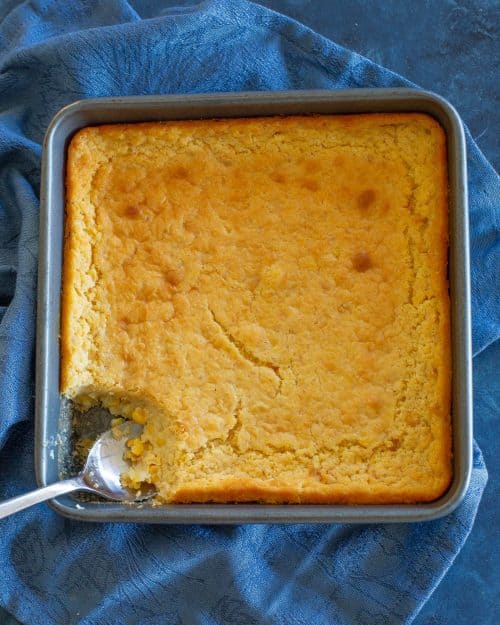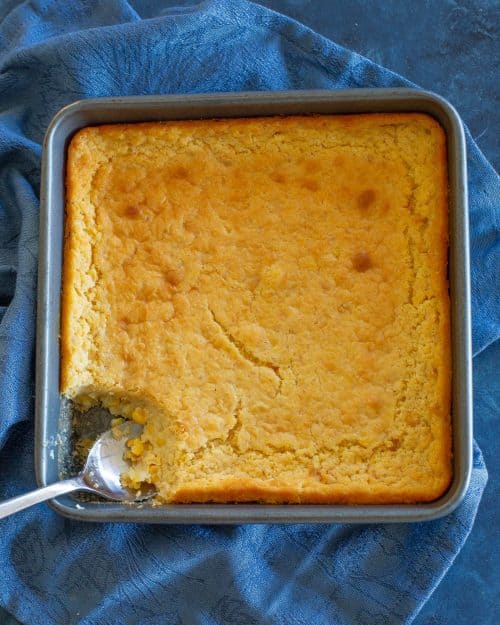 CAN I MAKE THIS AHEAD OF TIME?
Make the recipe up to three days ahead of time and reheat on the day of serving.
CAN I DOUBLE THIS CORN CASSEROLE?
Yes! You can easily double this by baking it in a 9×13 baking dish. Add 10-15 minutes to the cooking time or until the center isn't jiggly.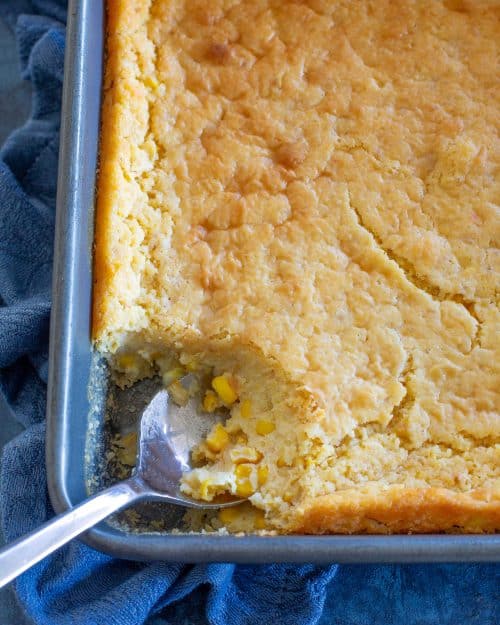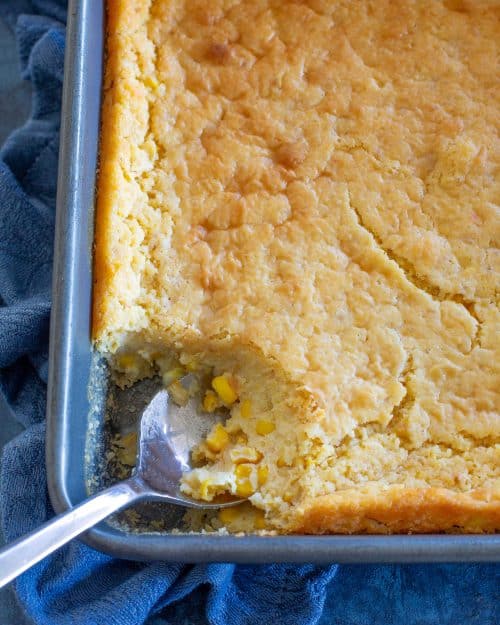 OTHER CORN RECIPES:
Ingredients
1 (15-oz.) can corn, with liquid
1 (15-oz.) can creamed corn, with liquid
1 (8.5 ounce) box Jiffy corn muffin mix, unprepared
1 cup sour cream
½ cup melted butter
Instructions
Preheat oven to 350 degrees and lightly grease a 9″ square baking dish.
In a medium bowl, mix all ingredients together and bake for 50-60 minutes or until soufflé is nice and golden brown and the center is set.
Notes
This can be doubled and baked in a 9×13 baking dish. Just make sure to cook it 10-15 minutes longer or until center is not jiggly.
Nutrition Information:
Yield: 8
Serving Size: 1 grams
Amount Per Serving:
Calories: 316Total Fat: 18gUnsaturated Fat: 0gCarbohydrates: 32gSugar: 8gProtein: 3g