This classic Cobb Salad has crispy bacon, chicken, hard boiled eggs, green onions, avocados, juicy tomatoes, and blue cheese crumbles all on top of romaine lettuce. One of my favorite salads for healthy eating and happens to be Keto.
COBB SALAD RECIPE
This is a very traditional Cobb salad with all of the ingredients to make it hearty enough to be a main dish. This has a beautiful presentation and is great for get togethers.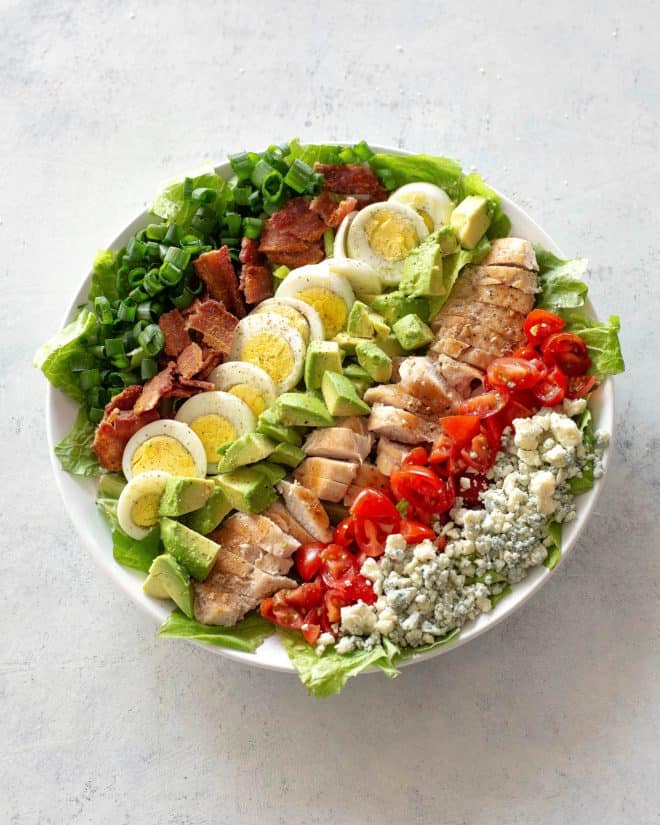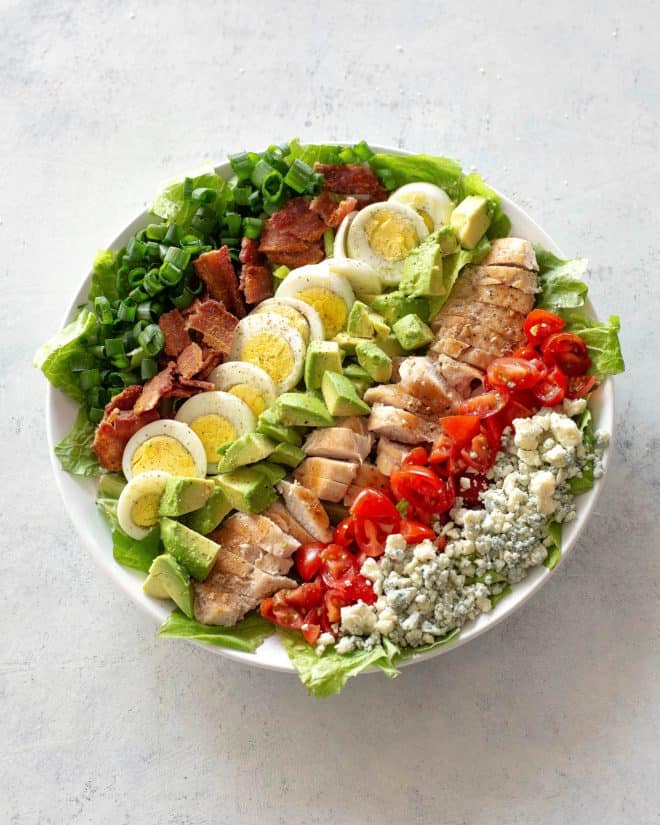 INGREDIENTS
These are traditional ingredients in an original cobb salad. This is a big salad!
Chicken – Tender chicken breast is cooked in a pan but you can use chicken tenderloins, grilled chicken, or you can use rotisserie chicken.
Bacon – Crispy salty bacon is essential.
Hard Boiled Eggs – Are a classic ingredient.
Green Onions – These have a mild onion flavor but if you like more of a bite you can use red onion.
Avocado – There's nothing like a creamy avocado in a salad.
Tomatoes – I like to use cherry tomatoes or grape tomatoes that are quartered because they tend to be the most crips and never mushy.
Blue Cheese Crumbles – These give that bite and tang but if you aren't a fan you can use cheddar cheese, gorgonzola, or feta cheese.
Lettuce – I don't like to use too much lettuce here because the star really is the toppings.
HOW TO COOK CHICKEN
The simplest way to cook chicken is to drizzle a little olive oil in a skillet. Salt and pepper your chicken and cook for 5-6 minutes per side or until not longer pink.
HOW TO COOK BACON
I like to cook my slices of bacon in a large skillet until nice and crispy. Drain on paper towels and then crumble.
HOW TO COOK HARD BOILED EGGS
I have a whole post on How to Hard Boil Eggs, but here's the nitty gritty. You can also make these in the Instant Pot.
Start off with placing your large eggs in a pot in a single layer and covering them with cold water about an inch above the eggs.
Turn the heat up to medium high and once water starts to bubble add some salt to the pot.
Bring water to a rolling boil. If your heat is too high, you will get some violent boiling and end up with egg casualties.
Once water comes to a rolling boil, place the lid on and turn off the heat.
Let eggs sit for 12-13 minutes making sure to not open the lid or all of the heat will escape. Make sure not to start your timer until right when you turn off the heat.
When the time is up remove eggs from pot and rinse in cold water or place in an ice bath to stop the eggs from continuing to cook.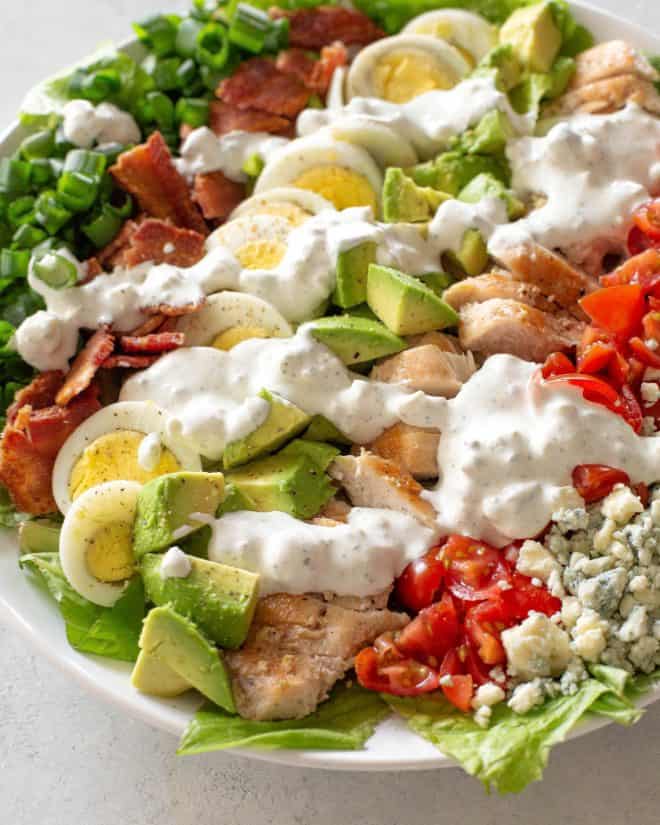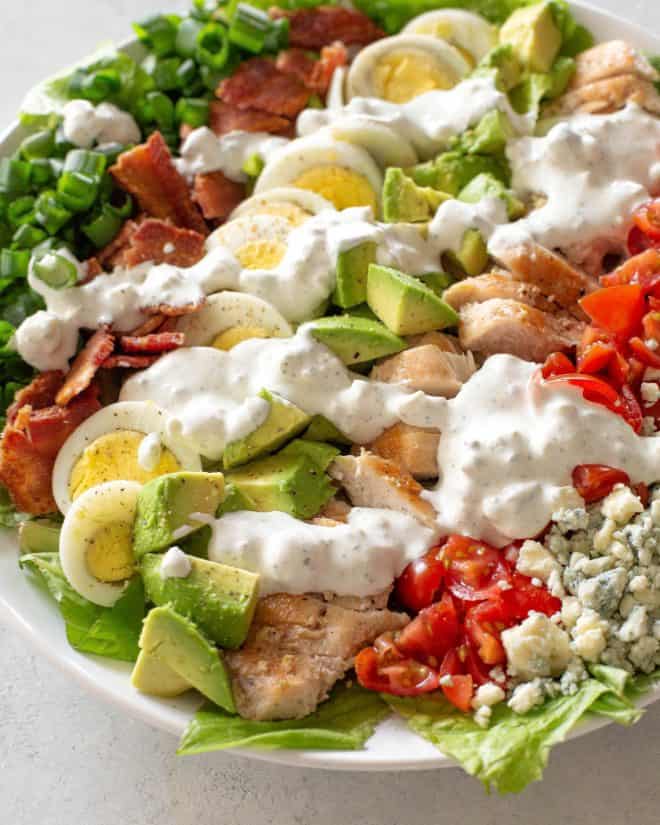 HOMEMADE DRESSINGS
I've included a recipe for blue cheese dressing but you can also use homemade ranch dressing or a high quality store bought dressing.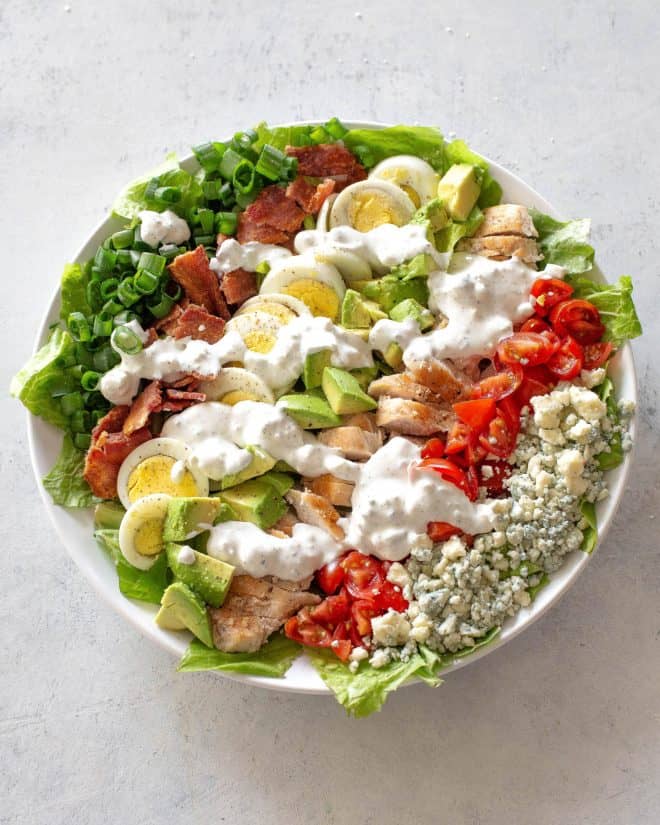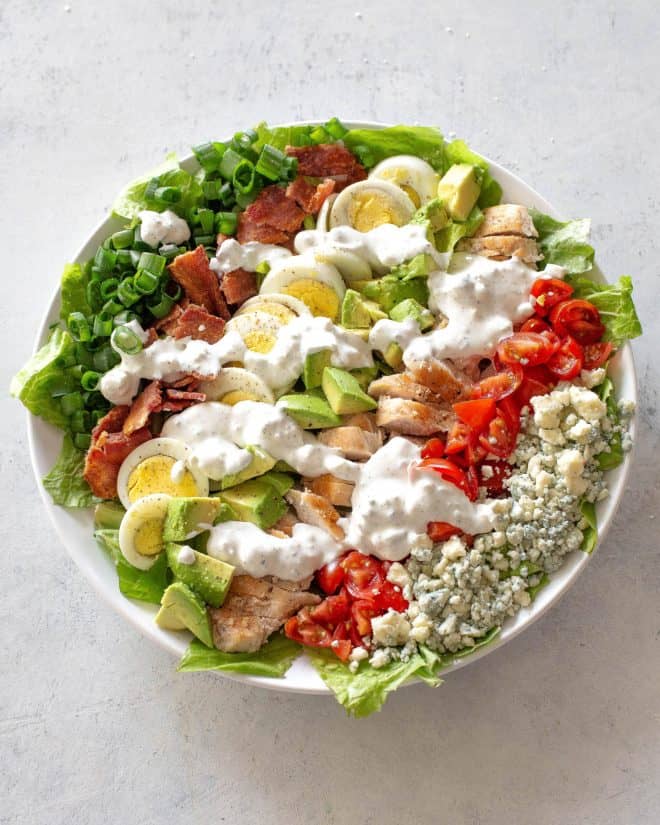 OTHER SALAD RECIPES
Ingredients
6-8 cups romaine lettuce
1.2 lbs chicken breasts (or tenderloins), cooked and sliced
6 slices bacon, cooked and crumbled
4 hard boiled eggs, sliced
1 cup cherry tomatoes, quartered
2 avocados, sliced
1/2 cup blue cheese crumbles, or more to taste
salt and pepper to taste
BLUE CHEESE DRESSING!
1/3 sour cream
1/4 fine blue cheese crumbles (see note)
3 Tablespoons heavy whipping cream
1/4 teaspoon salt
1/4 teaspoon ground pepper
Instructions
In a large serving bowl, add the romaine lettuce. Layer all of the toppings in rows.
For the dresssing: In a small bowl, combine the sour cream, blue cheese crumbles, cream, salt, and pepper. For best results, let dressing chill for a half hour.
To serve, drizzle blue cheese dressing (or ranch if desired) on top. You can also let people add their own dressing.
Notes
In order for the blue cheese dressing to have blue cheese in every bite it helps if your blue cheese crumbles are fine.