Chicken with Parmesan Cauliflower Rice is low-carb and Keto-friendly. It's seasoned chicken with a creamy Parmesan caulifower rice. This meal is hearty and fast enough for a weeknight dinner.
CHICKEN WITH PARMESAN CAULIFOWER RICE
Healthy meals that everyone loves are hard to come by with a family of seven but they love this recipe!
FROZEN VS FRESH CAULIFLOWER RICE
You can use either fresh or frozen cauliflower rice in this dish. Frozen cauliflower rice will produce more liquid and therefore need to be simmered longer.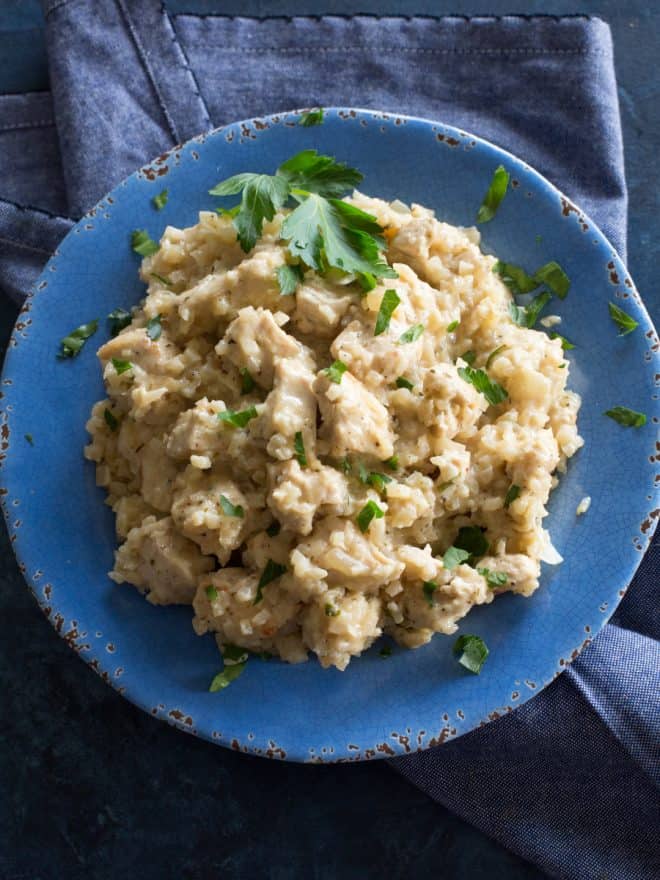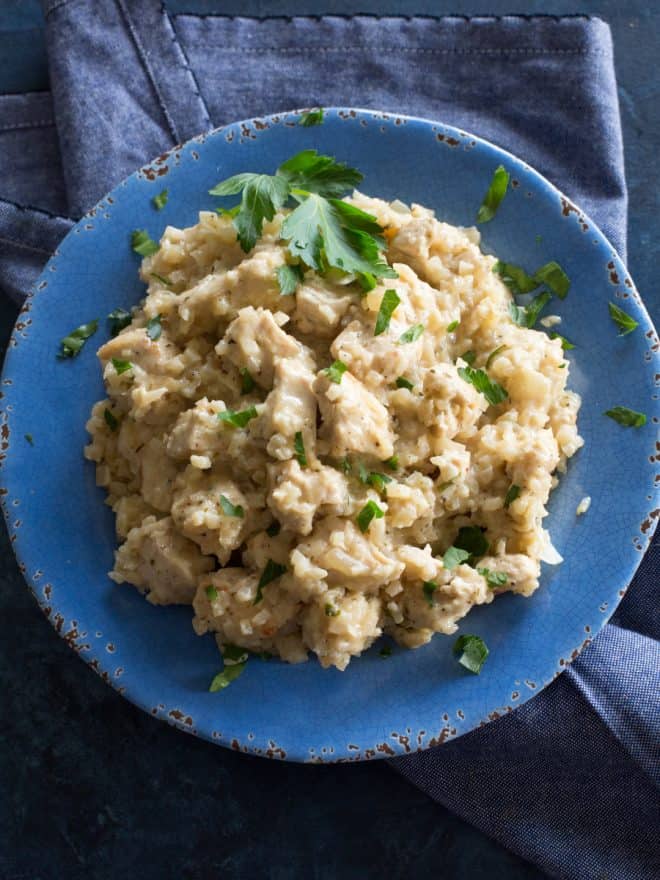 HOW MANY NET CARBS DOES THIS HAVE?
This recipe yields 4 generous servings with each serving yielding 6 net carbs. This is low-carb and keto-friendly!
OTHER KETO RECIPES:
Ingredients
4 tablespoons butter
1 cup diced yellow onion
1 1/2 pounds boneless skinless chicken breasts, cut into one-inch pieces
2 teaspoons Italian seasoning
3 cloves garlic, minced
16 ounces cauliflower rice, frozen or thawed (see note)
salt and pepper to taste
1/2 cup low-sodium chicken broth
1/2 heavy cream
1/2 cup grated Parmesan cheese
Instructions
In a large skilllet, melt the butter over medium heat. Add the onion and cook about 2-3 minutes until soft.
Season the chicken with salt and pepper and add it to the skillet. Sprinkle with the Italian seasonings. Cook for 5-6 minutes or until chicken is cooked through.
Add the garlic and cook for an additional minute.
Add the cauliflower rice, chicken broth, and cream. Simmer for 10 minutes or until liquid reduces. Stir in the Parmesan cheese and serve.
Notes
When using frozen cauliflower rice you will have a lot more liquid in the pan and will need to simmer longer than if using fresh cauliflower rice. We like Costco's organic frozen cauliflower rice and Trader Joe's fresh cauliflower rice. Some brands of frozen cauliflower rice are not great and turn to mush because they are so fine in texture.
Nutrition Information:
Yield: 4
Serving Size: 1 1/2 cups
Amount Per Serving:
Calories: 550Total Fat: 32gNet Carbohydrates: 6gProtein: 57g