This Chicken Parmesan Casserole is one of those easy recipes that the whole family loves. No frying this cheesy Parmesan chicken topped with crunchy garlic croutons. If you're looking for a one-pan easy dinner for those busy weeknights, this Parmesan Chicken Casserole is for you!
CHICKEN PARMESAN CASSEROLE
Last week was kind of insane. I'm very linear in my approach to events or things I have to do but it seems like last week they all piled into one hot mess and I couldn't attack one thing without diving into it all. I felt like I couldn't catch my breath.
Sometimes I'm just need a winner like this parmesan chicken casserole at the dinner table that will easily make even the picky eaters happy.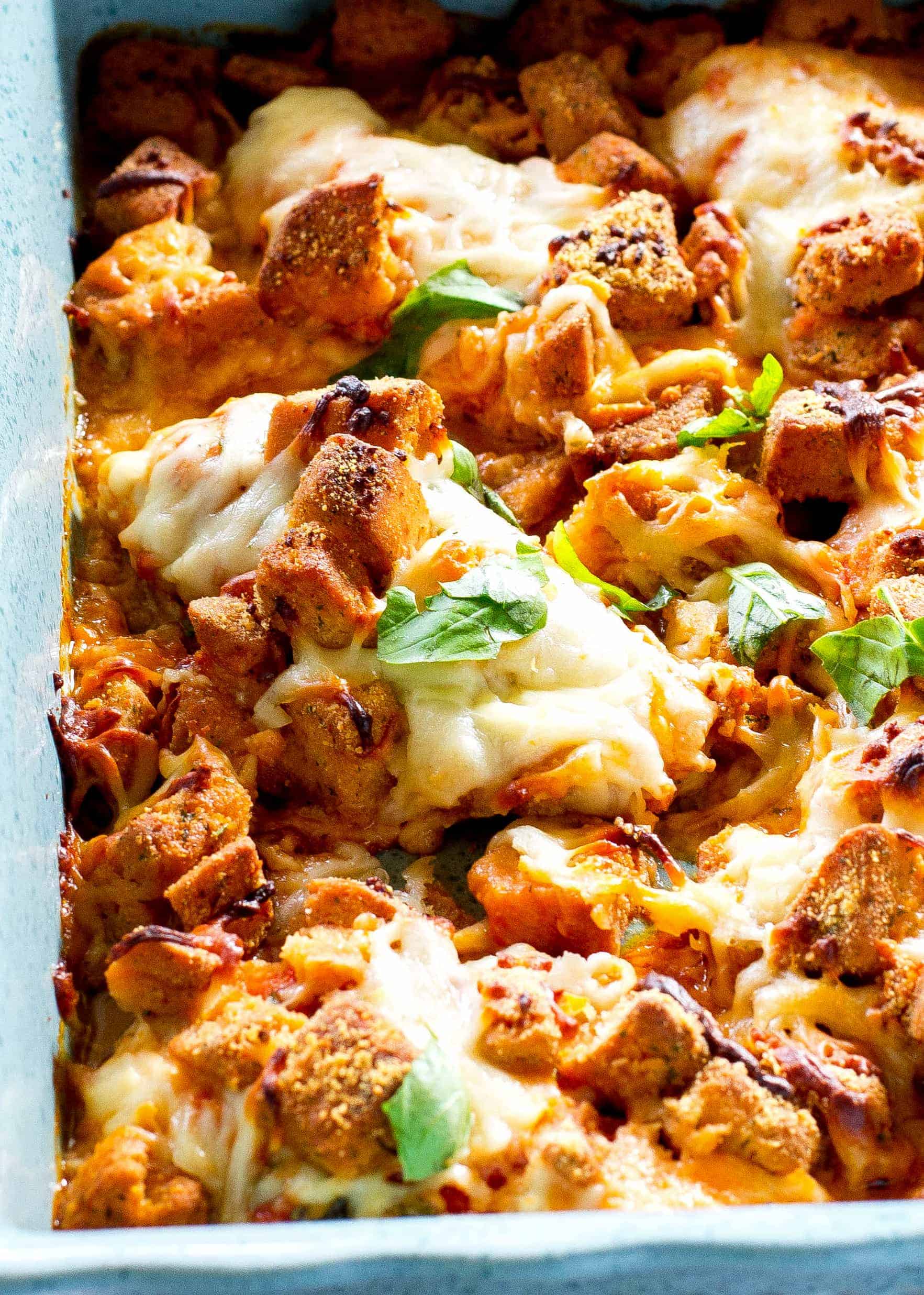 Can you believe my family actually wants to eat dinner this week? I mean don't they know that I'm busy making
toffee
and
Oreo balls
? Why can't they eat that for dinner?
Can we just keep it real here? People think that families of food bloggers eat these beautifully garnished and styled dinners. Puh-lease.
Almost every blogger I know takes pictures of their food around noon when the light is good. Scrapes off the toppings and reheats it later for dinner for their families. True story. Hate to burst your bubble.
That's actually exactly what happened with this dish. I knew as soon as my family started eating this that this was a winner and would be a repeat family favorite in our house (also because it's so easy).
Traditional Italian style chicken parm has an egg wash and a bread crumb mixture. This one has very simple ingredients.
It's basically the easiest version of classic chicken parmesan without all of the frying. The croutons give that garlicky crunch!
INGREDIENTS
BONELESS SKINLESS CHICKEN BREASTS – You can also use chicken tenders or chicken cutlets.
GARLIC – We use fresh garlic cloves but you could use garlic powder as well.
RED PEPPER
MARINARA SAUCE – My favorite brand is Roa's. It's the best tomato sauce for baking out there.
MOZZARELLA CHEESE – When the mozzarella cheese melts it makes this even better!
PARMESAN CHEESE
GARLIC CROUTONS – Usually I like to get that crunch with Panko breadcrumbs but crunchy garlic croutons have so much flavor.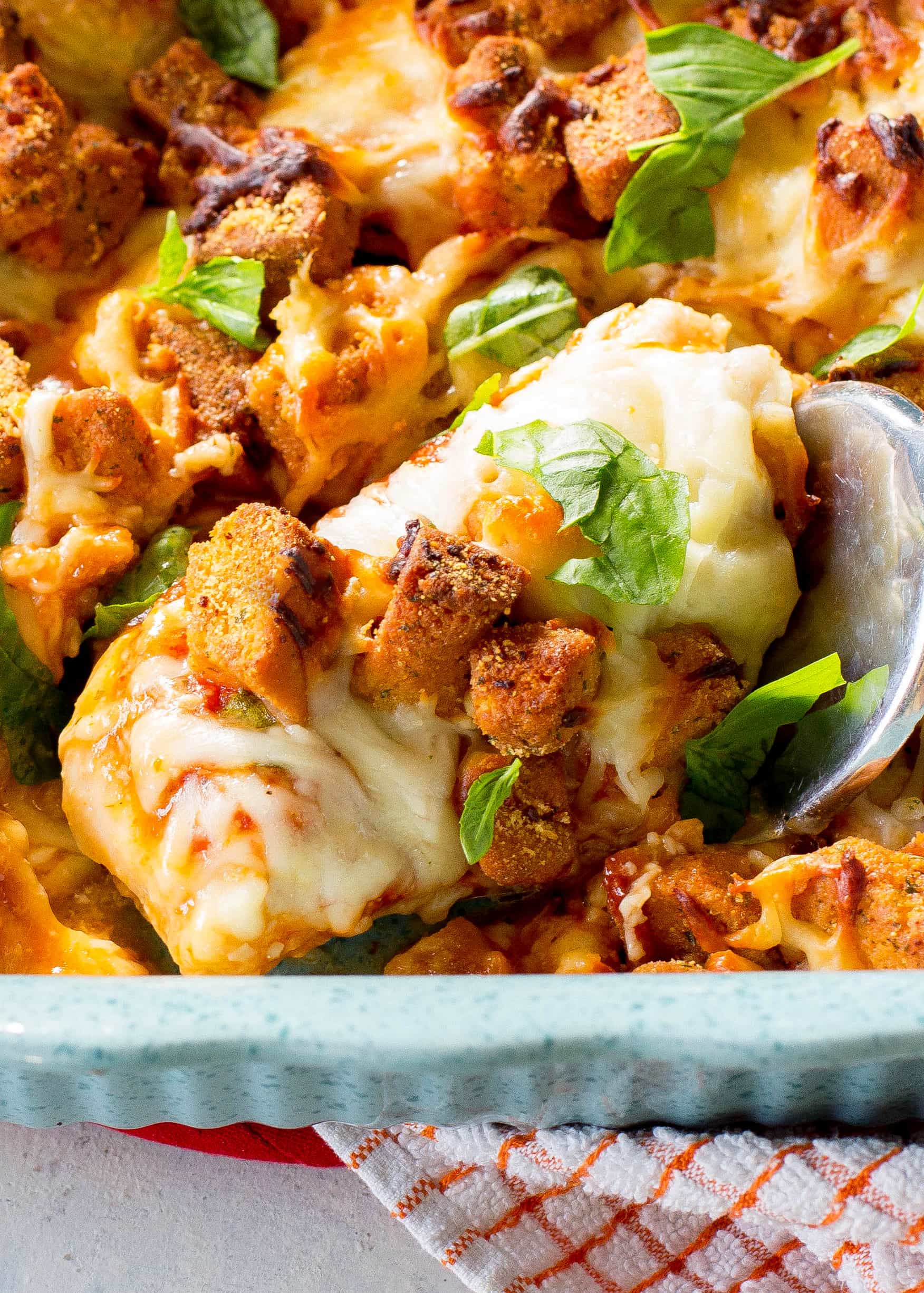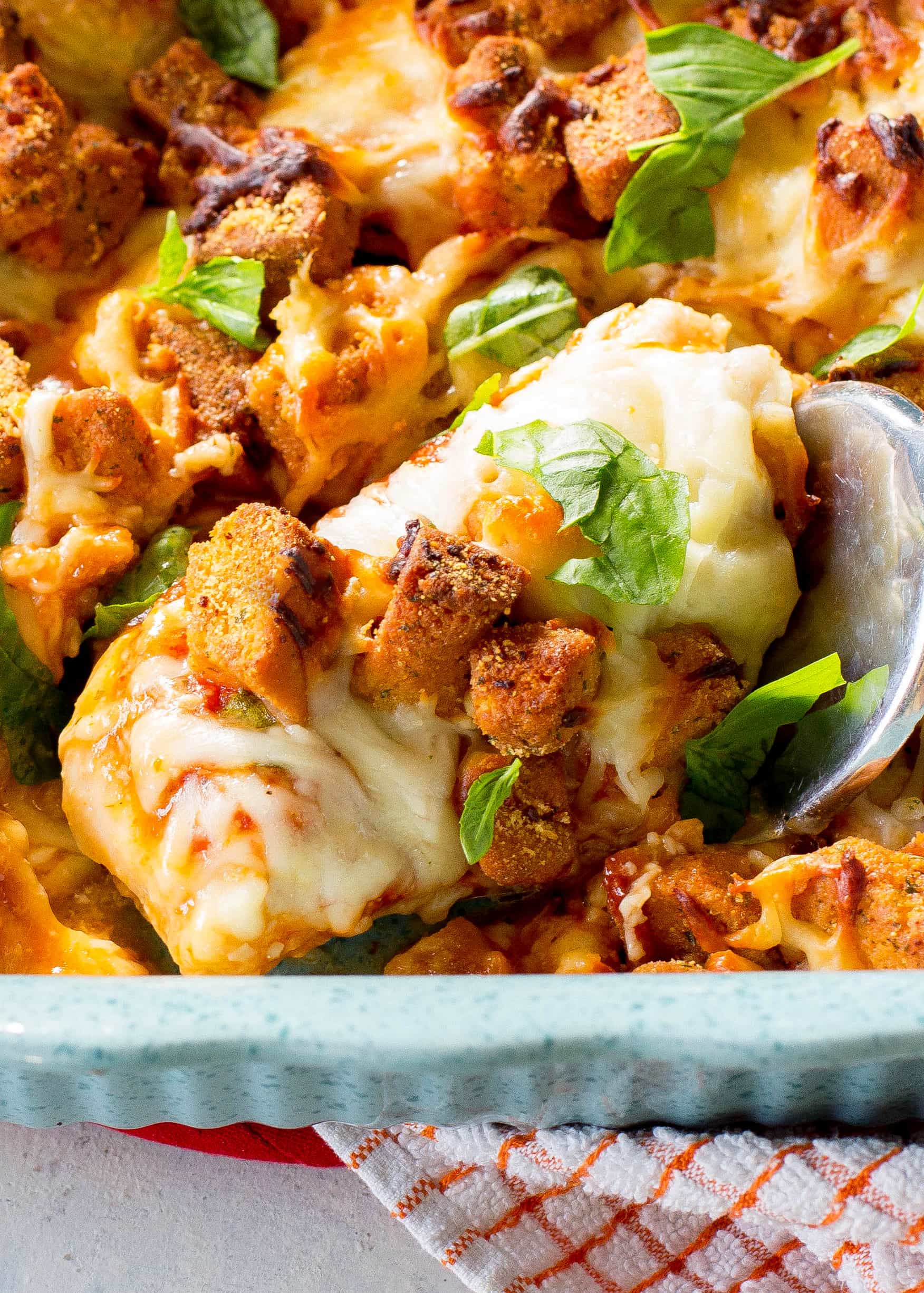 OTHER ITALIAN RECIPES:
Ingredients
2 tablespoons olive oil
2 cloves garlic, crushed and finely chopped
1/4 teaspoon crushed red pepper flakes, , or to taste
6 skinless, boneless chicken breast halves
2 cups of marinara sauce
1/4 cup chopped fresh basil
1 (8 ounce) package shredded mozzarella cheese, divided
1/2 cup grated Parmesan cheese, , divided
1 (5 ounce) package garlic croutons
Instructions
Preheat oven to 350 degrees F (175 degrees C).
Coat the bottom of a 9×13 inch casserole dish with olive oil, and sprinkle with garlic and hot red pepper flakes.
Arrange the chicken breasts in bottom of the baking dish, and pour marinara sauce over chicken. Sprinkle basil over marinara sauce, and top with half the mozzarella cheese, followed by half the Parmesan cheese. Sprinkle on the croutons on top of the casserole, then top with the remaining mozzarella cheese and remaining Parmesan cheese.
Bake in preheated oven until cheese and croutons are golden brown and the chicken is no longer pink inside, about 35 minutes to an hour, depending on the shape and thickness of your chicken breasts. Cover the casserole with foil towards the end of baking time of the top starts to get too brown.
Notes
I use the chicken breasts from Costco and slice them in half lengthwise.
Source: Allrecipes
Nutrition Information:
Yield: 6
Serving Size: 1 grams
Amount Per Serving:
Unsaturated Fat: 0g