This Caramel Apple Cheesecake is one of the easiest cheesecakes made with a graham cracker crust, apples, caramel, and nuts. If you're looking for a fall recipe, this dessert is a must try!
CARAMEL APPLE CHEESECAKE
This Caramel Apple Cheesecake reminds me of my husband. He loves cheesecake. He loves apple pie filling. He used to make me apple turnovers when we were first married. Speaking of him, thanks to him we are playing a musical number in church on Sunday. Can you hear me screaming in terror?
I started playing the viola in 2nd grade and played throughout high school but haven't played for at least 15 years. Even in high school, I wouldn't tell my family or friends when I had performances because I was so shy. I guess he wrote it down on our information sheets when we moved in that we both played. Grrr.
To say I'm rusty is a huge understatement. He plays the violin and has played in church over the years. To find a violin/viola duet is practically impossible so we are playing the only one we could find. We've been practicing at night after we put the kids to bed which usually results in them coming down 15 minutes later saying they can't sleep because we are playing too loud.
We're hoping the piano accompaniment will just drown us out and no one will be able to tell what we are playing. And I'm hoping I don't get bouncy bow. Those of you who play string instruments know that as soon as you get nervous your bow starts bouncing all over the place. Ahh. I'm so scared. Pray for us.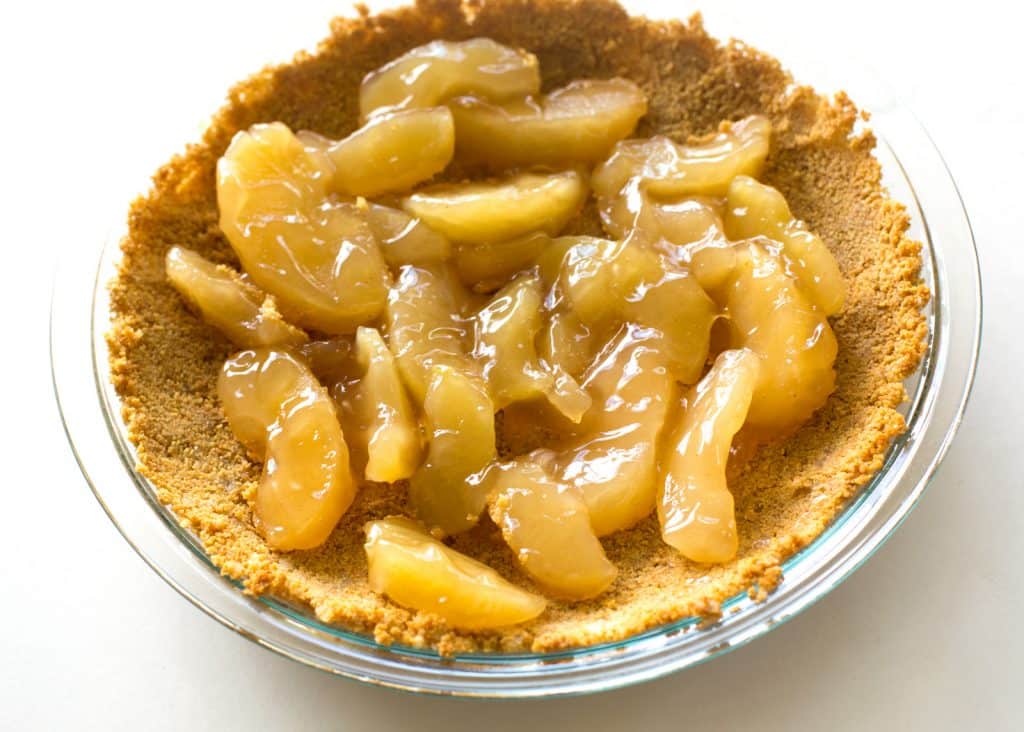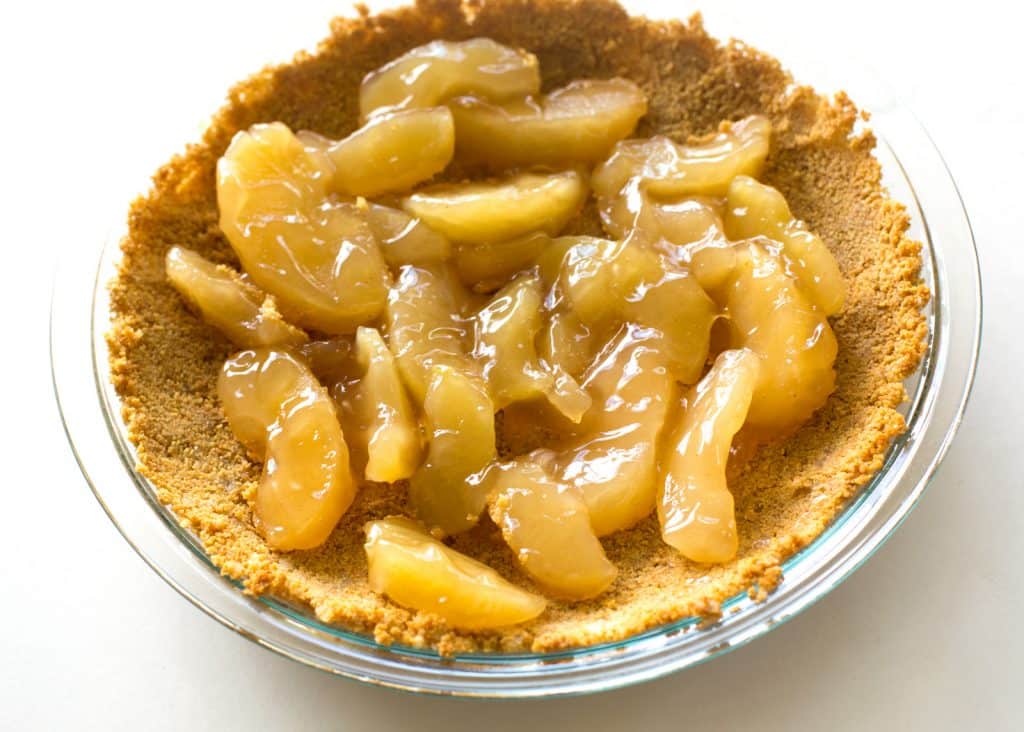 Honestly, this cheesecake is one of the easiest I've ever made. The effort to taste ration is HUGE. Why did that sound like Donald Trump in my head when I said that? Start by placing 3/4 of your apple pie filling in your graham cracker crust. I'm usually not a fan of apple pie filling but loved it in this.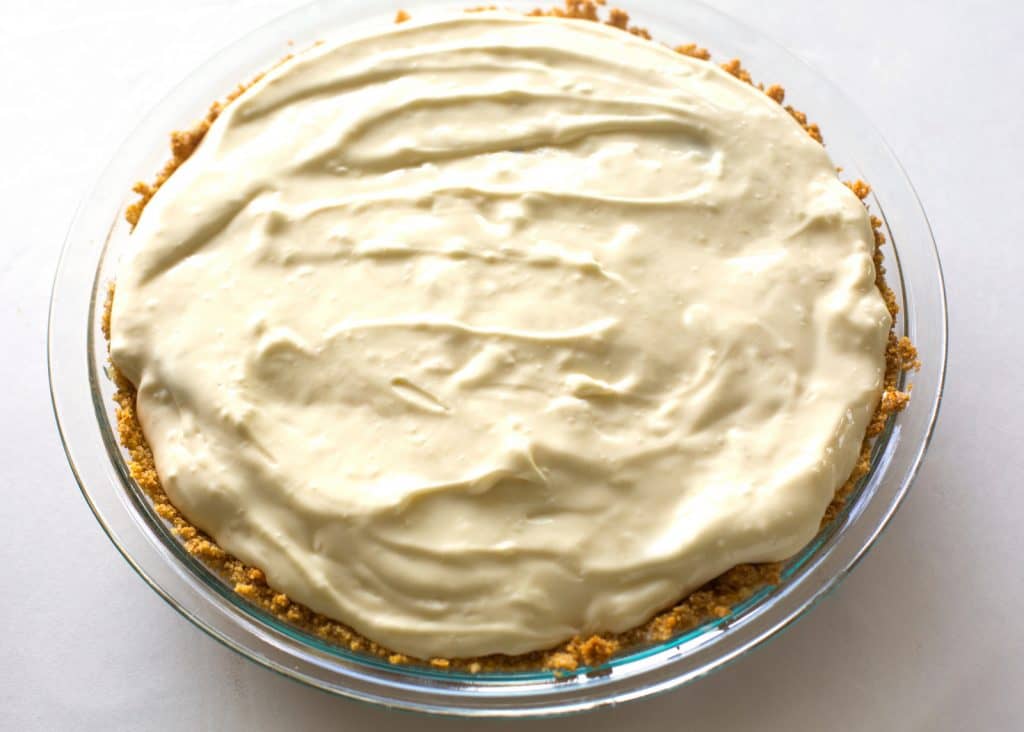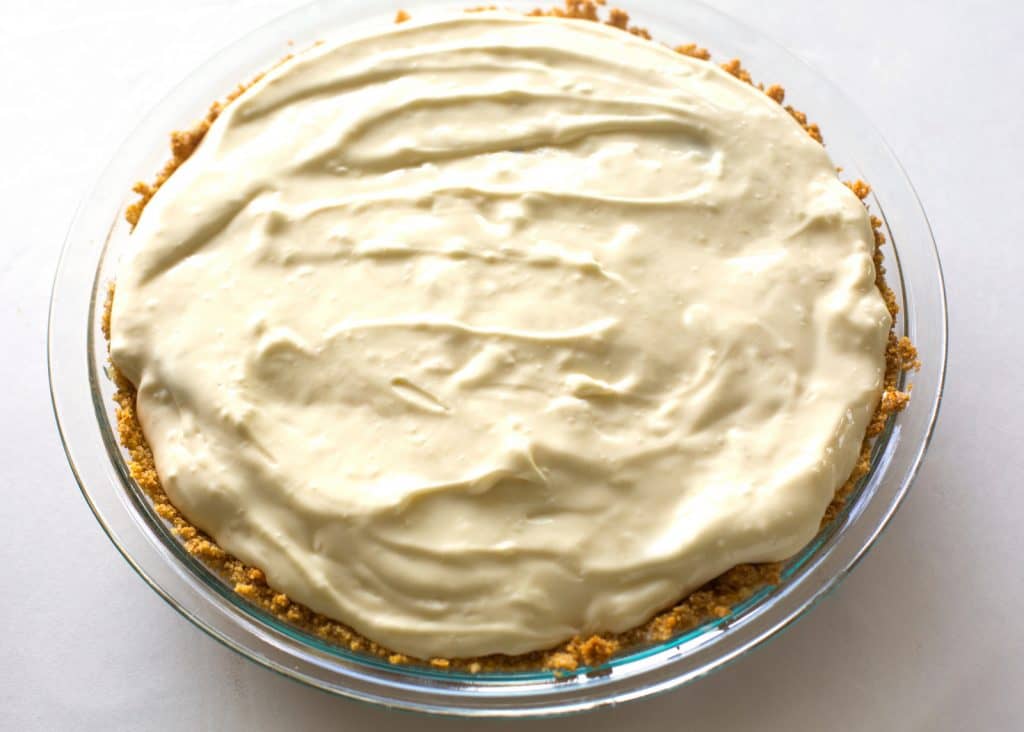 See how my cheesecake mixture is a little lumpy. No worries. It will bake out. And it does fill the pie pan all the way to the top. When it bakes it kind of puffs up and you might think "whoaaa" but it will settle down perfectly when it chills.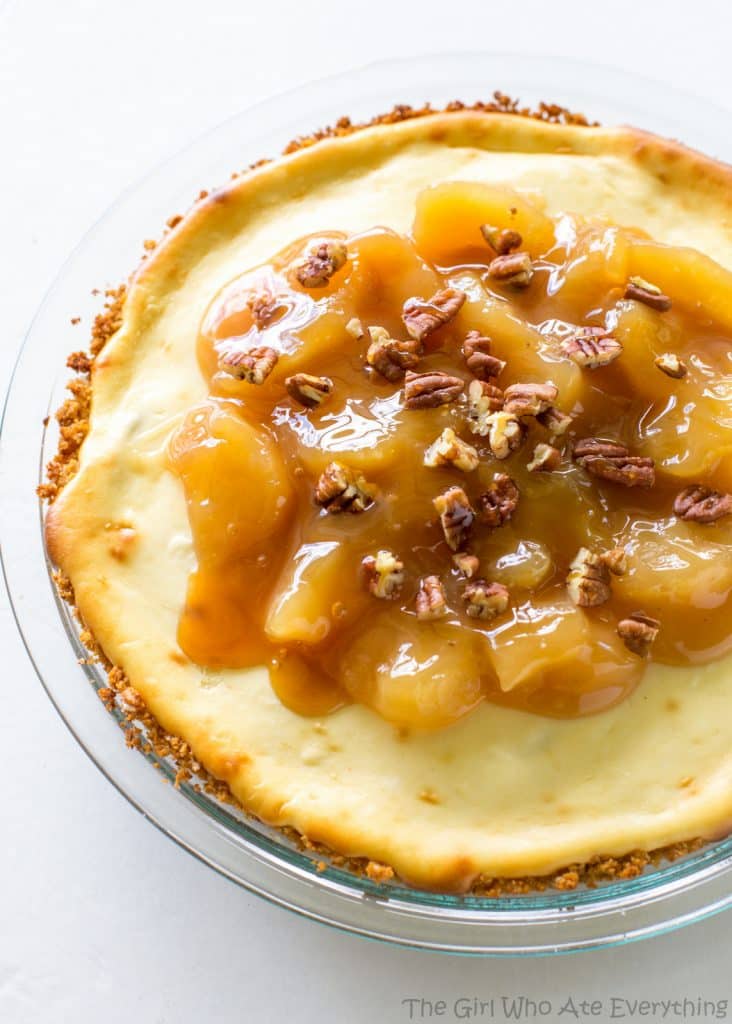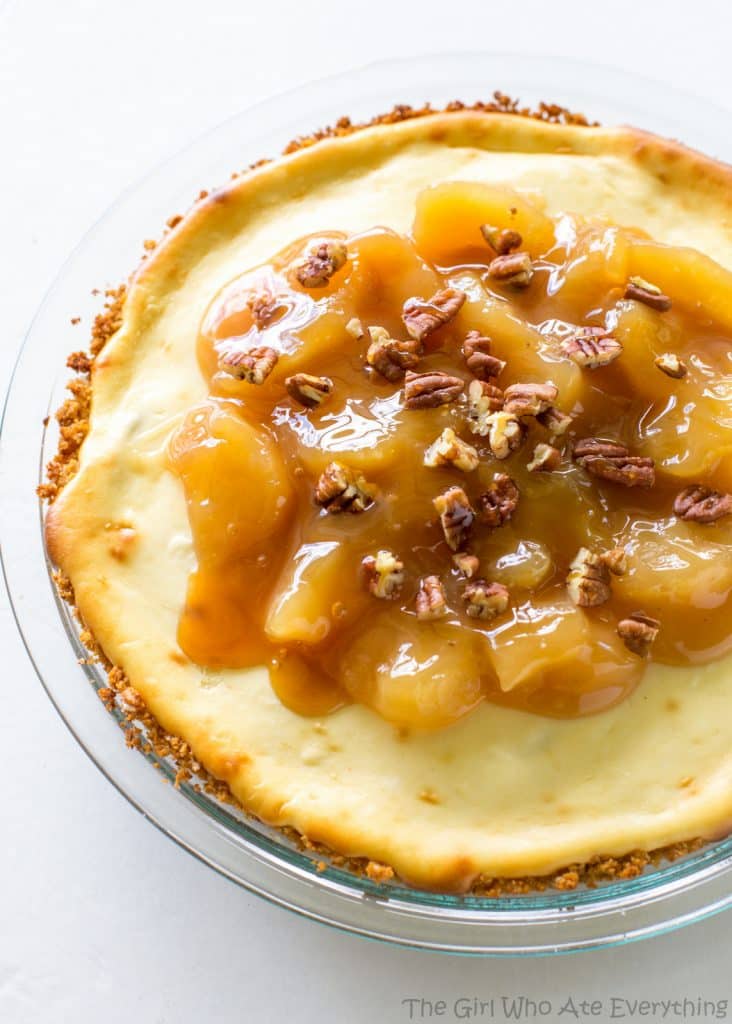 See. Isn't that pretty? Like most cheesecakes, they are better when chilled overnight. On top is caramel mixed with the remaining apple filling.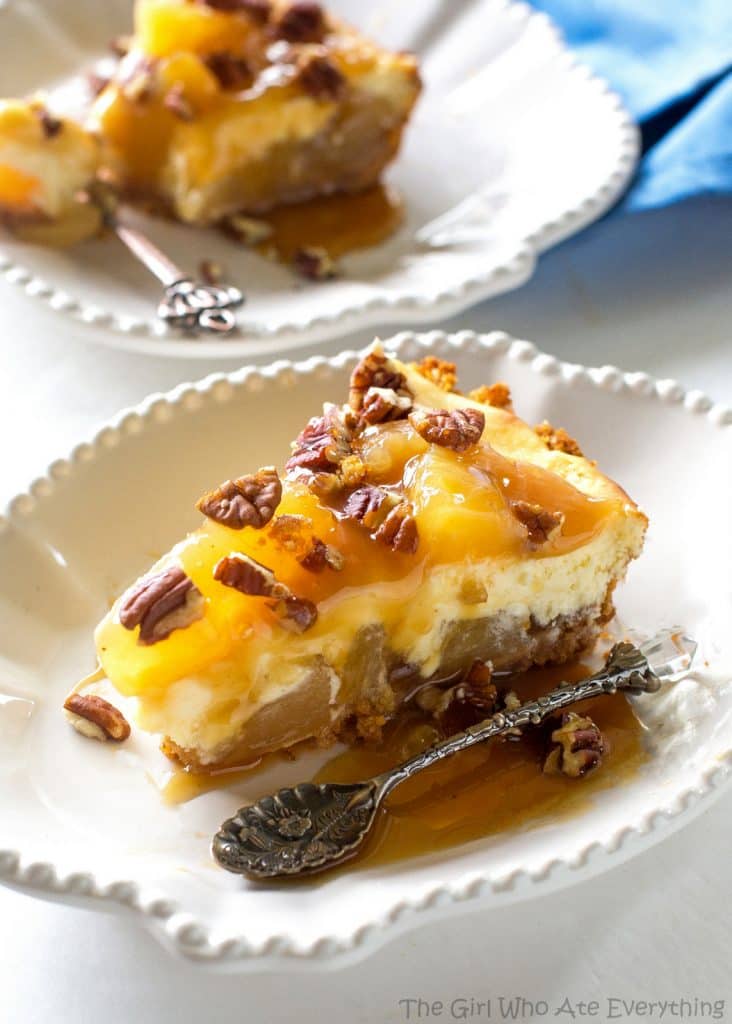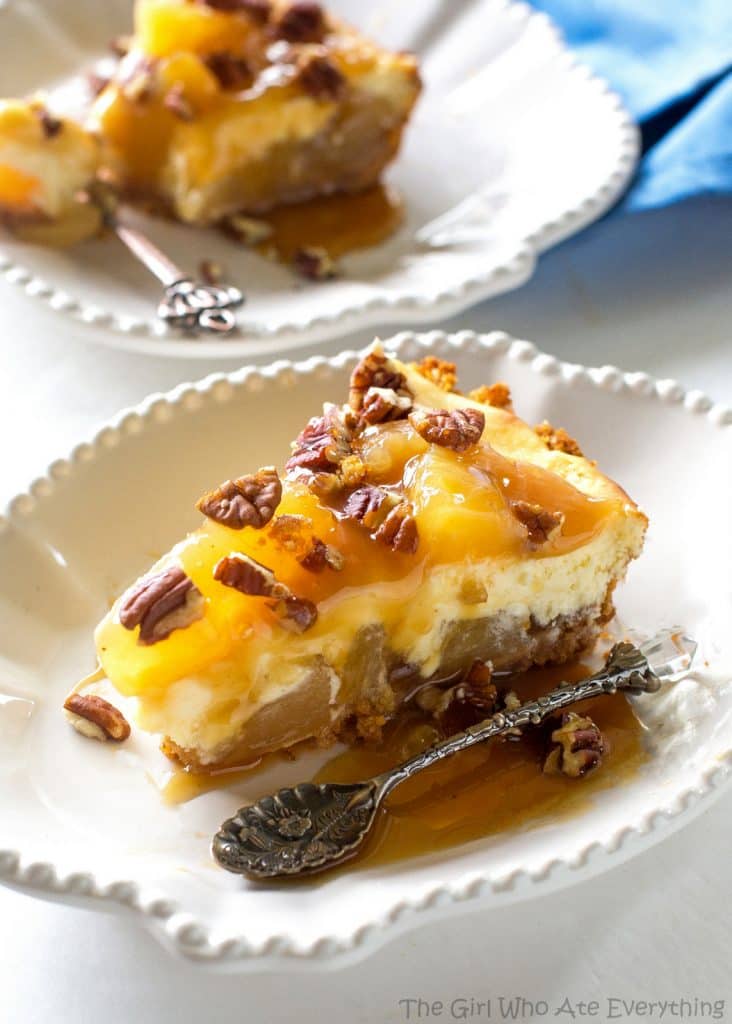 I added a little extra caramel on top when serving.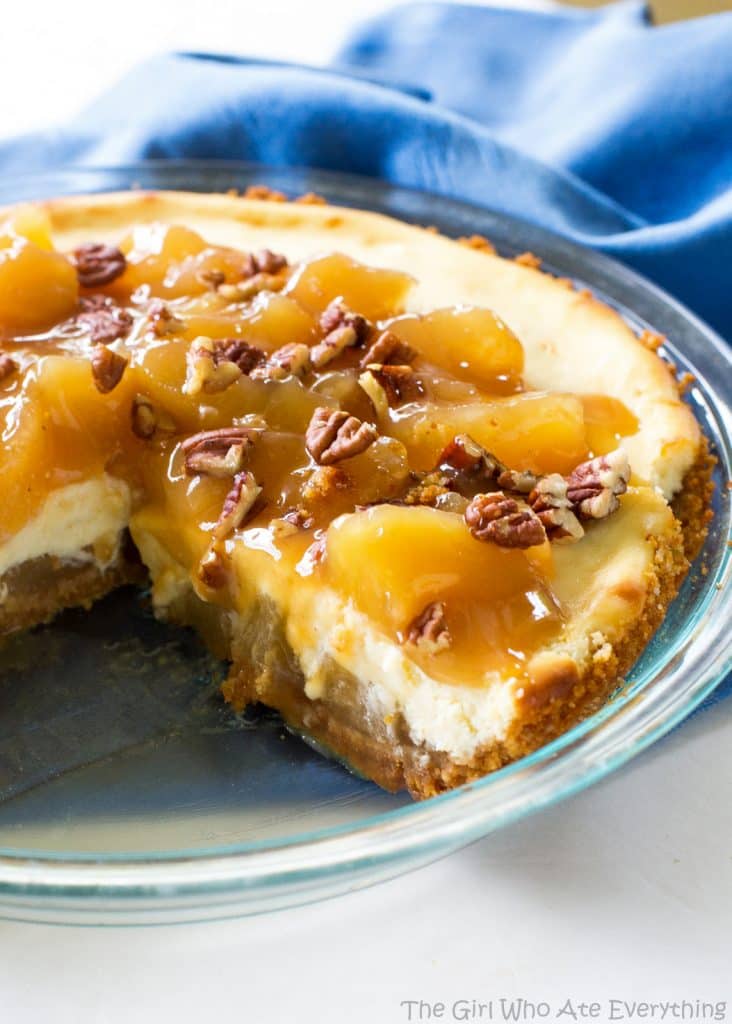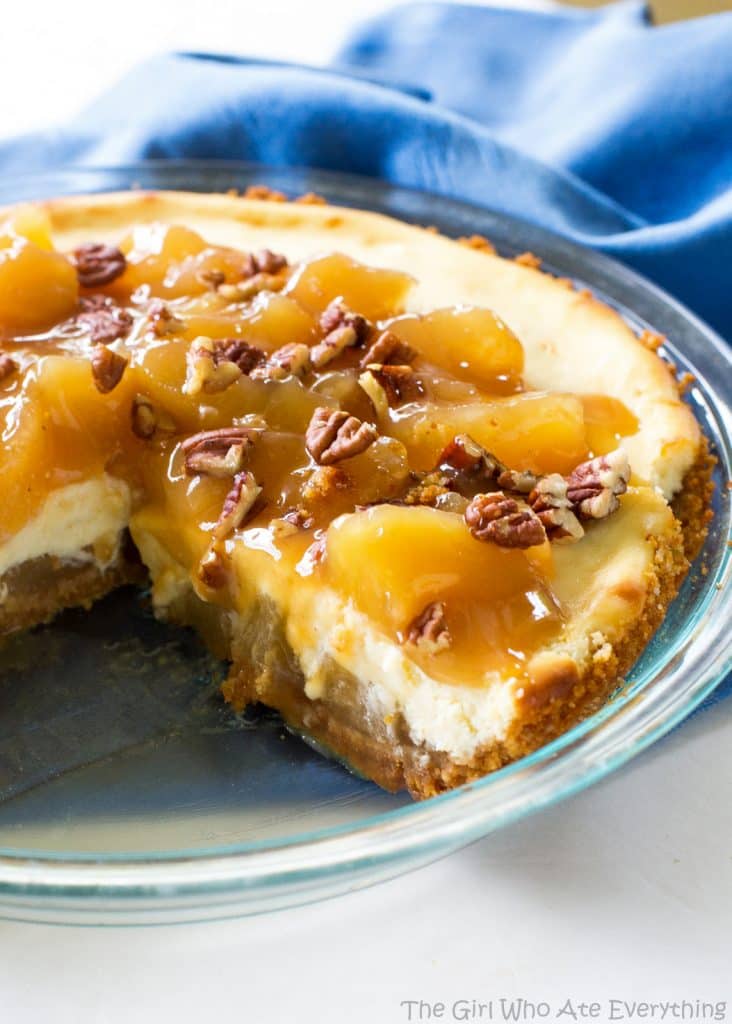 Another nice thing about this pie is that it slices beautifully. Even the first piece. No crossing your fingers.
OTHER APPLE RECIPES: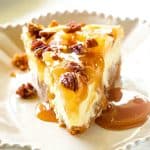 Print
Yield: 8 servings
This Caramel Apple Cheesecake is one of the easiest cheesecakes made with a graham cracker crust, apples, caramel, and nuts.
Graham Cracker Crust:
1 -1/4




cups




graham cracker crumbs

1/4




cup




sugar

1/3




cup




melted butter
Cheesecake:
1




(21-ounce)




can apple pie filling

1




(9-inch)




graham cracker crust

1/4




cup




caramel topping

2




(8-ounce)




packages cream cheese, at room temperature

1/2




cup




sugar

1




teaspoon




vanilla extract

2




eggs

12




pecan halves




plus 2 tablespoons chopped pecans
Preheat the oven to 350 degrees F.

For the Graham Cracker Crust: In a small bowl, combine the crumbs, sugar, and butter. Press into a 9-inch pie plate evenly on the bottom and up the sides. Bake for 5 minutes and remove from oven.

For the filling:

Spoon 3/4 can apple pie filling into the crust. Add the remaining 1/4 can filling to a small saucepan (or just heat in the microwave) and mix with the caramel. Heat over low heat until melted and spreadable, about 1 minute.

Whip the cream cheese in a large bowl until fluffy. Add the sugar, vanilla and eggs and beat until smooth, a few seconds. Pour this over the pie filling.

Bake until the center of the cake is set, about 30 to 35 minutes. Cool to room temperature.

Spoon the apple-caramel mixture on top of the cheesecake and spread evenly. Decorate the edge of the cake with pecan halves if desired and sprinkle with chopped pecans. Refrigerate until ready to serve. Best if chilled for a couple of hours or overnight.
3.2.2885