Baked Stuffed Avocados are an easy Mexican recipe stuffed with taco meat and topped with all of your favorite toppings. This is a Keto and low-carb recipe!
BAKED STUFFED AVOCADOS
Recently a restaurant close to us came out with a stuffed avocado. Of course theirs is stuffed with Sweet Barbacoa Pork which is fabulous but I don't always have the time to make it at home. A much simpler and easy alternate to that is to stuff an avocado with taco meat.
A little enchilada sauce on top goes a long way and gives it so much flavor. It's all about the toppings! I like mine with sour cream, pico de gallo or salsa, and some Cojita cheese. It would also be great with this Creamy Tomatillo Dressing.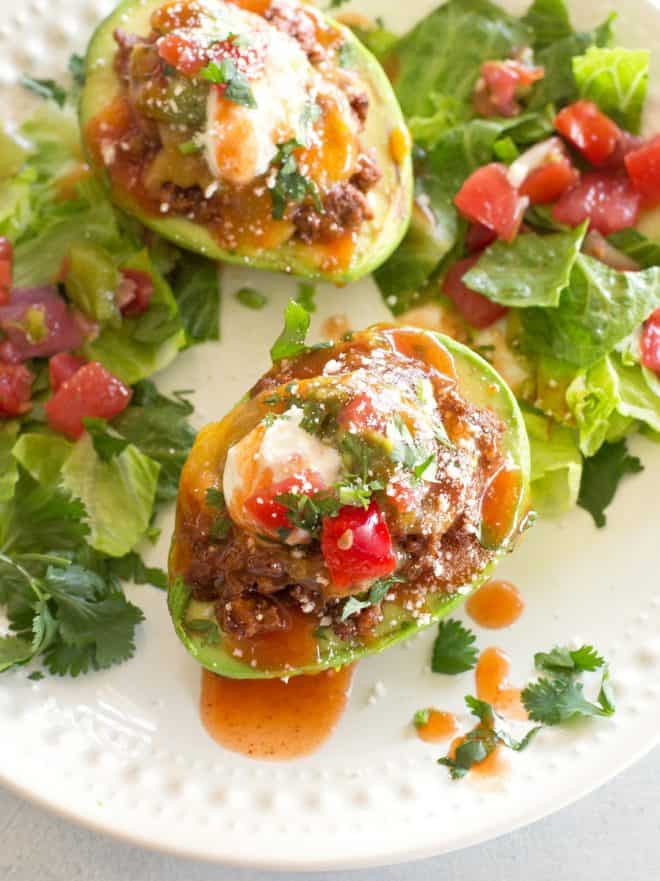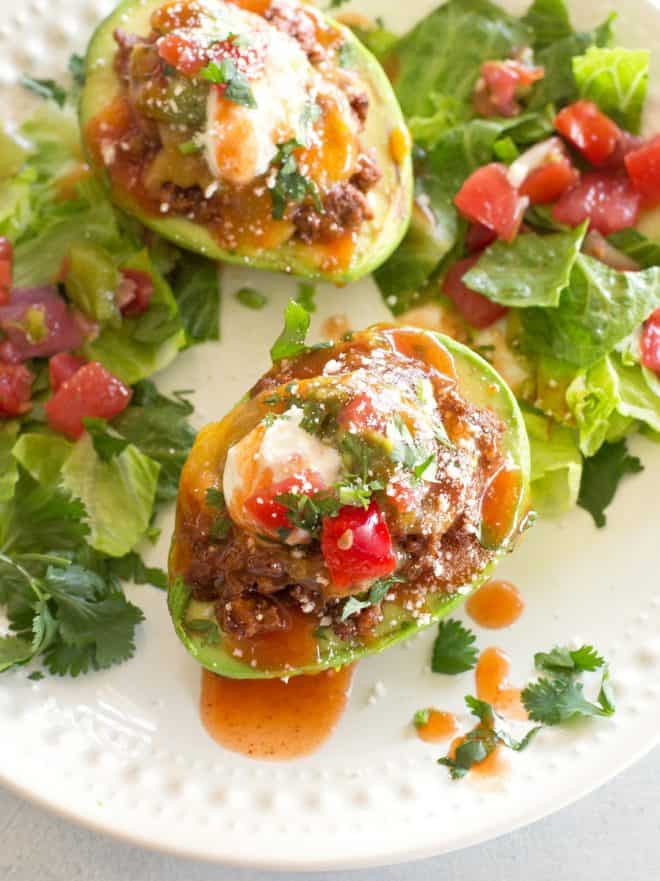 MEAT VARIATIONS


OTHER LOW-CARB RECIPES:
Ingredients
1/2 lb ground beef
2 tablespoons taco seasoning
2 large avocados (halved, pitted, and scooped out)
1/2 cup shredded cheddar cheese
1/4 cup red enchilada sauce
toppings: sour cream, salsa, cilantro
Instructions
Preheat oven to broil.
In a large skillet, brown the ground beef and sprinkle with taco seasoning. Add 1/3 cup water and cook until liquid reduces.
Place avocados on a baking sheet. Scoop 1/4 of the beef mixture into each avocado. Drizzle one tablespoon of enchilada sauce on top of each beef mixture. Top with 2 tablespoons of cheese. Broil for 3-5 minutes or until cheese is melted and avocados are warm.
Top with desired toppings such as sour cream, salsa, or cilantro
Notes
Nutritional info does not include toppings.
Nutrition Information:
Yield: 4
Serving Size: 1 avocado half
Amount Per Serving:
Calories: 258Total Fat: 19.9gUnsaturated Fat: 0gNet Carbohydrates: 3.8gFiber: 5.8gProtein: 12.8g