Magic Cookie Bars recipe has a buttery graham cracker crust topped with sweetened condensed milk, chocolate chips, butterscotch chips, coconut, and pecans. This dessert is sometimes called Seven Layer Bars or Hello Dolly Bars.
MAGIC COOKIE BARS
This vintage recipe dates back heaven knows how long. I'm always surprised when people have never heard of them. The reason I'm posting this recipe is that my sister called surprised saying, "You don't have a recipe for Magic Cookie Bars on your site?!"
I said that I didn't because I assumed everyone knew the recipe by heart but apparently although small, there are many variations of these out there.
MAGIC COOKIE BAR INGREDIENTS:
graham crackers
sweetened condensed milk
chocolate chips
butterscotch chips
shredded coconut
chopped pecans
VARIATIONS:
use milk chocolate chips instead
omit the butterscotch chips
switch it up and add peanut butter chips
don't love coconut? Leave it out.
EVAPORATED MILK VS SWEETENED CONDENSED MILK
These are not the same and cannot be used in place of another. Sweetened condensed milk is much more sweet and thick whereas evaporated milk is thinner.
STORAGE:
These can be stored at room temperature in a resealable container for up to 3 days, kept in the fridge for up to 5 days, and frozen for up to two months.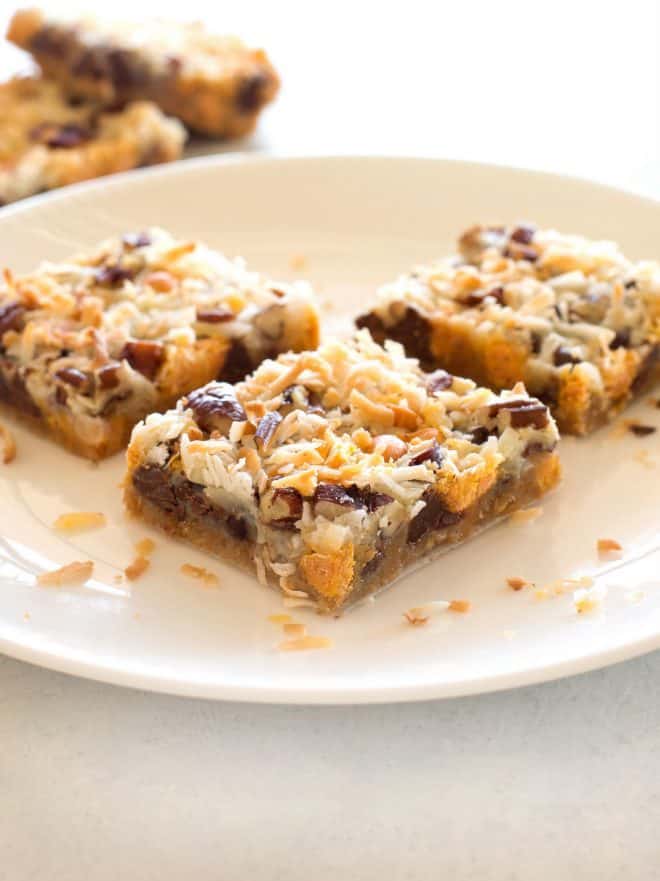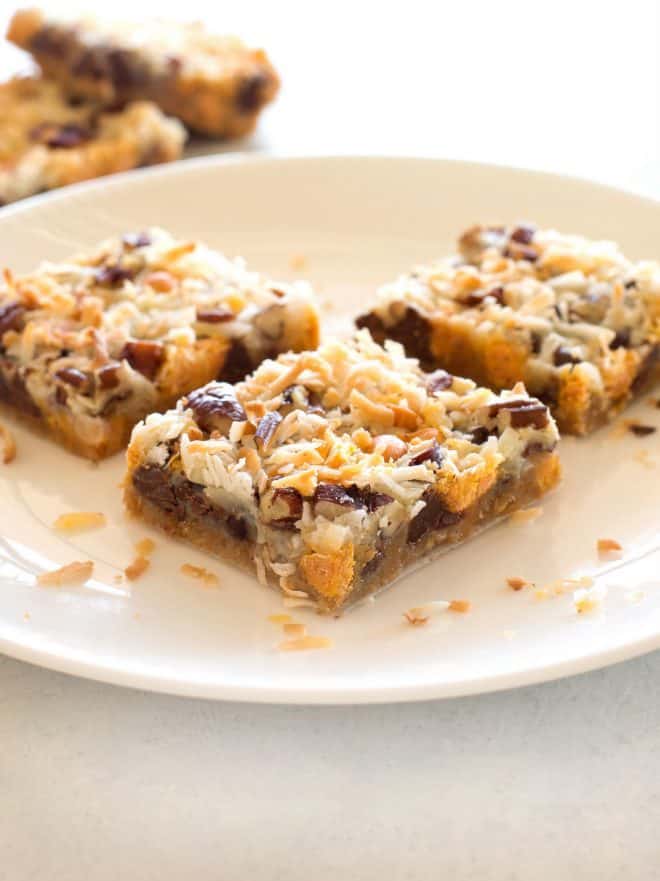 OTHER DESSERT RECIPES:
Ingredients
1 – 1/2 cups graham cracker crumbs
1/2 cup unsalted butter, melted
1 (14 ounce) can sweetened condensed milk
1 cup semi-sweet chocolate chips
1 cup butterscotch chips
1 cup shredded coconut
1 cup chopped pecans
Instructions
Preheat oven to 350 degrees F and line a 9×13 baking dish with parchment paper or grease well.
In a medium bowl combine the graham cracker crumbs and butter until well combined.
Pour the sweetened condensed milk over the graham cracker crumbs.
Sprinkle the chocolate and butterscotch chips on top of the sweetened condensed milk in an even layer. Sprinkle the coconut on top and finish with a layer of the nuts.
Press down toppings gently with a fork. Bake for 25-30 minutes or until coconut starts to turn golden brown. Cool completely and cut into bars.