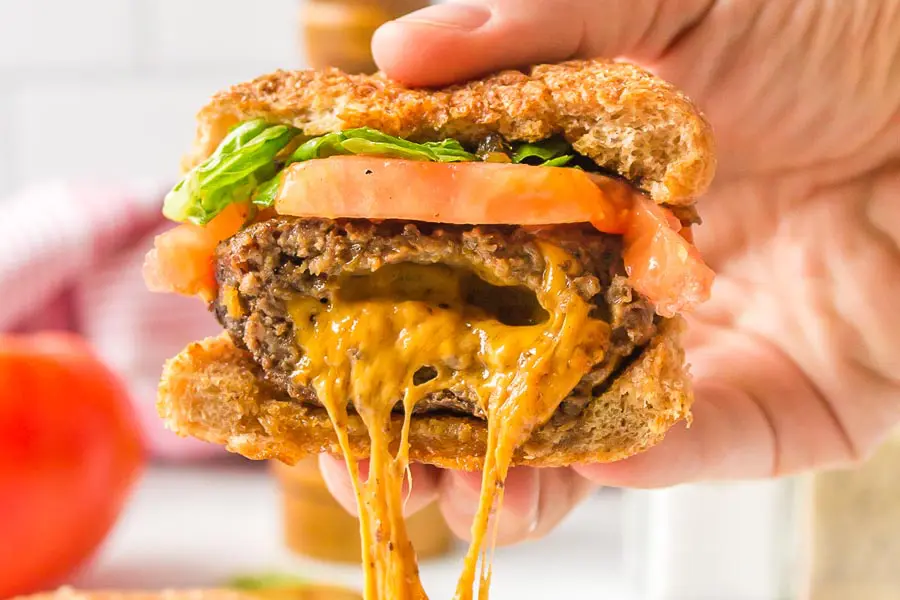 Where can you order a Juicy Lucy burger?
Since the Juicy Lucy burger originated over in the Midwest, you can find them easily in Minneapolis at the 5-8 club. Goldbelly is another place that will ship Juicy Lucy burgers to your door.
What temperature should burgers be cooked to?
Most people order medium cooked hamburgers, which is when the internal temperature is between 140 – 145 degrees Fahrenheit.
Where did the juicy lucy burger come from?
These cheese stuffed burgers were created in south Minneapolis bars called Matt's Bar and 5-8 Club in the 1950s. Both places claim they were the first to invent them, but either way, we're grateful!
Can I bake juicy lucy burgers?
Yes, you can bake the beef patties. To do this, preheat your oven to 375 degrees and place the patties on an aluminum-foil-covered baking sheet. Cook the burgers for 10-12 minutes, flipping halfway through until the desired doneness.
Can I make these burgers ahead of time?
You can definitely make these delicious burgers ahead of time. Form the hamburger patties and store them in the fridge in an airtight container until you're ready to cook them.